Tourism continues to be an important economic driver in Wisconsin and the state's south-central region plays an important role in bringing people into the state, offering employment opportunities and contributing to the region's overall financial health.
In recent years, promoters have seen an upward trend in the amount of money tourists visiting the state spend during each trip.
"Tourism is up to $20 billion in 2016; up $700 million from 2015," said Wisconsin Department of Tourism Public Relations Coordinator Kristina LaVan. "It's the seventh year we've seen growth in our tourism industry."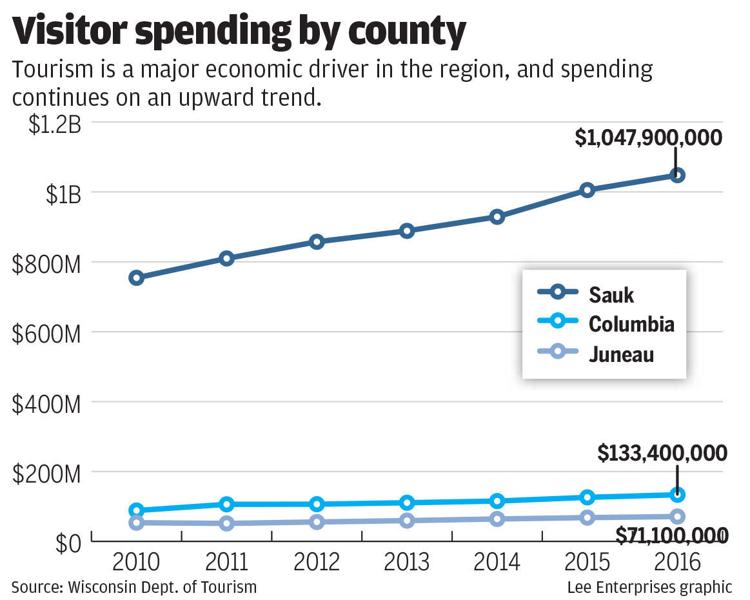 She said visitors continue to flock to larger cities such as Milwaukee and Madison, but there also has been an increase in the number of people vising the state's smaller communities. LaVan attributed this to the state's variety of natural resources, which are mostly outside urban areas.
"People perceive us as a fun state, which is also a travel motivator for people," LaVan said. "Small-town tourism is on the rise because one of the highest motivators we are seeing with people traveling to the state is that people want to experience Wisconsin as a local would. They want to experience the foods, the heritage and the culture. And these small towns are really where you can go to get that type of experience."
County ranks
Of the state's 72 counties, Sauk County ranks No. 3 in total dollars spent by visitors, while Columbia and Juneau counties sit at No. 22 and No. 40, respectively.
While much of Sauk County's tourism revenue is generated by resorts in Lake Delton, millions of visitors come to see other parts of the county as well.
Kristine Koenecke, executive director of the Reedsburg Area Chamber of Commerce, knows the impact tourism can have. The Reedsburg area boasts the 400 State Trail, an all-season trail that primarily is used from March through November.
"It's a big part of attracting people to the area," Koenecke said. "And it even has motivated people to move here."
Koenecke said the 400 draws people not only from Madison and Milwaukee, but has attracted visitors from 35 states and several different countries.
"It's not just a regional thing," she said. "It's far-reaching. Fortunately for us, it was developed right in our back yard."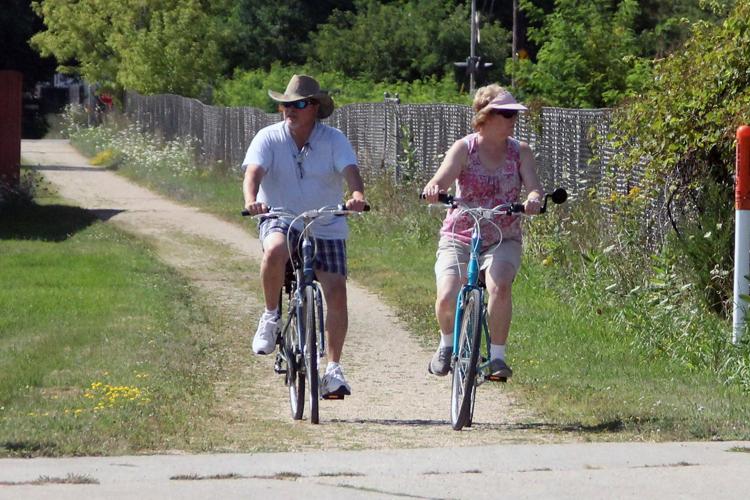 Each year an estimated 45,000 people ride the 400 Trail, which stretches from Reedsburg to Elroy, where it connects with the Elroy-Sparta State Trail and ultimately to the La Crosse River State Trail.
"The 400 State Trail offers beautiful scenery, bountiful wildlife, sandstone outcroppings, rolling farmland and runs parallel with the Baraboo River," states the website 400statetrail.org. "The 400 State Trail is a true four-seasons trail."
Koenecke said five communities along the 22-mile trail add charm, while giving riders a chance to take a break or do other things.
"There are wonderful and charming places to stop, shop, eat or use the restroom," Koenecke said. "That really helps break up the ride."
Natural attraction
Baraboo offers another large regional draw with the most-visited Wisconsin state park — Devil's Lake, which drew 3 million visitors in 2016.
Derrick Mayoleth, founder of Skillet Creek Media in Baraboo, started a website in the 1990s dedicated to tourism at Devil's Lake.
"The city of Baraboo has done two economic studies and they tell very clear stories that Devil's Lake is a clear driver for Baraboo," Mayoleth said.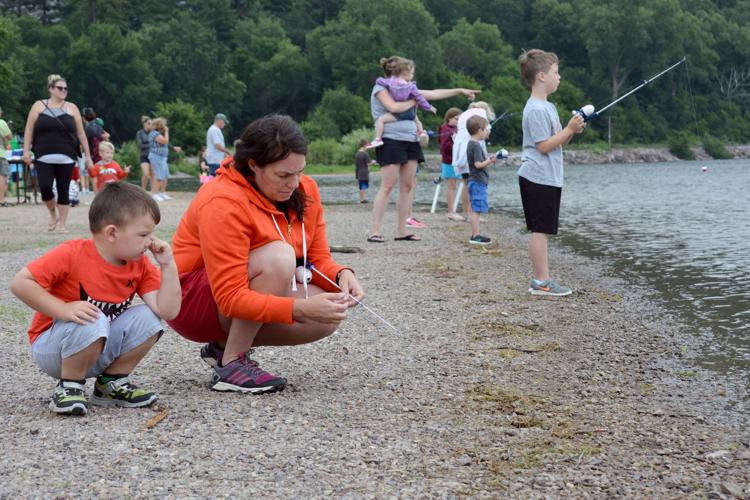 He said what sets Devil's Lake State Park apart from other parks in the state is that it doesn't look like the rest of Wisconsin.
"If you are coming from anywhere there's a spot on the interstate where the Baraboo hills stand out," Mayoleth said. "It's like driving through Virginia where you see a line of hills. On Highway 33 you follow this range all the way into Baraboo into the park. There's nothing like it in this part of Wisconsin."
Devil's Lake offers something for everyone, which is why it is so family-friendly.
"You have the people who come there to swim, and that's it," Mayoleth said. "But there are also large picnic areas, beaches, camping, places to bring your dogs. Devil's Lake doesn't allow gas motors on the lake, so you have this mile-long lake and you don't have to worry about boat traffic. You can go out there and feel safe in a canoe, kayak or paddleboard."
Mayoleth said there are also plenty of trails for people of all experience levels to explore. "And for people who want to be out in nature, there are still places in the park you can get away from the crowds and just be silent, with just the birds," he said. "It hits every type of person."
Baraboo Area Chamber of Commerce Executive Director Bobbi Boettcher said the lure of the lake eventually brings people into Baraboo looking for places to eat or stay. More often than not, people find there's much more to Baraboo then Devil's Lake.
"It's a diversity of experience you can find here," Boettcher said. "You could do a day that completely revolves around natural resources, or make a day of history. We have the Sauk County Historical Society located here. We have things like the Ringling Brothers properties."
Boettcher said the Circus World state historical site brings in 40,000 visitors each year, while the International Crane Foundation north of town draws 25,000.
Outdoor recreation
With Lake Wisconsin, the Lower Wisconsin State Riverway, Sauk Prairie Recreation Area and the development of the Great Sauk State Trail underway, the Sauk Prairie area offers plenty of opportunities for outdoor recreation.
MaCall Tourdot, tourism promotions director for the Sauk Prairie Area Chamber of Commerce, pointed to the Sauk Prairie Recreation Area and Wollersheim Winery and Distillery as two major stopping points in the Sauk Prairie area.
Located in southeastern Sauk County, the Sauk Prairie Recreation Area serves as a place for visitors to hunt, trap, hike, bird watch, study nature, take photographs and pursue other traditional outdoor activities, as well as offering trails and roads for bikes or horseback riding.
The area also features the beginning of the Lower Wisconsin State Riverway.
Water features
"The lower Wisconsin River is very unique in that it is the longest free-flowing river – meaning there are no dams – in the upper Midwest," said Lower Wisconsin State Riverway Board Executive Director Mark Cupp.
He said the high number of sandbars in the river offer a unique experience where paddlers don't have to worry about finding a campground or landing on private property. Several outfitters offer canoe and kayak rentals as well as shuttle services along the river.
"Sandbar camping doesn't require fees; families can enjoy an overnight trip at a low cost," Cupp said. "It's also a tremendous fishery; you never know what you will catch."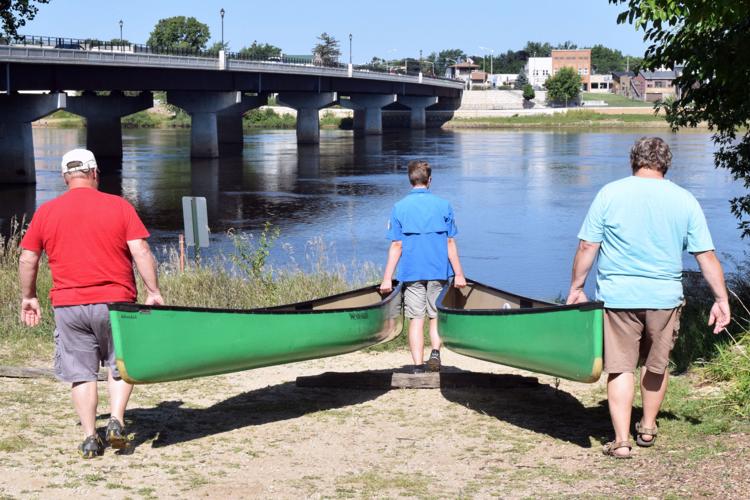 Cupp said the state owns and protects 48,000 acres along a 92-mile corridor, which is public land available to hike and explore.
The 7,200 acres of Lake Wisconsin split Columbia and Sauk counties, and serves as a fishing mecca for anglers. Visitors have access to the lake from public boat landings and can cast a line for a variety of fish including panfish, large- and small-mouth bass, northern pike, a variety of trout, walleye and catfish.
Ron Senger, administrator for the village of Merrimac, said Lake Wisconsin draws thousands of people each year alone on the Merrimac side.
You have free articles remaining.
"Recreational boating and fishing, touring on pontoon boats, wake boarding, waterskiing and inner tubing are some of the activities we see the most," Senger said.
He said the natural beauty of the lake and the surrounding bluffs as well as the size of Lake Wisconsin are draws for tourists.
"There's a lot of room on the lake," Senger said. "It's over 20 miles long and approximately two miles wide at its widest point."
Senger said sandbars in the upper portion of the lake are popular spots.
"The ability for people to go to the sandbars … on weekends during the summer months it's like a giant party," Senger said. "It's pretty neat."
Historic interest
For visitors interested in history, Portage is a good place to start. The Columbia County seat has a number of unique, historical sites, from a World War II museum downtown to the Fort Winnebago Surgeon's Quarters east of town.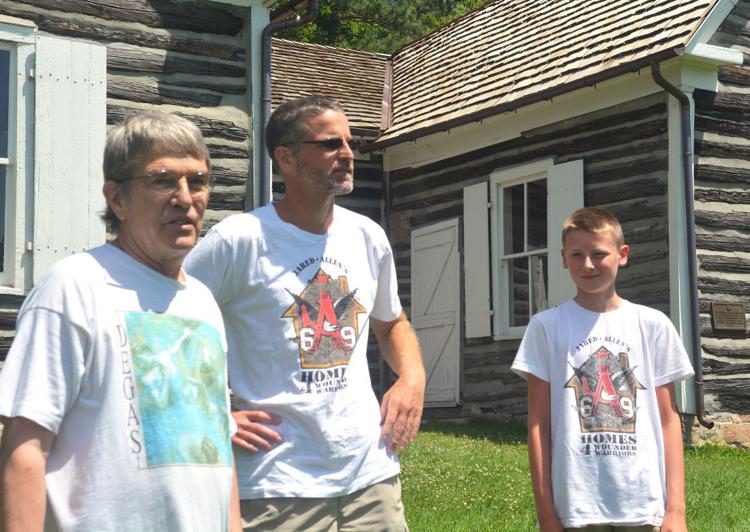 Portage Area Chamber of Commerce Executive Director Marianne Hanson said other draws include the historic Indian Agency House and the Museum at the Portage, which is home to the local historical society, the American Legion State Headquarters and Museum, the Church Hill district, Industrial Waterfront district, Portage Canal, Society Hill and the Zona Gale home.
"Also we are right on the Fox and Wisconsin rivers," Hanson said. "That's where we promote canoeing and kayaking and the walking trail. And we just worked through our bicycle loops; there are 13 different routes people can ride. Three directly come through Portage. There are shorter loops for novices and longer loops for the more experienced riders."
Hanson also pointed to a vibrant Portage arts scene.
"We have the Portage Center for the Performing Arts, which does a wonderful job of offering a performing arts series thoughout the year," Hanson said. "There's something going on almost every week at a very reasonable price."
For winter enthusiasts, Cascade Mountain has lots of offerings.
"There's skiing, tubing, boarding; lots of outdoor activities," Hanson said. "They just underwent an expansion that cost millions of dollars."
Cascade Mountain offers 44 trails, four terrain parks, and an 800-foot-long chute for snow tubing.
Team sports
The county seat of Juneau County also is inviting to tourists and most of the recreational opportunities in and around Mauston lie in the great outdoors.
Castle Rock Park, 12 miles from Mauston, encompasses the state's fourth-largest lake. At 12,981 acres, Castle Rock Lake has plenty of camping, beaches and water activities such as fishing, boating and a variety of silent sports.
Mauston Area Chamber of Commerce Executive Director Mary Hudack said visits to Mauston are on the rise thanks to the lake's amenities and the installation of a new sports complex.
The Woodside Sports Complex touts itself as the largest all-turf, multi-sport facility in the Midwest. The facility opened in 2013 and offers athletes a place to practice and compete in baseball, soccer, football, lacrosse, rugby and softball, in addition to cheerleading, volleyball, wrestling, gymnastics and basketball and other events.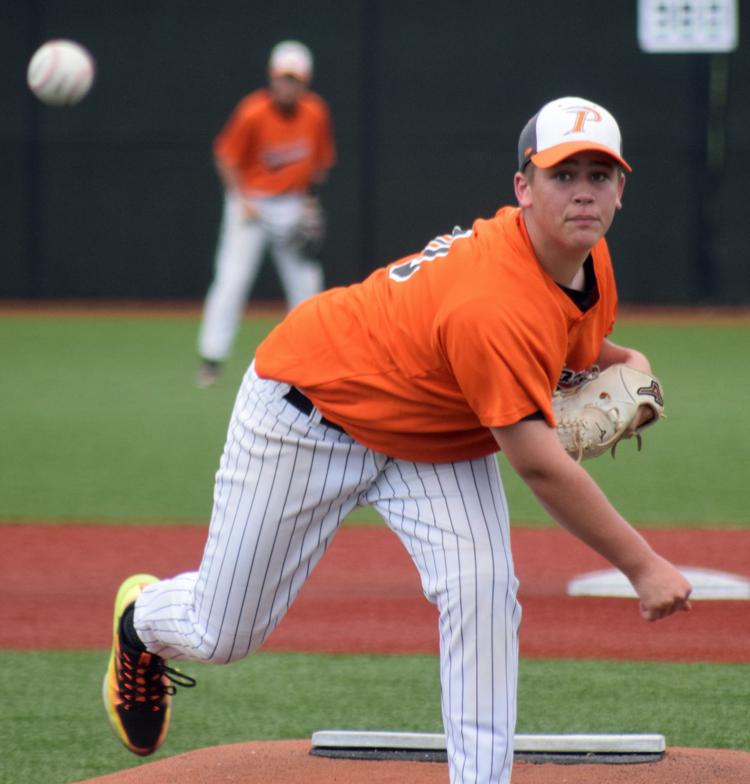 Hudack said golfing and boating are popular pastimes that draw people to the Mauston area.
"There's a very big upward trend in visitors to the Mauston area for that reason," Hudack said. "It's a case of 'If you build it, they will come.' And that's exactly what's happened, and it's right in our own back yard."
Local amenities
The economic impact tourism can have on a community is profound. University of Wisconsin-Madison urban and regional planning professor David Marcouiller said it is important for communities to recognize and understand what their largest assets are to be able to leverage those dollars.
He said visitors from neighboring states and the Chicago area who seek amenities that differ from what they find at home are what drive the state's tourism economic engine.
"I think the first thing a community needs to do is identify what's available to them to take advantage of travelers' spending," Marcouiller said. "Communities need to identify their infrastructure and what sets them apart."
Marcouiller said while restaurants, hotels and other hospitality-related businesses take in the majority of income from visitors, there are a host of other things that can create an amenity.
"There are state parks that create attractions," he said. "The Wisconsin River cutting through the Dells … hotels and restaurants are important but I don't know that they provide the primary draw."
For example, Marcouiller said an important part of people coming to the Sauk Prairie area will be the development of the Great Sauk State Trail.
"That's another publicly-provided amenity to draw people to the area," he said.
Marcouiller said the most important thing a community can do to bolster its economy is invest in parks, recreation and trails.
"And Wisconsin has a lot of natural amenities that do a great job of attracting outsiders. Those are the types of things that make a place great to live and visit," Marcouiller said. "You have to look at how to build quality of life. You can't just do it with hotels and restaurants."
And once a community attracts a visitor, it also needs to figure out ways to bring them back.
"You can bring people in once but if you want tourism to be sustainable you have to invest in public goods to bring them back," Marcouiller said. "Dollars spent on parks and recreation are dollars well spent."
Comfort level
In Reedsburg, Koenecke said she thinks it's easy for people to underestimate the economic impact of tourism.
"People are always asking where is a good place to eat? Where is a place we can stay? What can we do here?" Koenecke said. "You have to talk to people. Ask them where they are from and what they like to do. Then tell them about what the community has to offer."
Koenecke said smaller communities should work together because they are generally "too small" to keep someone there for a week.
"I think it gives the visitor a much richer experience when we work together within the county system," she said. "Of course we are going to try to keep them as long as we can, but in order to bring them back we have to promote other communities in surrounding counties."
Mayoleth said looking at tourism from a tourist's perspective can help a community determine what to promote.
"In tourism there can be a disconnect between those coming to the community and who is in the community," Mayoleth said. "It's easy to forget what it's like to be on vacation."