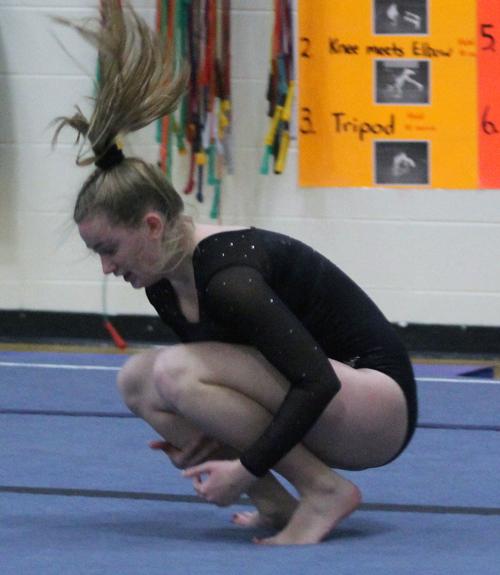 The Sauk Prairie prep gymnastics team wrapped up its dual season with Tuesday's home loss to Milton. The Eagles suffered a 130.9-122.55 defeat in a Badger Conference dual meet at Grand Avenue Elementary School.
Sauk Prairie's lone event title went to Heidi Kuhnau. The junior took first in the balance beam with a score of 9.4, breaking the school record of 9.1 that she set in a January win over Monona Grove.
Kuhnau broke a pair of records that had been in place since 1999, scoring a 9.2 on the floor exercise and a 9.1 on the balance beam. She also set a personal record with a 7.85 in the uneven bars, cruising to 34.6 points and the all-around title.
You have free articles remaining.
Watertown led the way in the remaining three events, with Meghan Hurtgen winning the floor exercise (9.2) and uneven bars (9.0), and Lauryn Olson claiming the vault (8.5).
Hurtgen went on to win the all-around title, scoring 35.55 points across the four events.
Sauk Prairie will close out the regular season with Friday's invitational in Platteville. The Badger Conference meet will be held Feb. 22 in Waunakee.
Balance beam: Kuhnau, SP, 9.1. Floor exercise: Hurtgen, W, 9.2. Uneven bars: Hurtgen, W, 9.0. Vault: Olson, W, 8.5. All-around: Hurtgen 35.55.