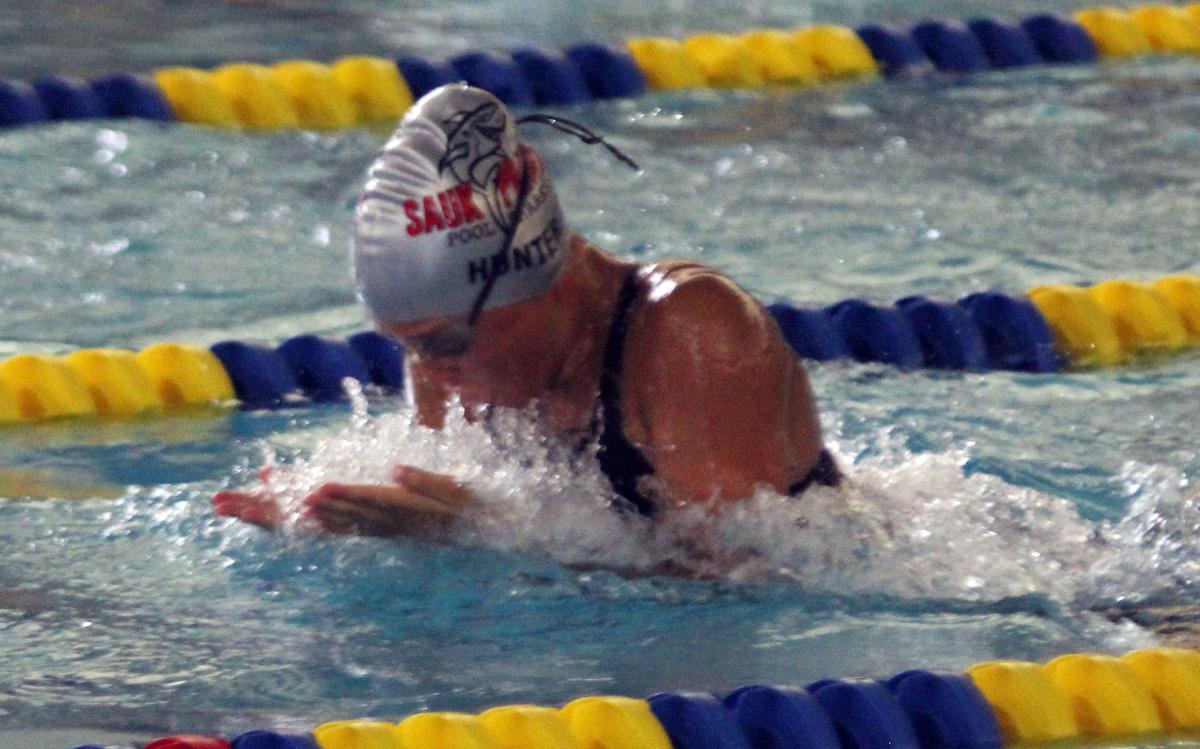 The Sauk Prairie prep girls swim team took fifth at Saturday's Fort Atkinson Invitational.
The Eagles scored 250 points to finish behind DeForest (372), Monroe/New Glarus (322), Lake Geneva Badger (321) and Oregon (291) in the nine-team meet.
Sauk Prairie used its depth to compete despite not winning any individual events.
Kassandra Miller had the best individual finish of the day. The sophomore touched the wall in 5 minutes, 37.20 seconds to take second in the 500-yard freestyle, trailing only Monroe/New Glarus' Morgan Erstad (5:29.86).
Miller (2:22.44) also took fourth in the 200 individual medley, while teammate Amelia Hunter (2:29.67) took 10th.
Alexa Judd (1:05.40) added a third-place finish in the 100 backstroke, while Cora Dunnum (:26.39) and Judd (:26.85) placed sixth and ninth, respectively, in the 50 freestyle.
You have free articles remaining.
Lauryn Drager swam to a pair of seventh-place finishes, taking seventh in the 200 freestyle (2:09.31) and the 100 breaststroke (1:15.21).
Ashley Pape had Baraboo's final top-10 individual finish, placing seventh in the 100 freestyle (:59.14).
The Eagles took fourth in a pair of relays, with Judd, Hunter, Miller and Pape teaming up to take fourth in the 200 medley relay (1:57.98), and Miller, Pape, Drager and Judd placing fourth in the 400 freestyle relay (3:56.50). Hunter, Dunnum, Pape and Drager added a sixth-place finish in the 200 freestyle relay (1:48.05).
Waunakee 118, Sauk Prairie 16
The Eagles suffered a 118-16 loss at Waunakee in the final Badger North Conference dual meet of the season.
Riley Talmage claimed the Eagles' lone first-place finish of the night, touching the wall in 5:49.92 to lead a Sauk Prairie sweep in the 500 freestyle. Drager (5:51.04) and Hunter (5:59.41) took second and third, respectively, in the 500 freestyle.
Other top-three finishes for the Eagles came from Miller in the 200 freestyle (second, 2:06.91) and 100 freestyle (third, :58.10), Talmage in the 200 IM (second, 2:26.06), Judd (second, 1:17.46) and Grace Orr (third, 1:20.48) in the 100 breaststroke, Hunter in the 50 freestyle (third, :27.56), Summer Acker in the 100 backstroke (third, 1:09.46)
The Eagles will compete in Saturday's invitational at UW-Platteville, which will serve as the final preparation for the Badger North Conference meet Nov. 2 at Jack Young Middle School in Baraboo.