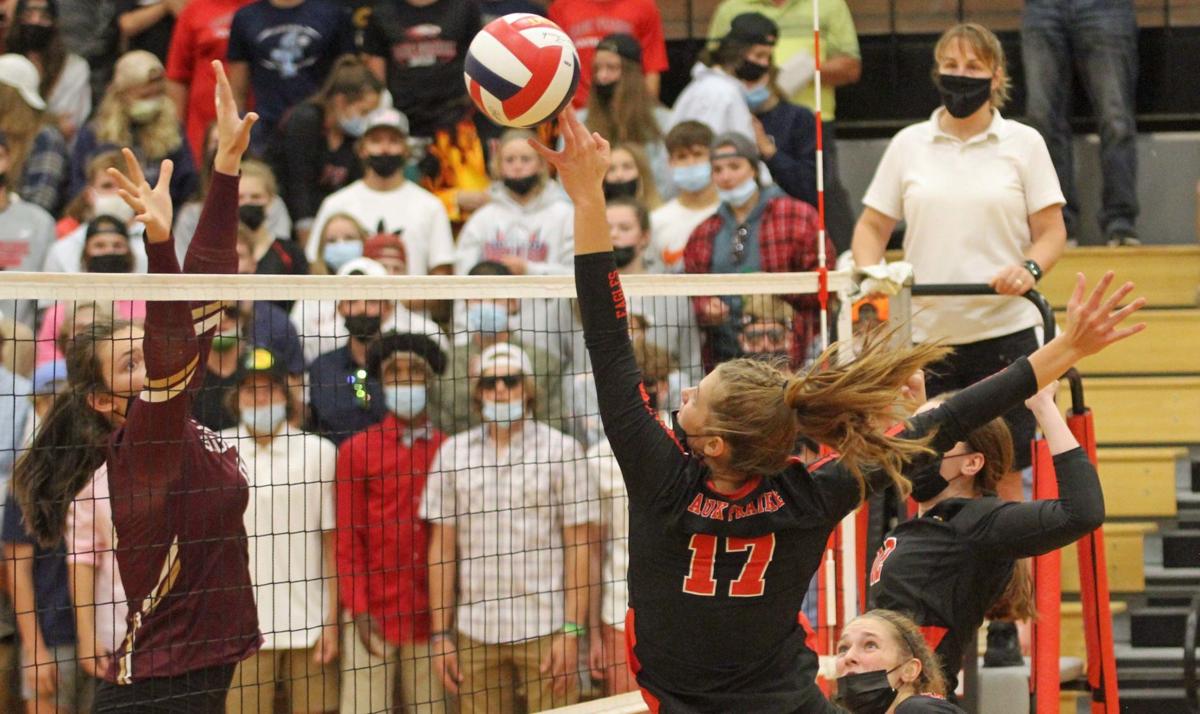 The Sauk Prairie volleyball team's rise up the Wisconsin Volleyball Coaches Association's Division 2 rankings reached the top Tuesday.
The Eagles, who were 31-2 entering Tuesday's match against Mount Horeb, jumped up from second to first in the latest Division 2 poll, moving ahead of Luxemburg-Casco (24-5) atop the 10-team rankings.
McFarland (28-2) is ranked third, followed by Madison Edgewood (25-8), Catholic Memorial (19-17), Fox Valley Lutheran (31-1), Mosinee (23-3), Xavier (20-10), Kettle Moraine Lutheran (18-15) and Pewaukee (26-6).
Sauk Prairie, which reached the WIAA Division 1 state semifinals last fall, started the 2021 season ranked third in Division 2. Luxemburg-Casco and Edgewood were the only teams ahead of the the Eagles when the Week 1 poll was released on Aug. 31.
Sauk Prairie moved up to second on Sept. 14, and stayed behind Luxemburg-Casco until Tuesday.
The Eagles jumped in the standings thanks to a big week that started with a 25-21, 14-25, 25-17, 25-13 home win over Edgewood on Sept. 28.
"I think the reason for our success in the last two sets was that we kept them out of system for the most part with tough serves and better offense," Sauk Prairie head coach Amy Schlimgen said. "Admittedly, I went into that match kinda worried and came out feeling great and very very proud of the team."
Aida Shadewald had 15 kills, nine digs, four aces and two blocks in the win, while Alia Schlimgen had 25 digs; Maggie Hartwig had 12 kills and five blocks; Olivia Paukner had four kills, three blocks and two aces; Alexis Klemm had 14 assists, five kills, two blocks and one ace ace; Jenna Pistono had 16 assists and six digs; and Anni Braund had nine kills, 15 digs and one block.
"Maggie Hartwig and Alexis Klemm had career nights with their hitting, which was very important since Edgewood really keyed on our star outside hitter Aida Shadewald," Amy Schlimgen said. "I don't think they were expecting the firepower they got from Klemm and Hartwig that night."
The Eagles followed that up with Thursday's 25-23, 25-22, 26-24 road win over a Reedsburg team Schlimgen said was "so scrappy and talented." Shadewald had a team-high 14 kills in the Badger West Conference win.
The Eagles finished the week by rolling through a tournament at Edgewood over the weekend. They didn't drop a set, beating Union Grove, Platteville and DeForest before claiming a 25-22, 25-10 win over Madison Memorial in the championship.
Alia Schlimgen tallied her 1,000th career dig during a 25-19, 25-18 win over Platteville, while Pistono reached 1,000 career assists in the win over Madison Memorial.
The Eagles are scheduled to host Portage on Thursday before playing in the Badger West tournament on Saturday.