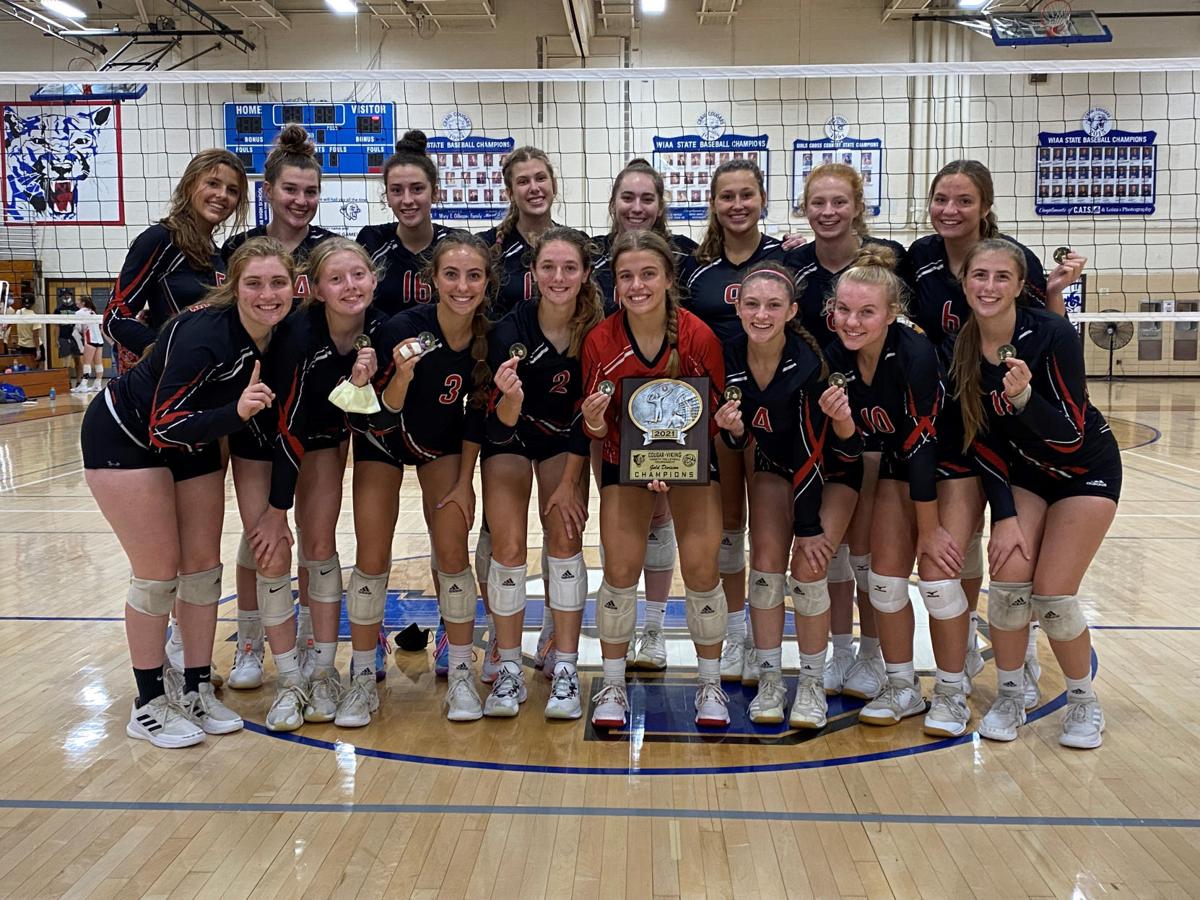 After reaching the WIAA state tournament for the second time in program history last season, the Sauk Prairie prep volleyball team is carrying high expectations into 2021.
The Eagles already have a trophy to their name, winning the Gold Bracket of the season-opening Janesville Invitational on Aug. 27-28.
"All team members played great over the weekend," Sauk Prairie head coach Amy Schlimgen said. "I was very happy with their aggressive play and teamwork."
The Eagles went 10-0 in Janesville, losing just one set over the course of two days. They capped their tournament with a 25-17, 25-10 win over Edgerton in the championship.
Senior Aida Shadewald, a Wright State commit, had 10 kills, six digs, one ace and one block in the final match. Anni Braund added six kills, six digs and one ace; while South Dakota State commit Alia Schlimgen had 13 digs; Jenna Pistono had six assists and four aces; Alexis Klemm had 10 assists, five digs, one kill, one block and one ace; and Maggie Hartwig and Makenzie Breunig each had three kills.
Shadewald also had a big semifinal match, notching nine kills, 10 digs and two aces in a 25-20, 25-11 win over Brodhead. Klemm finished with 11 assists and four kills; Pistono had seven assists; Braund had three kills, four digs and one ace; Olivia Paukner had five kills; Hartwig had four kills; and Schlimgen had seven digs.
The Eagles' path to the semifinals started on Friday, when they began pool play with a 25-14, 25-13 win over Janesville Parker, a 25-13, 25-16 win over Baraboo, a 25-19, 25-9 win over Tomah, and a 25-7, 34-32 win over Edgerton. Their lone lost set came in the final match of the opening day, when they came from behind to earn a 20-25, 25-19, 15-9 win over Brodhead to win their pool.
Sauk Prairie cruised through Saturday, picking up a 25-11, 25-14 win over Lancaster, a 25-19, 25-14 win over Whitnall, and a 25-18, 25-14 win over Baraboo to reach the semifinals.
Sauk Prairie went 23-6 last season and reached state for the first time since 2009. The Eagles suffered a 25-13, 25-11, 25-23 loss to eventual champion Sussex Hamilton in a state semifinal on Nov. 7 in Wisconsin Rapids.
Sauk Prairie will play a Badger Conference match at Oregon on Tuesday, then have nearly a week off before a Sept. 7 quadrangular in Reedsburg.
"Everyone seems to be improving already within the first two weeks of practice," Schlimgen said. "The new members are bringing their play up to high-level varsity speed, and everyone is so far working very hard in practices. I am impressed."