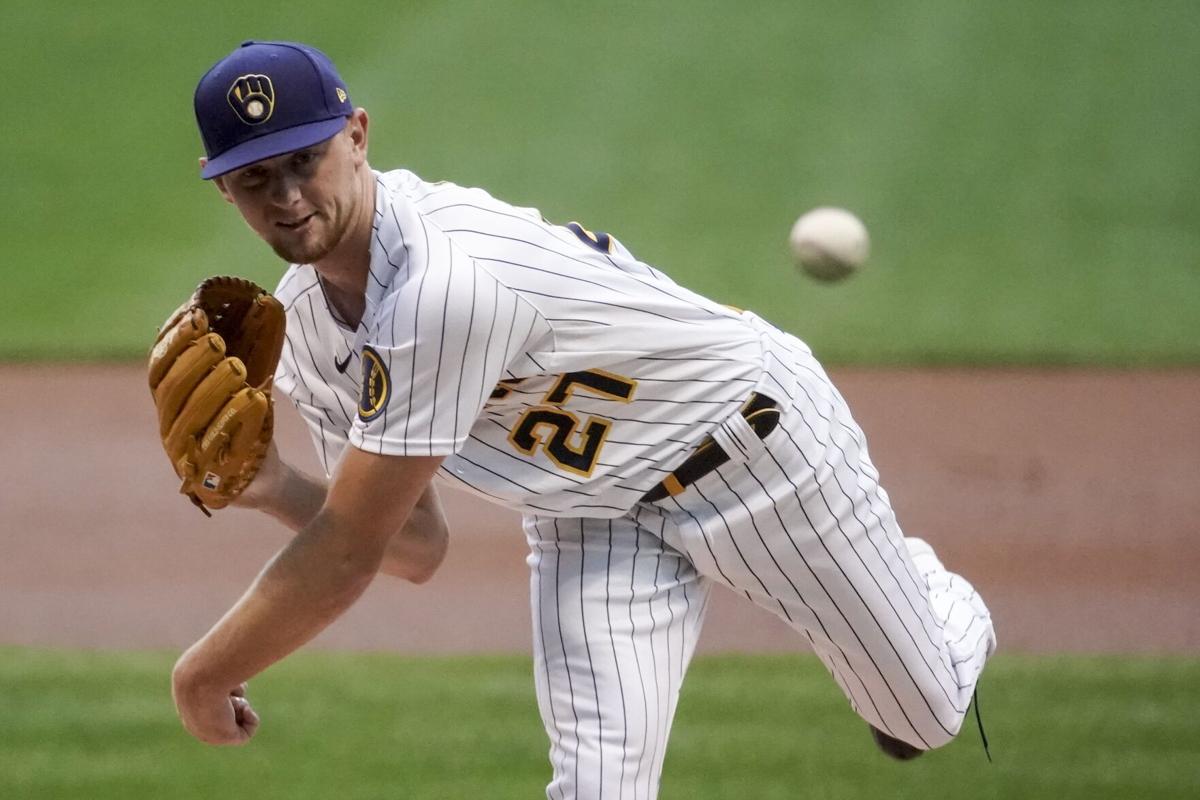 MILWAUKEE — There were two new faces in the visitors' bullpen Thursday night at Wrigley Field when the Brewers opened a four-game series with the Chicago Cubs.
Right-hander Drew Rasmussen and left-hander Angel Perdomo were called up from the Brewers' alternate training camp in Appleton after the Brewers optioned left-hander Eric Lauer and placed right-hander Justin Grimm on the injured list.
Both Rasmussen and Perdomo are getting their first taste of big league life after making positive impressions on Milwaukee's coaching staff during spring training as well as during the team's summer camp last month at Miller Park.
"These guys are talented," manager Craig Counsell said. "They're making their big-league debuts so we have to remember that but these are talented guys who we think we can develop and become important pieces for us for a long time."
Rasmussen, 27, was selected by the Brewers in the sixth round of the 2018 draft after going 15-3 with a 2.65 ERA in three seasons at Oregon State, with a pair of elbow surgeries delaying his progress. Still rehabbing from the second surgery after being drafted, Rasmussen didn't throw his first pitch for the organization until last April with the Class A Timber Rattlers.
He made one appearance there before moving to Class A-Advanced Carolina, where he posted a 1.59 ERA in four starts, and then moved to Class AA Biloxi, where he had a 3.54 ERA in 22 appearances, including 18 starts.
The Brewers thought enough of his work last season to invite him to spring training and it was there that the process of transitioning him to a relief role began.
"I don't have a whole lot of experience coming out of the pen," Rasmussen said. "But we talked about it and the job of a pitcher is to get outs whenever you're asked to, and use your capabilities to help the team win no matter when you're asked or called upon."
Like Rasmussen, whose fastball tops out in the high 90s, Perdomo is a hard-thrower whose 6-foot-8 frame makes for an imposing presence on the mound. He, too, opened eyes during spring training and earned an invite to summer camp but got off to a late start after testing positive for COVID-19.
Once cleared, the Brewers assigned him to Appleton to get him up to speed.
"He's been there for three weeks and he's done everything well," Counsell said. "Really, it was just about getting him going and getting him ready. He made a good impression during camp in Arizona. Regardless of the season we were in, he was going to impact us this year."
Lauer was sent to Appleton after struggling in a second consecutive short start Wednesday night when he allowed seven runs over 3⅔ innings in a 12-2 rout by the Twins. Before that, Lauer gave up six second-inning runs in a loss to the Reds.
"His last two outings went a little backward from what we saw in camp and his first outing against the Cubs," Counsell said. "We thought he needed to spend some time working on getting back to being Eric Lauer and doing what he does when he's really successful."
Grimm struggled against the Twins, too, allowing four runs in the fifth inning but his problems stemmed from a callous on his right index finger that broke open, forcing him from the game.
"It affected him last night," Counsell said. "He was having trouble throwing strikes, trouble with his slider. It's just a callus that split on the end. It's not a blister like Brett (Anderson's) situation, so it should heal quickly."
The Brewers made one other move Thursday, transferring right-hander Ray Black to the 45-day injured list while he recovers from a sore right shoulder. Black is rehabbing in Appleton but isn't expected back in the immediate future.
"He's playing catch and that's about it," Counsell said.
Be the first to know
Get local news delivered to your inbox!