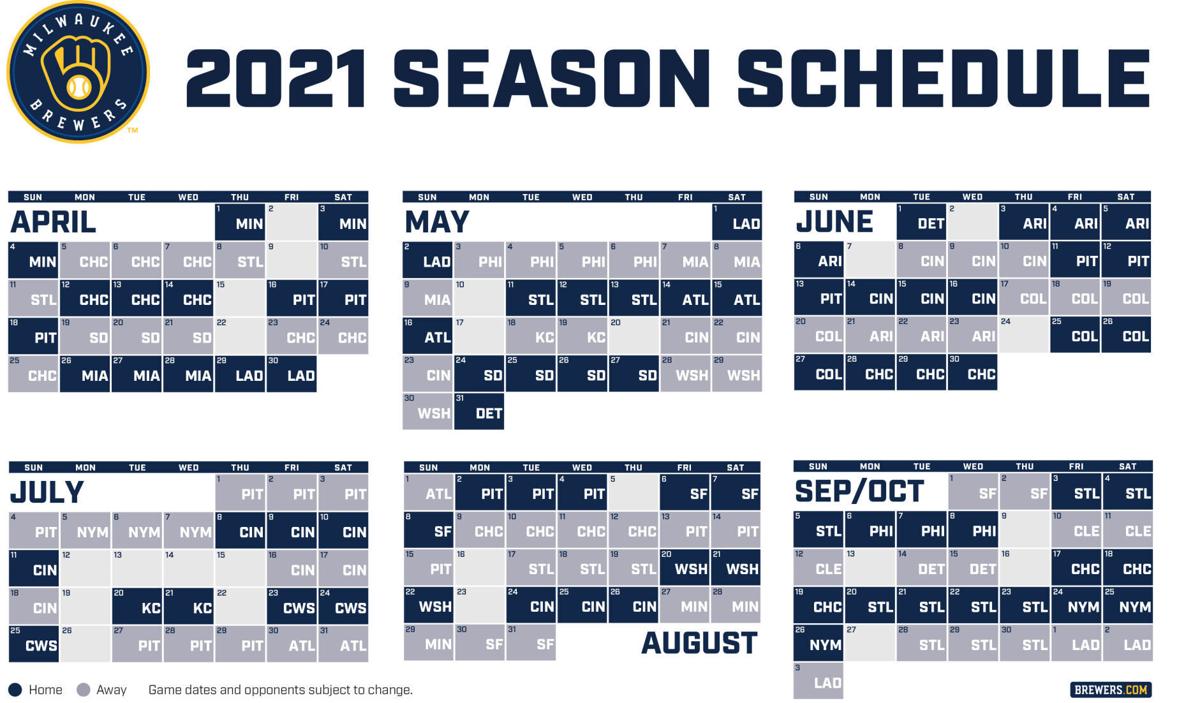 CHICAGO — Even more than anything he may have done on the field, the Milwaukee Brewers missed Lorenzo Cain's presence last season.
The veteran outfielder opted out after playing just five games in 2020, leaving the team without its top defensive player, a key offensive contributor and one of the more affable personalities in a tight-knit clubhouse.
In case anyone forgot how important Cain was to the Brewers' success, his two-homer performance Wednesday afternoon in Milwaukee's 4-2 victory over the Chicago Cubs provided a reminder.
"It's great to have him back," Brewers manager Craig Counsell said. "I think we all see the significance of having him back. He's a big-game player. He loves the big moments and his competitiveness rubs off on everybody."
Power has not traditionally been Cain's calling card. Since making his big league debut with the Brewers in 2010, he'd hit a total of 78 home runs — 21 since returning to Milwaukee as a free agent ahead of the 2018 season.
He hadn't hit two in a game since June 26, 2016.
"It started off rocky, but I had a good day," Cain said. "I'm still not where I want to be as far as my timing but I was able to go up there and compete, and what I plan on doing the rest of the year. I'm still trying to get back to old form, but today was a good day."
Cain's return hasn't gone as smooth as he or the team had hoped. He was sidelined for a good portion of spring training because of a sore quadriceps. He didn't get into a Cactus League game until the final week of the exhibition schedule and complied just 25 plate appearances once he returned to action.
He started Milwaukee's first two games of the season, going 1-for-5 on Opening Day, but didn't return to the field until Wednesday thanks to the sore oblique.
The Brewers added Jackie Bradley Jr. to their outfield mix this spring. That has enabled Counsell to take a cautious approach with Cain.
Cain has never been one to hide his displeasure with being kept out of a lineup, regardless of injury, but seems to have at least begrudgingly conceded that the current rotation will pay off in the long run.
"I don't like to have more than one day off at a time, but we're working on that," Cain said. "At the same time, it keeps everyone fresh in the outfield. Everyone's raring to go, itching to get out there to play, but at same time it'd definitely going to help out our bodies for the long haul."
Vote of confidence
Hitting coaches Andy Haines and Jacob Cruz have taken plenty of flak from social media observers during the Brewers' poor offensive start to the season.
Cain, however, was not having any of it. He offered some unsolicited thoughts on the job Haines and Cruz have been doing and their efforts to help Milwaukee's batters find their stroke.
"I know we've been scuffling as a team as far as hitting," Cain said. "Andy Haines and my guy (Cruz) are definitely two of the hardest working hitting coaches in the league. I don't think things are going the way we want it early on, but I'll vouch for those two guys any day of the week and us as (players), we've got to step up, we've got to go out there and get the job done.

"Hopefully things change. Hopefully it gets better. Good or bad the rest of the season, I'll definitely vouch for those two guys. One hundred percent."
Cain also doesn't accept the premise that Haines and Cruz are responsible for the Brewers' current woes, or last season's abysmal offensive performance.
"They're there to give us the best info possible, help us to improve as a hitter," Cain said. "But at the end of the day, we've got to go up there and get it done in the box."
Been there, done that
One of the appeals in signing Brad Boxberger was the experience the veteran right-hander brought to a young bullpen.
Counsell leaned on that experience Wednesday when he called on Boxberger to shut the door on the Cubs, who'd loaded the bases with two outs in the 10th against J.P. Feyereisen.
Boxberger, a former closer for the Rays and Diamondbacks, delivered by getting Ian Happ to fly out to left, sealing Milwaukee's second straight victory and his first save since March 28, 2019.
"He's got a low heartbeat," Counsell said. "You see it, you recognize it and it comes from his experience."
Around the Horn
Kolten Wong was held out of the starting lineup with a sore oblique but entered the game as a late-inning defensive replacement. ... The Brewers are the first team since the 1990 Padres to produce two no-hit bids of at least six innings through their first six games of the season. ... Keston Hiura returned to the lineup and went 0-for-4 with a pair of strikeouts and is now 0-for-19 with 10 strikeouts.
On deck
Right-handers Corbin Burnes (0-1, 1.42 ERA) and Adam Wainwright (0-1, 20.25) square off Thursday afternoon when the Brewers take on the Cardinals at Busch Stadium in St. Louis. Burnes flirted with a no-hitter his last time out, allowing just a solo home run to Byron Buxton in a 2-0 loss to Minnesota.