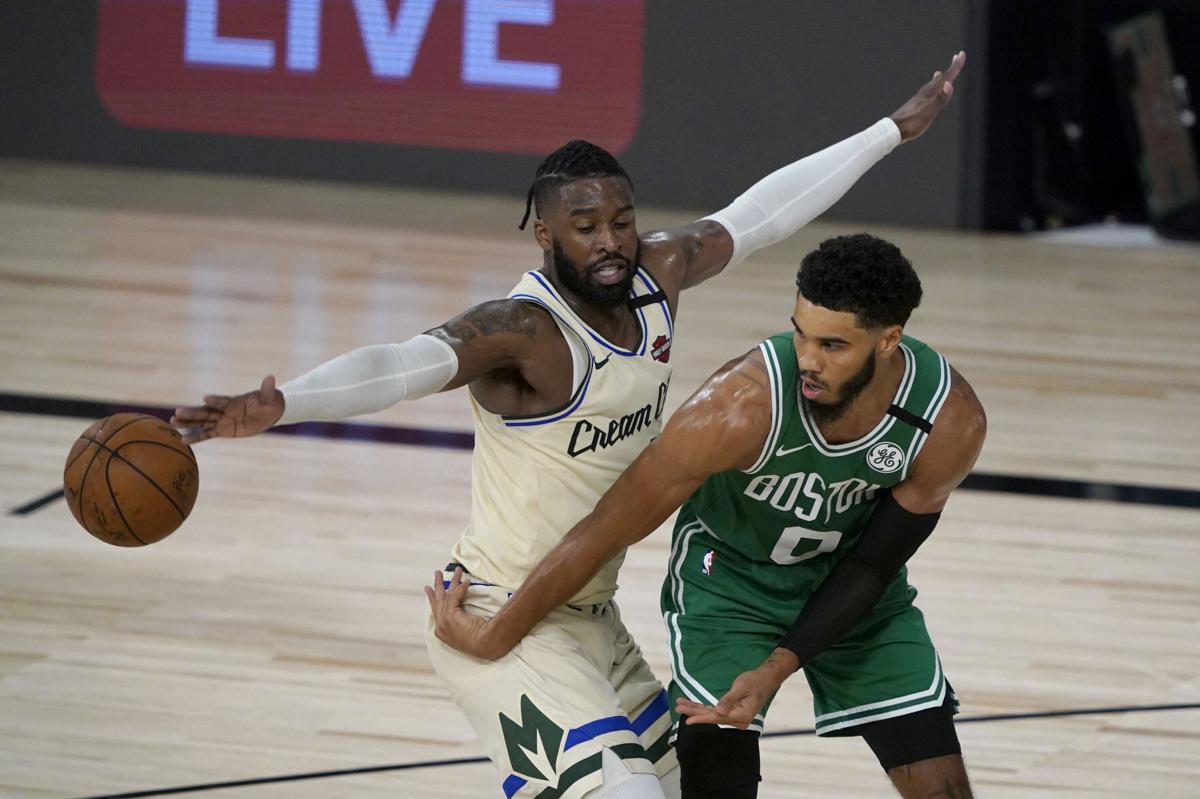 MILWAUKEE — His Madison roots are strong, so it should come as little surprise Wesley Matthews, when choosing a message for the back of his jersey during the NBA restart, did so with his hometown — and state — on his mind.
The Milwaukee Bucks' veteran swingman, who shined at Madison Memorial and Marquette University before embarking on an NBA career that's now in its 11th season, is wearing the word "VOTE" on his back during the seeding-round games at Walt Disney World — a message he hopes resonates back home.
With the country battling a COVID-19 pandemic, struggling economy and nationwide protests for social justice, this November's election represents a turning point and Wisconsin is widely expected to be one of, if not the most, pivotal of swing states.
And for Matthews, nothing will bring about change more than casting a ballot.
"Social injustice is in your face," Matthews said ahead of the Bucks' opening game against Boston last week. "There's no more hiding from it. Every message is important now, but specifically to the state of Wisconsin, we're a swing state and (change) starts with voting."
Leading Memorial to a WIAA state championship as a senior in 2005 was a moment of pride for Matthews, as was helping Marquette burst onto the scene in the Big East Conference and qualify for four consecutive NCAA tournaments. Helping the Bucks win their first NBA championship since 1971 — not to mention the first of his own career — would be a crowning accomplishment for the Wisconsin native, but knowing the state is considered among the worst for racial equality is not something he will tolerate.
"The Bucks, we're trying to be the best team in the NBA," Matthews said "But the state of Wisconsin can't be No. 1 in the country as far as racial inequality. That can't be the case anymore. To me, it's unacceptable."
During the league's hiatus, Matthews was among the many Bucks players who took part in protests in Milwaukee following the death of George Floyd. Seeing the community unite against systemic racism brought the same level of pride he's felt for any on-the-court accomplishment.
"I'm proud of how the Bucks and the city of Milwaukee rallied," Matthews said. "I'm proud of those people who marched and protested in the correct ways and are still doing things behind the scenes in my hometown, Madison, and the state, but there's still work to do.
"And as we're trying to kick (butt) on the court, we also aren't forgetting on back home."
Matthews will sport his "VOTE" jersey again Sunday night when the Bucks play the Houston Rockets.
With Eric Bledsoe and Pat Connaughton out for the opener against Boston, Matthews started and played 27 minutes, hitting a pair of 3-pointers to finish with nine points in the 119-112 victory.
Signed to a one-year, $5.25 million contract after Malcolm Brogdon went to Indiana on a sign-and-trade deal, Matthews was coveted by the Bucks for his ability to knock down 3-pointers but also his defensive prowess, which was put to the test on opening night on Oct. 24 against the Rockets.
Matthews scored 14 points in 30 minutes in Milwaukee's 117-111 victory. Houston star James Harden made all 14 of his free throw attempts but went just 2-for-13 from the field while matched up primarily against Matthews.
Be the first to know
Get local news delivered to your inbox!