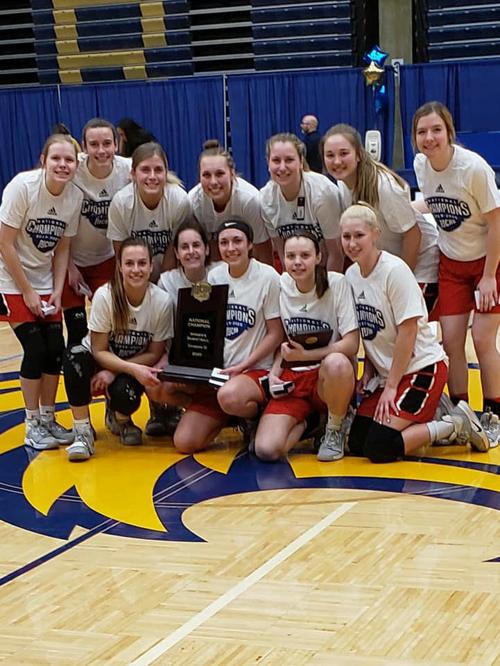 As sports all across the globe grinded to a screeching halt due to the ongoing COVID-19 outbreak, a handful of teams continued to play. The Western Tech Lady Cavaliers women's basketball team were among that select group.
As basketball at all levels was shutting down around them, Western Tech (based out of La Crosse) was able to keep its Cinderella run going and parlayed that opportunity into a National Junior College Athletic Association (NJCAA) Division III national championship.
"It was kind of a cool, unique thing that we got to do, being one of the only teams still playing in the whole nation," said Western Tech head coach Brent Thill.
It was a special, improbable run for team that included Necedah High School alum Lindsey Murphy and New Lisbon High School alum Callie Bever on its roster.
From the very beginning of the year, the Cavaliers faced various challenges. New head coach Brent Thill was hired just two weeks before practices were set to begin. Thill was still living three hours away in Wausau at the time and seven of the team's players were participating in volleyball, so the early practices were difficult to schedule.
Add all that with the players having to learned new offensive and defensive systems and you had a recipe for a potentially rocky season. But Western Tech endured the transition in stride and navigated its way through a successful regular season.
Thill noted that the team's initial goal this season was to capture a regional championship and secure a berth in the NJCAA Division III National Tournament for a second straight year. In the Region XIIIA Championship, the Lady Cavaliers bested the Anoka-Ramsey Community College Rams 78-75.
Western Tech was given a No. 6 seed in the eight-seed national tournament and drew No. 3 seed and back-to-back defending national champion Hostos Community College in the quarterfinals. In the previous year's national semifinals, Hostos defeated Western Tech 68-47.
The quarterfinals were set to get underway Thursday, March 12. The night before, Utah Jazz player Rudy Gobert tested positive for coronavirus, setting off a rapid domino effect that saw sporting events all over postponed indefinitely or outright canceled.
Thursday morning, the NJCAA made the decision to continue with the tournament while barring fans from games. Western Tech and the other national tournament qualifiers would get the chance to compete for national championship — albeit without their respective cheering sections.
Many fans were already en route to Rock Valley College in Rock Valley, Illinois (where the tournament was held) when the decision was made. So they were still in the area, but had to watch the game at hotels or bars and root on from there.
"It was kind of heartbreaking to hear that our parents weren't going to be able to sit in with us and watch it live," Murphy said. "But we knew we had all these supporters here and most of them actually still made the trip and watched in live on TV at a local bar. So we knew they were still there and still supporting us."
Without any fans in attendance, the teams relied on their benches to give them encouragement as a boost.
"I told our bench 'I need you now more than ever,'" Thill said. "It was a little bit of an advantage for us because we had one of the biggest teams going in there. So we had extra people on the bench screaming, yelling and being loud."
Western Tech gained a measure of redemption with a 77-67 victory over Hostos in the quarterfinals. The semifinals and championship game were both held Friday.
In the semifinals, the Lady Cavaliers knocked off No. 2 seed and tournament host Rock Valley 83-74 to move into the championship against No. 4 seed and fellow Minnesota College Athletic Conference (MCAC) member Northland.
Earlier in the season, the Pioneers defeated Western Tech 65-52. This time around, the Lady Cavaliers emerged victorious. They trailed 36-27 at halftime, but outscored Northland 23-7 in the third quarter on their way to a 69-60 win to capture the first national title in school history.
In the national championship game, Murphy scored a game-high 15 points on 5-of-11 shooting to go along with eight rebounds and five assists. Bever scored four points off the bench on 2-of-3 shooting.
"She was just a really steady piece for us, especially when we played a lot of teams that played a pressing style of defense," Thill said of Murphy. "She was the steady train, the rock and you knew she was going to get us through some of those games."
"Callie is one of those players that, when there's a loose ball, somehow it's like she's a magnet," Thill said of Bever. "Callie's not always the quickest player on the floor, but somehow she comes up with loose balls and offensive rebounds like crazy."
And now both Murphy and Bever — along with Bangor High School grad and fellow Scenic Bluffs Conference alum Jacklyn Freit — have an unforgettable basketball memory to always cherish from a most peculiar time in the history of sports.
Follow Zach Rastall on Twitter @zrastall17 or contact him at 608-697-7943.
Be the first to know
Get local news delivered to your inbox!