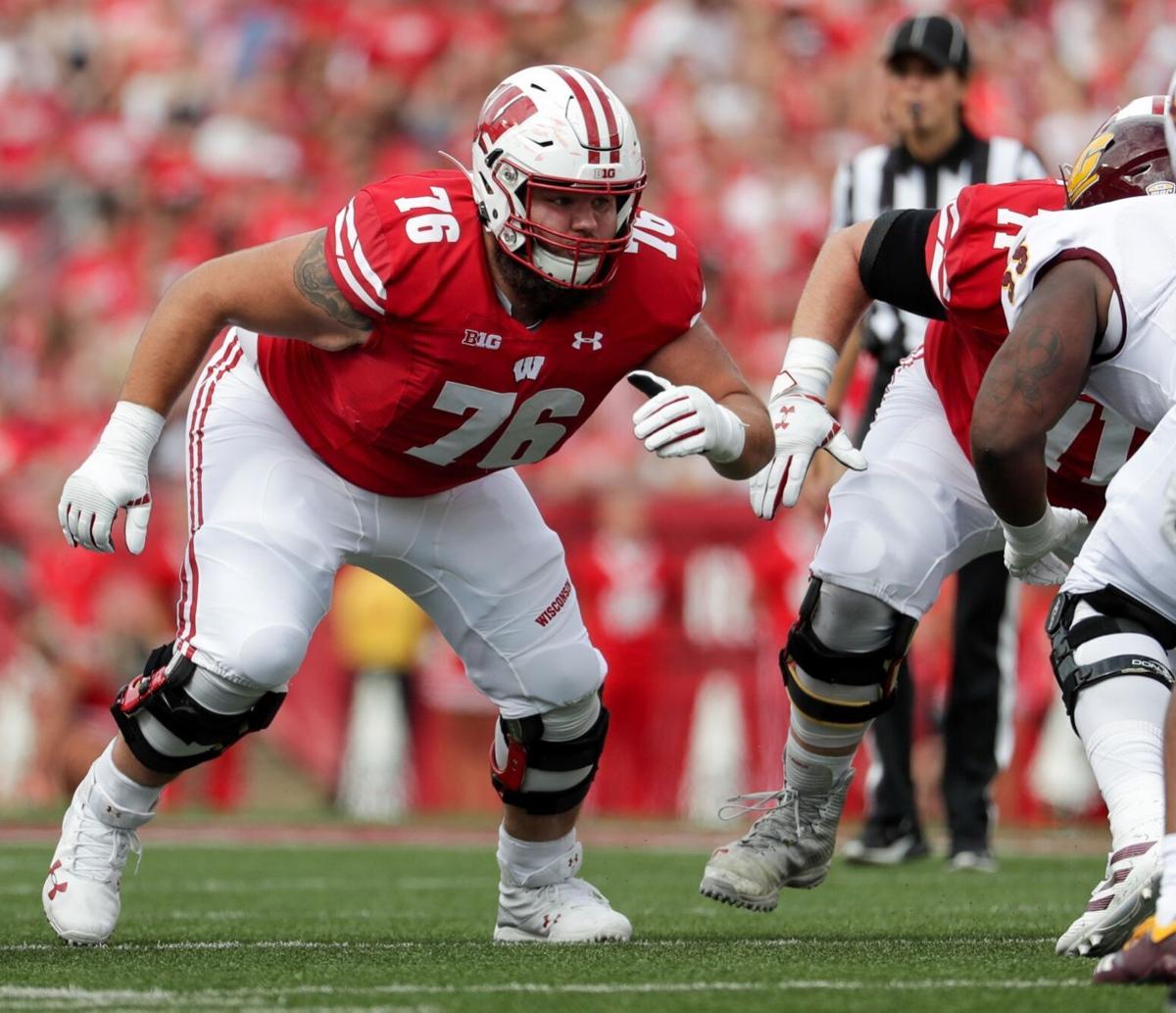 Kayden Lyles felt something strange as he learned of the damage done to his right knee.
The senior center on the University of Wisconsin football team took a direct hit to the side of his knee, tearing his MCL and breaking his tibia, against Indiana last season. He had to be carted off the field at Camp Randall Stadium and didn't play again in 2020.
So why'd he feel lucky? The tear in his MCL was at the exact spot where he'd suffered the same injury in high school, so repairing the ligament didn't cause any new scar tissue or other complications that can arise from such a surgery. He was out of workouts for less than a month and able to have a productive spring practice period.
Lyles has powered his way from multiple injuries to take ownership of the center spot over the past two years. He said his struggles make him appreciate where he is, entering his fifth training camp at UW when practices begin Friday.
"It's obviously a road that I wasn't anticipating on taking with injuries and whatnot," Lyles said Thursday at the Badgers' media day at Camp Randall. "But, you know, I just love the game so much. I love everything about it, battling through and being able to be on the field with the guys. … To have to miss more than what I need to, it's just impossible for me."
Lyles earned the starting center role last season and replaced NFL-bound Tyler Biadasz, a Rimington Trophy winner who had been the starter for three seasons and earned an ironman reputation for dealing with injuries. Lyles became the starter despite coming off double hip surgery — done within a month of each other in December 2019 and January 2020 — and COVID-19 shutdowns keeping him away from UW's facilities and trainers during the spring and summer.
The athletic training staff was in contact with him almost daily, and Lyles was ready by the time UW opened training camp for last year's delayed, shortened season. He played in four games at center before the injury against the Hoosiers, but the experience he gained from that stretch and his role as a guard in 2019 has him confident in what's to come this season.
Joe Rudolph, the Badgers' associate head coach and offensive line coach, said Lyles has a leg up on the competition at the center position after solid spring and summer sessions.
"He has gotten out of his comfort zone," Rudolph said. "He has tried techniques and tried to work details that I think maybe not quite willing to work last year trying to stay healthy. Your expectation for yourself changes, and I think that was a reality for him during the spring."
With the Badgers limited in the on-field work they could do together last season, Lyles was determined to gain a deeper understanding of the scheme. Mental preparation, he figured, was going to have to make up for what may have been missing physically. After his injury, he approached studying defenses with the same fervor as his physical rehab.
The result of that research is a more confident player, which classmate and right tackle Logan Bruss sees manifest in a number of areas.
"The biggest thing as a center is having the confidence to lead because you have some extra responsibilities on your plate because you kind of have to guide the rest of the line, make sure everybody else is on the same page," Bruss said. "He's taken big steps physically, he's gotten better technique wise, but just kind of taking those reins as a leader was the big thing for him."
Lyles has gotten together throughout the offseason with redshirt sophomore quarterback Graham Mertz to iron out how they want to operate this year.
"We're at the point now where we're like a weird duo where we know exactly where we're going with everything," Mertz said.
UW coach Paul Chryst said Lyles is one of the players he trusts to lift those around him, embracing the leadership role his upperclassman status brings. Lyles had mentors in the offensive line room such as Beau Benzschawel, Michael Deiter and Jon Dietzen, and he wants to pay forward what they did for him as a young player.
Lyles' journey has taught him how to stay positive and seize moments that come his way, things he believes he can impart on younger teammates.
"Having the ability to bounce back … I think it's an important trait that everybody should learn," Lyles said. "I just happened to learn it while doing something I love."