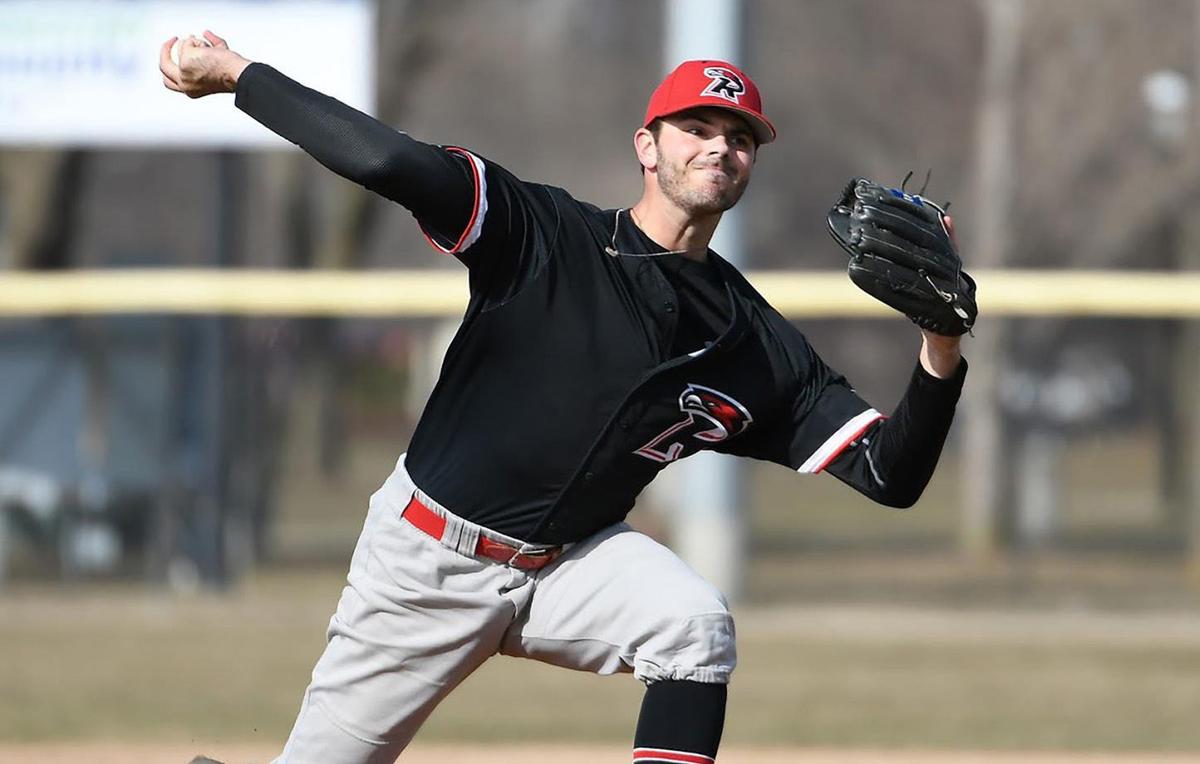 Had these times been normal times, Ripon College senior pitcher Jack Nelson would be getting ready for the Red Hawks home opener that was scheduled to be played against Carroll University on Wednesday.
Things, of course, are anything but normal, and Nelson, a former Portage High School standout athlete, will not be playing baseball this week, next week, or anytime soon. In fact, Nelson's college baseball career might be officially finished.
Nelson and his Red Hawk teammates were gearing up for their season-opening spring trip to Winter Haven, Florida two weeks ago when things started to change in the sports world. The team was scheduled to head south on Friday, March 13, but the prior day it became apparent that the trip might not happen due to the increasing concerns over the coronavirus pandemic.
"Thursday, the day before we left, that night, around 4 o'clock, we had a team meeting. That's when we found out our Florida trip was cancelled. So that was tough, especially for us seniors, knowing our last year here, our Florida spring training trip was cancelled," Nelson said. "But at that point, we were like 'hey, we got the rest of the season, not a big deal. We will still be able to play in a few weeks hopefully.'
"So at that point, a few schools in our conference cancelled their entire season. We thought that was kind of crazy. We didn't think anything of that, until a week later when it got more serious, more teams in the area, more conferences in the area were starting to cancel their spring sports. At that point it was really surreal, like 'oh man, that could happen to us.'"
On Tuesday, March 17, the curtain finally came down on Ripon's season, as the Midwest Conference announced its decision to cancel all spring sports.
"A few days after some of the schools decided to cancel their season, we got a group text from our coach, in a big group chat, kind of just explaining that our season is over," Nelson said.
While the decision to cancel the season was felt by all athletes, it stung a little more for those seniors who were in their final year of college sports. Because the Ripon baseball team had yet to play any games this season, Nelson and his fellow seniors on the team will have another year of eligibility available to them, but that would also require them to return to school for another year.
If the decision was just about baseball, Nelson said returning would be a no-brainer, but it's not that simple.
"We have nine seniors on our team, but four of us, me included, were scheduled to graduate in May," Nelson said. "So guys like me are on the fence. We can come back and participate and pick up another minor, or pick up another major, and that is something I've been thinking about with graduation coming up here in May. For the most part, us seniors, it really sucks for us, because we were scheduled to move on. We've been looking at jobs and that kind of stuff for post-graduation. Now this is a big wrench thrown in our plans."
Nelson's college baseball career began in 2017 at St. Mary's University in Winona, Minnesota. After two years with the Cardinals, Nelson transferred to Ripon, where he spent his junior season in 2019. In 12 pitching appearances, including four starts, Nelson threw 25 innings for Ripon, while also getting 13 at-bats as an occasional pinch hitter. His performance helped the Red Hawks reach the Midwest Conference Tournament championship game, where they lost to Cornell College.
Nelson said the strong close to last season, which helped the Red Hawks finish 24-18 overall and 10-6 in the Midwest Conference, had hopes riding sky high for the 2020 season.
"I was just kind of coming into an upperclassmen role at Ripon, especially this senior season, being one of the captains and that kind of stuff," Nelson said. "It just sucks for the season to be cut short, especially returning a pretty good squad this year. We had high hopes in our conference."
With baseball season cancelled, and all classes at Ripon College being moved online, Nelson recently moved back to Portage. And while there is no season to get ready for, Nelson said he continues to work out with former high school teammates in Portage.
"Since we can't be in large crowds of people and be in contact with a bunch of other people, we're just mainly throwing and getting some bullpens in, and just getting some light work in," Nelson said. "As far as baseball goes, just kind of going to the field and getting as much as we can done with limited people there and limited equipment."
Nelson hopes to be playing some sort of baseball this summer. If he does decide to return to Ripon for another year of baseball, the Northwoods League might be an option. Nelson has played in the Northwoods Leauge — a summer amateur league made up of college players — the last two years, playing with the Wisconsin Rapids Rafters and the Rochester Honkers.
Other organized league options will depend on his job situation, and where he is living. Nelson is a communication major, and is hoping to land a job working in the social media department for a professional or college sports team.
"I plan on playing around here this summer. There's a whole bunch of talk about the Northwoods League and if they're going to have a season this summer," Nelson said. "I'm also looking at jobs and stuff like that, so depending on where I live and all that comes with finding a job... I plan on playing baseball this summer regardless, but it's just a matter of what leagues are open and how far this pandemic goes."
Be the first to know
Get local news delivered to your inbox!