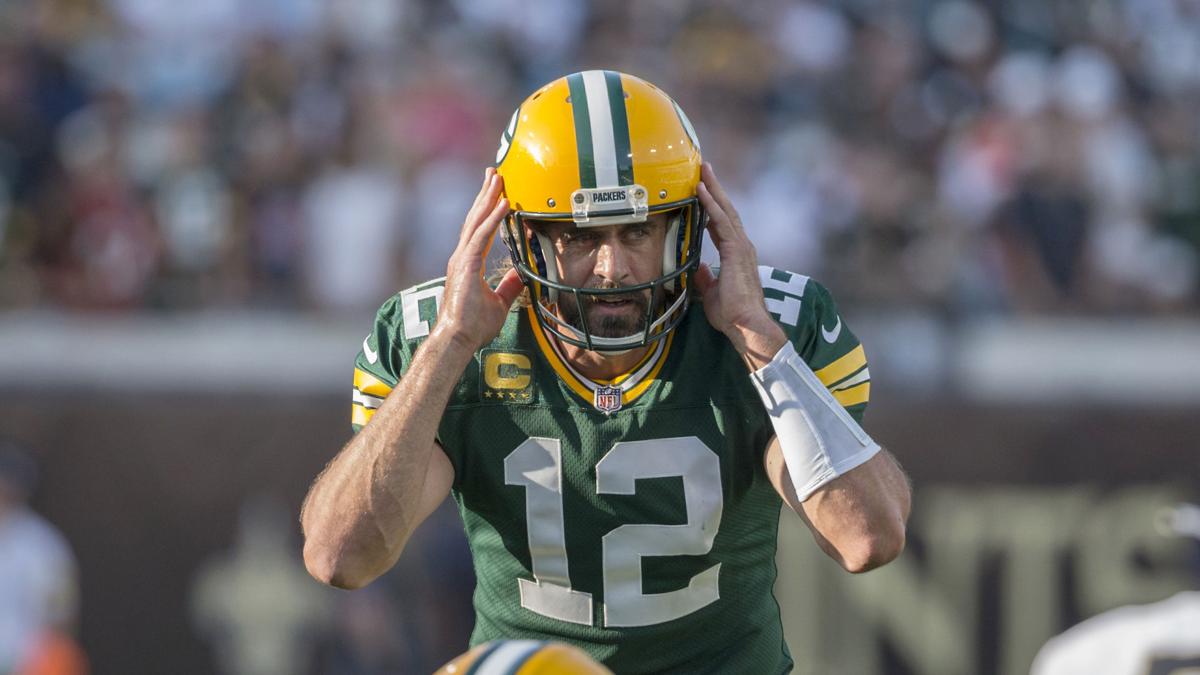 The University of Wisconsin football team is in the midst of a bye week and the Green Bay Packers are set to start the regular season after getting dismantled by the New Orleans Saints in their preseason finale.
Yuk, yuk, yuk for that joke and yuck, yuck, yuck for the Packers, who apparently didn't get the memo that the regular season was underway.
That 38-3 loss to the New Orleans Saints in steamy Jacksonville last Sunday has led to a lot of anxiety in the fan base, as you're about to see while scrolling through this week's Open Jim.
There's a lot of Graham Mertz and UW offense talk for the second consecutive week after the Badgers failed to dazzle in the passing game against Eastern Michigan.
You can submit questions for this weekly feature on Twitter or via email at jpolzin@madison.com. As always, thank you for reading.
---
I don't see GB improving - not on defense, specifically. If they continue like this, how many in-season trades will Gute pull off? Have to think Adams & Smith Brothers will be gone. King will be gone. And Rodgers....it might make sense. He was 2018 Rodgers yesterday.

— bahansenloop (@bahansenloop) September 13, 2021
This is going to disappoint you, but the answer is … none.
People, it's one loss. And while there wasn't a single positive to grasp onto after that performance in Jacksonville, it's way too early to start talking about unloading key players. Plus, there's a reason you don't see many blockbuster in-season trades in the NFL — it's a complicated endeavor.
Peter Schrager of the NFL Network caused a stir Tuesday with a hypothetical trade proposal that had the Packers sending Rodgers to the Denver Broncos in exchange for quarterback Teddy Bridgewater, defensive end Bradley Chubb, wide receiver K.J. Hamler and first-round picks in 2022, 2023 and 2024.
That's good fodder for talk shows but it's pure silliness to take any trade talk seriously after Week 1. Yes, the Packers are 0-1 and it's an ugly 0-1. But in the words of Aaron Rodgers: R-E-L-A-X.
Name one thing from the colossal stinker that was the 2021 season opener that gave any indication the Packers are a contender, as advertised. Don't worry, we'll wait.
I expect Rodgers, Davante Adams, Za'Darius Smith and Preston Smith to be around past the Nov. 2 deadline. And I still expect the Packers to be in the playoffs — have you looked at the rest of the NFC North?
---
What concerned you most about the packers and what concerned you the least?

— Fred Ehle (@FredEhle) September 13, 2021
The biggest concern has to be the defense, specifically the Packers' inability to stop the run. As mentioned above, it's not like this is a new issue.
I'm not concerned at all about Rodgers at this point. Did he play poorly? Yes. But Rodgers has a great track record and one stinker isn't enough to get me worried.
---
Jim, why do the Packers defensive backs continue to play off the line of scrimmage 5+ yards? Coach said it's situational but it seems like it's every single snap. Wouldn't playing up on the line benefit players like King and Alexander?

— Dan Paulson (@kuatolives11) September 14, 2021
I wondered the same thing and asked my friend Jason Wilde, who does the heavy lifting in our Packers coverage.
Welcome to Open Jason. Here's his answer:
"It doesn't make a whole lot of sense to me, either — and I'm not sure Matt LaFleur is a fan of that approach, just as you aren't, Dan. My guess is that they are guarding against the big play — that is the hallmark of this style of defense, to keep everything in front of you — and that they expect the defensive back to react and drive on the ball to close that space. But this was an issue in Mike Pettine's defense, and it was noticeable again last Sunday. LaFleur was asked about it on Monday, and his answer about it being situational made me wonder if that was a subtle way of saying that they're doing it in situations that they shouldn't be."
Thanks, Jason. We now return to Open Jim, already in progress.
---
Are the Packers now the worst run sports franchise in this state? Serious question.

— Salvador Allende (@1973salvador) September 14, 2021
Well, let's see. The Milwaukee Bucks won an NBA title last season and the Milwaukee Brewers are on pace for nearly 100 wins and will be in the playoffs for a fourth consecutive season despite being a small-market team in a league without a salary cap.
So the answer is yes, almost by default.
Like I said above, it's way too early to panic. Take a deep breath and let's see how the next month or two plays out before starting the shouts for Packers president Mark Murphy and general manager Brian Gutekunst to get fired.
---
You saw two completely different games Saturday and Sunday. What were your biggest takeaways from this weekend?

— Kevin Stalsberg (@broncoatc) September 13, 2021
There was one big similarity, Kevin: The games were decided so early that I could figure out what I was writing by early in the second half.
Let's start with the Badgers. My biggest takeaway from that game is that UW has a pretty solid 1-2-3 punch at tailback with Chez Mellusi, Jalen Berger and Isaac Guerendo. Granted, UW will see much better defenses the rest of the way. But I really like what I've seen from Mellusi and Guerendo through two weeks, and it was good that Berger finally got on the field after watching the opener from the sidelines. UW coach Paul Chryst and running backs coach Gary Brown have options.
My biggest takeaway from the Packers' loss is that their run defense was atrocious and it's really hard to imagine this team winning a Super Bowl if that issue doesn't get fixed in a hurry. But will it? The team made no significant personnel upgrades on defense in the front seven during the offseason. The only major change on defense was replacing Pettine with Joe Barry as coordinator, and we saw the impact that made in the first game.
---
Was Eastern Michigan the wrong week to call for greater innovation for the Badgers offense?

— Malden Badger (@MaldenBadger) September 14, 2021
But did I expect Chryst to throw the kitchen sink at Eastern Michigan? No. It wasn't necessary against an overmatched opponent.
We'd all feel better about UW's passing game if Graham Mertz had completed something downfield against the Eagles. Even one big play through the air would have offered a glimmer of hope.
But like I said a week ago, there always are deep shots built into a game plan and sometimes they don't materialize. A buddy pointed out a play from late in the first half against Eastern Michigan in which three UW receivers ran fly routes and Mertz locked in on Jack Dunn, who was lined up as the inside receiver on the right side. The pass should have been intercepted but was dropped and it wasn't totally clear if it was poorly thrown or if Mertz expected Dunn to adjust his route to the middle of the field. Either way, UW dodged a turnover.
That was a case of Mertz forcing a pass downfield, and you don't want that, either.
The point of the column was that UW needs to expand its offense if it's going to beat the best opponents on its schedule, something it's failed to do over the past 11 games dating to late in the 2019 season. The Badgers are 0-6 against ranked opponents during that span. Coming off a loss to Penn State, I thought the timing was right to say what I did about the UW offense even if a lesser opponent was next on the schedule.
---
Lots of (understandable) gushing about the Badgers defense after the first two games. What's their greatest vulnerability? It is as obvious as the deep ball like what PSU did or is there something else?

— Chris Davis (@cdavis20000) September 13, 2021
I think UW will be stout against the run and its pass rush appears to be improved. But we saw the Badgers get burned a few times in the opener by shots downfield, with blown assignments and some communication issues leading to those big hits.
It should be pointed out that the Badgers probably won't face a receiver as good as Penn State's Jahan Dotson the rest of the regular season.
The Notre Dame game will be a good test for UW's defense. The Fighting Irish have some decent receivers and their biggest threat in the passing game is tight end Michael Mayer, who has 16 catches for 201 yards and three touchdowns through two games.
---
How does Graham Mertz's passing stats compare to former second year Badger QBs?

— Jason Joanis (@jjoanis27) September 14, 2021
I think a good starting point here is John Stocco, whose second season as a starter (2005) just happened to be the first year of Paul Chryst's second stint as an assistant coach on Barry Alvarez's staff. Chryst served as co-offensive coordinator that season and wasn't the quarterbacks coach — Jeff Horton was — but Chryst was calling the plays.
We also need to acknowledge a couple things: Mertz's first season as a starter was unique because of the COVID-19 pandemic that limited the Badgers to seven games. He's also the only one of these six quarterbacks to start season No. 2 as a starter against a ranked opponent. Everybody else had a pretty easy two-game slate to start the season.
Stocco was 20 of 29 for 296 yards with four touchdowns and one interception in wins over Bowling Green and Temple. Passer rating: 193.3.
Scott Tolzien was 30 of 42 for 388 yards with one touchdown and one interception in wins over UNLV and San Jose State to start the 2010 season. Passer rating: 152.1.
Joel Stave was 33 of 46 for 416 yards with five touchdowns and two interceptions in wins over Massachusetts and Tennessee Tech to start the 2013 season. Passer rating: 174.9. (Reminder: Chryst wasn't around for Stave's first three seasons as a starter).
Alex Hornibrook was 31 of 51 for 445 with four touchdowns and an interception in wins over Utah State and Florida Atlantic to start the 2017 season. Passer rating: 156.0.
Jack Coan was 45 of 59 for 564 yards with five touchdowns and no interceptions in wins over South Florida and Central Michigan to open the 2019 season. Passer rating: 184.5. (Note: Coan only had started four games as a sophomore the previous season).
Mertz is 36 of 54 for 326 yards with no touchdowns and two interceptions as UW opened the season with a loss to Penn State and win over Eastern Michigan. Passer rating: 110.0.
---
Who is/was a bigger disappointment, Mertz or Sam Okey?

— @birdieparbirdie (@birdieparbirdi1) September 13, 2021
I hate labeling players as disappointments. Always have, always will. Was the fact that Okey's career at UW fizzled out after 2½ seasons disappointing? Yes. Do I consider Okey a disappointment? No. Maybe that's just me.
As for Mertz, I think it's important to keep in mind that he's a sophomore with nine career starts. That's a significant body of work, but it's not even a full season. I expected Mertz to be further along and I was critical of his poor play in the opener against Penn State, particularly the type of silly mistakes he made. But I think there's a lot of time for growth and it's way too early to give up on him.
The Mertz-Okey comparison is interesting from this standpoint: Both arrived at UW with gigantic expectations and I always wonder how difficult it is to live up to that type of hype. Some players are able to do it, some aren't.
---
If all the bars/restaurants on campus are smart enough to figure out how to fully staff their business on the biggest days of the year, is it too much to ask a multimillion dollar dept. that employs dozens of highly-paid MBAs to figure out a way to find people to sell hot dogs?

— EricTheRed (@RealEricTheRed) September 13, 2021
This seems like more of a rhetorical question than an actual question, Eric, so I'm just going to let you vent in front of the hundreds of thousands Open Jim readers.
One thing that surprises me from your statement is that campus bars and restaurants aren't having staffing issues on game day. It seems like everywhere I go, places are having trouble with staffing and it's leading to slower service.
I suppose one possible explanation is that the UW bars and restaurants employ college students who want to make some cash and take advantage of good tips on busy game days.
I'll toss down a press-box hot dog if the situation really gets bad.
---
Fav football venues besides those in WI

— Sheriff Bart (@boymaballsich) September 14, 2021
This one is easy. There's no better venue to watch a game than the Rose Bowl in Pasadena, California. I've said it before, but it's hard to stay focused on the game because the San Gabriel Mountains serve as such a breathtaking backdrop.
The BYU trip in 2018 was great for the same reason. As for Big Ten venues, I like Iowa's Kinnick Stadium. Good crowd and usually a big game that is competitive. Plus, an easy drive.
---
Looking ahead to next weekend, what's your prediction for the Ryder Cup?

— Keith Schmidt (@madtownkeith) September 14, 2021
Jim- do you like team USA's chances at Whistling Straits next week? At face value, we seem young and inexperienced compared to team Europe.

— Sean Stephenson (@sgstephenson) September 14, 2021
This seems like a mismatch on paper — but we know better, don't we?
The United States team captained by Madison resident Steve Stricker has 10 of the top 11 players in the Official World Golf Ranking. But three of the players on that list — Collin Morikawa (3), Patrick Cantlay (4) and Xander Schauffele (5) — are playing in the Ryder Cup for the first time. Plus, there are three other rookies on the team.
Dustin Johnson (four Ryder Cups) and Jordan Spieth (three) have the most experience on the U.S. roster. Team Europe has two players with 10 Ryder Cup appearances in Sergio Garcia and Lee Westwood, plus three others with at least four appearances in Ian Poulter, Rory McIlroy and Paul Casey.
So yeah, Stricker's side is at a big disadvantage in terms of experience.
The other thing that bothers me about the United States side is that two of the best players, Bryson DeChambeau and Brooks Koepka, hate each other. How Stricker manages that dynamic and whether the bad blood leaves a dark cloud hanging over the team will go a long way in deciding this thing.
I hate to do it, but I'm picking Team Europe, which has won seven of the previous nine competitions. It will build a lead the first two days and do just well enough in singles play Sunday to hold on, 14½-13½.
Programming alert: I'll be in Haven next week and will cover the Friday and Sunday rounds, sandwiched around a trip to Soldier Field for the UW-Notre Dame game.
Big Ten men's basketball schedule announced: What to know about the Badgers' conference matchups
Dec. 8 | Indiana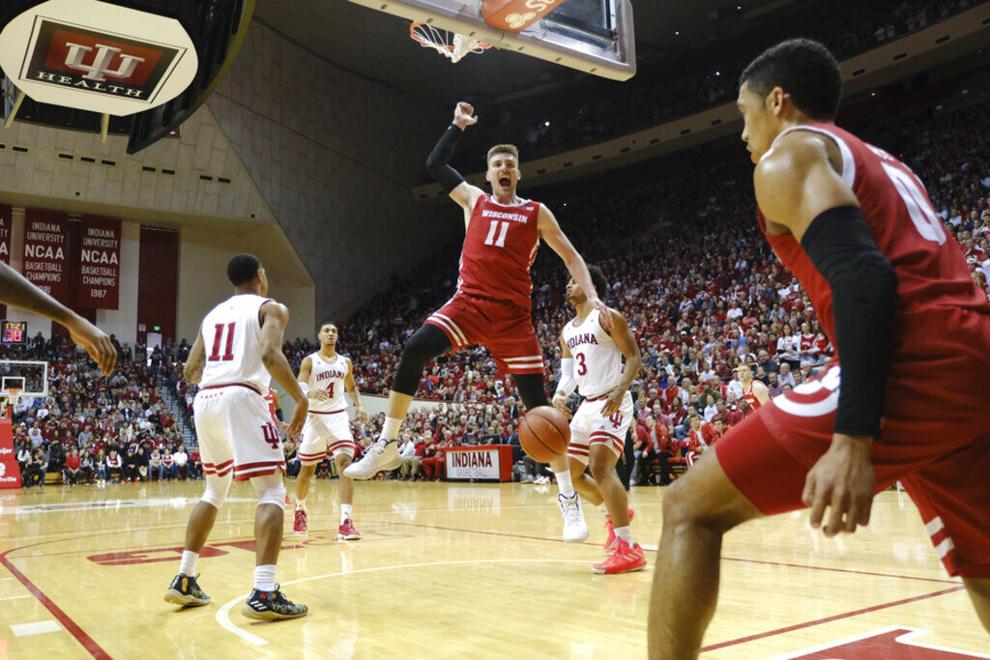 Where: Big Ten conference opener for Wisconsin at the Kohl Center in Madison
2020-21 season: The Hoosiers finished 10th in the Big Ten with a 7-12 conference record while going 12-15 overall. Their season ended in the first round of the Big Ten tournament with a 61-50 loss against Rutgers.
Series: Last season Wisconsin edged out Indiana 80-73 in a win at the Kohl Center. The Hoosiers hold the series edge 97-77.
Heading into 2021-22: Coach Mike Woodson is in his first season at Indiana. Leading scorer sophomore Trayce Jackson-Davis returns for the Hoosiers. He averaged 19.1 points per game last season. Indiana also added perimeter shooting in transfers Xavier Johnson from Pitt and Miller Kopp from Northwestern.
Dec. 11 | Ohio State
Where: The Schottenstein Center, Columbus, Ohio
2020-21 season: Ohio State finished fifth in the Big Ten with a 12-8 conference record, going 21-10 overall. The Buckeyes lost to Illinois in the Big Ten Conference championship game before being upset by No. 15 seed Oral Roberts 75-72 in the opening round of the NCAA tournament.
Series: Ohio State holds the lead in the all time series between the Buckeyes and the Badgers 93-75. The Buckeyes were one of five teams to hand the Badgers a home loss last season when they won 74-62.
Heading into 2021-22: The Buckeyes return the second and third-leading scorers from last season in E.J. Liddell and Justice Sueing, who averaged a combined 32.6 points per game. Ohio State also added three transfers to their roster — Harvard's Seth Towns, Penn State's Jamari Wheeler and Indiana's Joey Brunk. The team boasts a veteran roster with five graduate students, three true seniors and one redshirt senior.
Jan. 3 | Purdue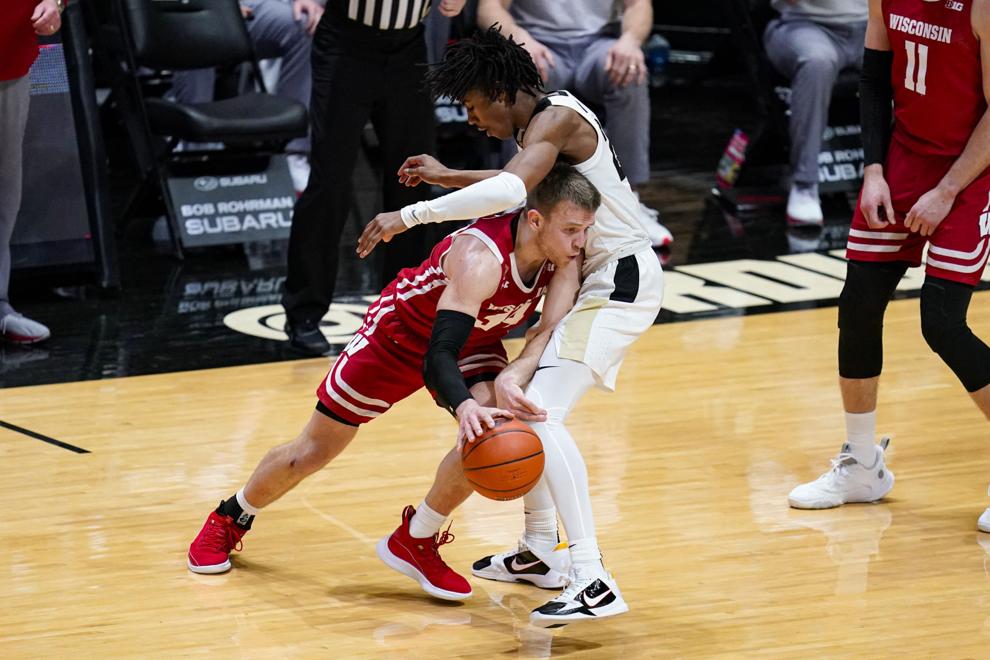 Where: Mackey Complex in Lafayette, Indiana
2020-21 season: The Boilermakers finished fourth in the Big Ten after going 13-6. They entered the NCAA tournament as a No. 4 seed, but their season ended with an overtime loss against North Texas in the first round.
Series: Last season Purdue defeated Wisconsin in West Lafayette, Indiana, 73-69. The win advanced their all-time series lead to 111-72.
Heading into 2021-22: Purdue returns four of its five starters from last season in Jaden Ivey, Trevion Williams, Eric Hunter Jr. and Sasha Stefanovic. Ivey played in the 2021 FIBA U19 World Cup this summer alongside Wisconsin's sophomore guard Jonathan Davis. Ivey was the second-leading scorer — behind Louisiana Tech's Kenneth Lofton Jr. — with an average of 12.3 points per game. His experience in Latvia, where Team USA captured the gold medal, plus strong end to his freshman year adds to an already impressive Purdue roster.
Jan. 6 | Iowa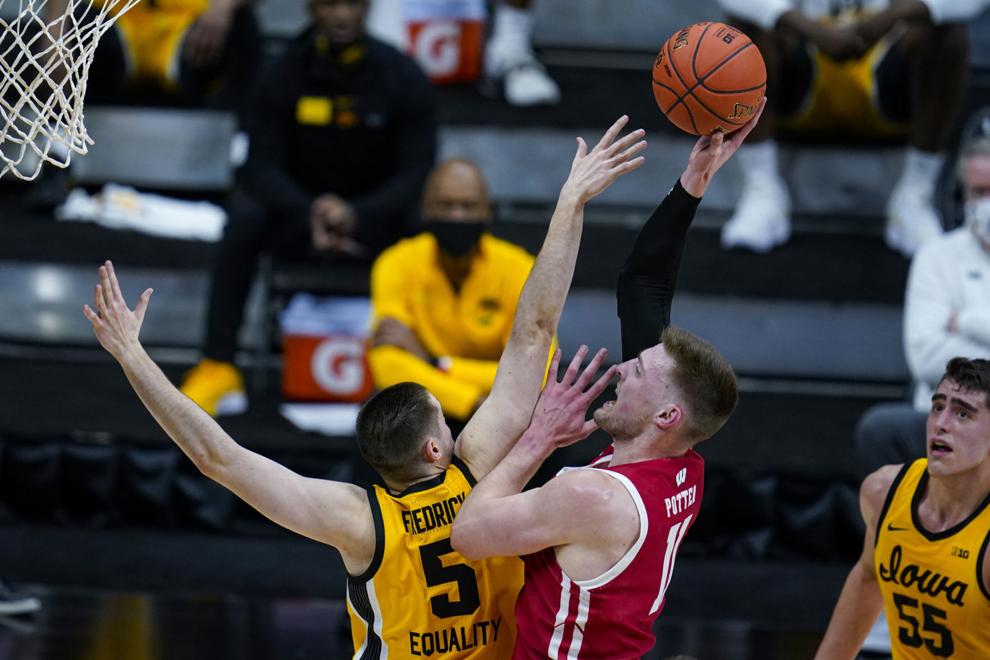 Where: Kohl Center, Madison, Wisconsin
2020-21 season: The Hawkeyes finished third in the Big Ten with a 22-9 overall record and a 14-6 conference mark. Iowa was knocked out in the semifinals by Illinois during the Big Ten tournament, but entered the NCAA tournament as a No. 2 seed. Their Big Dance journey ended in the second round via a 95-80 loss to Oregon.
Series: Iowa and Wisconsin stand at an 85-85 draw in their history after the Hawkweyes won all three games the pair played last season — two during the regular season and one in the Big Ten tournament.
Heading into 2021-22: Iowa has to overcome big roster losses this season. Naismith Men's College Player of the Year Luke Garza and Joe Wieskamp both got drafted into the NBA, while CJ Fredrick transferred to Kentucky. Jordan Bohannon returns for a sixth season alongside standout sophomore Keegan Murray. The pair were the third and fifth-leading scorers for the Hawkeyes a year ago, with 10.6 and 7.2 points per game.
Jan. 9 | Maryland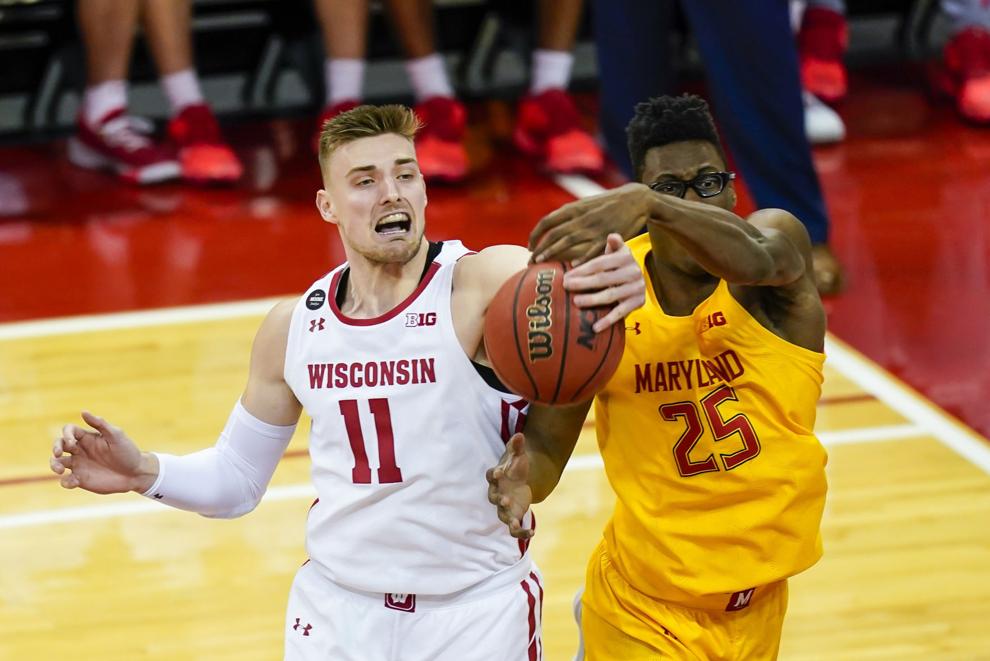 Where: Xfinity Center, College Park, Maryland
2020-21 season: Maryland finished 9-11 in the Big Ten and 17-14 overall last season. This earned it eighth place in the Big Ten standings. The Terrapins did receive an at-large bid into the NCAA tournament and even defeated then No. 7 Connecticut to advance to the second round, where they were knocked out by Alabama.
Series: Wisconsin and Maryland have played just 18 times. The Badgers hold an 11-7 edge after splitting last season's games.
Heading into 2021-22: Maryland's best player last season, Darryl Morsell, transferred to Marquette during the offseason, but coach Mark Turgeon rallied to build up the roster. The Terrapins gained Rhode Island's Fatts Russell and Georgetown's Qudus Wahab, who have the potential to combine for upwards of 30 points per game this season. Maryland also returns senior guard Eric Ayala and junior forward Donta Scott, who were key players in the win over Connecticut in the NCAA Tournament.
Jan. 13 | Ohio State
Where: Kohl Center, Madison, Wisconsin
Jan. 18 | Northwestern
Where: Welsh-Ryan Arena, Evanston, Illinois
2020-21 season: Northwestern was one of only five Big Ten schools to not make the NCAA Tournament last season. The Wildcats finished 12th in the Big Ten with a 6-13 conference record. They finished 9-15 overall and lost to Minnesota in the first round of the conference tournament to end their season.
Series: Northwestern is one of the few Big Ten teams Wisconsin has an all-time series edge over, with 121 wins to the Wildcats' 65. Last season, the Badgers swept the Wildcats both home and away by at least 16 points.
Heading into 2021-22: The Wildcats return key contributors in redshirt junior guard Chase Audige and junior guard Boo Buie. Last season's second-leading scorer Miller Kopp transferred to Indiana after the season.
Jan. 21 | Michigan State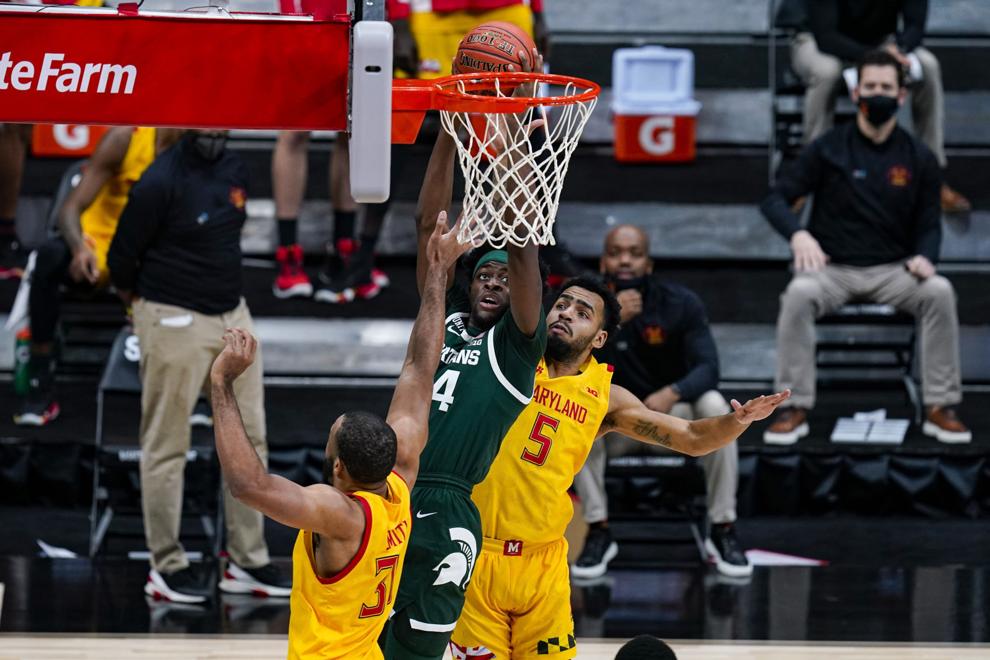 Where: Kohl Center, Madison, Wisconsin
2020-21 season: Michigan State finished 9-11 in Big Ten play and 15-13 overall, earning it a ninth-place finish in the conference. The Spartans just barely got into the NCAA tournament, but ended up losing in the First Four to eventual national runner-up UCLA.
Series: The Spartans hold a 83-66 all-time series lead over the Badgers. Last season, Wisconsin defeated Michigan State 85-76 on its home court.
Heading into 2021-22: The Spartans add in one of the top transfers in the country, Northeastern's Tyson Walker. Five-star recruit Max Christie could also add a scoring boost. Returning senior forwards Gabe Brown and Marcus Bingham aid with an veteran interior presence.
Jan. 25 | Nebraska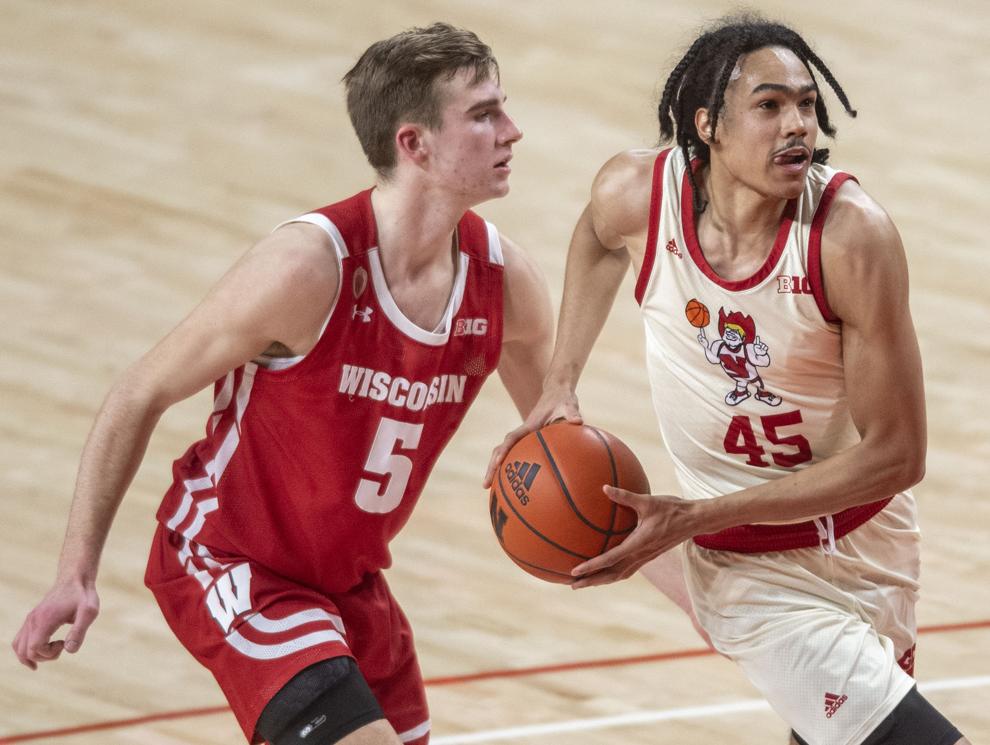 Where: Pinnacle Bank Arena, Lincoln, Nebraska
2020-21 season: The Cornhuskers finished in last place in the Big Ten after winning only three games against conference foes. Those wins were against Rutgers, Penn State and Minnesota. They did force then No. 6-ranked Illinois into overtime on Feb. 12.
Series: Wisconsin handed Nebraska two losses last season to widen their lead to 20-14 in the pair's all-time series.
Heading into 2021-22: Coach Fred Hoiberg is on his third season leading the Cornhuskers and has arguably his most talented team yet. Five-star recruit Bryce McGowens joins his brother Trey McGowens on the roster. Trey was one of two players to average double digits in scoring for the team last season. Junior forward Lat Mayen will step into more of a focal role this season as well.
Jan. 30 | Minnesota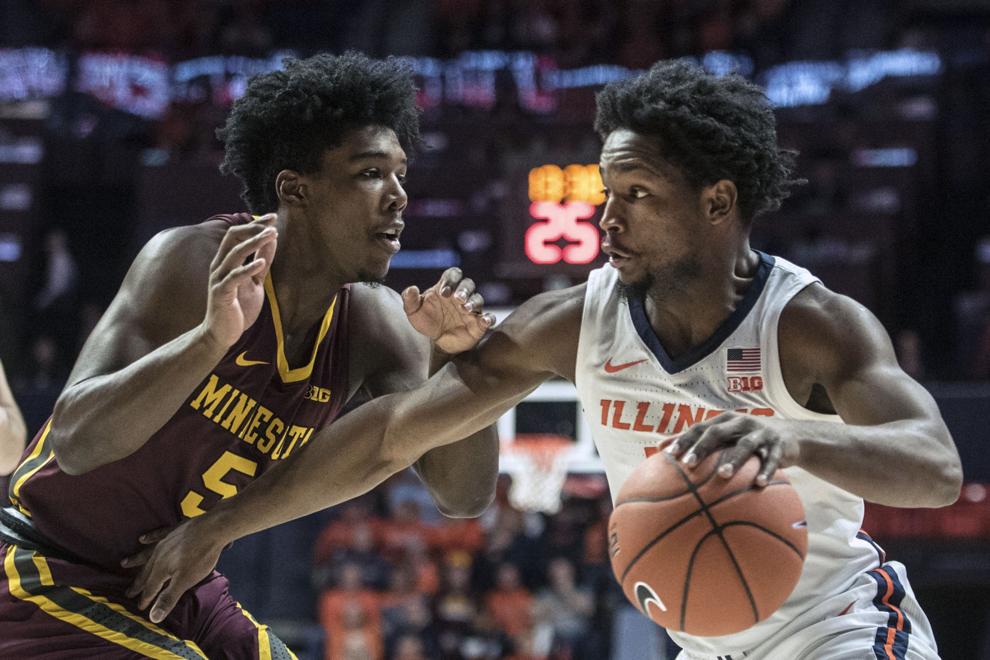 Where: Kohl Center, Madison, Wisconsin
2020-21 season: Despite being ranked early in the season, Minnesota didn't make it past Big Ten play. It finished 13th in the conference with a 6-14 record and was 14-15 overall.
Series: Minnesota holds a narrow 104-103 lead in the all-time series. However, the Badgers did defeat the then-ranked No. 21 Gophers 71-59 at the Kohl Center last season.
Heading into 2021-22: Coach Ben Johnson is in his first year at the helm. Ten players entered the transfer portal after former coach Richard Pitino was fired following last season, including leading scorer Marcus Carr. The Gophers have almost an entirely new roster and coaching staff heading into this season.
Feb. 2 | Illinois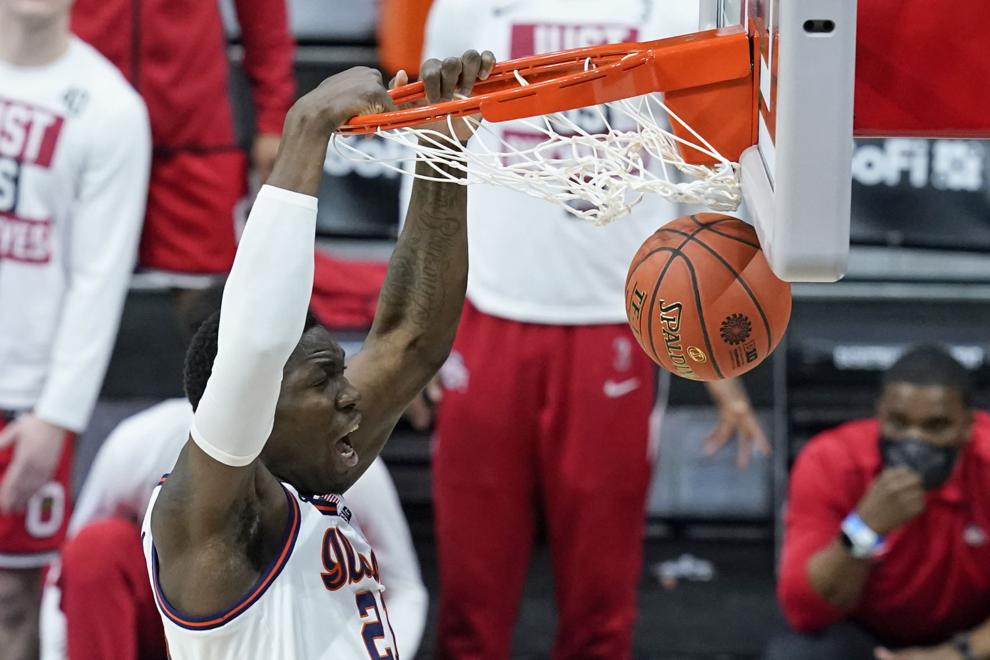 Where: State Farm Center, Champaign, Illinois
2020-21 season: The Fighting Illini finished sixth in the Big Ten but won the conference tournament and entered the NCAA tournament as a No. 1 seed. Their season ended with a second-round loss to No. 8 seed Loyola Chicago. Their final record was 24-7.
Series: Illinois bested Wisconsin twice during conference play last season. The two teams have played each other more than 200 times with the The Fighting Illini holding a 113-90 edge.
Heading into 2021-22: Illinois may have lost star guard Ayo Dosunmu to the Chicago Bulls, but junior center Kofi Cockburn returns. Cockburn was the Illini's second-leading scorer with 17.7 points per game. After dropping out of the NBA draft he considered other schools but ultimately decided to stay at Illinois. The Illini also have a solid guard presence in sophomore Andre Curbelo, senior Trent Frazier and senior Da'Monte Williams.
Feb. 5 | Penn State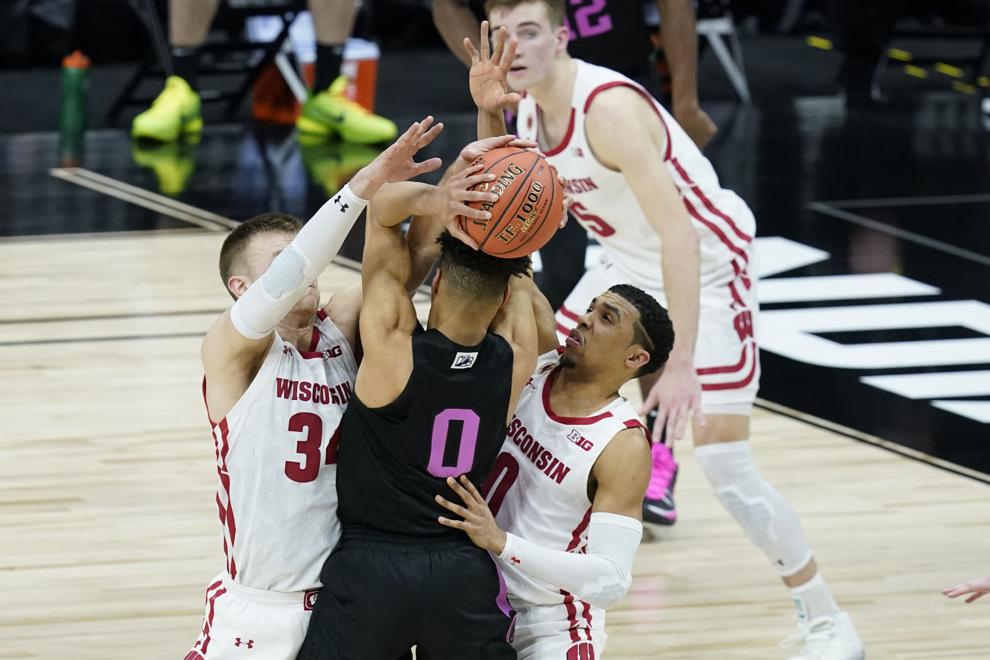 Where: Kohl Center, Madison, Wisconsin
2020-21 season: The Nittany Lions finished 11th in the Big Ten last season after a 7-12 conference record and 11-14 overall mark. They were knocked out of the conference tournament by Wisconsin, which won 75-74 in the second round.
Series: Wisconsin and Penn State split games during the regular season, but the Big Ten tournament win added to the Badgers overall lead making the all time-series record 41-11.
Heading into the 2021-22 season: Micah Shrewsberry took over after Pat Chambers resigned and returns a good number of talented players. The Nittany Lions lost leading scorer Myreon Jones, but retained Seth Lundy and Sam Sessoms, who averaged the third and fifth-most points per game for the team last season. Senior John Harrar also returns and Penn State added Siena transfer Jalen Pickett.
Feb. 8 | Michigan State
Where: Jack Breslin Student Events Center, East Lansing, Michigan
Feb. 12 | Rutgers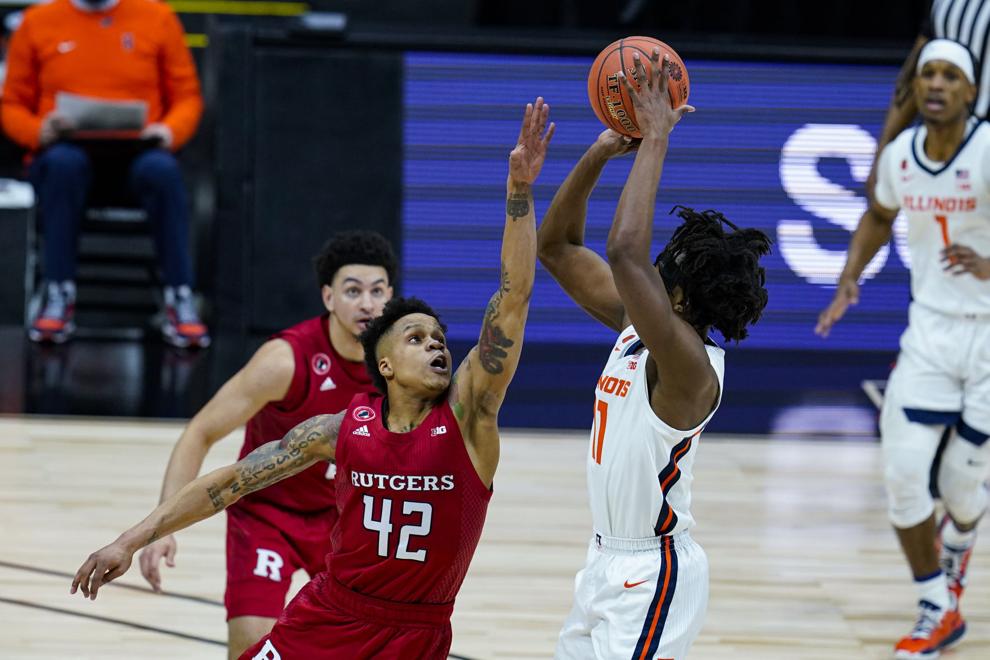 Where: Kohl Center, Madison, Wisconsin
2020-21 season: Rutgers made its way to the NCAA tournament, despite having an average 10-10 conference season. The Scarlet Knights lost to No. 2 see Houston in the second round and finished their season 16-12.
Series: Wisconsin and Rutgers had only met three times before the Scarlet Knights joined the Big Ten in 2014. The Badgers' 60-54 road win last season improved their overall series lead to 9-3.
Heading into 2021-22: Rutgers returns senior guard Ron Harper Jr. and fifth-year guard Geo Baker, who combined for an average of 25.3 points per game last season. The Scarlet Knights also lost two key players in big man Myles Johnson, who transferred to UCLA, and Jacob Young, who went to Oregon.
Feb. 15 | Indiana
Where: Simon Skjodt Assembly Hall, Bloomington, Indiana
Feb. 20 | Michigan
Where: Kohl Center, Madison, Wisconsin
2020-21 season: Michigan only lost three games to Big Ten opponents and earned a 23-5 overall record last season. The Wolverines won the regular season conference title but lost to Ohio State 68-67 in the semifinals of the Big Ten tournament. They were a No. 1 seed in the NCAA tournament but lost to UCLA in the Elite Eight.
Series: The Badgers dropped both contests to Michigan last season. The Wolverines have a 94-76 edge in the all-time matchup.
Heading into 2021-22: Sophomore center Hunter Dickinson and graduate guard Eli Brooks will lead Michigan again this season. Dickinson led the team as a freshman with an average of 14.1 points per game and earned the title of Big Ten Freshman of the Year. Joining the two is the No. 1 ranked 2021 class. per 247Sports, and Coastal Carolina transfer DeVante' Jones, who averaged 19.1 points per game last season in the Sun Belt conference.
Feb. 23 | Minnesota
Where: Williams Arena, Minneapolis, Minnesota
Feb. 26 | Rutgers
Where: Rutgers Athletic Center, Piscataway, New Jersey
March 1 | Purdue
Where: Kohl Center, Madison, Wisconsin
March 6 | Nebraska
Where: Kohl Center, Madison, Wisconsin