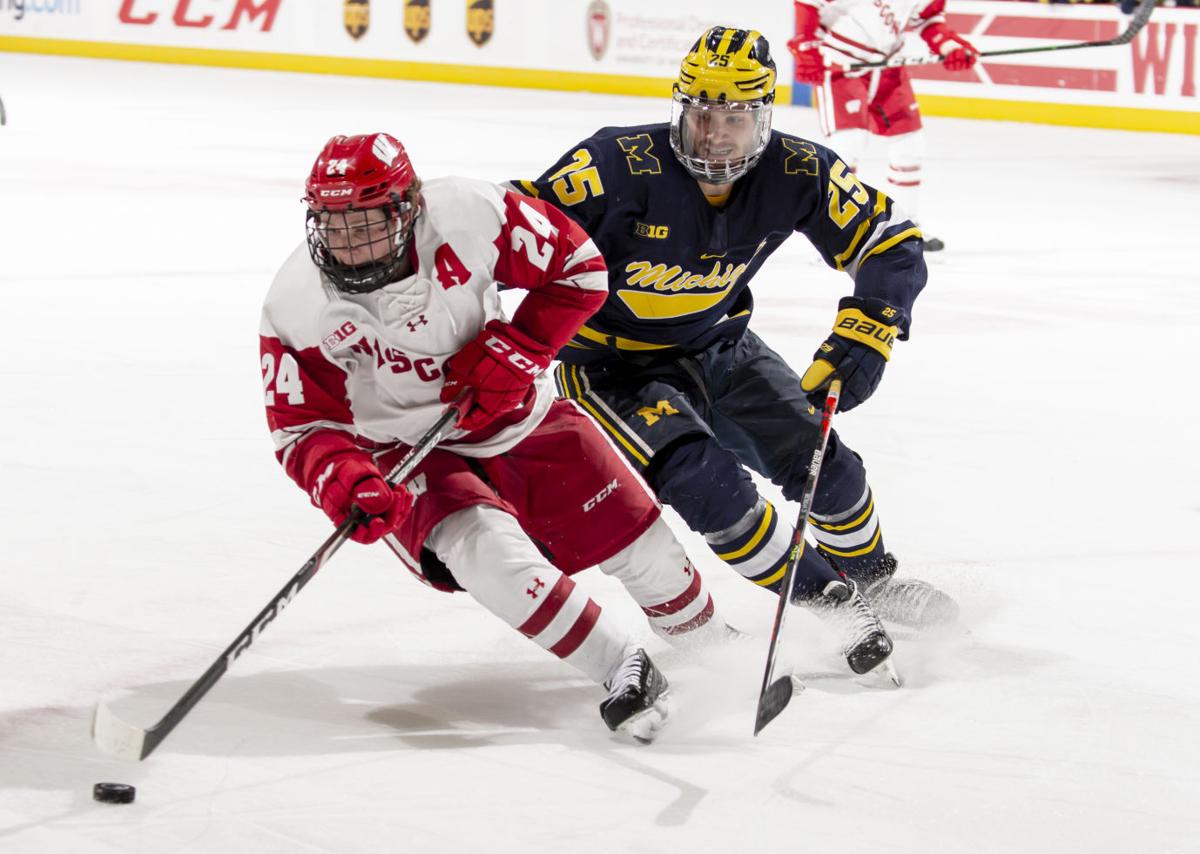 SOUTH BEND, Ind. — In addressing the infrequency of being ejected from a game in his hockey career, Sean Dhooghe went straight for a deadpan delivery that only someone who stands 5-foot-3 can pull off with sincerity.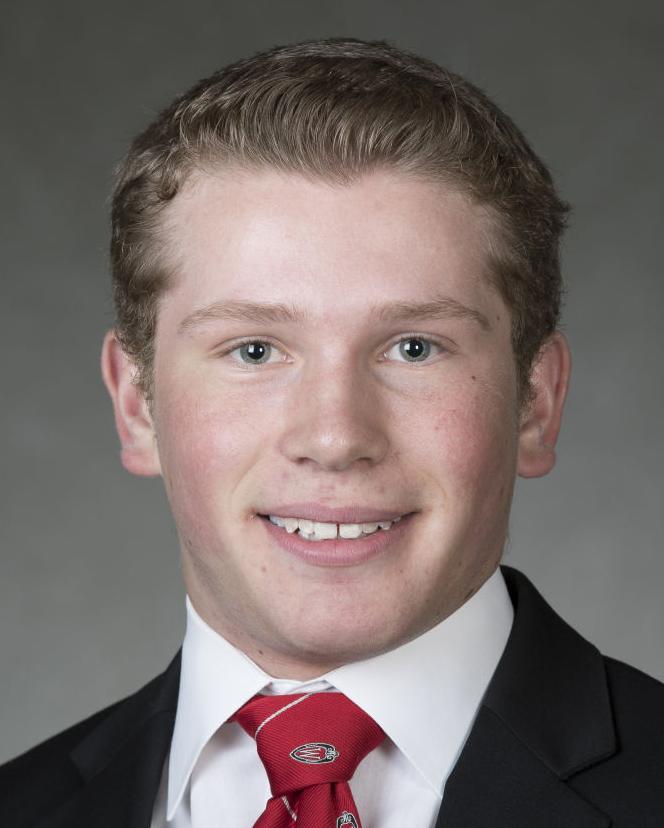 "That was definitely the first time I've been thrown out for contact to the head, that's for sure," Dhooghe said. "I'm not really reaching heads often. That's the facts."
Until he changed clothes and got up to the seats to watch, Dhooghe was left to refresh Twitter on his phone in the University of Wisconsin locker room to follow the game that he was forced to leave in the first period last Saturday.
His high swipe at a Michigan State player that had just given him a jab in the midsection was not his greatest moment. It was another element of a junior season that Dhooghe called "a roller coaster," with the highs of good performances prefacing the lows of forgettable games.
The most readily available measurables with Dhooghe's season show his goal and point production haven't neared the level he reached as the team leader last season.
As the Badgers enter a Big Ten Conference series at Notre Dame on Friday, Dhooghe has recorded only one goal and one assist in his last nine games. Through four games this season, he had five points; he has generated just five more over the last 18 contests.
"At the end of the day, I think what everyone is looking at is the production from last year to this year," he said. "It's obviously something that needs to increase, but it's also not something that I solely base my play off of."
Dhooghe relies on his competitive nature to make himself a presence during games, and that has been readily on display lately.
The play last Saturday that earned him his first ejection in 96 collegiate games was "unfortunate," he said, but he disputed that it was worthy of rising to the level of a major penalty.
You have free articles remaining.
Near the end of a victory over Ohio State a week earlier, Dhooghe was hit with a double-minor for roughing after he entered into a fray in defense of teammate Dominick Mersch. He said any of his teammates would have done the same thing; he was just the first one there.
"Those are, in my opinion, just non-negotiables in a situation like that, sticking up for the guys around you," Dhooghe said. "Especially a guy like Merschy. It happened to him, and that guy wears his heart on his sleeve for every single one of us. It would be a blatant disrespect to not return the favor to someone like him."
Badgers coach Tony Granato later expressed concern about Dhooghe expending energy on battling with players nearly a foot taller than him after the whistle. But he knows the drive that makes Dhooghe a valuable component can be a strength and a weakness.
"I've always said this about Sean Dhooghe: He's 5-3, he thinks he's 6-3 and he plays like he's 7-3," Granato said. "That's just him."
Still, even the normally reliable elements of Dhooghe's game — backchecking and forechecking among them — have occasionally slipped this season, he admitted.
That's not easy to take for someone whose internal expectations are as high as Dhooghe's.
"It hasn't gone smoothly for him," Granato said. "It hasn't gone smoothly for a lot of us. I think he's in the ballpark of our team, of it being frustrating."
Since the Badgers and Notre Dame split a series at the Kohl Center on Nov. 15 and 16, both have navigated into choppy waters. UW is 3-6-1 and has fallen into last place in the Big Ten. The Fighting Irish are 2-9-3 and went from third in the national rankings to out of the top 20.
Dhooghe has been in good scoring situations, only to see his shot go wide or get swallowed up by an opposing goaltender or deflect off a defender's shin pad. In the last handful of games, he has been part of the top power-play unit that gets most of the ice time during manpower advantages.
In scoring 15 goals last season, Dhooghe connected eight times on the power play. He has just one power-play strike this season.
He said he hasn't lost his confidence or the on-ice swagger that can get opponents off their game. Even if he's not scoring goals, that's something he thinks can help the team.
"I'm comfortable with showing up and playing my game and really not changing anything," Dhooghe said. "Because I found success last year with it. I've still found success this year."