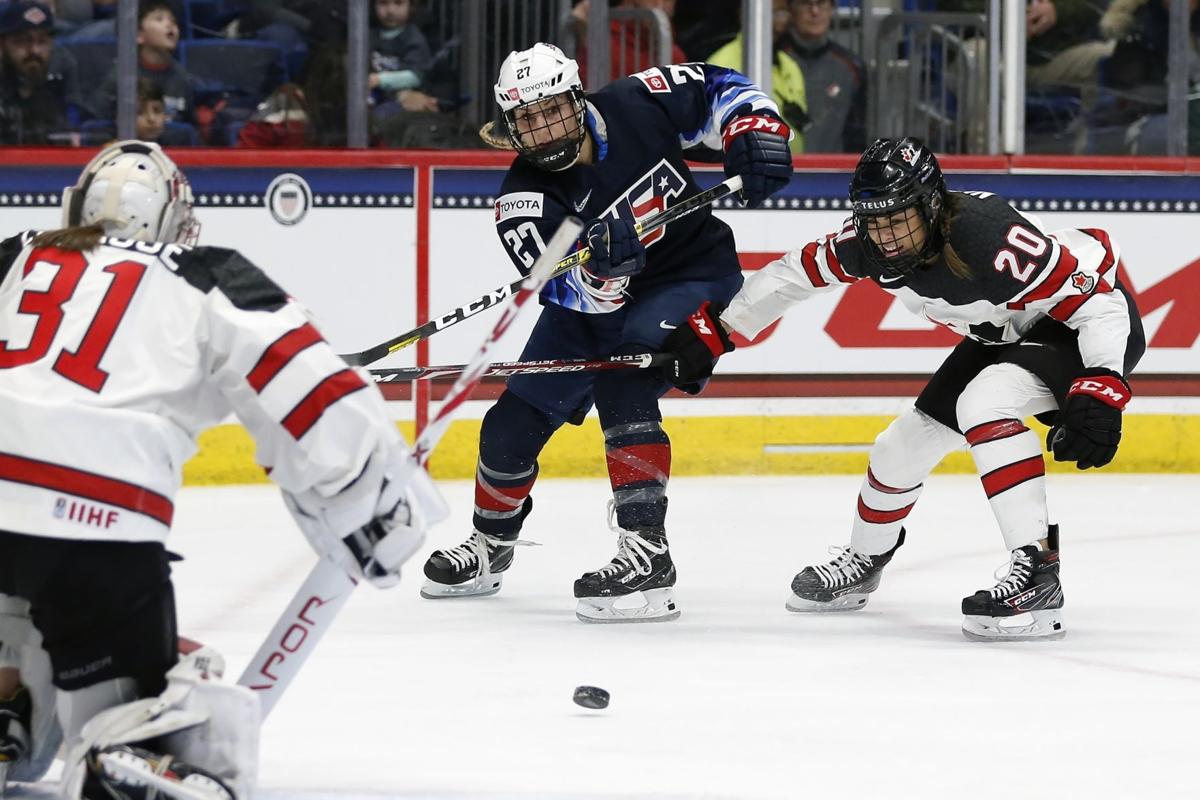 When Annie Pankowski thinks of the NHL All-Star Game's 3-on-3 format, intensity is not the first word that comes to mind. It's mostly an exercise in showing off skills.
The former University of Wisconsin captain has no doubt that the women's 3-on-3 event that's debuting Friday during NHL All-Star Skills in St. Louis will feel a lot different.
"I think it's going to be wild, to be honest," said Pankowski, one of seven former Badgers players selected for the Elite Women's 3-on-3. "It's going to be back and forth, for sure, and it's going to be fast."
Having the U.S. play Canada in the 20-minute game adds some intrigue.
Pankowski, Brianna Decker, Hilary Knight and Alex Rigsby Cavallini were among the 10 U.S. players selected. So was Madison native Amanda Kessel. Former UW stars Ann-Renée Desbiens, Sarah Nurse and Blayre Turnbull were picked for the Canadian side.
"I don't think this is going to be any different from a U.S.-Canada series, 3-on-3 in overtime," Pankowski said. "This is what it's going to be like. I think it's going to be really intense and really have a fast pace."
It also is happening at an important — and divisive — time in women's hockey.
Last May, more than 200 players agreed to sit out the 2019-20 season in North American pro leagues in an push for a single league that pays a living wage with health insurance. The Canadian Women's Hockey League folded last year, and in the five-team National Women's Hockey League, the highest salary is $15,000 with a team cap of $150,000.
Pankowski was the No. 1 overall pick in the NWHL draft in 2018. She is among those aligned with the Professional Women's Hockey Players Association, which formed last year to champion for better compensation and stage showcase events featuring its players.
You have free articles remaining.
The 20 players competing Friday are all aligned with the PWHPA.
"It just goes to show that the best players really are sitting out," Pankowski said. "Even if nothing else comes out of the weekend, there's an opportunity for us to talk about the PWHPA and what we're doing and why we're doing it. And just make the hockey fans realize where the talent is.
"Certainly, if we can get enough momentum media-wise, I think that'll definitely help in persuading the right people to make the decisions to make an announcement that they're going to be doing something."
With the NWHL operating a North American league, the NHL has taken a largely hands-off approach in shaping the women's game.
Pankowski is one of four PWHPA members playing Wednesday in the ECHL All-Star Classic in Wichita, Kansas. Then it's on to St. Louis, where a bunch of former Badgers players will join her for the NHL event.
Both goaltenders, Rigsby Cavallini and Desbiens, are UW alums.
"I'm just anxious to see the goaltenders," Badgers coach Mark Johnson said. "You've got Ann-Renée at one end and you've got Rigsby at the other end. Ann-Renée might come out of the net and start skating the puck down the ice and try to score to make it entertaining."
Pankowski, who skated with the Badgers at Monday's practice, said the school's representation in the event puts the program in a good light.
"It gives Wisconsin a name that makes people turn heads," she said. "Even if they know nothing about the school, they look at people that have come out and it's really exciting."
U.S. Olympian Kendall Coyne Schofield "changed the world" when she impressed after getting a last-minute invite to the NHL's fastest skater competition last year, Pankowski said.
"It changed people's perspectives of the level of skill and the intensity," she said. "It was just an amazing moment. And for them to take it one step further this year and to invite 20 from the U.S. and Canada and say, all right, lay it out, make it exciting, make it fun — it's going to be really great."
Be the first to know
Get local news delivered to your inbox!