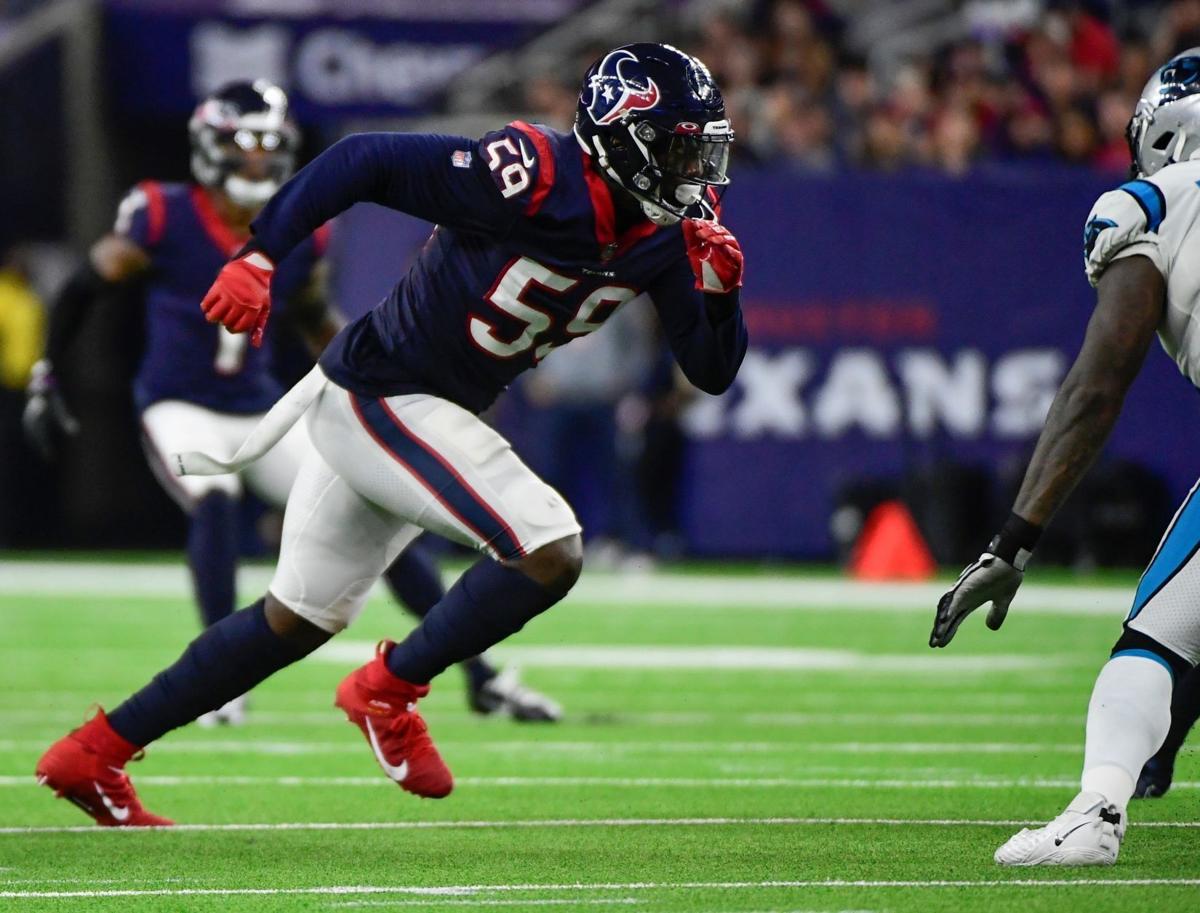 GREEN BAY — With the Smith Bros. act on hiatus — including two-time Pro Bowl outside linebacker Za'Darius Smith on injured reserve and possibly being done for the year — and having lost two other would-be edge-rushing replacements to injuries already this season, the Green Bay Packers are adding Whitney Mercilus and hoping the ex-Houston Texans edge rusher fits the bill.
An NFL source confirmed Wednesday afternoon what was first reported by Aaron Wilson of Houston's Sports Talk 790 AM: The Packers were signing Mercilus one day after the former first-round pick was cut by the Texans after nine-plus seasons in Houston.
Whether Mercilus can be active for Sunday's game against the Washington Football Team at Lambeau Field remains to be seen. The move had not been officially announced by the Packers as of Wednesday evening. Speaking before practice, coach Matt LaFleur was measured in his remarks.
"Nothing's official," LaFleur said. "I think you're always looking for help. I know nothing's concrete in terms of 'Z.' You're always looking to upgrade you football team."
The 31-year-old Mercilus had three sacks in the first six games of his 10th NFL season. But with the Texans in full-on rebuilding mode, they moved on from Mercilus while praising him for his contributions during his decade with the team, and Mercilus said he wasn't taken by surprise by the move.
He also wanted to make sure — after suffering through a 4-12 season last year and a 1-5 start this year — that he went to a Super Bowl contender, which the 5-1 Packers certainly are.
"As far as the direction I want to go, it's definitely being with a team that has a chance to make it to the playoffs and has a chance to make it to the Super Bowl and to be with a contender, honestly. That's the direction I want to go. I'm in the back half of my career, to get a chance to put a cherry on the top.
"Honestly, it's a blessing. I'm not sad. I've been blessed with the time to play 10 years in the NFL, just a kid from Akron. You watch the NFL change lives, change generationally. Being able to have that in my life has been amazing. I've impacted so many people on the field and off the field as well."
Mercilus recorded 57 sacks in his time with the Texans, with a career-best 12 in 2015. He had four sacks last season while playing in 13 games and had one year remaining on a four-year, $54 million extension he signed before the 2019 season.
In Texans history, only ex-University of Wisconsin star J.J. Watt, whom the Texans released during the offseason, had more sacks (101). After his release, the Packers expressed interest in the Wisconsin native, but Watt signed with the Arizona Cardinals — the Packers' opponent next Thursday.
The Packers need Mercilus because Za'Darius Smith, who underwent back surgery last month and has played only 18 snaps this season after being unhappy with his contract during training camp, is on injured reserve and may not play again this season. Two young outside linebackers the Packers also liked, Randy Ramsey (leg) and Chauncey Rivers (knee), also suffered season-ending injuries earlier this year.
Preston Smith did not practice Wednesday because of an oblique injury he suffered during last Sunday's win at Chicago, leaving the Packers with only 2019 first-round pick Rashan Gary, Jonathan Garvin and La'Darius Hamilton at the position. And Hamilton, signed off the Tampa Bay Buccaneers' practice squad on Sept. 17, has barely been on the roster for a month.
Preston Smith has never missed a start during his seven-year NFL career, so the Packers are hoping he'll be able to play against Washington, his former team.
"I think it's one of those deals that we're going to give him the week and see where he ends up," LaFleur said. "Certainly, we're hopeful to have him. He's a big part of our defense. I know he's motivated to want to get out there and he's done such a great job. He's been physical, he's been disruptive both in the run and the pass game. He's provided great leadership out there, so certainly we'd love to have him back. But we'll see as the week plays out."
How impactful Mercilus can be at this point in his career is hard to say. According to Pro Football Focus, he had just five total pressures in his 102 pass rushes this season. But quarterback Aaron Rodgers has high hopes.
"Whitney, he's a pass rusher. If we can get him 15 to 20 rushes at least in this first game, I think it'd be a big plus for our squad," Rodgers said. "Guys like that, they want to come to a winning team. When you go from 1-5 to 5-1, it's a whole new outlook on life."
Photos: Packers' 2021 season in pictures
Check out photo galleries from every game of 2021 from the preseason through the end of the regular season and the playoffs.