The remarkable Fall River boys basketball season came to an end Friday at the Kohl Center.
The third-seeded Pirates were no match for a resilient second-seeded McDonell Central Catholic team that battled through an intense finish to escape with a 66-62 win in the second WIAA Division 5 state semifinal.
"We've been there before, so the kids were pretty comfortable in this position," Fall River coach Arnie Oelke said of competing in a close game down the stretch. "I thought we did a lot of good things in the last four minutes. The ball just didn't bounce our way this time."
McDonell senior Canan Huss was a force down low, posting a double-double with 21 points and 12 rebounds for the Macks (29-1).
"He's a load," Oelke said. "At times we didn't have an answer for him. I thought (Matthew) Miller did an outstanding job tonight, but he was outmatched size-wise. He's an exceptional player at this level."
Fall River junior Shavlik Schultz drained a 3-pointer with 1:54 left to give the Pirates (26-4) a 60-58 lead. However, Huss responded with a three-point play at 1:26 to put the Macks back up 61-60.
"Anytime you hit a late 3 in a game, it gives you the momentum," Oelke said. "Unfortunately, they've got some good ballplayers on that side. They came down and they executed their offense. They got the shot they wanted and looking back, if I could ever do something different, I would do something different."
Fall River senior Colin Vieth, who had a team-high 21 points and six rebounds, got a second-chance bucket for another lead change with 48 seconds left.
"I left it all out there, just like the rest of the boys did, too," Vieth said. "It sucks. It had to come to an end at some point. … Anyone can beat anyone. I'm sad it's over, but I'm thankful for everyone — God and my family — that I was able to come here and play at the Kohl Center in front of all these fans."
The Macks didn't falter as 20 seconds later senior Aidan Misfeldt plopped a 3-pointer to go back up 64-62.
"Going into this game I was still nervous, but I just had all the confidence in the world," Misfeldt said about taking that shot. "Really, I had confidence in myself, but I think I had a lot more confidence in our team. Knowing that when we're down, we can bounce back like we just did."
The Pirates weren't out, though. They had possession of the ball underneath the rim with 3 seconds left. Schultz's inbounds pass to Vieth was too high and went into the hands of McDonell senior Eddie Mittermeyer, who was fouled with less than a second left by Fall River senior Cullen Rauls.
"It's not anyone's fault," Vieth said. "That's an extremely hard pass to make. … It was there, but it was a tough play to execute."
"It's something we did in practice a few times," Oelke added. "I drew that up to do it maybe sometime down the road. I never expected it to be right here, today. It was perfect, the pass was just a little bit too high. You can't blame the kid for that because not being in that moment before, that's tough. There's a lot of pressure on both kids, not just to pass it but to receive it."
Mittermeyer made both free throws to send the Macks into the state championship game against Newman Catholic at 11:05 a.m. Saturday.
Mittermeyer, who hit all seven of his free throws during the game, finished with 19 points. Misfeldt had 12 points.
Rauls finished with 13 points for the Pirates and Schultz had 10. Both Schultz and Vieth led Fall River with three steals apiece. Vieth also had two blocks.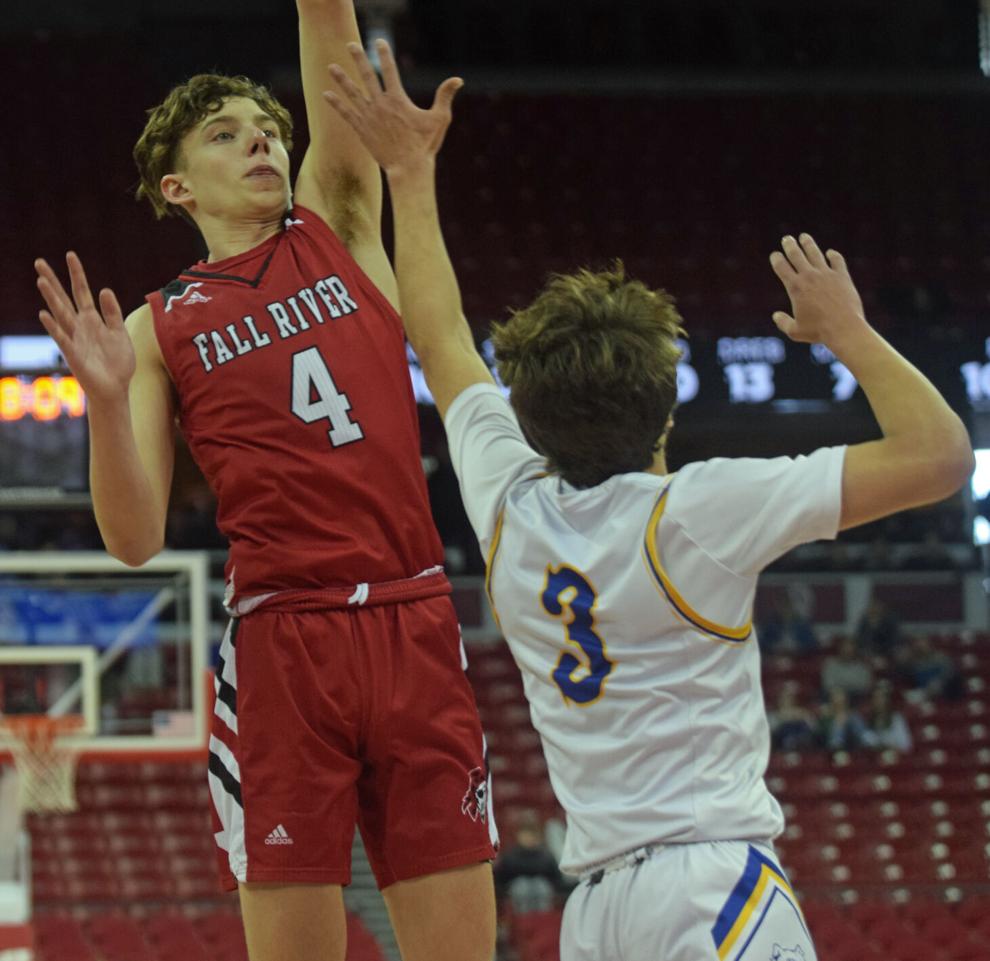 Like the Division 5 sectional final against Heritage Christian at Watertown High School, the Pirates got out of the gate with a big run.
"That game against Heritage Christian, we learned a lot from that and it carried over to this game in keeping our composure," Vieth said. "I think we knew what we were capable of doing there. Us getting worked up wasn't going to help anything."
Vieth scored 12 points as the Pirates opened with a 21-10 run, which ended with sophomore Zack Osterhaus hitting a fast-break layup with 9:18 left in the first half. Osterhaus finished with seven points and four rebounds.
"The No. 1 rule is just never panic," Huss said. "When you panic, things go wrong. (We were) staying composed and coach helped us with that tremendously. They were giving us the right game plan to make it clear of what we need to do, and then we go out there and execute. We take care of our job. It's crucial. We've been in some tough, late-game situations and we've been able to battle out of them time and time again. It's paying off for us and we're in the position we are right now."
The Macks weathered the early storm and cut the deficit to single digits. Huss made a putback to make it 26-22 and sophomore Jordan Sikora's only point of the game was a free throw at 1:48 left in the first half to cut the deficit to 26-23.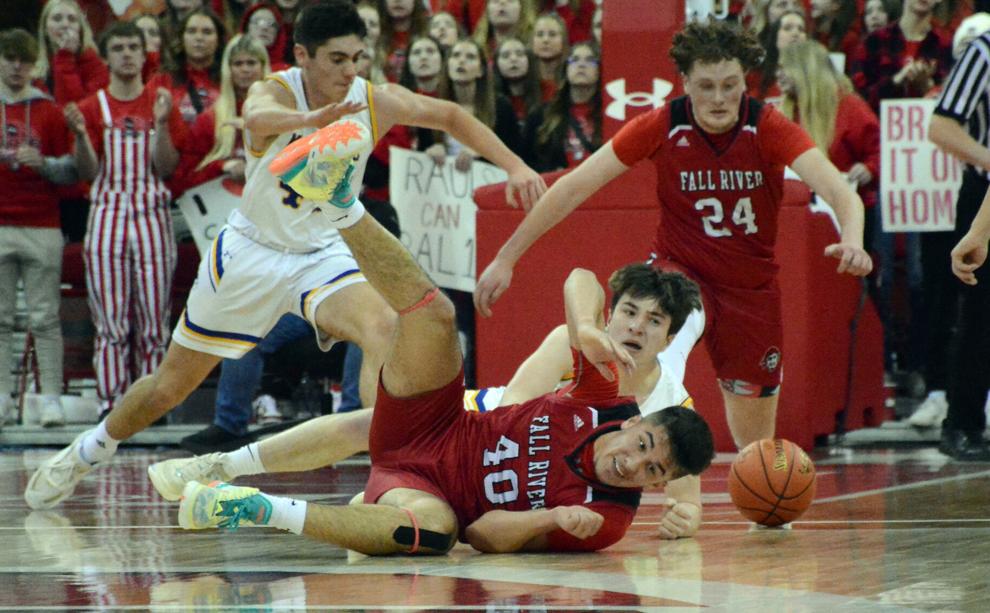 The Pirates gained a little traction before halftime. After Rauls made two free throws to go up 28-23 with 1:35 left, Misfeldt's bucket with 1:06 to go cut it to three points.
Rauls made a couple more free throws with 38 seconds left. With 17 seconds left, Vieth's putback made it 32-25 heading into halftime.
"That was two quality teams for Division 5 basketball," Oelke said.