FALL RIVER — The 58-49 loss to Cambria-Friesland during last year's WIAA Division 5 sectional semifinal was a bittersweet ending for the Fall River boys basketball team.
The Pirates, who were just a few games above .500 entering the game and missing an injured Cullen Rauls, weren't expected to make it to sectionals, but they did. Afterwards, an emotional Shavlik Schultz realized he never would be able to play his favorite sport with his cousin, senior Eli Schultz-Wiersma, in a Fall River uniform.
Schultz's 23-year-old sister, Haley Schultz, noticed her younger brother sad, so she made a sign that read "Good job Shavlik. See u at state next year! Love you Shav."
"We got home and it was sitting on the counter," said Fall River assistant coach Eric Schultz, who is the father of both Shavlik and Haley. "We hung it on the fridge and we read it every day for the last 365 days. It was like, 'All right, it's time to put the work in.'"
The Pirates got right to work during the offseason and by the time Shavlik Schultz's junior season began, his and his team's confidence of making it to state for the first time since 2000 was booming.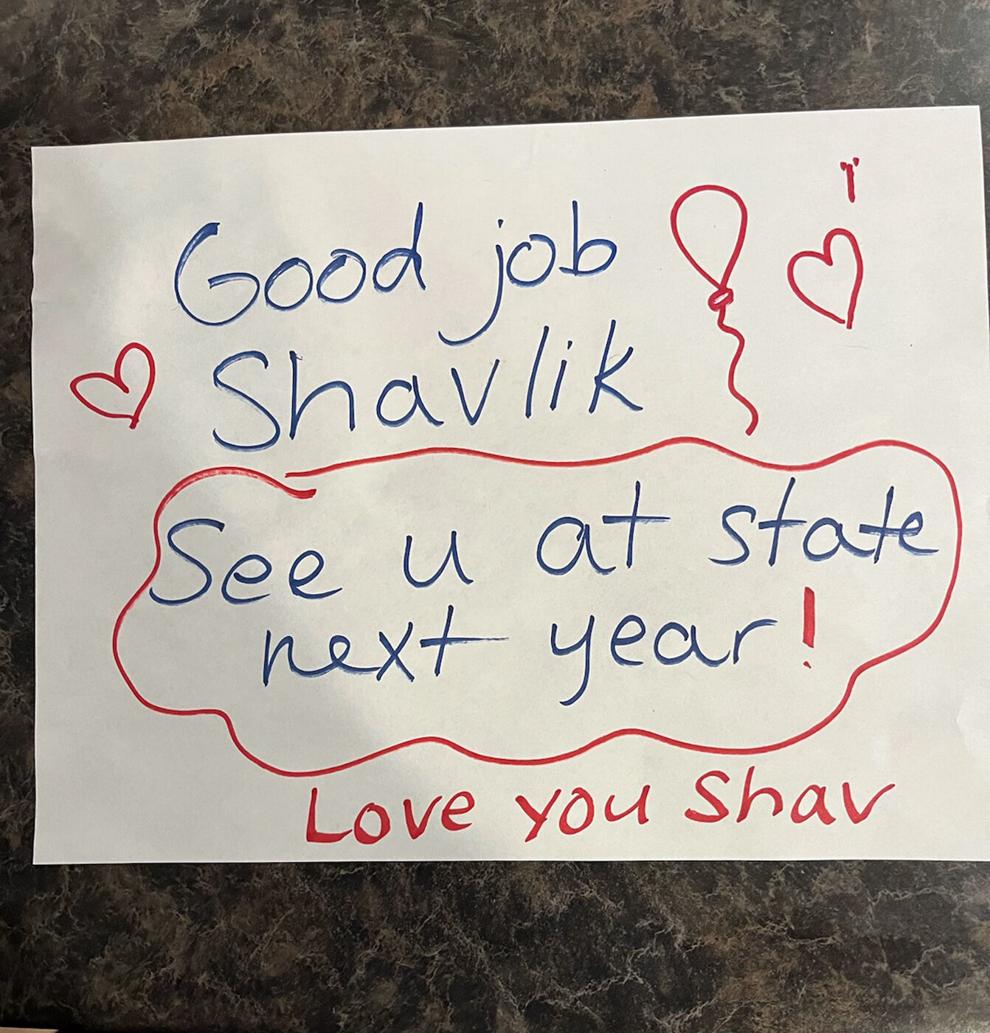 Making it to the state tournament would be an added bonus for the Schultz family because Eric Schultz was on that team in 2000, which ended in a 51-43 WIAA Division 4 state semifinal loss to Cassville.
The Pirates (26-3) earned high rankings in Division 5 by the Associated Press throughout the season and are on an eight-game winning streak.
"Off the court, these kids are the nicest group of kids you'll ever see," Eric Schultz said. "When you get on the court, they put on that superhero cape and they play with an extra swagger. They don't believe anyone in front of them is better than them. They believe they can lock them up. They believe they can score on them at any given time."
The Pirates didn't have it easy when they needed overtime to beat Heritage Christian 82-75 in the sectional final. Sophomore Zack Osterhaus hit a 3-pointer to force the extra period.
Fall River earned the No. 3 seed will play second-seeded McDonell Catholic on Friday morning at the Kohl Center in the second semifinal, scheduled for 20 minutes after the 9:05 a.m. game ends between Wausau Newman Catholic and Royall.
"In the offseason, we would have open runs," Shavlik Schultz said. "We would encourage people (to go). Everyone is playing AAU. All summer, we were playing together, so that really helped us with our chemistry. Once the season came, we knew we had to get to work so we can achieve our goals. Last year, we worked hard, but no one expected it. This year, we knew we could make it."
Eric Schultz said the three goals the team were winning the Trailways West Conference title, a regional final and sectional final. Fall River won the league title with a 13-1 record. The Pirates then beat Salem 73-47 for the regional title before escaping sectionals.
"They were locked in and laser focused in the first practice when we started two-a-days the first week of practice. It was the kids' choice," Shavlik Schultz said. "That's what they wanted."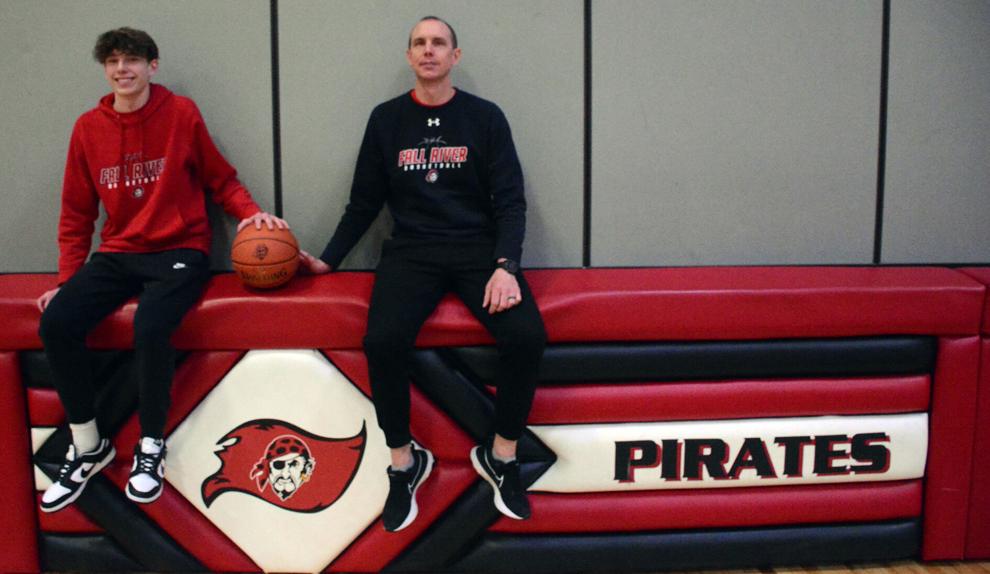 Eric Schultz, who's been coaching with Arnie Oelke for the last 11 years, said there seemed to be some similarities to the team he's currently coaching and the Fall River team he played for, when the team made it to three straight sectionals.
The 1998-99 team lost to Kohler in the sectional semifinal before a reversal in 2020 to advance to state. As a coach, he saw Cambria-Friesland beat Fall River in last season's sectional semifinal before the Pirates beat the Hilltoppers 68-55 to advance to the sectional final.
"The parallels kind of run a little bit deeper the more you think about it," Schultz said.
Eric Schultz also said both teams were smart, very athletic and not willing to quit in any game. However, he does believe this year's team is better because the game has evolved over the past 23 years.
"These guys play much faster than we do," he said. "We fast-breaked a lot. We shot a lot. I think with their style, they play even faster than we did back then. Defensively, we were pretty similar. We'll lock you up and we'll get into people. Offensively, we ran more of a flex-style offense and not more of a free pick-and-roll offense.
"The pick-and-roll has evolved so much and changed the way of basketball. They're five out and keeping the floor spread and let the playmakers play. In 2000, that wasn't really (happening). The situation of basketball is a lot of flex. The swing was starting to become a thing. It was more of those set-continuity offenses instead of free and letting the kids go play a little bit more."
When Eric Schultz, who is 6-foot-5, played, he was more of a post player while his 6-4 son plays on the wing.
"He can handle the ball," Oelke said of Shavlik Schultz. "He's got some length where we can put him on sometimes the other team's opposing better shooters. He plays a different style of game than what Eric played back then."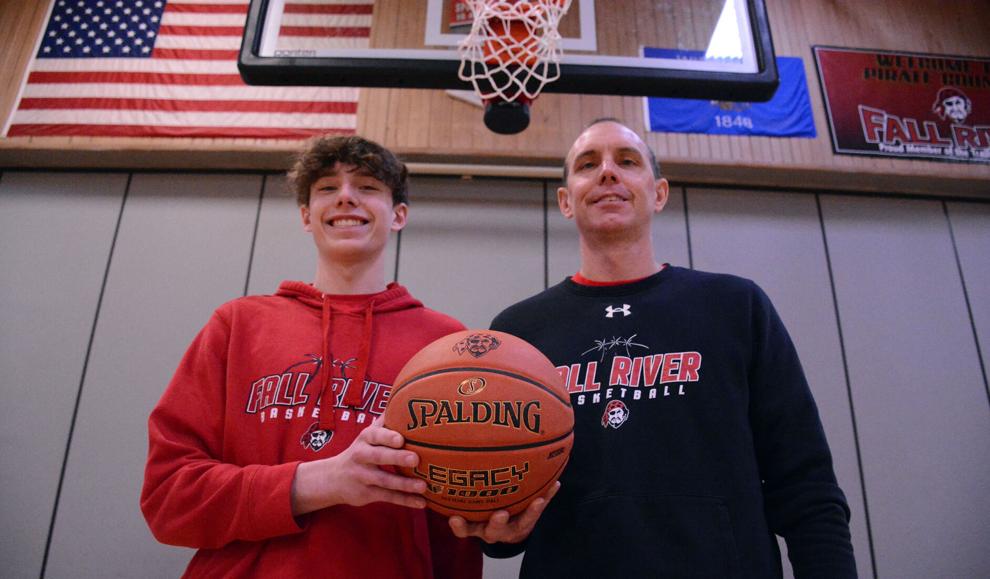 The younger Schultz said he sometimes gets annoyed of his dad when he tries to tell him something he already knows. But there are benefits, too.
"Yeah, I like him here," Shavlik Schultz said. "He's known my shot for so long. When I'm shooting bad, he can tell me how to fix it and what I have to do better, so I can go in and the shots can fall."
Eric Schultz said he's happy to see his son progressing and has found a love for the game.
"It's a dream come true," Eric Schultz said. "When you have kids, as a basketball player, you're always hoping they gravitate toward it. He did and he really fell in love with it in sixth and seventh grade. He put in the time and work in the gym.
"Seeing that all paying off with the reward happening now, it's such an amazing feeling."