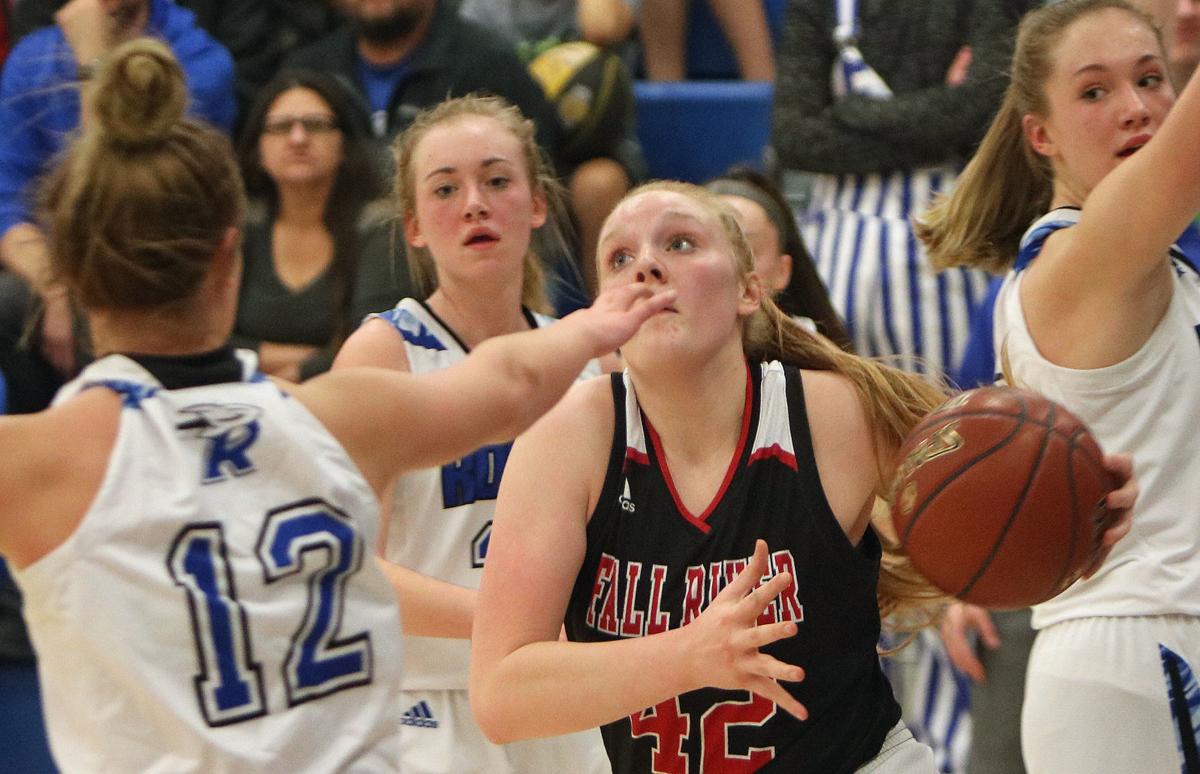 RANDOLPH — Next up for Fall River's prep girls basketball team: Win the Trailways West Conference championship outright.
The Pirates can now set their sights on that goal after taking care of business Friday night against Randolph — the team giving chase.
Seniors Sam Leisemann and Lexi Rozinski took turns shouldering the scoring load and sophomore Belle Gregorio hit a big jumper in clutch time, paving the way for a 41-30 victory over the Rockets that ended a one-year conference title drought after the Pirates had won seven straight titles before taking second to Markesan last season.
It was business as usual when the final horn sounded, though — a classy nod to Randolph.
"I did mention it when we went into the locker room (after the game), but we're not going to celebrate because we respect these guys immensely. I didn't feel it was appropriate to do it here." said Fall River coach Jim Doolittle, whose team has now won 16 straight following a season-opening loss to Watertown Luther Prep and is ranked fourth in Division 5 according to the WisSports.net coaches poll and fifth in D5 according to the Associated Press.
Neither team scored over the first 3-plus minutes of the game before Randolph sophomore Presley Buwalda drained a 3-pointer from the left wing with 3:56 gone by. But once Fall River got going, the points for the Pirates came in bunches.
The 6-foot Leisemann scored eight of the Pirates' first 11 points and Becca Tramburg's 3 from the left wing with 7:31 remaining in the half capped off a 16-2 run, giving Fall River a double-digit lead it wouldn't relinquish until there were a little more than 8 minutes gone by in the second half.
"We noticed that they were playing behind her on defense, and we have a set play where if opposing defenses do that we run that play and get her the ball," Doolittle said of feeding it to Leisemann to jumpstart the offense. "We like our chances one on one because she's got very quick feet for a big girl. She can score on anybody."
Fall River's (16-1, 11-0 Trailways West) relentless defense had just as much to do with getting momentum on its side, though.
"We know and understand that when we play Fall River, they're going to bring constant pressure. And we've prepared for it," Randolph coach Chad Kaufman said. "But when you're going against your own (players in practice) every night, you can't simulate that constant pressure that they bring.
"We knew it was coming and we just didn't handle it well for a period of time, and that put us behind the 8-ball."
After Randolph (13-4, 8-3), unranked in the coaches poll but ranked 10th by the AP, ended the Pirates early surge with a basket by senior Brianna Prieve, Rozinski answered with a 3 to make it 21-7.
"That 3 got her going," Doolittle said. "And her defense is always tenacious. She's kind of our vocal leader on the floor and her 'D' was tremendous — our defense (as a whole) was really good."
Rozinski, who entered averaging 12.9 points per game, had 10 before halftime and finished with a dozen. Meantime, Leisemann, who came in leading the team in scoring at 13.9 points per night, also had 10 in the first half and finished with 16.
But it was Gregorio who hit perhaps the biggest basket of the night, a jumper that made it 37-28 with 5:43 to go after the score had been stuck on 35-28 for 3½ minutes.
Randolph had chance after chance to make it a two-possession game and just couldn't capitalize, and finally Gregorio delivered what felt like the dagger, given the tenor of the contest.
"A couple of our kids were a little tentative and I don't know why. They shouldn't have been," Doolittle said of his team's field goal drought that stretched all the way back to a jumper by Gregorio — which provided her only other points of the game — that made it 34-29 with 11:52 remaining. "So I called a timeout and just said, 'Hey, if you're open, shoot the ball.' And I was directing that at Belle; I've been after her to shoot.
"And she made a huge shot."
Prieve, who finished with 15 points, had scored seven straight points to cut the Pirates' lead down to single digits at 34-26 with 9:46 to go. And then after a free throw by Aurora Schultz made it 35-26, Jorey Buwalda scored in the paint to make it a seven-point game — the closest Randolph had been since midway through the first half.
But Gregorio's jumper effectively killed the Rockets' momentum and they failed to score for the final 3:59 after freshman Brianne Baird's baseline jumper made it 37-30.
Win or lose, though, both sides are confident Friday night's contest was a plus in terms of ramping up for the stretch run that now looms ever closer.
"I like these type of games because it prepares us for what's in front of us," said Doolittle, whose Pirates are trying to make it back to the state tournament for the second year in a row and fourth time in the last six years. "You're only as good as your last game. There's some things that we need to shore up here that I didn't like. There's a lot of things that we need to shore up before we head into the (postseason)."
Added Kaufman, "I'm not into moral victories, but we're going to grow from this as a basketball team and get better down the stretch.
"It gets us tournament ready."
FALL RIVER 41, RANDOLPH 30</&hspag3>
FALL RIVER — (fgm ftm-fta pts) Taryn Schwartz 1 0-0 2, Belle Gregorio 2 0-0 4, Areena Schultz 1 0-0 2, Becca Tramburg 1 0-0 3, Aurora Schultz 0 1-2 1, Maddie Gregorio 0 1-2 1, Lexi Rozinski 4 3-8 12, Sam Leisemann 8 0-1 16. Totals: 17 5-13 41.
RANDOLPH — Brianna Prieve 5 4-4 15, Presley Buwalda 2 0-0 5, Jorey Buwalda 2 0-0 4, Mairah DeVries 1 0-0 2, Brianna Baird 2 0-0 4. Totals: 12 4-4 30.
3-pointers: FR 2 (Au. Schultz 1, Rozinski 1), Rand 2 (Prieve 1, P. Buwalda 1). Total fouls: FR 12, Rand 14. Fouled out: None.
Follow Dan on Twitter @Danny_Larson_8 or contact him at 920-356-6753.
Get in the game with our Prep Sports Newsletter
Sent weekly directly to your inbox!