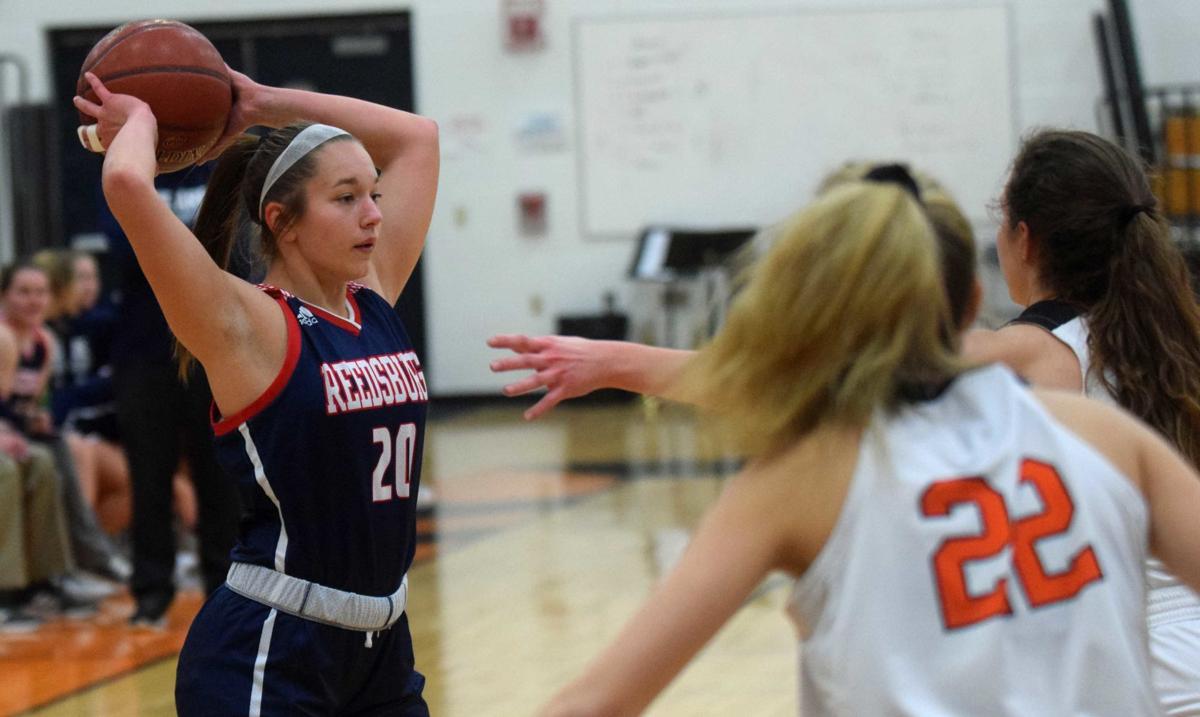 The Reedsburg prep girls basketball team nearly pulled off a stunner Friday night.
The host Beavers took three-time reigning WIAA Division 2 Beaver Dam to the wire, ultimately giving up a 34-27 halftime lead in a 64-56 loss as Beaver Dam won its 86th straight game against Wisconsin opponents.
"Our kids performed at a high level," said Reedsburg head coach Mark Simon, whose team led 23-12 midway through the first half against the top-ranked Division 2 team in the Associated Press poll. "We were very efficient in the first half. I thought we played aggressive but smart with our offensive possessions.
"It means that we can compete against some of the best teams in the state. That is a good place for a program to be."
Friday's single-digit loss marked huge growth for a Reedsburg team that starts five sophomores while bringing another sophomore and a freshman off the bench. The young Beavers proved they were up to the test despite committing 21 turnovers against a fast-paced Beaver Dam team that turned the game around with a 31-6 run in the second half.
"Defensively, we did a nice job of jamming the lane and forcing lower percentage shots," Simon said. "We did a nice job in the half court, but they were able to score off of some turnovers in the second half."
The Golden Beavers (11-2 overall, 7-0 Badger North) have rarely been tested since joining the Badger North Conference prior to the 2017-18, improving to 35-0 with Friday's win. Reedsburg (8-4, 4-3) had lost its previous four games against Beaver Dam by at least 24 points.
Reedsburg's Mahra Wieman scored 16 of her game-high 20 points in the first half. The sophomore shot 7 of 15 from the field and grabbed nine rebounds. Trenna Cherney added eight points, while Macie Wieman put together a complete all-around game with five points, 10 rebounds and seven assists.
Maty Wilke led Beaver Dam with 16 points. Carley Burchardt added 15 points and Jada Donaldson had 11 for the Golden Beavers.
You have free articles remaining.
The Beavers will get another shot on Feb. 20, as they're scheduled to visit Beaver Dam in the regular-season finale.
Reedsburg has lost three of its last four games, a tough stretch that also included a 64-48 loss to second-ranked Hortonville on Dec. 28 and a 59-57 loss at Waunakee on Jan. 3.
Reedsburg bounced back emphatically, improving to 9-4 with Tuesday's 62-49 win at La Crosse Logan (9-4).
Mahra Wieman finished with 18 points, eight rebounds and five steals. Cherney added 16 points on 7-of-14 shooting. Macie Wieman contributed seven rebounds, six assists and six steals. Beston chipped in 12 points, six assists and five steals.
The Beavers will go for their 10th win of the season when they take on Madison Edgewood Saturday afternoon as part of the Badger Challenge in Beaver Dam.
BEAVER DAM (fg ft-fta pts) — Jens 3 0-0 8, Burchardt 5 0-0 15, Wilke 5 2-4 16, Donaldson 3 3-4 11, Hodgson 3 0-0 6, Stonewall 4 0-0 8. Totals 23 5-10 64.
REEDSBURG — Bestor 2 3-3 8, Churney 4 0-0 8, Deitz 4 0-0 8, Mac. Wieman 2 0-0 5, Mah. Wieman 7 4-4 20, Benish 3 0-0 7. Totals 22 7-7 56.
3-point goals: BD 11 (Jens 2, Burchardt 5, Wilke 2, Donaldson 2); R 5 (Bestor 1, Mac. Wieman 1, Mah. Wieman 2, Benish 1). Total fouls: BD 11; R 15.
Follow Brock Fritz on Twitter @BrockFritz.