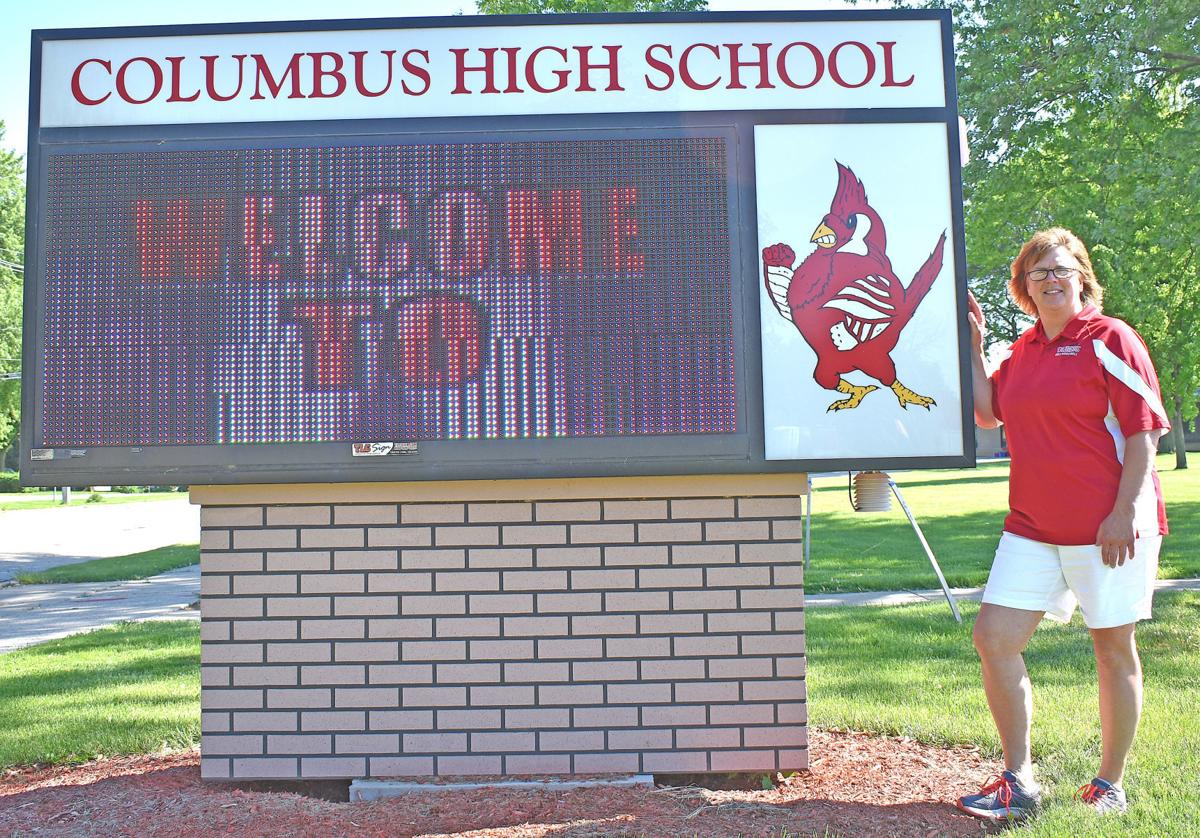 The sun sets on every career at some point. For Terri Schumacher, dusk is now.
And it has, indeed, been a sunny 34-year tenure for the retiring Columbus High School athletic director and dean of students, titles she's held for the last six years.
Schumacher, whose first job in education was as a phy-ed teacher in the Plymouth School District in 1986 after graduating from the University of Wisconsin-Oshkosh, will turn off the lights in her office for the last time on June 30, the final day of the 2019-20 school year.
She's at peace with her decision, even if the COVID-19 pandemic has robbed her of the chance to end her career in normal fashion.
"It's been a little strange for everybody I think," she said of her final weeks being with no students in the building because Wisconsin Gov. Tony Evers closed all schools on April 16, transitioning to virtual learning for the remainder of the school year in order to combat the pandemic.
"The big thing for me, probably, is not having closure with the kids," she added. "At our drive-through graduation (on May 28 and 29), you could see them, but you really didn't get the closure — you didn't get those last conversations with them. I think that's the biggest thing I'll remember, is not having closure with the kids."
During Schumacher's time as Columbus A.D. from the 2014-15 school year to 2019-20, she oversaw a great deal of success among Cardinals sports teams and athletes.
Among the highlights, the softball team won the Capitol North Conference title in 2016, the girls soccer team made it to the sectional finals in 2016, the football team won the conference title in 2016 and advanced to the state quarterfinals in 2015 and 2016, Josh Seltzner won the Division 2 boys shot put championship at the 2017 WIAA Track and Field State Championships, the track and field team saw the installation of a brand new state of the art track at the high school in 2018, the baseball team in 2017 won the program's first conference title since 1992, the boys basketball team in 2019 won the program's first regional championship since 1991 and the football team returned to the playoffs in 2019 after missing out for three years.
"The keys to all those successes is those are coaches who have been in place for a long time," Schumacher said. "When you have long-tenured coaches, they are allowed to build their programs and that's when you start to see those successes."
She added that it's been a joy to be along for the ride — and that the up-and-coming programs at the school are also in good hands.
"I've enjoyed every single minute of my athletic director career here," she said. "It's been fun watching the kids mature from the time they're freshman to the time they're seniors and they graduate. It's been fun watching the successes.
"There's some very big upside to Columbus athletics in the future."
After teaching and coaching girls basketball in Plymouth from 1986-91, Schumacher moved on to Oshkosh West, where she also coached and taught phy-ed from 1991-2005. She led Plymouth to the WIAA Division 2 state tournament in 1990 and West to the D1 state tournament four straight years from 2002-2005, with back to back state titles in 2003 and 2004.
Her high school coaching resume landed her the head coaching job for the women's basketball team at her alma-mater, UW-O, a role she held from 2006 to 2012. She had a 71-107 record in that time, winning a share of the Wisconsin Intercollegiate Athletic Conference title in her first year in 2006.
While at Oshkosh, Schumacher got her master's degree, which ultimately led to her being hired as athletic director and dean of students at Columbus High School in 2014 after two years as health teacher at Columbus Middle School.
During her prep career as a student at Plymouth High School, Schumacher received honorable mention all-state honors as a senior in 1981. She then went on to UW-La Crosse before transferring to Oshkosh, where she was an NCAA Division III first team All-American as a senior in 1985 while helping the Titans win the Women's Wisconsin Intercollegiate Athletic Conference championship. She was also named as NCAA DIII Player of the Year by the American Women's Sports Foundation in 1985.
Now on the cusp of retirement, she can look in the rearview mirror and see that she's accomplished all she set out to back when she was a teenager.
"When I was a freshman in high school I knew that I wanted to teach phy-ed and coach girls basketball. My high school basketball coach, her and her husband were co-coaches — she was a phy-ed teacher and he was a social studies teacher — and they were very big influences in my life.
"I had certain things in my mind in high school that I wanted to do. First of all, I wanted to teach and I wanted to coach. And then at some point, once I got into coaching, then I wanted to try my hand at coaching college basketball. So in my whole career, I've been able to touch base on everything that I wanted to do. I enjoyed my time coaching college basketball. It didn't work out the way I wanted to — the winning wasn't there like when I was (coaching) high school — but it was a thing that I wanted to try.
"Everything kind of fell into place for me. I've been able to touch base on every single one of my goals that I had for myself in high school."
She's retiring now, she said, so that she can spend more time with her family back in Howards Grove. In particular, she's excited to follow her nephew's high school career in basketball — he was a starter on the varsity team this past school year as a freshman — as well as in football and track and field and her niece's career in basketball and volleyball. She'll be a freshman next school year.
"It gives me the opportunity to spend time with my family, where the last 34 years I have kind of missed out on things because I have been off doing my own thing," Schumacher said.
Her list of accomplishments over her long career isn't short, but none of them are what she's most proud of.
"The most rewarding part for me, and this has been in anything I've done, is the relationships I've built with the coaches and student-athletes and parents and staff," she said. "Those are the reasons we do everything we do, is because of the relationships you build and the friendships you make.
"The accolades are great, and championships are great, but I think in the long run it's the relationships that you build. And the kids, the student-athletes, that you have seen grow from freshman through their high school years. Those are the most rewarding things and those are the things that stand out the most."
Soon, Schumacher will close the book on her long career. Not surprisingly, she's experiencing a variety of feelings.
"It's mixed emotions," she said. "It's excitement for the next chapter of my life. I'm looking forward to going back to Plymouth and reconnecting with old friends there and seeing my family every day instead of once a month, but it's kind of bittersweet as well, because I'm leaving behind the whole Columbus family here. So it's mixed emotions, but I'm ready to move on to the next phase and I'm excited about it.
"I'm very grateful for the opportunity that I had here at Columbus and I will always remember the relationships that I've built here."
Follow Dan on Twitter @Danny_Larson_8 or contact him at 920-356-6753.
Concerned about COVID-19?
Sign up now to get the most recent coronavirus headlines and other important local and national news sent to your email inbox daily.