The human brain is a vital organ that allows a person to function efficiently only when its three parts — cerebrum, cerebellum and brain stem, all with specific individual roles — are working together.
Similarly, an offensive line is a vital unit that allows a football team to be effective when its three parts — center, guards and tackles, all with specific, dedicated responsibilities — are working in tandem.
"I preach to the kids all the time that the sum of the individual parts is more important because you get those five guys plus the tight ends all working together," Mayville head coach Tom Noennig said. "They're all going in different directions in many cases. They all got different rules and responsibilities to accomplish.
"It takes a while to get the offensive line to jell."
Like the brain, the offensive line needs its moving parts to work in unison for the offense to have success.
"Just in general, we see the offensive line as a cohesive unit like a family. In a team such as football, which is the ultimate team sport, you want everybody to be together and be one the same page," Beaver Dam head coach Steve Kuenzi said. "The offensive line is a team within a team. They have their own dynamics, their own lingo, their own identity.
"The teams that are championship teams across the board, whether it's youth football all the way through the NFL, they have dynamic offensive lines that are just top-notch. They're on the same page; they're one big unit. That's what every team strives to have with their offensive line."
It's why in many coaches' minds, the offensive line is considered the most vital component to an offense.
"When the kids come to (youth) camp, I preach to them that the most important position is the offensive line," Lodi head coach Dave Puls said. "Some kids say quarterback and others say running back, and while everybody is important and has their role, the offensive line is the most important position in football."
Importance of cohesiveness
Kuenzi knows the importance of his offensive linemen's chemistry.
When they trust one another, the play is crisp; holes are opening up on running plays and no one is touching the quarterback on passing plays.
"But it really comes down to also that team chemistry where they're buddies," Kuenzi said. "They hang out. We'd love to have our offensive line hang out and go out and do things after games. Go out to some buffet and eat down the place — stuff like that where they're constantly with each other.
"Those championship programs, not only do they have an offensive line that's pretty tight-knit, but they're embraced by their quarterbacks, their running backs, their receivers, and so they understand each other and like each other."
A close relationship within the offensive line usually brings with it a high level of trust between each member that the player beside him will know how to do his job. That's why coaches want players who have played together for a long time, because they are comfortable with one another.
"Absolutely, and they do it as a unit. That's what I think is fun about playing on the offensive line," Portage head coach Bob Hepp said. "It's a tight group mentality; they all succeed together or fail together, and I think you become tight as you go through the season. After the season, it's like a bond and a brotherhood."
Captain of the line
Widely considered the most important on the offensive line, the center starts every play with the ball in his hands. Then immediately after the snap, he must defend himself from oncoming defenders.
Snapping may seem simple, but with more and more teams employing shotgun formations — including Beaver Dam — the center's handiwork must be precise.
"That ball has to be perfect every time, in the quarterback's hands at right about in the midsection," Kuenzi said. "If it's off a little bit, up high or down low, then that means the quarterback has got to bend and move or whatever and keep his eye on the ball vs. keeping an eye on what he sees out there."
The snap is like keeping the posture for any human. If the snap is off by a hair in shotgun or is fumbled when the quarterback is under center, then it's like the offense wobbling back and forth.
But that's just one of the responsibilities for the center. In Beaver Dam's shotgun offense, the center also has to be able to read defensive alignments to help the rest of the offensive line understand where they're going.
In the Golden Beavers' case, junior Brett Mahnke is a returning starter at center who understands when there is an even or an odd front due to experience.
"They've got to be a lot of crazy and very confident because in a lot of situations, not only is he centering the ball, but he might have stud lineman right over the top of him," Kuenzi said. "At the same time he's snapping the ball, he's got to get himself in position to defend himself and defend the play behind him, and they have to move."
Because the center is yelling out pre-snap calls that tell where the other linemen are going in every play, he is widely considered the captain of the offensive line, a role Kuenzi said Mahnke has flourished in this past offseason.
"He had great leadership this offseason in the weight room," Kuenzi said. "He participated in different camps. He's really emerging as one of the better linemen out there."
Directional duties
The guards on the offensive line usually dictate where the offense is heading.
In most types of offenses, the running backs are taught to run between the tackles by finding space between two linemen in the trenches. However, when a run play is called to the outside, guards will often pull to the outside of the line to find defenders to block downfield. Running backs are then taught to follow them.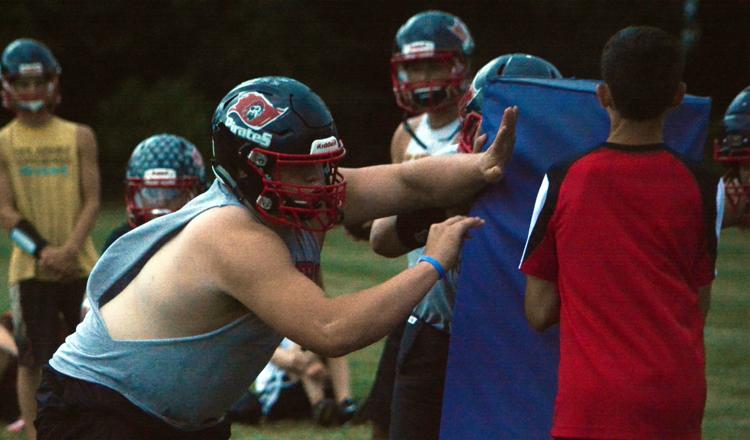 When Fall River running back Davyn Braker runs a play designed to run to the left, he'll often be following bruising right guard Keegan Wodill, the 2017 Trailways Small Conference Lineman of the Year.
"I wouldn't say you have to be more athletic because all the linemen, we're all usually pretty athletic, but you have to be quicker and faster to get out of your stance to pull around the corner or trap the guy, or pull around the end to hit a linebacker," Wodill said.
Many linebackers are taught to follow the guards, because more times than not, it will lead them to the ballcarrier. It's the guard's responsibility to block said linebacker.
Tough on the edges
The tackles are lined up on the outside and are what many consider to be the protectors of the quarterbacks. Depending on which side the quarterback throws, the opposite tackle will protect his blind side. These linemen make sure the quarterback doesn't get smacked in the back.
It's their job to keep opposing pass rushers away from their quarterback and make sure their signal-caller is standing upright with a clean jersey at the end of the play.
"They're protecting the edge," Kuenzi said. "They're usually the bigger guys that have pretty good range and a pretty big body. They might not move as fast as the guards do, but they're just space takers that are going to control the edge of the line."
Portage's Clayton Kapel is someone whom Hepp sees big possibilities with as a tackle because of his size at 6-foot-4 and 280 pounds.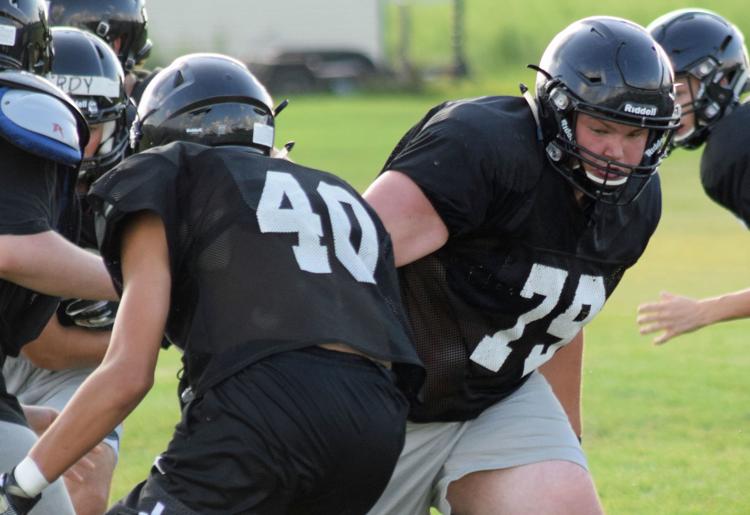 "He's got good size, he's got tremendous athleticism, very good feet, and he can be a very dominant pass and run blocker for us," Hepp said.
At Mayville, Noennig runs a pistol offense where the tackles need to know how to hook block, requiring good footwork in order to seal the defensive end inside.
"Now the defensive end is taught to never get hooked," Noennig said. "That's one of those big battles you try to deal with. In my scheme if you have tackles that can hook some defensive ends, we've got a pretty good opportunity to have a pretty good offensive day. When we struggle hooking when we play some of those pretty good defensive ends and have a hard time, that changes the complexion of a lot of things we try to do."
Combo blocking
In Noennig's pistol offense, the guards and tackles are working together a lot on running plays.
For a running play that's directed to the right and a defensive tackle is lined up on the outside shade of the right guard, Noennig said it's important for the him to use what's called a two-hand shiver technique where the right tackle will help the guard on a double team. Once the guard overtakes the defensive tackle, the right tackle will then release to the linebacker in the second level of the defense.
"This is very effective when executed well, but is very difficult and time-consuming where you have many players going both ways and have limited practice time," Noennig said.
In Baraboo's zone-blocking scheme, the Thunderbirds have tackle Matt Gust (6-foot-2, 270 pounds) and guard Joe Schick (6-2, 260) on one side of the line. These two will be working on pre-snap calls the team has created to tell each other what they will be doing on any given play.
"In a zone scheme, (Gust and Schick) will be working in tandem on double-team blocks, which should clear the way for our running game," Baraboo head coach Steve Turkington said.
In some cases, combo blocking is crucial to help out a smaller or weaker offensive linemen because of their height, weight or knowledge of the position, such as Mauston's Ryan Vang and Clayton Walsh, who have made the switch to offensive line from tight end.
Picture an offensive lineman.
"Even moving those two tight end-type guys to O-Line, they picked up the blocking scheme really quick," Mauston head coach Roland Lehman said of Vang and Walsh. "We use a lot of combination blocking. We're not real big, so a lot of times we're not just iso-ing up a guy on a guy and have him try to move him somewhere. We try to get a lot of double teams and use our quickness in those double teams to our advantage."
Attributes required
Having quick feet and being athletic are just two traits all linemen should have, but strength and the right attitude are also required in order to be a good lineman.
"I think a lot of those intangibles — the work ethic, being mentally tough and having that grit," Hepp said. "That combined with the athleticism, that's what you want."
Most offensive linemen are aware they aren't going to be recognized as often as some of the skill position players.
"They control whether you're going to score or not, whether your defense is on the field or not, and we praise the heck out of our offensive linemen," Puls said. "It's one of those things where they're very proud and honored to be offensive linemen, and we're making sure the running backs are always talking and thanking the big boys up front.
"Without them doing the job up front, they don't get all their accolades."