The WIAA's alternate fall season for boys soccer couldn't have started at a worse time for Waupun.
But after missing several key players who were away on spring break during the first two games and then the most important game of the regular season coming on the Monday right after spring break — meaning the returning players didn't get any practice time as a buffer — the season couldn't be ending at any better time for the Warriors.
They're clicking on all cylinders, having won seven matches in-a-row and eight of their last nine, with the outlier being a draw.
And now they're headed into the postseason seeded first in their sub-sectional and with a very real possibility of making it to next Saturday's state tournament in Fond du Lac.
"I'm not saying it's an easy path to state because nothing is ever easy," Waupun coach Jason Buchholz said. "But it looks like something that we definitely should be able to manage if we're playing our game.
"I want our kids to focus on our team and focus on what we do — and if we're doing that and doing it well, I think we have a good shot at making it to state."
Waupun will play the winner of tonight's regional semifinal between fourth-seeded Mayville and fifth-seeded Lomira on Thursday night in the regional finals, with the winner of that contest advancing to Saturday's sectional tournament. If the Warriors make it to Saturday, they'll play either second-seeded Campbellsport (who they defeated 3-0 last Wednesday) or third-seeded Columbus/Poynette in the semifinals and then in all likelihood Fort Atkinson, the top seed in the other half of the sectional, in the finals that night.
If it's Mayville on Thursday night, the Warriors will be looking to redeem themselves in a sense as the Cardinals were able to keep Waupun in check this past Thursday, losing just 1-0.
"Mayville basically kept eight guys in the 18(-yard box) and didn't pose any type of offensive threat. I think they touched the ball three times on the opposite side of midfield — it was down in their end the entire game long, we just couldn't put it in the net," said Buchholz, who added that after watching the tape his staff has put together a game plan in order to, they hope, "pull some of their players out of the box and get some better shots — better looks at shots; clean shots — instead of having two guys in front of the guy shooting."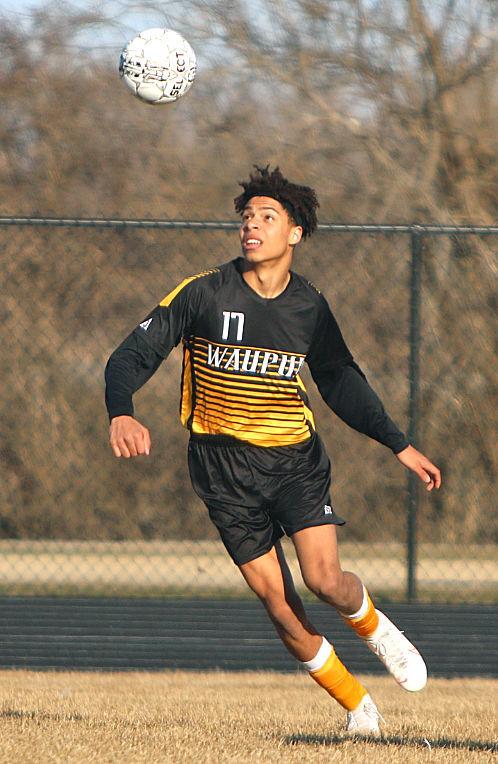 Leading the charge for the Warriors this spring is the senior tandem of defensive center back Cole Hicken and center midfielder Trevor Roecker, who has been on an absolute tear over the last two weeks.
"He's really just elevated his game to a whole new level," Buchholz said of Roecker, who has scored all but one of his team-leading 19 goals over the last six games, including six during a 10-1 win over Lomira. "I've been on him for years that he needs to shoot more. He was always one who dribbled the ball really well and he saw good opportunities to make through passes to the forwards. Then all of a sudden in one of the games, kind of a switch went on for him that he could start shooting it from outside the 18(-yard box) and goalies weren't stopping it because he's got a pretty good laser for a shot.
"He's the heart and soul from maybe our defensive midfield all the way up to our forwards. He'll go up there and he'll take a shot and if the goalie saves it and punts it, he's right back where the ball's landing. He's taking over the whole center of the field and not letting anyone get the ball away from him. He's out there battling to win the ball back for our team."
Not to be outdone, Hicken, who was one of four starters who missed the first two games of the year — a 4-1 win over Jefferson on March 30 and a 4-0 loss to Beaver Dam on April 1 — has also been at his best of late.
He's sixth on the team in points (five) with three assists and a goal, but those numbers don't begin to represent the intangible impact he's had on the team.
"Cole has been our rock on defense," Buchholz said. "He's an extremely good leader. He controls the back end. When he's out there kind of being the game manager for us — I'm not going to necessarily say the quarterback but kind of in that position, because as a center back he can see the whole field — the kids are super confident that our defense is going to play pretty well and shut other teams down."
Buchholz added that the goals scored against Waupun — and there have only been six during the current nine-match undefeated streak — have usually been when Hicken is off the pitch or playing up the field more, in both scenarios because the Warriors were in control of the game.
Also key to the Warriors' hot streak has been goalkeeper Levi Kastien, a tall senior with long arms who has saved 83.3% of the shots on goal he's faced with a 0.99 goals against average.
Making his performance even more impressive is that this is the first year in high school that he's played soccer.
"He's just doing a really good job just because of the reach that he has," Buchholz said. "It took him a little bit to get used to playing at the varsity level and understand the game, and there's still some things that he needs to learn. But he definitely uses his length to his advantage."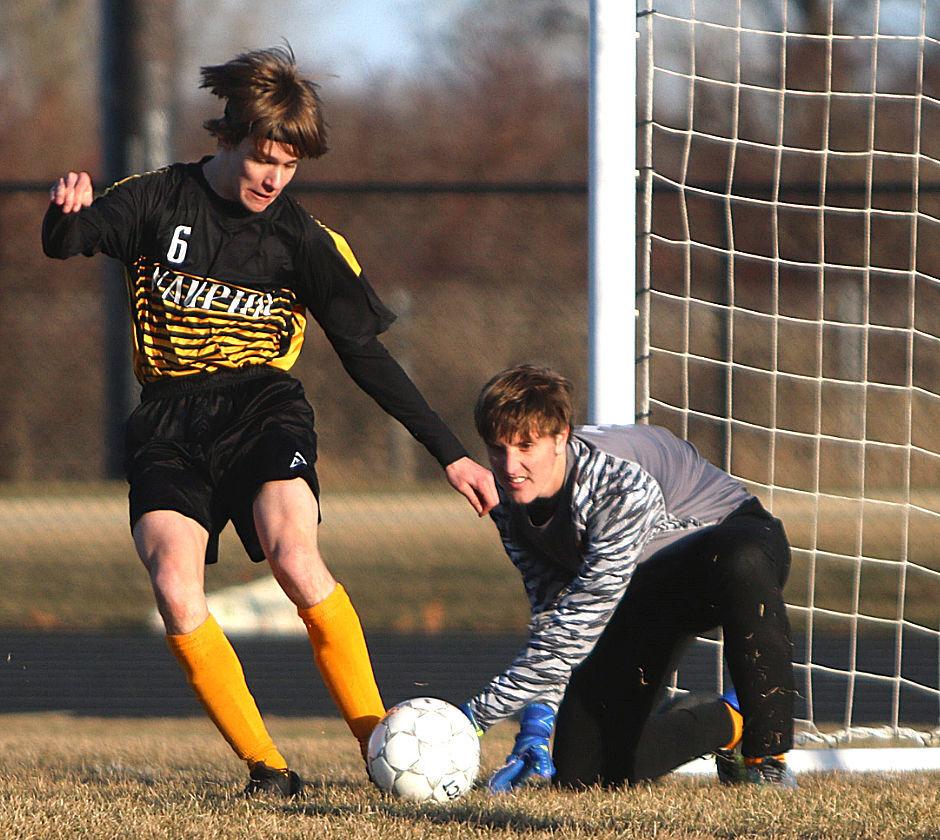 After opening the year 1-1 without a handful of starters, Waupun got back to business as usual on April 5 against Flyway Conference title favorite Winnebago Lutheran Academy.
Those starters were still shaking off some of the rust that built up while on spring break, but the Warriors still were able to play the Vikings to a draw until a goal in the 83rd minute ended up being the difference in a 1-0 win for WLA.
Even though it was a loss, that match ended up being the springboard to the Warriors success this spring.
Buchholz was away from the team at that time due to contracting COVID-19, but he was able to watch the livestream on YouTube and was impressed with what he saw.
The Warriors followed that loss up with a 2-0, Flyway Conference win over defensive-minded Ripon and then came a rematch with WLA. The second time around, Waupun's defense didn't crack in what ended up being a scoreless draw.
"It was pretty much a duplicate of that first game that we lost," Buchholz said. "Both teams had great chances. The ball was up and down the field the whole game.
"In the second half we kind of really started to take over and had quite a few more opportunities to score but weren't able to put one in. WLA has a pretty good goalie and he really was able to get out there and break up some of the good opportunities we had."
Waupun's opponents the rest of the way weren't so fortunate, as that draw — on April 12 — was the last time the Warriors failed to record a victory en route to a second-place finish in the league behind champion WLA.
Joining Roecker at the top of Waupun's points list this spring are Trent Ferris (17 on eight goals and an assist), Austin Wiese (nine on four goals and an assist), Sawyer Williamson (seven on three goals and an assist), Micah Buchholz (seven on one goal and five assists) and TJ Haddy (five on two goals and an assist).
And alongside them are a whole lot of other contributors, all with one goal in mind: To win three games later this week and end the season playing at the state tournament.
"If they stay within their positive aspects of the game, and making plays and doing the jobs that they're asked to do — when they're successful at those things," Buchholz said, "our team is, I think, going to be very hard to beat by any team taking us on."
Follow Dan on Twitter @Danny_Larson_8 or contact him at 920-356-6753.