In terms of versatility, senior Jackson Trudgeon defines the word for the undefeated Madison Edgewood football team.
In host Edgewood's 35-7 Rock Valley Conference victory over Jefferson on Saturday, the 6-foot-1, 184-pound Trudgeon was a difference-maker while lining up as a running back, receiver, safety, punt returner and kick returner.
It is clearly a role Trudgeon embraces.
"I love it," he said. "I just want to make as many plays as I can and help the team win as much as I can. I love being on the field every play and doing all I can to help this team."
Trudgeon, who has committed to the University of Wisconsin football team as a preferred walk-on, caught two touchdown passes, intercepted a pass and recovered a fumble.
On offense, he topped the Crusaders (5-0, 3-0 Rock Valley) with five catches for 147 yards. On defense, his nine total tackles led the way.
Oh, he's also on this weekend's Homecoming Court.
"He means everything (to the team)," Edgewood coach Jesse Norris said about Trudgeon. "He's a Grade-A leader. His character is phenomenal. He's a tremendous locker room kid. Guys rally around him. When we need a play, he's the one who makes it."
Trudgeon, running a wheel route out of the backfield on Edgewood's first series, caught a 51-yard touchdown pass from senior quarterback Joe Hartlieb — Trudgeon's friend since kindergarten — with 6 minutes, 11 seconds left in the first quarter.
Trudgeon's 28-yard touchdown fourth-quarter reception from junior quarterback Mason Folkers closed the game's scoring against Jefferson (2-2, 1-2).
"We are taking it one week at a time," said Trudgeon, usually on the field except for extra-point attempts and punt coverage. "Coach always says '1-0' at the end of the week, so we are trying to not look too far into the future. We really have bonded together. We have good chemistry on both sides of the ball.
"I've been on both sides of the spectrum. My sophomore year, I think we were 1-8. Here we are 5-0 now. So, it's definitely better on the other side of it. It's good."
Trudgeon, recruited as a safety, made his UW oral commitment in June.
"My recruiting was really just getting started when I got that offer, so I thought, 'Why wait?''' Trudgeon said. "(I like) the community that UW brings. The campus is beautiful. I've lived here my whole life. I love the city. So, I wanted to stay here."
The Crusaders only had 16 minutes, 36 seconds of offensive possession, but they optimized their opportunities, particularly through the air.
Edgewood — ranked 10th in the Medium Division of The Associated Press poll and fourth in Division 4 in the state coaches' WisSports.net poll — gained 278 yards passing on 12 completions.
Starter Hartlieb — whose fall, 2020 season was cut short by a collarbone injury — was 8-for-14 for 174 yards and two touchdowns. Folkers completed all four of his passes for 104 yards and two touchdowns and also ran for another score.
Folkers fired a 17-yard touchdown pass to senior receiver Cam Fane with 3:36 left in the second quarter and Hartlieb connected with junior tight end Mark Haering on a 28-yard touchdown pass 1:05 before halftime.
Haering's score increased the Crusaders' lead to 21-0, and was set up by Edgewood senior defensive lineman Martius Bautista's fumble recovery at the Eagles' 43-yard line.
"Joe (Hartlieb) really stepped up this week," Norris said. "I thought he did a phenomenal job. He's really improving each week. Obviously, any time Cam touches the ball, it can go the distance. From an offensive standpoint, if you are scheming against our style of offense, they have to scheme against a spread and they have to scheme against a Q-run."
Trudgeon closed the half with an interception near the goal line, a pick he returned 47 yards.
Folkers' 4-yard touchdown run boosted the Crusaders' lead to 28-0 with 9:30 left in the third quarter.
The Eagles, operating from the Wing-T formation, gained 247 yards rushing on 47 carries, but didn't score against the Crusaders' defense until the fourth quarter.
Jefferson was led by senior Nate McKenzie, who had 119 yards rushing on 15 attempts and also caught two passes for 19 yards.
McKenzie scored on a 6-yard run with 8:28 remaining to play.
Norris said the Crusaders changed their defense for the game, loading the box against Jefferson's running attack.
"We knew coming in that this would be a very physical game for us — a statement game for us," Norris said, mentioning the defensive play of seniors Chase Koch (five tackles, including two tackles for loss), Carson Hughes (four tackles), Andrew Budzinski (three tackles) and freshman nose tackle Jackson Kitzmiller.
Jefferson had an interception and lost three fumbles.
Madison-area football preview: Monroe's J.T. Seagreaves, Edgewood's Jackson Trudgeon among 10 players you need to know
Anthony Nolden, sr., HB/WR/OLB/DB, Belleville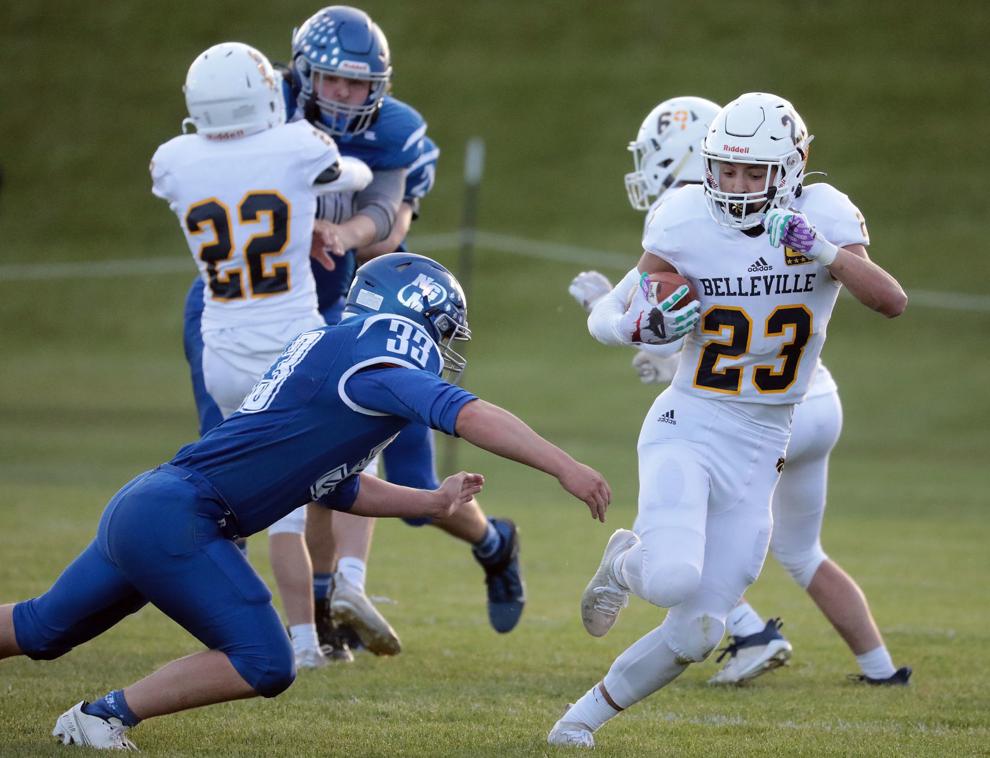 The 5-foot-10, 150-pound Nolden had 25 receptions, averaging 20.8 yards per catch, and scored eight receiving touchdowns, which was third-best in the state during the WIAA's alternate fall season in the spring. He also had five interceptions (tied for second in the state, according to WisSports.net) and 52 tackles, three tackles for loss and 3.5 sacks for 6-1 Belleville, which will be in the SWAL this fall. Nolden is among the senior receivers to watch by WisSports.net. He's the cousin of Belleville coach Mike Nolden.
Trevor Syse, sr., QB/SS, Belleville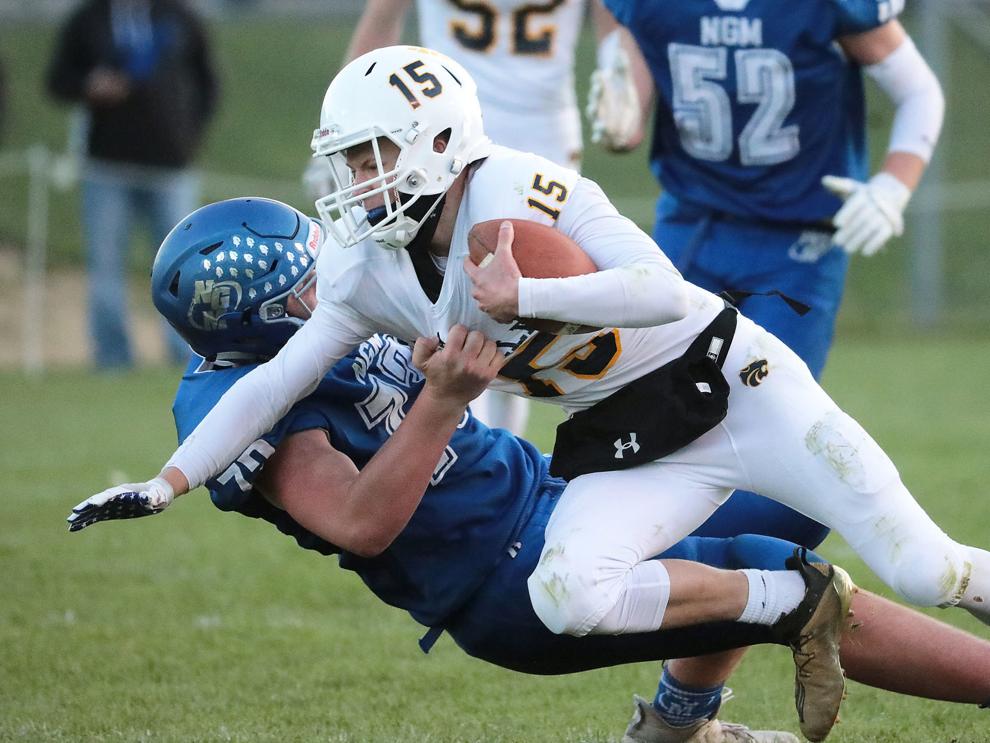 The 6-1, 165-pound Syse started the season as a backup prior to taking over the starting role due to an injury and wound up with the second-most passing yards and third-most touchdown passes in the state in the alternate season. The left-hander completed 56.6% of his passes for 1,481 yards and 17 touchdowns, with seven interceptions. He also ran for three touchdowns for Belleville, which finished ranked sixth among small-sized schools in the state coaches' poll. He was listed among the senior quarterbacks to watch by WisSports.net.
Trey Colts, sr., RB/LB, Cambridge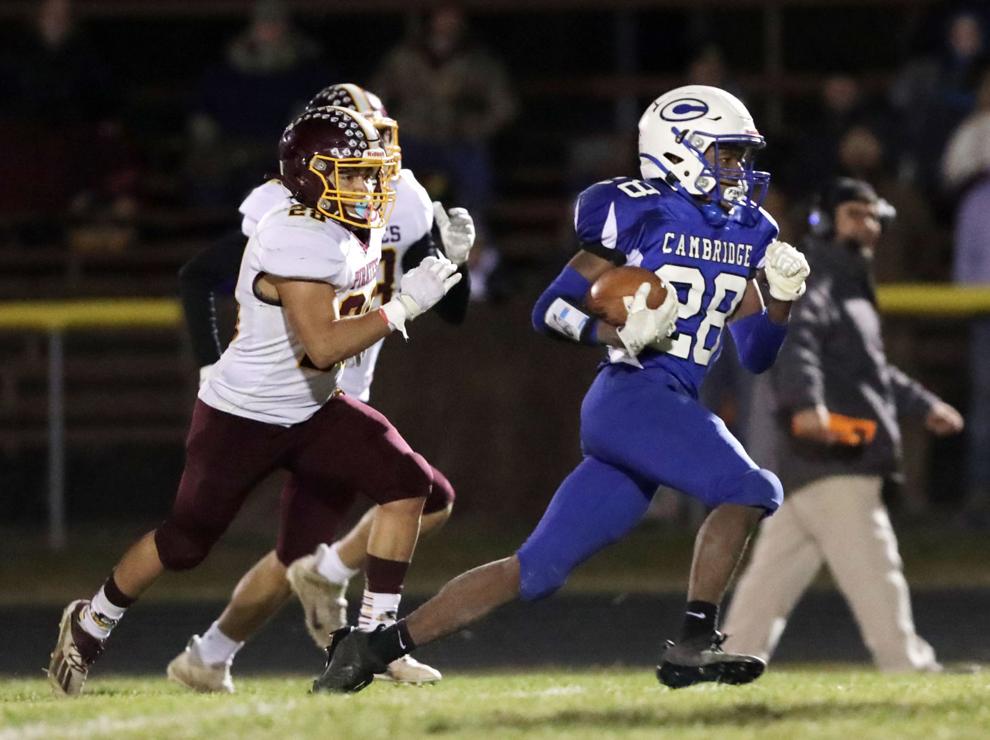 The 5-foot-8, 150-pound Colts was an Eastern Suburban second-team all-conference selection at both running back and inside linebacker as a junior. He finished the fall 2020 season leading the team in rushing yards and receiving yards and was second on the team in tackles.
Mason Folkers, jr., QB/LB, Madison Edgewood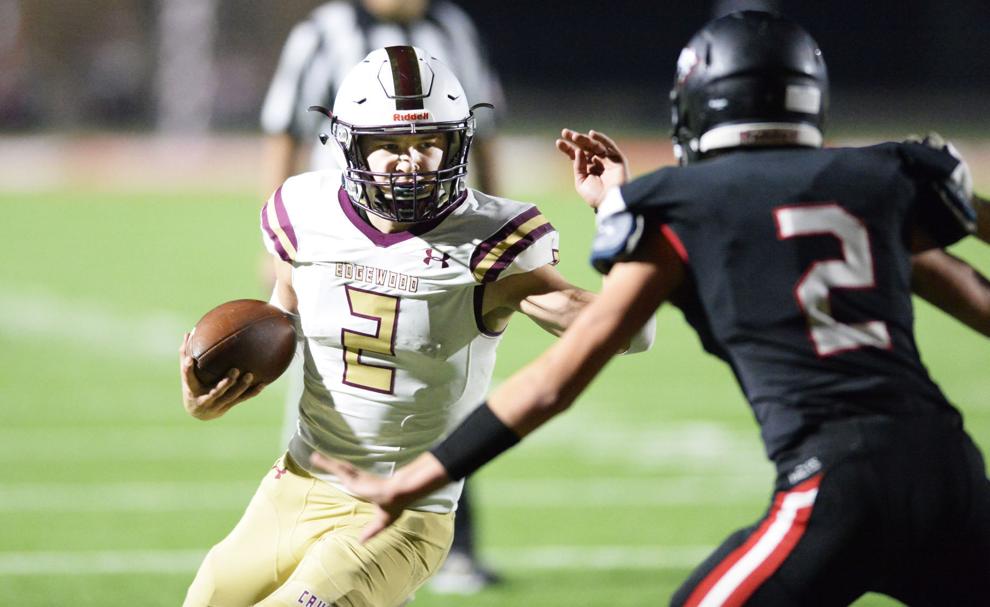 The 6-1, 184-pound Folkers demonstrated athleticism and playmaking ability at quarterback when the Crusaders finished 5-3 playing in the fall of 2020. He was inserted after an injury at the position and wound up throwing for 909 yards and 10 touchdowns and rushing for 246 yards and five touchdowns for Edgewood, which will play in the Rock Valley.
Jackson Trudgeon, sr., DB/WR, Madison Edgewood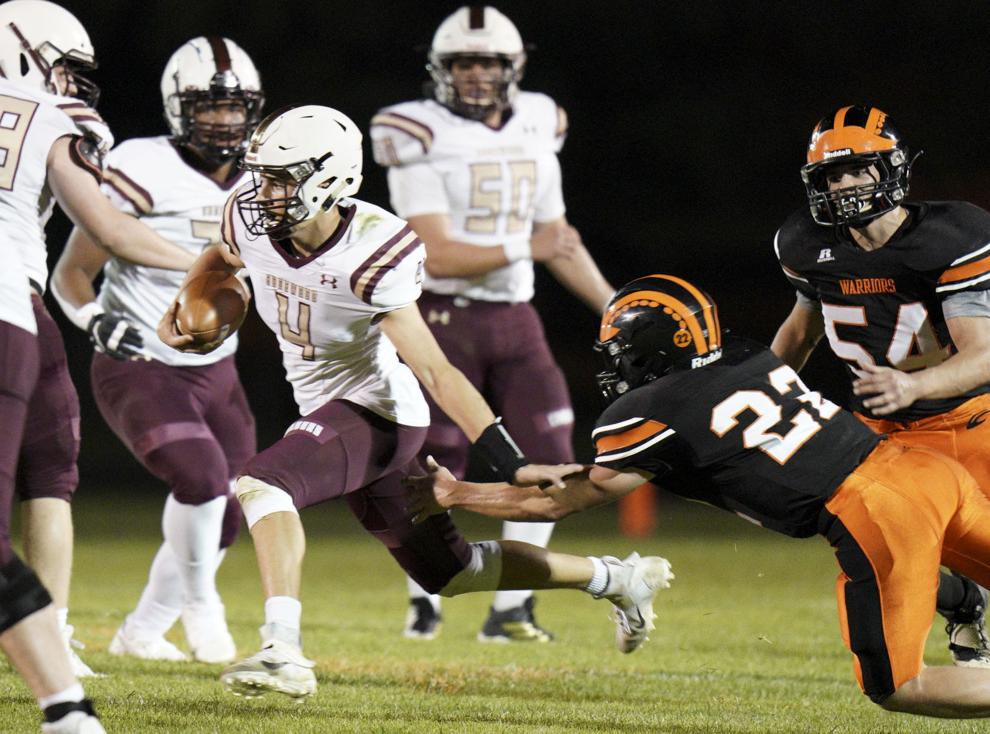 The 6-1, 178-pound Trudgeon, a University of Wisconsin preferred walk-on, was an all-around standout in fall 2020. He had 77 tackles, two tackles for loss and two interceptions as a defensive back. He also had 37 receptions for 552 yards and eight touchdowns, 143 yards passing, 108 yards rushing and was a dangerous return specialist. He was rated as the No. 2 senior defensive back and 34th senior overall entering the season by WisSports.net.
Bryce Frank, sr., RB/SS/K/P/KR/PR, Marshall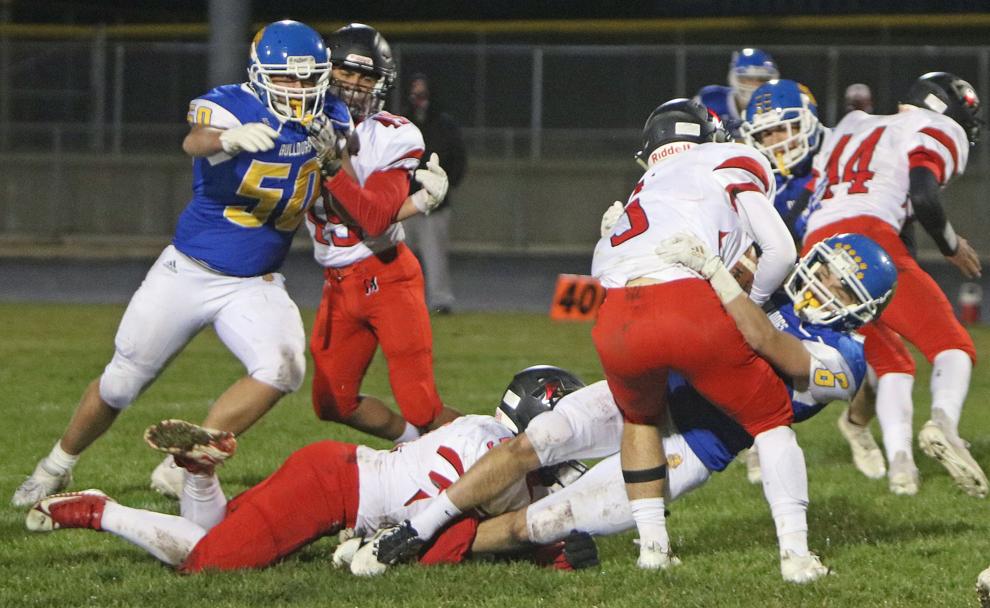 The 5-10, 180-pound Frank was an Eastern Suburban first-team all-conference selection in 2020 at running back and return specialist, second-team all-conference pick at outside linebacker and was an all-conference honorable-mention choice at kicker. Frank was the Eastern Suburban offensive player of the year for the 2020 season. He's regarded as a player to watch among senior running backs by WisSports.net.
Dadon Gillen, jr., WR/DB, McFarland
The 6-1, 180-pound Gillen should be a top target on offense after catching 24 passes for 303 yards and four touchdowns in McFarland's five games in the spring. He also had 27 tackles on defense for the Spartans, who will play in the revamped Rock Valley this fall.
J.T. Seagreaves, sr., DE/TE/RB/WR, Monroe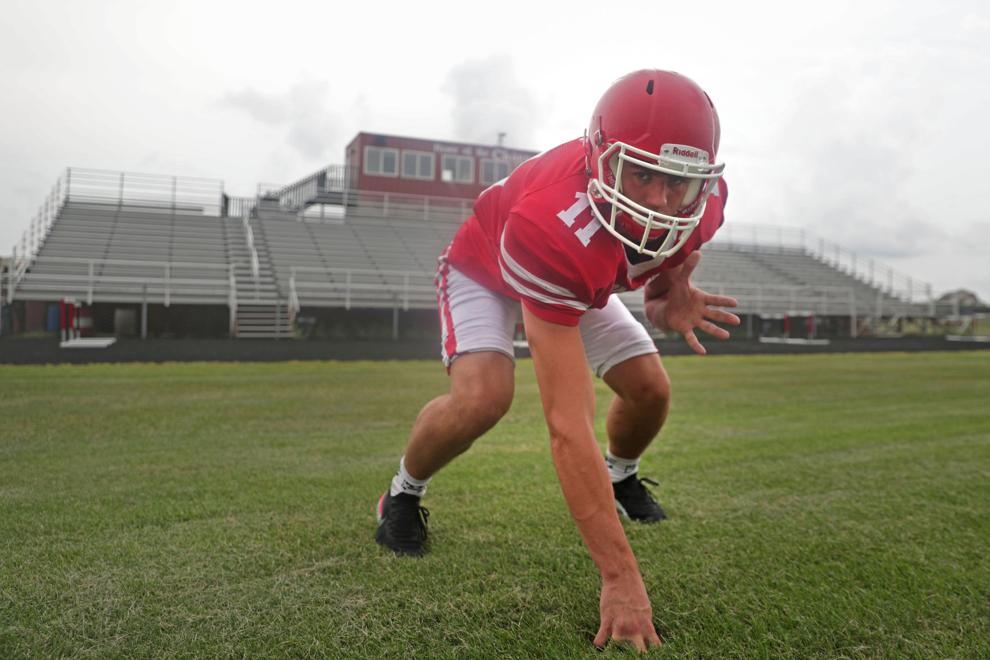 The 6-foot-6, 225-pound Seagreaves, who's orally committed to UW for football, was defensive player of the year and a first-team choice as a defensive end and receiver in the Rock Valley Large during the WIAA's alternate fall season in the spring. This fall, with Monroe playing in the realigned Rock Valley, Seagreaves again will play defensive end, but likely will see time at right halfback in the Wing-T. Entering this season, he was ranked as the No. 2 senior tight end in the state and No. 11 senior overall by WisSports.net.
Zach Gloudeman, sr., LB/RB, River Valley
The 6-1, 215-pound Gloudeman was a SWC first-team all-conference linebacker (36 tackles) and running back (618 rushing yards, 11 touchdowns, along with 14 receptions) in 2020. He's receiving NCAA Division I interest, including a preferred walk-on offer from UW, according to River Valley coach Tim Eastlick. Gloudeman was ranked as the No. 3 senior linebacker and No. 23 senior overall entering the season by WisSports.net.
Eugene Wolff, sr., RB/LB, Waterloo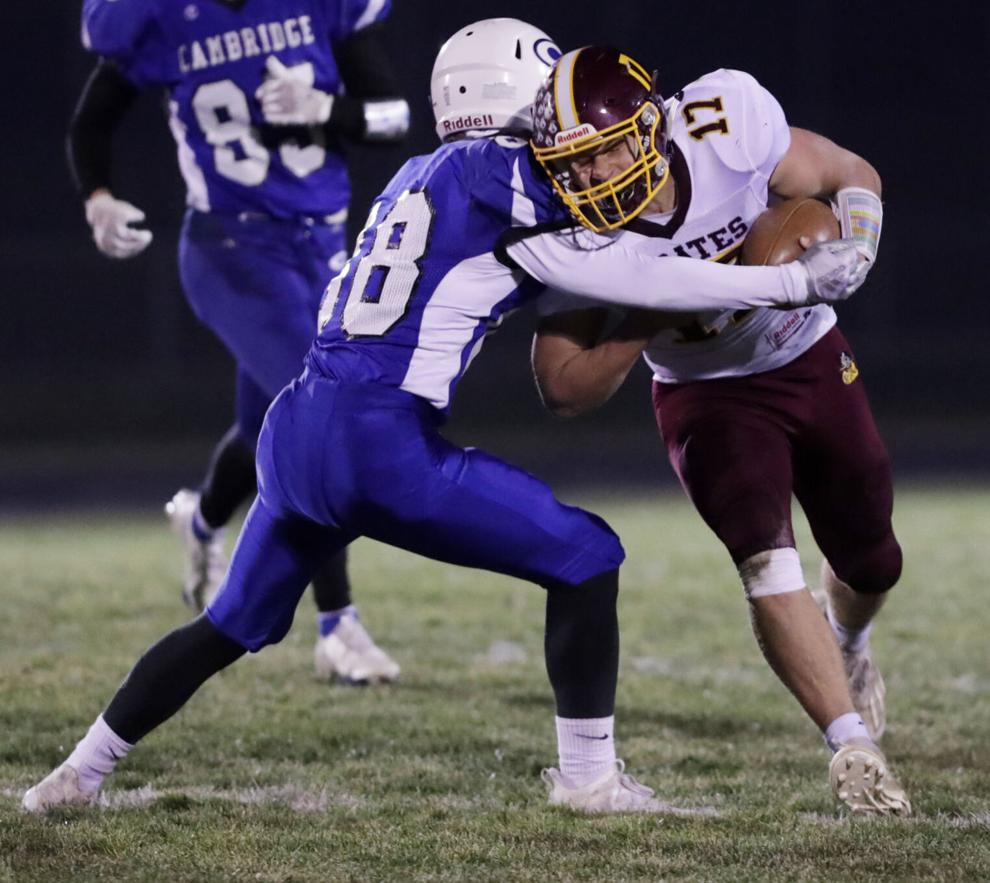 The 6-0, 185-pound Wolff was an Eastern Suburban first-team all-conference selection in 2020 at running back and outside linebacker for the Pirates. Wolff led the team in rushing yards and rushing touchdowns and anchored Waterloo's defense last season. He's ranked as a player to watch among senior running backs and senior linebackers by WisSports.net.