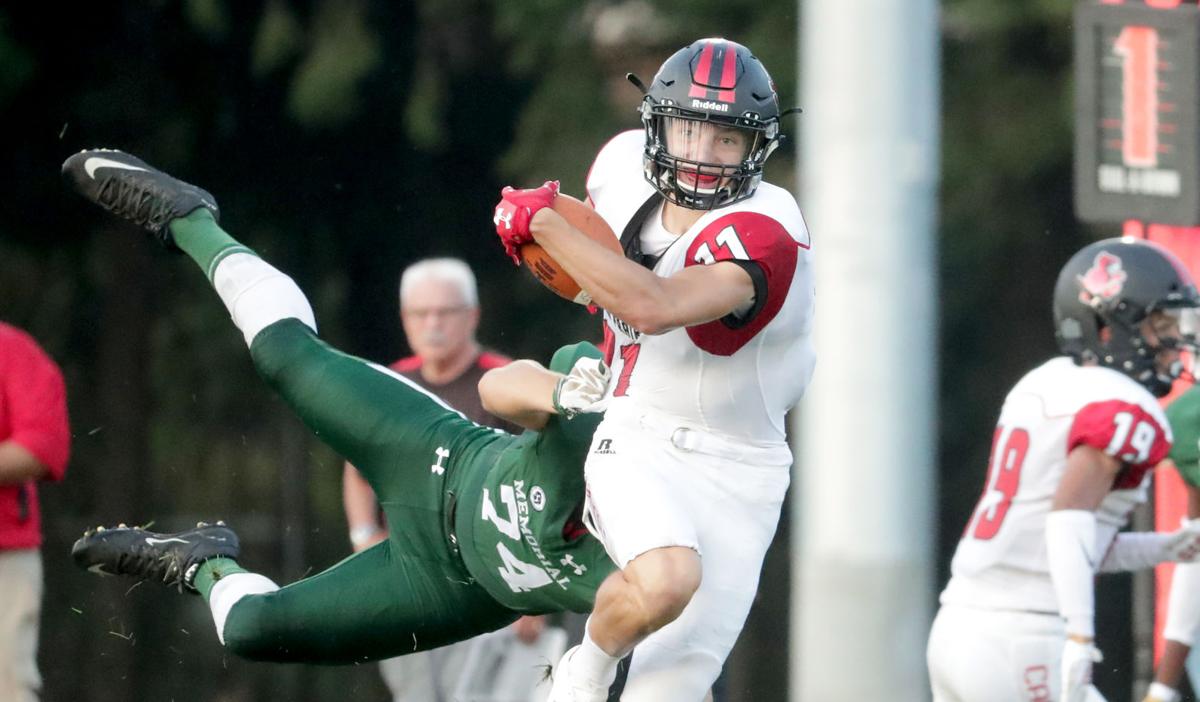 OSHKOSH — Cooper Nelson's already feeling the benefits from his first summer conditioning program as a walk-on at the University of Wisconsin.
The former Sun Prairie wide receiver took a break from the offseason grind Saturday night to play for the South in the Wisconsin Football Coaches Association Large School All-Star game at Titan Stadium in Oshkosh.
And while the North prevailed, 19-11, Nelson found his edge improving as the game wore on.
"I've been having a blast up at UW, and it really put me in shape for this game," Nelson said. "The conditioning up there is difficult, but you know it'll pay off in the end. I noticed it tonight, especially, because we were an uptempo offense. At certain points I was more in shape than other guys on the field."
The ball didn't always find him, but Nelson created plenty of openings in the North defense throughout the night.
The 6-foot-4, 185-pound all-state performer kick-started a long drive in the second quarter by catching a pass over the middle and wiggling past a tackler to pick up a third-and-9 deep in the South's own territory. Nelson grabbed another first-down catch eight plays later before an interception in the end zone prevented a potential 97-yard touchdown drive.
On the South's next possession, however, he broke wide open downfield and caught a 31-yard touchdown from McFarland quarterback Derek Schwarting to open the game's scoring with just more than two minutes left in the first half.
"When they called the play … I looked at the sideline and I was just clueless," said Nelson, who participated in just one practice and one scrimmage with the team prior to Saturday. "The quarterback on the sideline told me what to run and I ran it. … Thankfully no one came with me."
DeForest defensive end Beck Mayer recorded a safety for the South less than a minute after Nelson's touchdown, but North quarterback Logan Graetz hit Howie Newbauer IV over the middle for a 16-yard score as time expired in the first half.
Nelson, who finished with a team-high 51 receiving yards, often impressed even when he didn't receive the ball. He burned a cornerback in man-to-man coverage on third down during the South's first second-half possession but couldn't reach an overthrown pass.
Three plays after the ensuring punt, the North's Mason Van Zeeland caught a 67-yard touchdown from quarterback Cody Staerkel to take a 13-9 advantage.
"We had a lot of missed opportunities," Nelson said. "It wasn't just that one."
The North went on to record five second-half interceptions. Riley Zirpel's 13-yard touchdown catch from Keyser Helterbrand with 4:17 remaining pushed its lead to 19-11, and two more attempts by the South fell short.
You have free articles remaining.
Schwarting completed 8-of-16 passes on the night for 96 yards with one touchdown and three interceptions.
Waunakee defensive end Chase Maier led the South with two sacks.
North Small grinds out win
After a three-hour weather delay, the North Small All-Stars defeated the South, 21-14, without completing a pass.
The North totaled just 142 yards, all on the ground, while going 0-for-5 passing with an interception, which was recorded by Fennimore defensive back Maguire Fitzgerald.
Bryce Huettner led the North with 70 yards and a touchdown on 12 carries, while Kade Ehrike rushed 15 times for 58 yards and two scores.
Ehrike's second touchdown — from 1-yard out — broke a 14-14 deadlock with 8:11 remaining, while Huettner's 8-yard scamper on fourth-and-2 with less than a minute left allowed the North to finish a 12-play, 75-yard drive that ran out the final 5:45 of clock.
Greenddale Martin Luther's Darios Crawley-Reid, who led the South with 39 rushing yards on eight carries, opened the scoring with a 19-yard touchdown.
Lakeside Lutheran offensive lineman Caleb Raymond tied the game at 14 with 4:17 left in the third quarter when he recovered a fumble in the end zone.
Cambridge's Rudy Hommen led the South in receiving with 48 yards on two catches, including a 41-yard grab on third-and-5 late in the second quarter.
Eight-man game cut short
Saturday morning's 8-man All-Star game was canceled at halftime due to inclement weather with the South leading the North, 21-6.
The South built its entire lead in the first quarter, with Gibraltar quarterback Trevor Reinhardt accounting for all three touchdowns.
Sandwiched between two short rushing touchdowns, Reinhardt connected with Port Edwards wide receiver Addison Gibbs for a 48-yard score.
Reinhardt completed 12-of-19 passes in the half for 205 yards with one touchdown and one interception.
The North's Dennis Brule added a 38-yard rushing touchdown with 2:41 left in the first quarter.
Get in the game with our Prep Sports Newsletter
Sent weekly directly to your inbox!