The Madison School District plans to begin its phased return to in-person activities, including athletics, this month, it was announced Thursday morning.
Some, but not all, alternate fall sports in the spring will begin. The school district also plans to resume the traditional spring sports with Big Eight Conference competitions within the WIAA calendar. 
"It is an exciting day because we now have a template to follow and finish lines to hit," Madison Memorial athletic director and Madison School District athletic director Jeremy Schlitz said in a phone interview. "We know we have to do it the right way so as not to take a step backwards."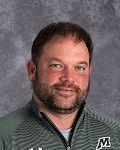 The Madison School District hasn't had in-person athletics since March of 2020 due to the COVID-19 pandemic. 
The Madison School District hopes to resume WIAA sports for some sports in the alternate fall season in the spring starting March 29, according to a release from Schlitz. 
Competition status for athletics will be determined by March 26.
During the week of April 5, girls and boys cross country, girls golf and girls tennis have the potential to begin competitions.
Individual small group contact for girls tennis and boys and girls cross country will begin starting the week of March 15 (Monday) and for boys and girls track and field and boys tennis the week of March 22.
Small group team activities for softball, baseball and soccer will start the week of March 29 (likely off-site on turf and maintaining 6 feet at all times).
Football, girls and boys volleyball and girls swimming and diving aren't sports in the alternate fall sports season that are scheduled for in-person competitions. They have had virtual opportunities.
That those were indoor sports (girls volleyball and girls swimming and diving) and that protective equipment was required (for football) were factors in not starting competitions, Schlitz said. The district relied on health information, including from its medical advisory committee, Public Health Madison & Dane County and CDC. 
Also, Schlitz said the goal is to have contact days for programs during this school year (a schedule of contact days also was released). 
A club football team organized by Madison West football coach Brad Murphy is offering opportunity to Madison public schools athletes, primarily seniors and juniors, since the Madison schools aren't having in-person activity in football. 
The potential for end-of-season WIAA events will be determined on a sport-by-sport basis, at least 30 days prior to the end of the season, according to the release.
The Madison School District includes Madison East, Madison La Follette, Madison Memorial and Madison West.
The Madison School District's goal, with a successful phased return, is to resume traditional spring sports athletics in the Big Eight beginning with the WIAA season calendar. The start of WIAA spring sports (outdoor-only activities) would be the week of April 19.
"The district's plan for return is purposeful and in phases to support community health, student and staff safety," according to the release. "Activities will begin with small group outdoor gatherings of individual sports which do not require sharing equipment and allow for 6 feet of distance between participants at all times.
"With successful mitigation strategies, it is expected these opportunities and activities will expand gradually over time. Initially, students will only be participating in one co-curricular activity at a time to reduce contacts across cohorts and appropriately acclimatize back to physical activity.
"WIAA COVID-19 accommodations allow school activities to occur for sports out of season and will be the mechanism used to begin our phased return and acclimatization. …
"Training on mitigation measures and safety protocols along with student orientation will occur on a program and school basis specific to activity."
According to the release from Schlitz: "The focus will be to safely provide the most complete and genuine experience possible for all spring sports, recognizing their inability to participate in the spring of 2020 due to school closings.
"We are excited to be back and look forward to resuming activities for all students safely. We recognize the privilege of education based athletics and our responsibility to support the return to in-person activities for all students. MMSD athletics will adhere to its strict mitigation practices and be flexible to changing conditions to support all students, staff, and the community."