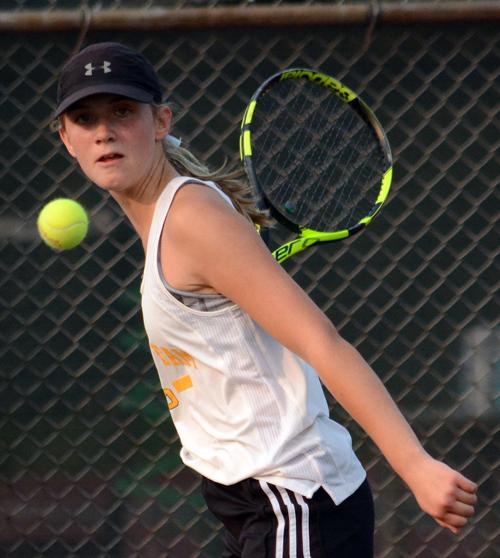 Beaver Dam girls tennis coach Ryan Radig said he's "always happy" to see when his Golden Beavers perform well.
He must have been ecstactic on Tuesday, then, because the Golden Beavers played consistent from start to finish and across all seven flights in a 7-0 victory over Fort Atkinson.
"Obviously, one of the biggest things we talk about is when you're playing somebody you feel you can beat, you still show up and hit every shot, and we got through and we hit the strokes that we practice and the high percentage shots," Radig said. "That was something I saw today, which was awesome."
Cora Wendt, at No. 4 singles, was focused in the early going as she finished her first set before anyone else got their first two games in. After a little bit of a hiccup in the second set, Wendt cruised to a 6-0, 6-3 victory over Cassidy Berker.
"Her first set was lightning speed," Radig said. "Her second set, the girl worked her a little bit more and she had to start working in some angles. She was able to finish her off which was nice."
Beaver Dam's No. 2 doubles team of Abby Okon and Emily Gabel found themselves in a 5-4 hole in the first set, but Radig said after a little conference between the three of them, they won the next 12 of 13 points to win 7-5, 6-1 over Fort Atkinson's Christa Sebranek and Angela Unate.
"I told them to go back to the basics, hit the high percentage shots and they won 12 of the next 13 points to win 7-5," Radig said. "When they listen and they do those types of things, it makes me realize those types of things are making a difference. They're doing what they're supposed to be doing. It helps."
Beaver Dam's Lindsay Propst, who is in her first year at No. 1 singles, defeated Fort's Olivia Granec, 6-1, 6-3.
"I told her we wanted to work the girl today, hitting a lot of balls with a top spin from her backhand," Radig said. "The ball was bouncing a lot today and we won a lot of balls in play. She got down early in the second set, but worked through that. It's a testament to her."
Beaver Dam's Riley Smith, who has been bitten by the injury bug as of late, wasn't sidelined Tuesday and defeated Sarah Holzli, 6-2, 6-1.
"For her to come out and play — she played nice," Radig said. "This was a girl that she could handle pretty easy, but it was nice to see her move around the court a little bit."
At No. 1 doubles, the Beaver Dam team of Hannah Budde and Madelyn Connaughty played well enough to defeat Fort's Brynn Torrenga and Ester Jones, 6-1, 6-0. However, Radig felt they could've played better.
"They kind of got off to a slow start, which has been their M.O. a little bit," Radig said. "We went out and talked to them about being a little bit more active up at the net and not letting the ball drop, and attacking balls above the net so we can put away volleys. Once they started doing that, they rolled as well."
Radig said if Budde and Connaughty play to their potential, they could be a contending duo to qualify for state.
"They were in some tighter games," he said. "They missed a couple of easy balls (in the first set). They were leaving points out. That's OK when you're playing a team that's not as good, but we want to get prepared for the best teams in the state. That way when we're in those positions we don't make those errors, or we can force those errors for (the opponent)."
And the Beaver Dam team of Lexi Bird and Brooklyn Torres took some of the lessons they learned from former Beaver Dam coach Dave Kalscheur during Monday's practice and used it to defeat Fort's Lily Congdon and Alex Theriault, 6-0, 6-1.
"When you've got 30-40 years of tennis experience that's easy to do," Radig said of Kalscheur's winning touch. "Those two played much better today also. They took some of those things that he worked with them on and were able to improve on them."
Singles: No. 1 – Lindsay Propst, BD, def. Olivia Granec, FA, 6-1, 6-3. No. 2 – Riley Smith, BD, def. Sarah Holzli, FA, 6-2, 6-1. No. 3 – Grayce Klawitter, BD, def. Sierra Jelinek, FA, 6-1, 6-0. No. 4 – Cora Wendt, BD, def. Cassidy Barker, FA, 6-0, 6-3.
Doubles: No. 1 – Hannah Budde/Madelyn Connaughty, BD, def. Brynn Torrenga/Ester Jones, FA, 6-1, 6-0. No. 2 – Abby Okon/Emily Gabel, BD, def. Christa Sebranek/Angela Unate, FA, 7-5, 6-1. No. 3 – Lexi Bird/Brooklyn Torres, BD, def. Lily Congdon/Alex Theriault, FA, 6-0, 6-1.
Follow Mark McMullen on Twitter @mmcmull2 or contact him at 920-356-6754.
Get in the game with our Prep Sports Newsletter
Sent weekly directly to your inbox!