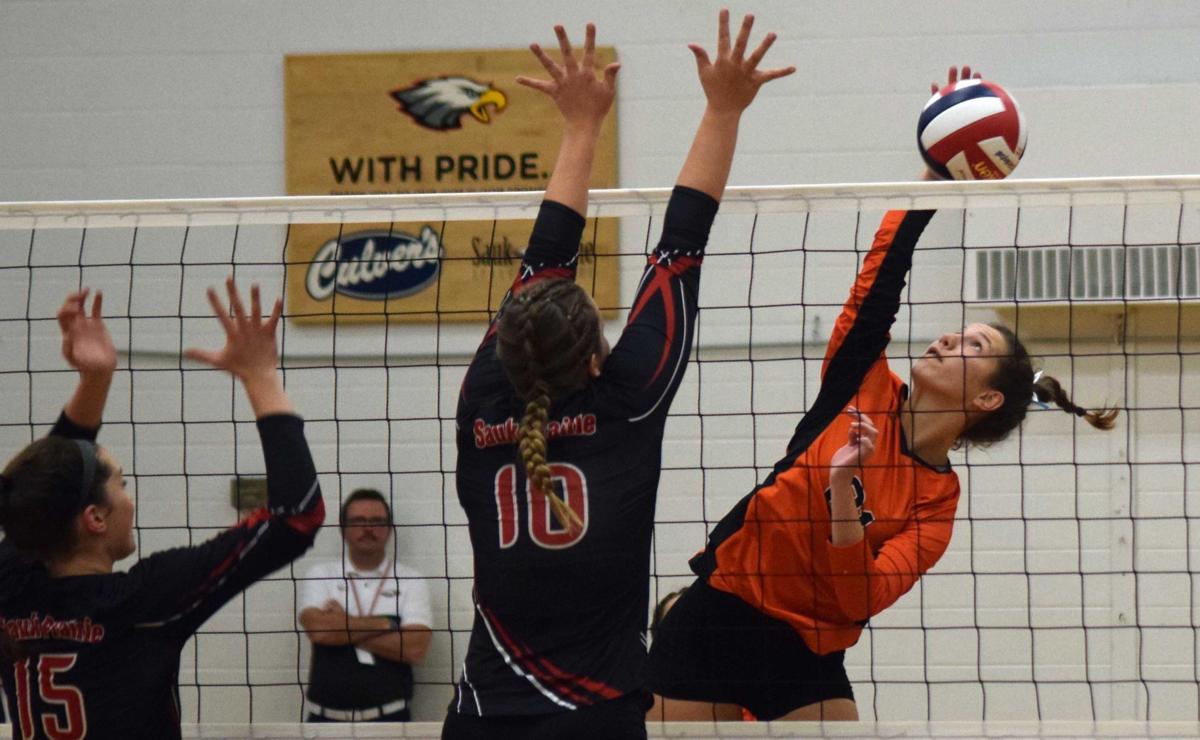 Portage volleyball coach Kristin Maass has no shortage of options when deciding who will take the court for the Warriors, as a large junior class is pairing with four returning seniors to give the varsity squad quality depth this fall.
Maass recognized that depth during her team's first week of practice, which began on Sept. 7, which led to her keeping a whopping 14 players on the varsity roster.
"We have, for the first time in a couple of years, depth at positions. So just having depth at the positions and having kids that always know that there is somebody that can step in (is our strength)," Maass said. "That hasn't always been the case in the past, so that's one thing we are really excited about."
That depth all starts with the team's returning seniors, especially outside hitter Genna Garrigan and middle hitter Emma Kreuzinger. Both players were regular contributors last season, and both have been named captains this fall.
Kreuzinger is in her third year on the varsity, and will be counted on to get Portage's offense rolling.
"Emma being a middle is kind of running our offense. (We want her) continuing to be aggressive and to just dominate that middle," Maass said. "Genna is the kind of kid who will get any ball she can get. She's extremely competitive, very much a go-getter."
Portage's other two returning seniors are defensive specialists Megan Pace and Lexi Schmelzer. Maass said their main responsibility will be "for that first ball, having good conversation in the back row."
Portage's fifth and final player returning with varsity experience is junior Sydni Kratz, who is also Portage's third captain this season. Kratz will be the team's primary setter after sharing those duties last season with now graduated seniors Abby Leeland and Katelyn Belleau.
"This year she will be running the show," Maass said of Kratz. "Sydney is really taking command of the floor. She's really stepping up her game and really working at being a leader on the floor."
Behind those five returning players are 11 juniors who played on the junior varsity last year as sophomores. Due to the delayed start to the season due to concerns over the COVID-19 pandemic, there hasn't been a lot of practice time heading into the team's first match on Tuesday in Reedsburg. With limited time to prepare, Maas wasn't sure what everybody's role will be on the team, but was confident she had the players to make it work.
Juniors Olivia Jones and Felicia Sanders will almost certainly be in the hitting rotation, as both have been impressive in practice. Other hitting options include Madelyn Johnson, Bianca Varzaru, Hailey Angel, Cameran Ratz and Aspen Hayes.
Maass is counting on Emma Colling to contribute in the back row, while Brynn Mancillas will also play back there, but is currently learning the new position after playing primarily as a setter last year.
Maass recognizes it will be hard to get everyone a ton of playing time with 14 players on the varsity roster, but cutting the roster down to a more manageable number wasn't something she wanted to do in order to maintain the depth going into the season.
"There wasn't anybody that stood out that really didn't fit with the team, and everybody really brought something to the table and pushes each other to do their best," Maass said.
Portage is coming off a season that saw it finish 0-7 in Badger North Conference play, but there was some positive signs late in the season, including a 17-25, 25-21, 15-13 victory over Baraboo at the Badger Conference Tournament and a 25-10, 25-22, 25-19 victory over Oregon in the final match of the regular season.
The Warriors did finish 13-23 overall on the season last year, including a perfect 4-0 day with victories over Ripon, Horicon, Heritage Christian and Princeton/Green Lake at the Portage Invite in early October.
Due to the pandemic, this year's schedule doesn't include as many matches. Following Tuesday's opener in Reedsburg, Portage will play its home opener on Thursday against Madison Edgewood, and of the 13 dates currently on the schedule, 12 of them are head-to-head matches. The only exception is a triangular match in Sauk Prairie on Saturday, Oct. 3.
The schedule isn't the only difference this season for the Portage volleyball program, as the players will also look a bit different, as Maass said they all are planning to wear face coverings during their matches. And while learning to play with masks covering their mouth and nose will take some time getting used to, the players are more than willing to do it if it means they get to have a season.
"Kids playing with a mask is different. We're trying to modify our practice routine a little bit, but overall the kids are excited," Maass said. "The vibe in the gym is excitement and a willingness to work really hard, because they know we've missed out on some of those weeks of preparation. Overall, they're just super excited to be playing."
Warriors washed out by Beavers
The Warriors' season-opener started strong but ultimately fell flat as they were swept by Reedsburg.
Portage hung tough the first set before bowing out 25-18, and things snowballed from there as they dropped the second, 25-14, before falling in the third, 25-6.
Garrigan led the Warriors attack with seven kills, while Kratz had a team-high 13 assists and eight digs. Olivia Jones tallied two aces, while Kreuziger and Hailey Angell each had a block.
Portage returns to action Thursday when it hosts Madison Edgewood in its home opener.
REEDSBURG 3, PORTAGE 0
PORTAGE (leaders): Kills — Garrigan 7. Blocks — Angell, Kreuziger 1. Digs — Kreuziger 11, Kratz 8. Aces — Jones 2. Assists — Kratz 13.
Get in the game with our Prep Sports Newsletter
Sent weekly directly to your inbox!