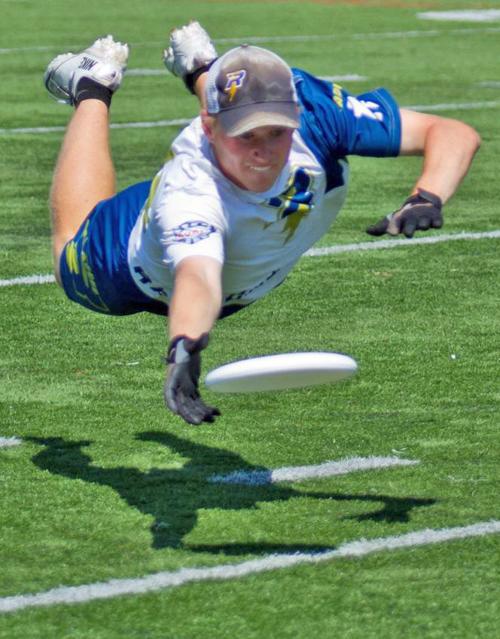 During Brian Hart's time as a member of the Portage High School cross country team, he and teammate Derrick Zamzow would often throw a Frisbee around before and after their races.
Turns out, those fun games of catch were not only a way to kill time on race day, but in a way, also helped propel Hart into becoming a standout ultimate disc player once he moved on to college at UW-Madison.
After arriving in Madison in the fall of 2009, Hart ended up joining the Wisconsin Hodags, which is the ultimate disc club team at UW-Madison. Hart ended up being one of the better players in the country at the college club level. He helped lead the Hodags to runner-up finishes at Nationals three times.
Hart said he was surprised how well he did despite being so new to the sport.
"When I first started out, I would look at the older guys and I was just impressed and humbled to be on their roster," Hart said. "But eventually, about my second year on the college team, I started to realize I could be really good at this, and ever since then, I've just tried to get better and better."
Then in 2013, the Madison Radicals were formed as part of the American Ultimate Disc League (AUDL). With a pro team being formed right in his backyard, Hart tried out for the Radicals, and has been a member of the team for each of its first four seasons of existence.
Playing in the AUDL has been a boon for the Radicals. The team, which plays its home games at Breese Stevens Field, has played in the AUDL final four in each of the previous three seasons, but has never won the league championship. In two of those seasons, Madison lost in the championship to the Toronto Rush (2013) and the San Jose Spiders (2015).
This summer, the Radicals qualified for AUDL final four for a fourth straight season. This Radicals will enter the AUDL Championships, which are held this Saturday and Sunday in Madison, with an undefeated record. They also own a 31-game home winning streak, which might just make them the favorite to win the team's first ever league title.
Hart, who says he plays a position that is somewhere in between a handler (a player that often passes the disc) and a cutter (a player that runs down field to receive a pass), thinks there are a few reasons the Radicals have had so much success.
You have free articles remaining.
"Our coach, Tim DeByl, has a really good grasp on the game and a good mind for the game," Hart said. "And Madison is just a hotbed for ultimate. We have something like 4,000 players in the summer league, which is the Madison Ultimate Frisbee Association. So we kind of have all that talent to draw from to make this pro roster."
Winning a championship this weekend won't be easy. The Radicals will play the Seattle Cascades (9-5) in the second semifinal at 7 p.m. on Friday. The other semifinal features the Toronto Rush (12-2) and the Dallas Roughnecks, who are also undefeated in their inaugural season in the AUDL. The championship game will take place Sunday at noon.
Hart, who compared the Radicals to the San Antonio Spurs of the NBA, because they don't have any one standout player, but instead a solid overall roster, thinks his team doesn't have to do anything special to come out on top this weekend.
"I think we just need to play the way we have been this season, just consistent offensive play, valuing the disc," Hart said. "We do well when we don't play risky ultimate, just hitting open hands. Whoever is open you just want to get them the disc and move the disc quickly."
Hart has been a key ingredient to Madison's success this season. He currently sits second on the team in goals. He is also among the team leaders in assists and Ds, or passes defended.
When Hart isn't playing in the AUDL for the Radicals, he can also be found playing ultimate for the Madison Club team, which plays in a club league run by USA Ultimate, the sports governing body. Hart has played with the Madison Club for seven years now, and recently returned home from Denver, where he was playing in a tournament with the club squad.
Playing for two different ultimate teams can make for a busy summer for Hart, who graduated from UW-Madison in 2013 and is currently attending dental school at Marquette University.
"A busy week can be kind of nuts, especially living in Milwaukee right now," said Hart. "I could have a two-practice week (in Madison). ... And then if it's a club weekend, like this last weekend, I traveled to Denver to play a tournament, and that was eight games in a weekend.
"And if it was a Radicals weekend, we would drive to like Indianapolis on a Saturday, and then Pittsburgh on a Sunday, and then a red-eye bus trip back to Madison and get home around 2 a.m."
The AUDL is a professional league, which means its players do draw a paycheck for playing for their respective teams, albeit a relatively small check. Hart, who plans on joining his father's dental practice in Portage – Hart & Olson Family Dentistry – after graduating from Marquette next spring, isn't complaining about the small pay.
"It's not much," Hart said. "I would do it for free, so the fact that I make any money doing it is awesome to me."
Be the first to know
Get local news delivered to your inbox!