Packers general manager Brian Gutekunst valued Jordan Love's potential enough three years ago to trade up in the draft and select him in the first round, catching the Hall of Fame-caliber quarterback already on Green Bay's roster by surprise.
Love finally has a chance to show he was worth the gamble.
Four-time NFL MVP Aaron Rodgers said Wednesday on "The Pat McAfee Show" on YouTube and SiriusXM that he intends to play for the New York Jets in the 2023 season and is waiting for the Packers to trade him. Assuming that move is made, Love will take over as Green Bay's starting quarterback.
"We're excited about him," Gutekunst said Feb. 28 during the NFL scouting combine. "I think I've expressed to a lot of people that he needs to play. That's the next step in his progression."
Love's two predecessors set quite the standard.
The Packers have had three decades of Hall of Fame-caliber quarterback production from Brett Favre and Rodgers, who won a combined seven MVP awards during their time in Green Bay.
Love has spent the past three seasons backing up Rodgers, just as Rodgers took over after backing up Favre for three seasons. Rodgers said during his "Pat McAfee Show" appearance that he got the impression the Packers wanted to move on from him and make Love the starter.
"Jordan's going to be a great player," Rodgers said. "He's a ... great kid. He had a really good year this year, getting better on the look team. He's got a bright future in front of him."
Love has made only one career start, a 13-7 loss at Kansas City in 2021. His other most notable appearances came in the second half of a meaningless 2021 regular-season finale at Detroit and in relief of an injured Rodgers at Philadelphia last fall.
He has gone 50 of 83 for 606 yards with three touchdown passes and three interceptions since the Packers selected him out of Utah State with the 26th overall pick in the 2020 draft.
"I have complete confidence in his ability but also just his approach," Packers coach Matt LaFleur said at the end of last season. "It's been fun to watch him mature as a football player, as a man, over the course of these last three years. Just the way he walks around the building, his approach, his urgency, his fundamentals, everything that goes into being a quarterback, I think we've seen significant growth from him."
Mixon did not fire shots near home
Authorities said Cincinnati Bengals running back Joe Mixon was armed with a legal weapon but did not fire the gun or do anything illegal when a teenage boy was shot near the player's home in Cincinnati earlier this month. They released the information on Thursday while announcing that Mixon's sister and her boyfriend have been indicted in the March 6 shooting.
Authorities said Shalonda Mixon was apprehended Thursday afternoon, while Lamonte Brewer remains at large. It's not known if either one has retained an attorney.
Hamilton County Prosecutor Melissa Powers said the shooting happened as several juveniles were playing dart wars, where teams shoot at each other with foam dart guns.
Authorities said Brewer fired several shots.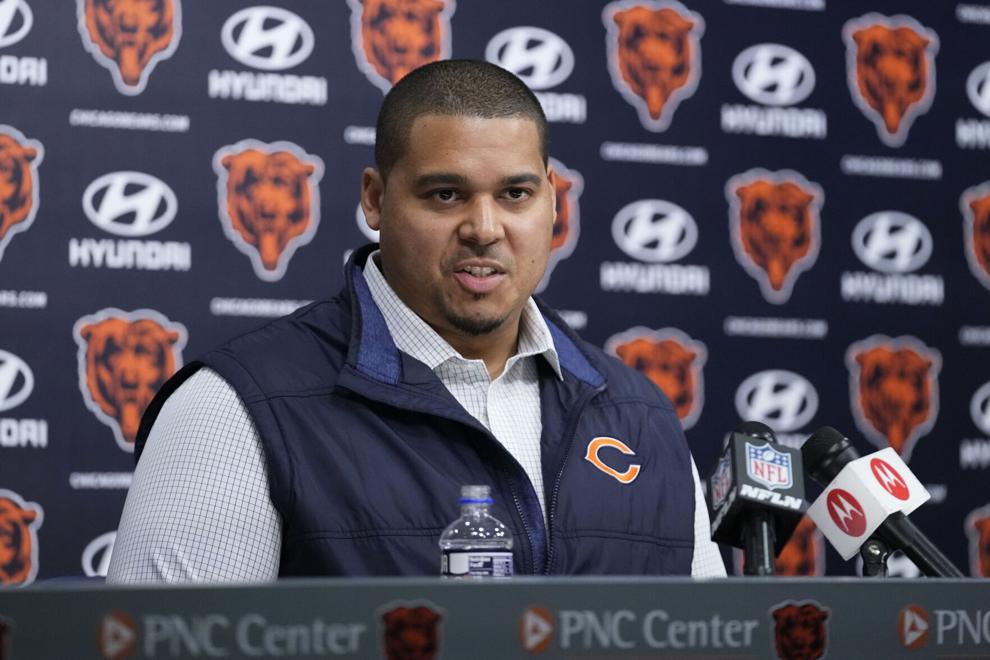 Bears in better place after trade
General manager Ryan Poles acknowledged the temptation to wait and see if the Chicago Bears could get more for the No. 1 overall selection in the draft. He couldn't pass up the chance to add a receiver when the Carolina Panthers offered DJ Moore to go with a haul of picks.
The Bears addressed a big need when they agreed to send the No. 1 pick to Carolina for Moore. Besides giving quarterback Justin Fields a top-tier downfield option, they also got the No. 9 and No. 61 overall picks in 2023 plus a first-rounder in 2024 and a second-rounder in 2025.
They continued to make moves once free agency started this week. But they still need help on the offensive and defensive lines.
Heinicke will be Falcons backup QB
Desmond Ridder's status as the Atlanta Falcons' starting quarterback was affirmed by his new backup, Taylor Heinicke.
Heinicke signed his two-year contract with the Falcons believed to be worth up to $20 million and then said his job will be to support Ridder, who started the final four games of the 2022 season as a rookie.
That was a surprise to anyone who assumed Heinicke, who has 25 career starts in five seasons with Houston, Carolina and Washington, would compete with Ridder for the starting job.
Heinicke said his backup role was made clear to him by the Falcons.
NFL wants discrimination claims to go to arbitrator
NFL lawyers want a New York judge to change her mind and agree to let all racial discrimination claims against the league and its teams go to arbitration rather than trial.
In written arguments Wednesday, the lawyers urged Judge Valerie Caproni to reverse her decision finding that some claims by NFL Coach Brian Flores can go to trial.
Flores sued the league last year, saying it was "rife with racism" in its hiring of Black coaches.
Caproni ruled that discrimination claims by two other Black coaches must go to arbitration. Lawyers for the coaches have asked her to reverse that ruling.