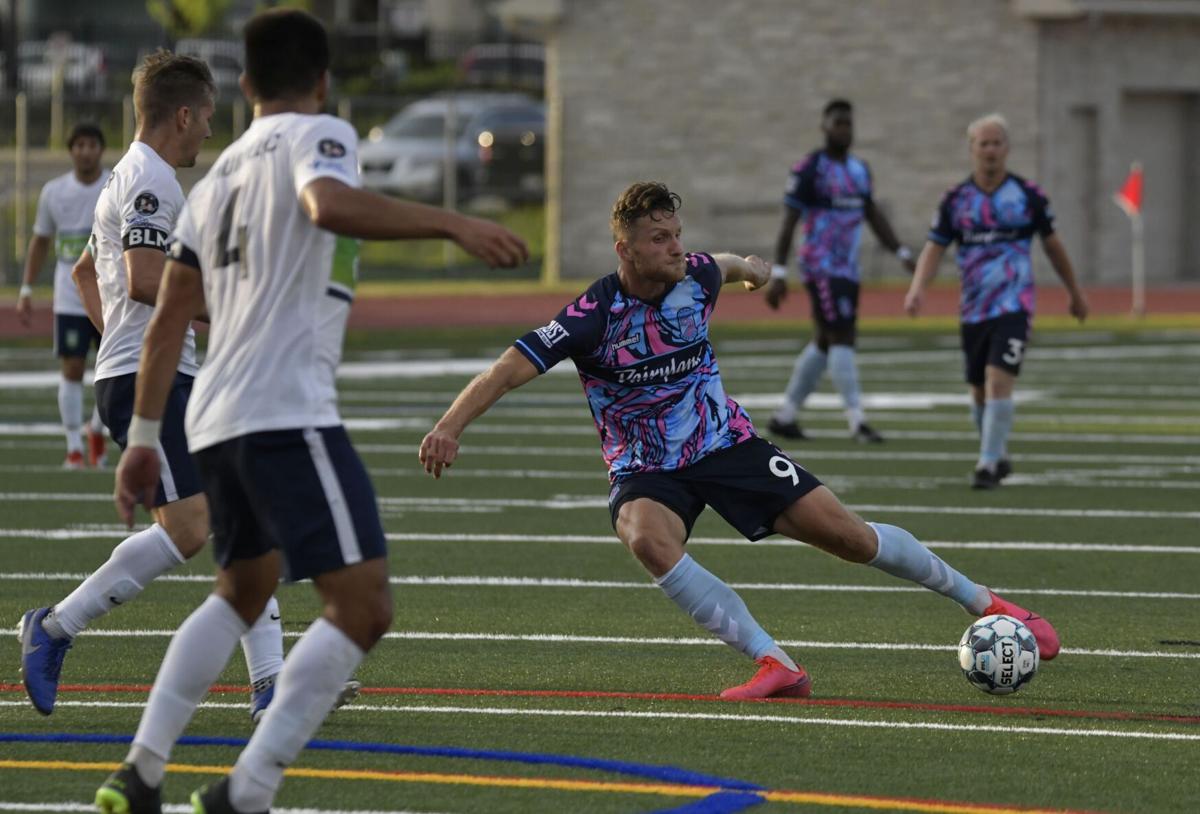 WAUWATOSA — For the second straight year, Forward Madison FC's home opener ended in a scoreless draw against Greenville Triumph SC on Friday.
Just change the city, the venue, the weather, the time of year, a few of the key players and the overall atmosphere.
With its home at Breese Stevens Field unavailable in 2020 because of restrictions established in Dane County during the COVID-19 pandemic, Forward Madison moved to Hart Park for the first of eight scheduled USL League One games.
The Flamingos earned a point from their second game of the season but found major faults in the performance.
"What we're putting into training and what we're putting into games right now isn't good enough," captain Connor Tobin said. "The effort's not good enough. The intensity's not good enough. And that showed up tonight. We were not anywhere near where we need to be if we're going to be competitive this year."
Goalkeeper Philipp Marceta made five saves for Forward Madison (0-1-1), which didn't create enough in the attacking end to threaten first-place Greenville (2-0-1) until the final 15 minutes.
What Forward Madison coach Daryl Shore called a lapse in concentration put his team on its heels in the opening minutes. A flubbed pass back to Marceta in the fifth minute forced the goalkeeper to illegally pick it up in his penalty area before an oncoming attacker controlled it.
That gave Greenville a rare indirect free kick from inside the area, about 11 yards out from the goal. In another unusual sight, Marceta set up his wall of defenders on the goal line behind him but didn't need them as he dived to his right to turn away Omar Mohamed's shot.
"We did a great job keeping it out there," said Marceta, who was signed in the offseason to replace Brian Sylvestre in the Forward Madison goal. "It was not easy the first five, 10, 15 minutes."
Shore took blame for not having his players ready to adjust to a different style out of Greenville than expected. The visitors played direct at Forward Madison's back line and when Shore's players won the ball they didn't make enough of possession.
"I had said we needed to dictate the pace of the game," Shore said. "They dictated the pace of the game. That's what's a little bit unsettling — we talked to our guys about doing that and then we don't."
Unlike the 2019 home opener, when an announced crowd of 4,462 saw a 0-0 tie on a snowy late April night at Breese Stevens Field, gorgeous weather awaited an announced gathering of 535 people Friday at Hart Park.
Capacity was limited to just over 1,000 to put distance between groups of spectators, who were reminded — in signage and occasionally in person — to keep a mask on their face.
The boisterous cheering from kickoff to the final whistle that was a staple last season at Breese Stevens Field was absent; USL League One put a halt to many organized fan group presentations in its return-to-play protocols.
Forward Madison is the only league team playing outside its home market this season.
"We're making it work," Marceta said. "We can't let that be our excuse. That's just something that we have to deal with."
Attacking chances were few and far between for Forward Madison in the game's first 75 minutes. Wojciech Wojcik drew a free kick 2 yards outside the area in the first half, but his effort went into the wall of Greenville defenders.
Second-half substitutes Gustavo Fernandes, Alex Monis and Brandon Eaton helped create more of an offensive buzz late in the game.
Still, Forward Madison finished without a shot on target from eight attempts and had to survive one final Lachlan McLean header that went wide off a corner just before the final whistle.
Tobin gathered the team's players in the locker room afterward for a players-only meeting.
"We need guys to dig deep and look at themselves," he said. "There's a lot of excuses floating around that are easy to latch onto but it goes back to fault versus responsibility. If guys want to point at things, we're going to struggle. The only person they should be pointing at, regardless of whether it's their fault or not, is themselves.
"Right now, just from a pure effort and competitive standpoint, we're not where we need to be. The football's not where it needs to be but the football can't get corrected until the effort's there."
Greenville Triumph SC 0 0 — 0
Forward Madison FC 0 0 — 0
Saves: G (Jaye) 0, FM (Marceta) 5.
Possession: G .468, FM .532. Shots-on goal: G 15-5, FM 8-0. Corner kicks: G 7, FM 1. Fouls: G 11, FM 14. Offsides: G 3, FM 2.
Yellow card: Pilato, G, 90th+4. Att. — 535.
Greenville Triumph SC — Dallas Jaye; Abdi Mohamed, Trevor Swartz, Cesar Murillo, Tyler Polak; Noah Pilato, Omar Mohamed (Lachlan McLean, 86th), Carlos Gomez (J.J. Donnelly, 72nd), Aaron Walker, Alex Morrell; Jake Keegan.
Forward Madison FC — Philipp Marceta; Jiro Barriga Toyama, Connor Tobin, Josiah Trimmingham (Gustavo Fernandes, 46th), Christian Diaz; Louis Bennett (Alex Monis, 46th), Eric Leonard, J.C. Banks (Brandon Eaton, 67th); Paulo Júnior (Jamael Cox, 90th+2), Wojciech Wojcik, Don Smart.
Catch up on Forward Madison FC signings, other news since the end of the 2019 season
Forward Madison FC reworked some of its roster since finishing in fourth place and losing in the playoff semifinals in its inaugural USL League One pro soccer season in 2019. Then the COVID-19 pandemic delayed the start of the 2020 season for nearly four months. Here's all the news that happened since last season ended.
Concerned about COVID-19?
Sign up now to get the most recent coronavirus headlines and other important local and national news sent to your email inbox daily.