The first Madison Mallards game at Warner Park in 2001 drew an announced crowd of 1,105.
Vern Stenman thought back to that cool June Saturday night in making a point on how Madison's newest non-college sports endeavor won't have many of the same markings as one of its most successful.
The Mallards evolved. At the beginning, they played summer collegiate baseball in front of hundreds of people in a ballpark that was in dire need of a makeover. Through the years, they generated their league's largest crowds and put together an award-winning ballpark.
Forward Madison FC, which plays its first USL League One pro soccer home game at Breese Stevens Field on Saturday, has a different approach. It's reaching for the top from the first kick of the ball.
"We felt like we wanted to have a pretty outstanding start," said Stenman, an original Mallards employee who now is president of the Big Top Sports and Entertainment group that operates Breese Stevens Field, Forward Madison and the Mallards.
"We've learned a lot over the last few years with our projects here in Madison and across the state that you only get one chance to make a great first impression. It's kind of a cliche, but that's what we're focused on right now for Saturday, having a facility that's going to check all the boxes people would be thinking about and concerned about."
A multi-million dollar rehabilitation project at Breese Stevens has the Madison landmark stadium ready for the pro tenant that Big Top pitched when it negotiated with the city in 2015 for the facility management opportunity.
Forward Madison officials said only a few hundred tickets were left for Saturday's 7 p.m. game against Greenville Triumph SC. A set of additions inside the stadium's stone walls raised capacity for sporting events to around 5,000 from 2,800.
But those additional spectator opportunities had to be done with care because of both the historic nature of the facility and limited space, Stenman said.
One of the biggest changes was the addition of a 3,500-square-foot concessions and restroom facility nestled up against the covered grandstand that's the original part of the 94-year-old stadium.
In addition to being a place to sell drinks and food inspired by Madison chefs Tory Miller, Dan Bonanno and Patrick DePula, the building will offer a rooftop all-inclusive standing area with a good view of the field.
A field-level beer garden takes up previously unused space between the grandstand and the playing field's end line. Stenman said that area became a "cool courtyard-type space for people to hang out" during an April 16 Forward Madison exhibition game.
"In soccer, with a two-hour-long game, (spectators) don't want to leave the game action very long," he said. "And having this space here really worked nicely because you can get a beer while you're still in the environment of the soccer match."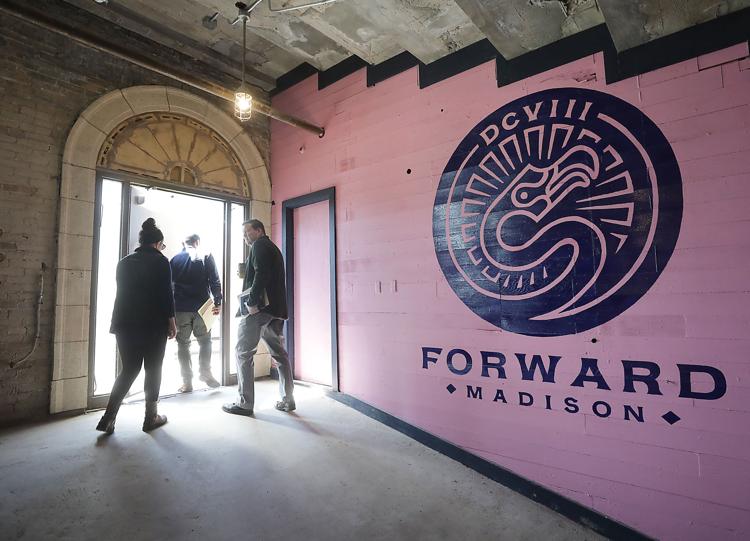 Like the Mallards have done with seating elements at Warner Park, items salvaged from Milwaukee's under-deconstruction Bradley Center feature prominently in Breese Stevens' rebirth.
The 11 newly constructed field-level suites along the south wall are outfitted with sofas, chairs and drink rails from the Bradley Center suites. The 14-person suites, which include food and drink, cost $24,000 for the season or $1,750 per game.
Two of the three tiered standing areas behind the east goal that are designated for the team's official supporters groups are risers from the old arena.
Field-side seats next to the team benches are the old courtside chairs from the Bradley Center.
The stadium also boasts a new sound system that is designed to better prevent noise from spilling into the neighborhood and an 1,800-square-foot team store underneath the west grandstand.
It will all get put to the test Saturday, the culmination of years of improvements to a venue that has earned recognition as a city and national landmark.
"We love that it's celebrating the history of the facility while delivering the modern amenities that I think fans expect at events today," Stenman said.
The home opener has been a long time coming for those who signed on early as fans. Andrew Schmidt was among those who started The Flock, one of the team's supporters groups, after the flamingo nickname and branding took off last year.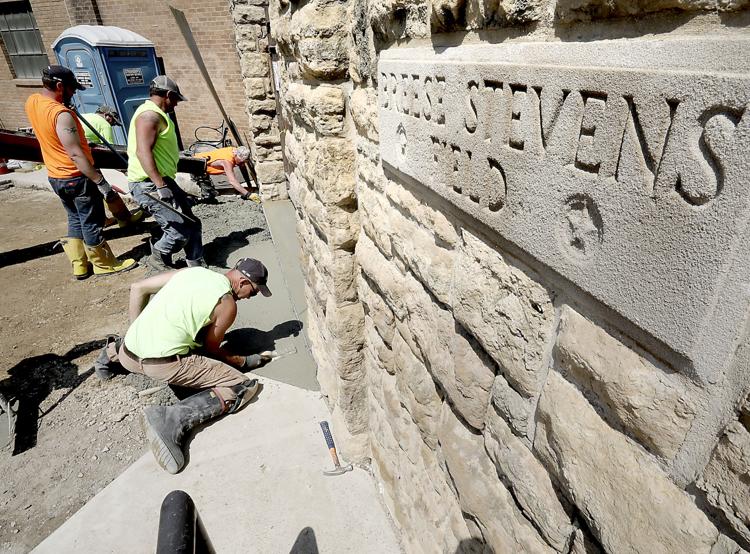 He predicted a difficult night of trying to sleep on Friday with anticipation of what's to come. Members of The Flock, which recently achieved nonprofit status and hopes to raise $10,000 for charity this season, plan to march to Breese from High Noon Saloon starting at 6:15.
"To see these months and months of preparation come up to this weekend specifically, it's feeling pretty electric already," Schmidt said.
The facility preparation will continue until and beyond Saturday's kickoff. About 60 construction workers were on site Thursday pouring concrete and finishing assembly of the suites.
Some elements won't be ready until the May 4 game against Toronto FC II, Stenman said.
"The last few weeks, bringing all of this together and making it all work has been really stressful," he said. "But as we sit here today, we're starting to kind of see it come together. And by the time we get to Saturday, the satisfaction that's going to come for both our staff and for our fans that have supported us along the way is going to make it all worth it."