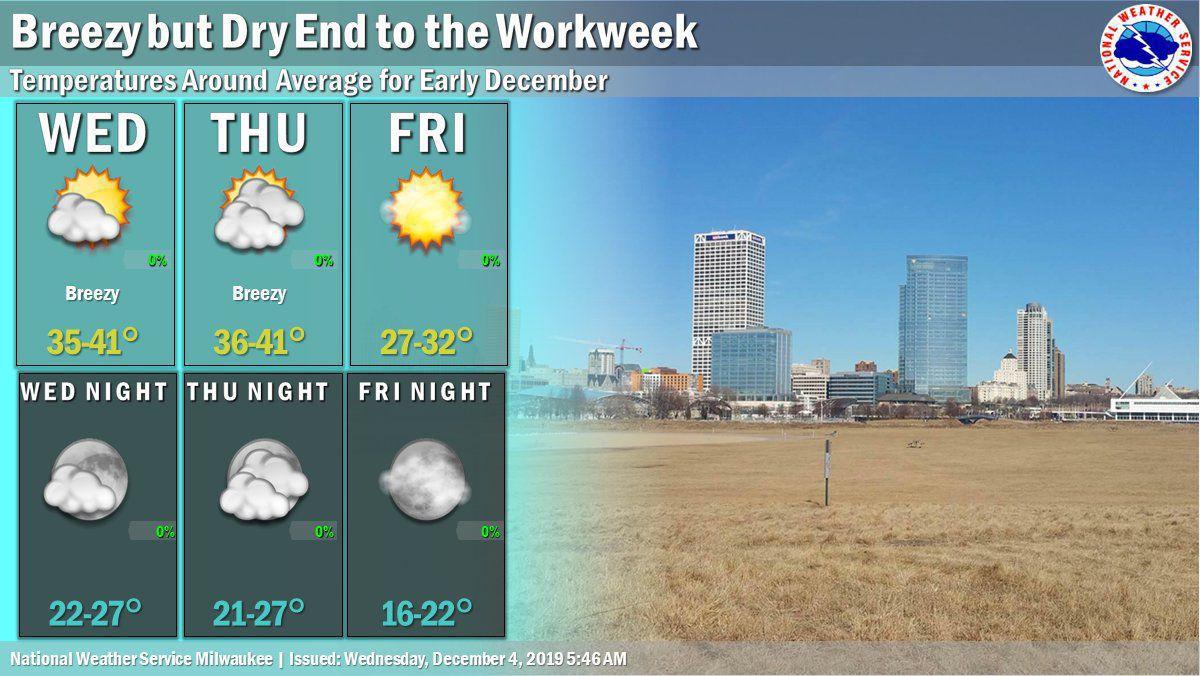 After lots of winter in fall, there has been little winter in the start of winter for south-central Wisconsin.
A dusting of snow fell across the area to start meteorological winter on Sunday, but quiet weather has taken hold and looks to continue into the weekend, according to forecasters
This comes after Madison's 2019 meteorological fall was the second-snowiest on record with 15.7 inches, behind only the 18.3 inches that fell in 1985. Milwaukee's meteorological fall was the eighth-snowiest at 13.4 inches, with the record being 18.7 inches in 1896.
In Madison on Wednesday, look for mostly sunny skies, a high near 39 and west winds at 10 to 15 miles per hour, gusting as high as 30 mph, the National Weather Service said.
After an overnight low around 26, Thursday should be mostly cloudy, with a high near 39 and south winds at 5 to 10 mph.
After a low overnight Thursday into Friday around 25, Friday's forecast features sunny skies, a high near 31 and north winds at 5 to 15 mph.
The Weather Service said chances for precipitation return at 20% for rain after noon and through 10 p.m. on Sunday, 30% for rain and snow after 10 p.m. into Monday, 30% for snow Monday night, and 20% percent for snow Tuesday.
You have free articles remaining.
Skies over Madison should be mostly sunny Saturday, cloudy Sunday, mostly cloudy Monday, and partly sunny Tuesday, with highs near 39, 45, 36 and 22, and lows Friday night through Monday night around 22, 35, 31 and 18.
27 Storm Track meteorologist Max Tsaparis forecasts quiet weather into the weekend, with light mixed precipitation Sunday evening into Monday, ending in light snow Monday night, with highs ranging from 32 to 42 through Monday, then 21 Tuesday, and lows ranging from 17 to 32, then 6 Tuesday night.
Tuesday's high in Madison was 43 at 1:32 p.m., 8 degrees above the normal high and 22 degrees below the record high of 65 for Dec. 3, set in 2012.
Tuesday's low in Madison was 27 at 2:49 a.m., 7 degrees above the normal low and 39 degrees above the record low of 12 below for Dec. 3, set in 1940.
No precipitation was recorded at the Dane County Regional Airport on Tuesday, leaving Madison's December and meteorological winter (December through February) precipitation total (rain plus snow converted to liquid) at 0.04 inches, 0.18 inches below normal. For the year, Madison has received 44.9 inches of precipitation, 11.94 inches above normal.
Madison's record precipitation for Dec. 3 is 2.19 inches, set in 1990.
With no snow on Tuesday, Madison's December and meteorological winter total stayed at 0.2 inches, 1 inch below normal. For the snow season (since July 1), Madison's total stayed at 15.9 inches, 10.6 inches below normal.
Madison's record snowfall for Dec. 3 is 17.3 inches, set in 1990.