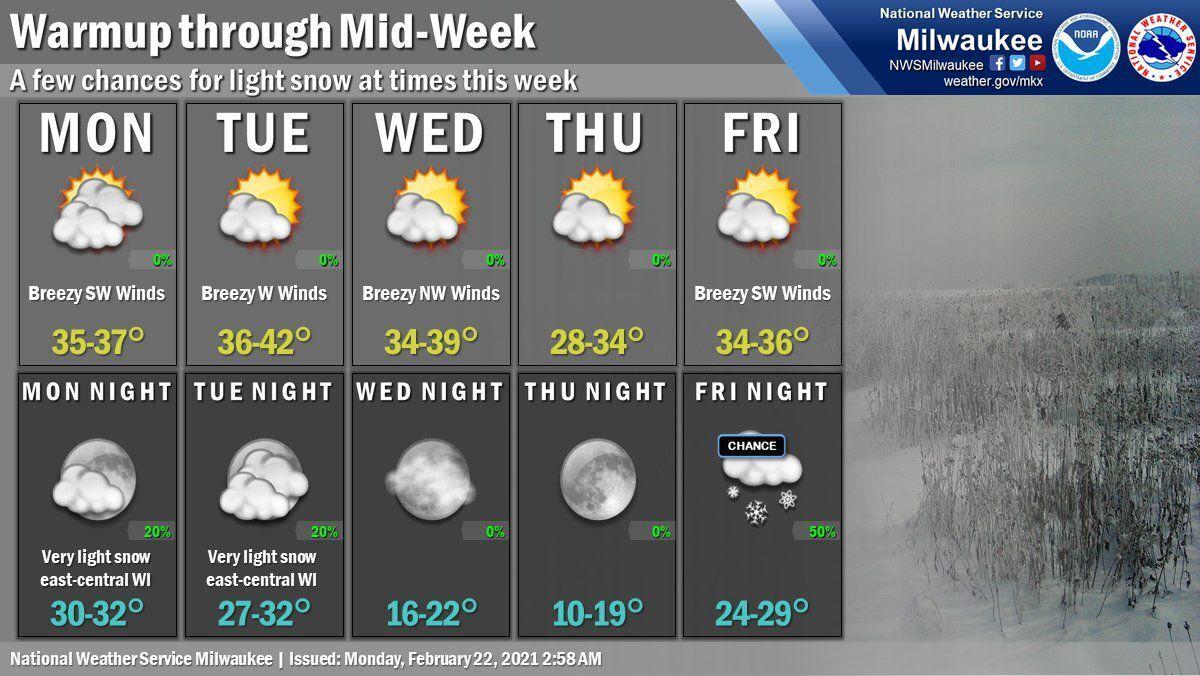 The last time Madison recorded a temperature above freezing was Jan. 21, when it was 39, though it was 32 on Feb. 4, according to National Weather Service records.
Since then it mostly has been well below 32, enabling a series of small and moderate snowstorms to build snow depth up beyond a foot in most of southern Wisconsin.
That is changing starting Monday, as highs are predicted above freezing through next Sunday, which is the last day of February.
The polar vortex is retreating back to the north and a pattern change is bringing to an end one of the most historic cold stretches in U.S. history, with temperatures 50 degrees or more higher than the depth of the cold Feb. 13-16, AccuWeather said.
"The jet stream will bulge northward, allowing for warmer, Pacific air to race into the middle of the country through Tuesday," AccuWeather meteorologist Matt Benz said.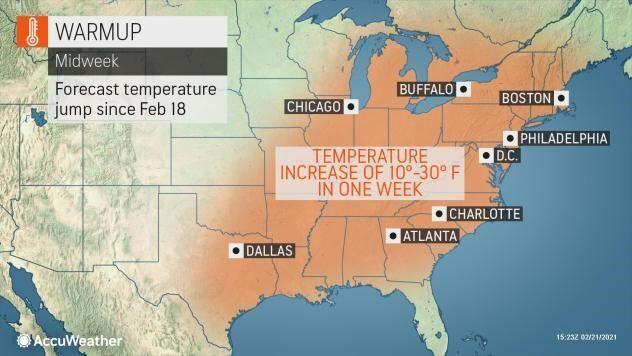 Houston saw a low of 13 last week, but will be in the lower 70s by Wednesday, while Rapid City, South Dakota, will hit 52 and St. Louis 58 on Monday.
AccuWeather said that while some cold air may reach the south-central states and produce slightly below-average temperatures by early March, it should not be nearly as extreme as last week.
In Madison on Monday, look for mostly cloudy skies, a high near 36 and southwest winds at 10 to 15 miles per hour, gusting as high as 25 mph, the Weather Service said.
Overnight, the low should be around 30, with light snow possible for areas north of Interstate 94.
Tuesday should be mostly sunny, with a high near 39 and west winds at 10 to 15 mph.
After a low overnight Tuesday into Wednesday around 30, Wednesday's forecast features mostly cloudy skies gradually becoming sunny, with a high near 38 and northwest winds at 10 to 15 mph.
The Weather Service said there's a 50% chance of snow Friday after 7 p.m. into Saturday, and a 20% chance of rain and snow on Sunday.
Skies over Madison should be mostly sunny Thursday and Friday, and partly sunny Saturday and Sunday, with highs near 33, 35, 39 and 35, and lows Wednesday night through Saturday night around 19, 13, 27 and 23.
27 Storm Track meteorologist Max Tsaparis forecasts possible lighted mixed precipitation, especially north of the Madison area, overnight and again Tuesday night; possible snow Friday night; and a possible rain/snow mix Saturday morning and again Sunday.
Tsaparis said highs for Madison Monday through Sunday should be near 37, 42, 38, 34, 36, 38 and 35, and overnight lows around 30, 30, 19, 12, 27 and 24.
The Madison Streets Division said the melting may create some sloppy driving conditions in residential areas, and crews will be working to push the fluff and slush from roads through the week.
Sunday's high in Madison was 31 at 4:34 p.m., 2 degrees below the normal high and 31 degrees below the record high of 62 for Feb. 21, set in 2017.
Sunday's low in Madison was 17 at 4:48 a.m., the normal low and 32 degrees above the record low of 15 below for Feb. 21, set in 1873 and 2008.
Officially, 0.24 inches of precipitation was recorded at the Dane County Regional Airport on Sunday, boosting Madison's February total to 0.86 inches, 0.17 inches below normal. The meteorological winter (December through February) precipitation total (rain plus snow converted to liquid) rose to 3.26 inches, 0.74 inches below normal. Madison's 2021 precipitation total rose to 2.13 inches, 0.13 inches below normal.
Madison's record precipitation for Feb. 21 is 1.54 inches in 1922.
The 2.4 inches of snow on Sunday boosted Madison's February total to 10.3 inches, 2.1 inches above normal. For meteorological winter, Madison has received 40.8 inches, 6.2 inches above normal. For the snow season (since July 1), Madison has received 43.1 inches, 4.4 inches above normal.
Madison's record snowfall for Feb. 21 is 7.8 inches in 1993.
Madison's official snow depth is 13 inches.
---
Photos: Remembering the monster blizzard of 1947 in Madison