The menace of a powerful and complex two-wave snowstorm continues to grow for southern and eastern Wisconsin, watches and warnings in effect for many counties from Friday night through Sunday morning.
The storm will hit Friday night and then even harder again Saturday afternoon into Sunday morning, delivering ice to some areas and heavy snow to southern and eastern Wisconsin, with only the far northwest portion of the state escaping, according to forecasters.
Predicted possible snow totals from the National Weather Service include zero for Eau Claire, 4 inches for Wausau, 3 to 5 inches for La Crosse, 9 inches for Green Bay, 4 to 9 inches for Milwaukee, 2 to 6 inches for Racine, 6 to 11 inches for Platteville, and 6 to 10 inches for Madison.
Milwaukee also could see around a tenth of an inch of ice on Friday night, and Racine 0.1 to 0.2 inches.
27 Storm Track meteorologist Max Tsaparis said the Madison area could see 7 to 14 inches of snow, with 4 to 7 inches to the northwest.
Much of the area — including the counties of Dane, Green, Jefferson, Lafayette, Rock, Walworth, Ozaukee, Milwaukee, Racine and Kenosha — is under a winter storm warning from 7 p.m. Friday to 6 a.m. Sunday, with a winter storm watch for counties to the north and west.
From 2 to 5 inches of snow and up to a quarter-inch of freezing rain is expected Friday night into Saturday morning, with freezing rain totals highest southeast of a line from Janesville to Milwaukee.
After some possible freezing drizzle Saturday morning, more moderate to heavy snow is expected Saturday afternoon and evening. With storm totals reaching 6 to 10 inches, while winds gust as high as 40 miles per hour, especially closer to Lake Michigan.
The heaviest snow will fall along and south of a line from Darlington to Watertown to Port Washington, excluding far southeast Wisconsin, where more rain will fall.
Road conditions are available by calling 511, using the 511 app, or going to the state's 511 website.
The storm comes after weeks of quiet winter weather — Madison has received just 2.9 inches of snow since Dec. 1 after seeing 15.7 inches in October and November.
The multi-faceted storm will be more typical of March as it will feature record-challenging warmth, flooding rainfall, severe thunderstorms and possible tornadoes on its southeastern side, along with the array of wintry precipitation to the north and west, AccuWeather said.
The snow will come in two waves, with the first batch expected to start in Nebraska, Kansas and Iowa on Friday before spreading northeastward into Friday night. The second round of snow will start late Friday night and Saturday morning over Oklahoma and southern Kansas before sweeping into part of the mid-Mississippi Valley and upper Great Lakes late Saturday into Sunday.
More than 30 million people — including those major metro areas such as Dallas, Houston, New Orleans and Nashville — could be affected by potentially damaging storms that may produce strong winds, hail and even tornadoes, AccuWeather said.
Tornado outbreaks in the month of January are not unheard of, with 455 touching down during January from 2010 to 2019 in the U.S., according to an analysis of data compiled by the Storm Prediction Center.
In Madison on Friday, look for increasing clouds, with a high near 36 and north winds at 5 to 10 miles per hour, the Weather Service said.
You have free articles remaining.
Overnight, snow will fall mainly before 4 a.m., with possible accumulation of 1 to 3 inches as the low falls to around 20, and north winds gust to 30 mph, the Weather Service said.
The snow will fall mainly after noon and before midnight on Saturday, with 1 to 3 inches possible during the day and 1 to 2 inches at night, a high near 24 and low around 12, with northeast winds at 20 to 25 mph and gusting to 35 mph during the day and north winds at 15 to 20 mph, gusting to 35 mph before decreasing to 10 to 15 mph after midnight.
Sunday should be partly sunny, with a high near 24 and northwest winds at 5 to 10 mph becoming light and variable.
The Weather Service said chances for precipitation return at 40% for snow Sunday night; 50% for snow Monday night; 40% for snow, mixing with rain after 10 a.m. Tuesday; 40% for snow Wednesday and Wednesday night; and 20% for snow Thursday.
Skies over Madison should be partly sunny Monday, mostly cloudy Tuesday and Wednesday, and mostly sunny Thursday, with highs near 32, 39, 27 and 15, and lows Sunday night through Wednesday night around 17, 26, 17 and 3.
27 Storm Track's Tsaparis predicts snow developing Friday evening, mixing with freezing rain to the southeast; snow redeveloping Saturday afternoon and falling heavily at times; a few flurries Monday morning; a possible light rain and snow mix Tuesday; a possible mix to snow Wednesday; and then colder.
Tsaparis said highs will range from 16 to 36, and lows from 12 to 25.
Sun Prairie on Friday declared a snow emergency starting at 12:01 a.m. Saturday and continuing until 5 p.m. Sunday, meaning no parking is allowed on any city street. Violators can be fined $50 and vehicles may be towed.
With the snow in Green Bay, the Packers are seeking 700 shovelers to clear Lambeau Field starting at 6 a.m. Sunday. Shovelers need to be at least 18 and will be paid $12 per hour, with the Packers providing shovels.
During the game, the Packers and Delaware North will be offering free Kwik Trip hot chocolate as well as hot cider, limited to two per customer.
Thursday's high in Madison was 49 at 6:09 p.m., 23 degrees above the normal high and 4 degrees below the record high of 53 for Jan. 9, set in 1939 and 2002.
Thursday's low in Madison was 19 at 12:06 a.m., 8 degrees above the normal low and 44 degrees above the record low of 25 below for Jan. 9, set in 1875.
Officially, 0.01 inches of precipitation was recorded at the Dane County Regional Airport on Thursday, boosting Madison's January and 2020 precipitation total (rain plus snow converted to liquid) to 0.01 inches, 0.36 inches below normal. The meteorological winter (December through February) total rose to 1.53 inches, 0.58 inches below normal.
Madison's record precipitation for Jan. 9 is 0.75 inches, set in 1889.
With no snow on Thursday, Madison's January and 2020 snow total stayed at a trace, 3.6 inches below normal. For meteorological winter, Madison has received 2.9 inches, 14.2 inches below normal. For the snow season (since July 1), Madison has received 18.6 inches, 2.6 inches below normal.
Madison's record snowfall for Jan. 9 is 7.5 inches, set in 1889.
---
Photos: Remembering greatest single-day snowstorm in Madison history
State Journal front page Dec. 4, 1990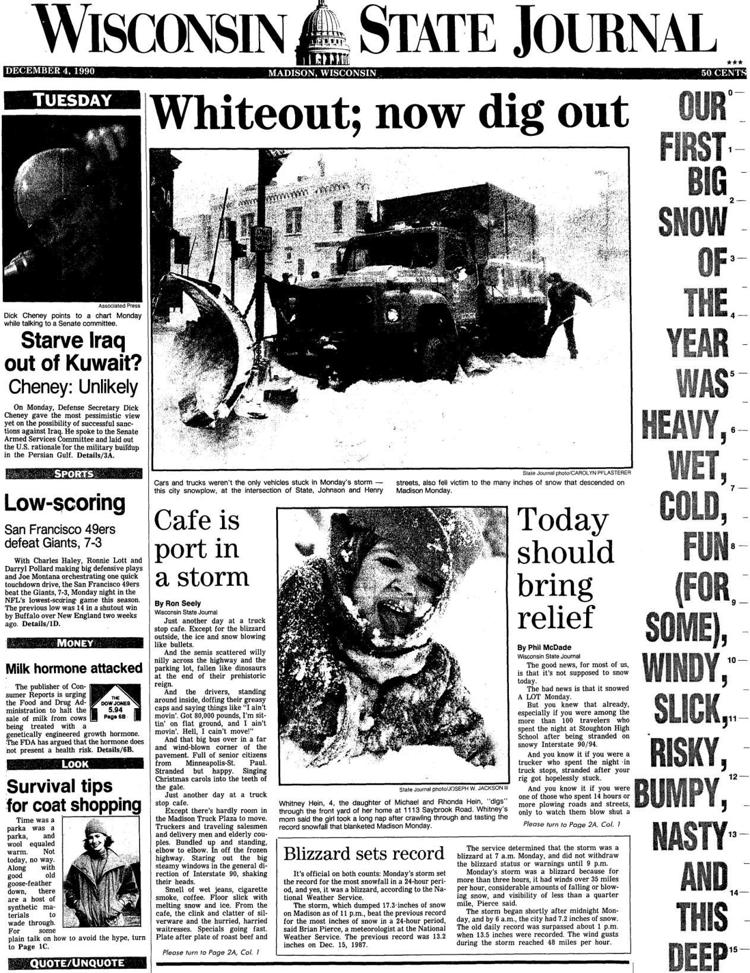 1990: Driver gets a push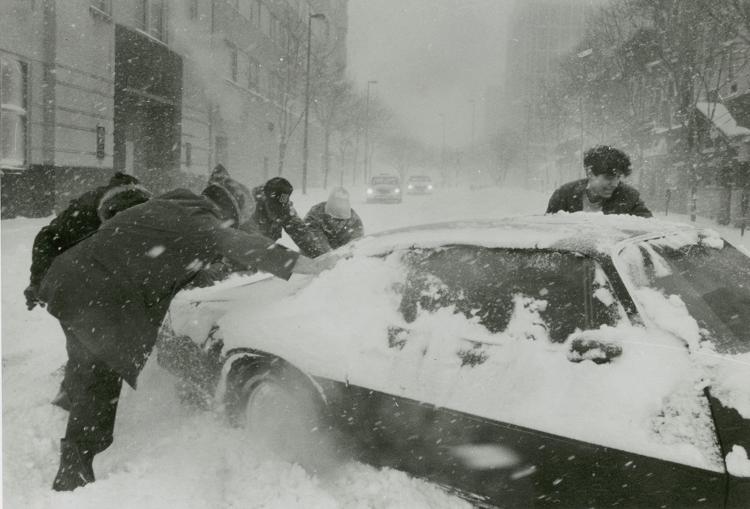 1990: Mountains of snow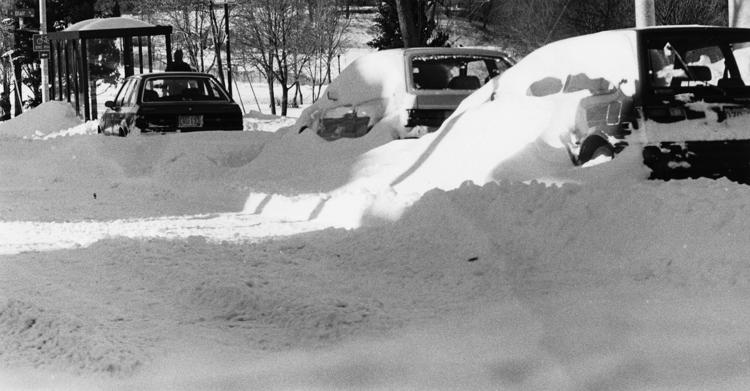 1990: Cars stuck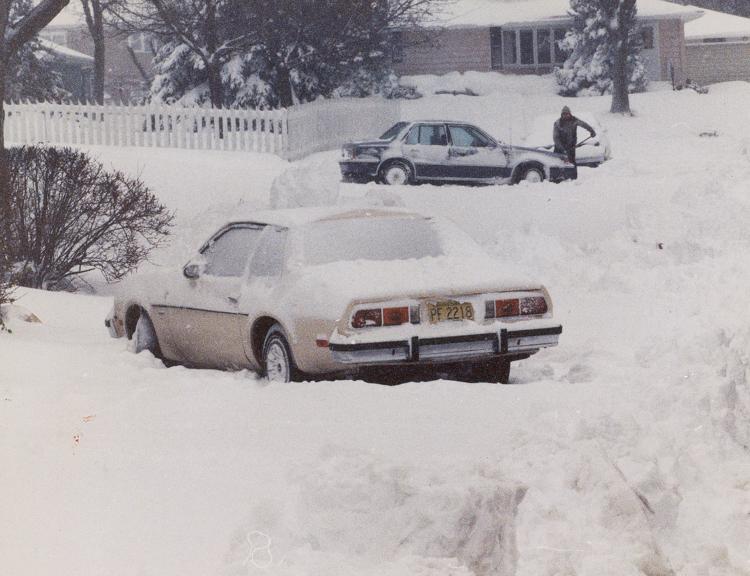 1990: Shoveling out car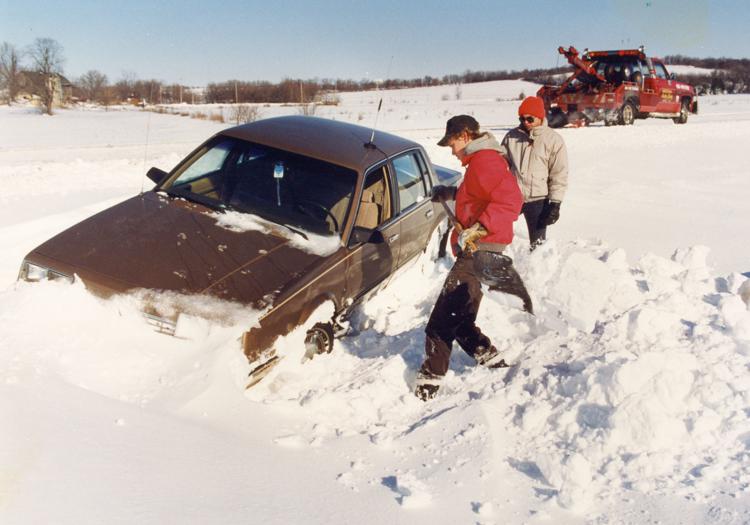 1990: Snowblower at work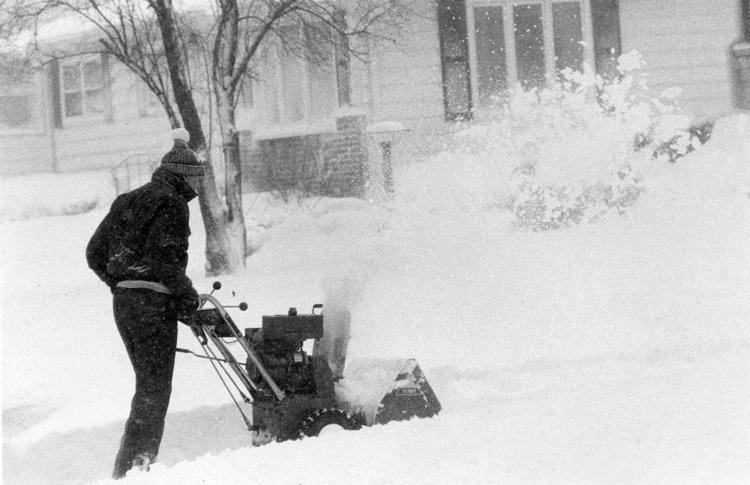 1990: Abandoned car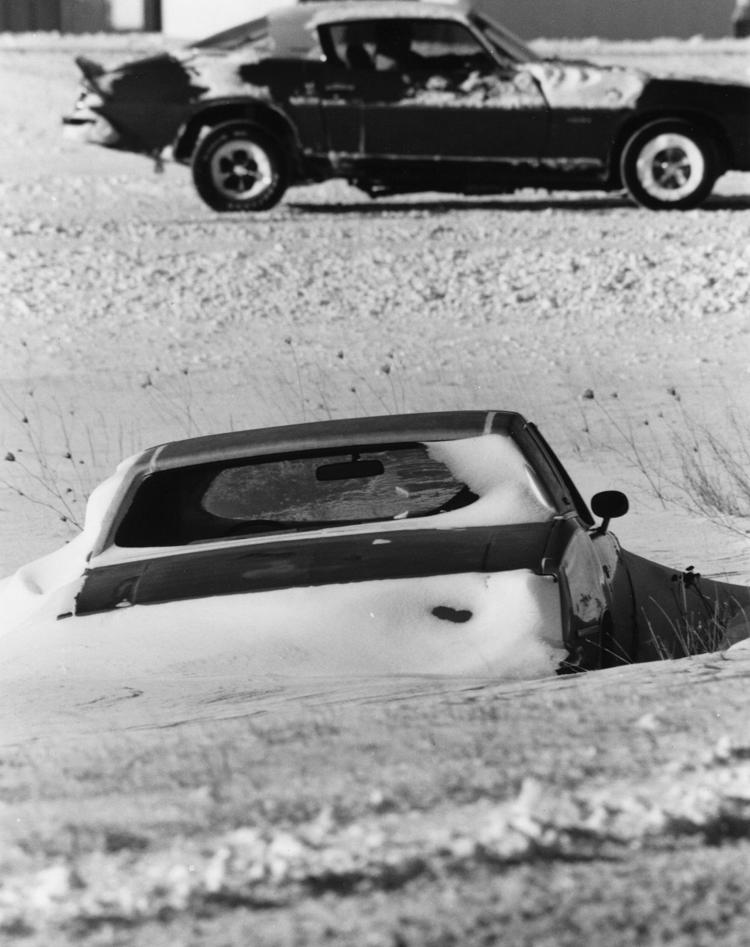 1990: Snowstorm aftermath
Snowstorm coverage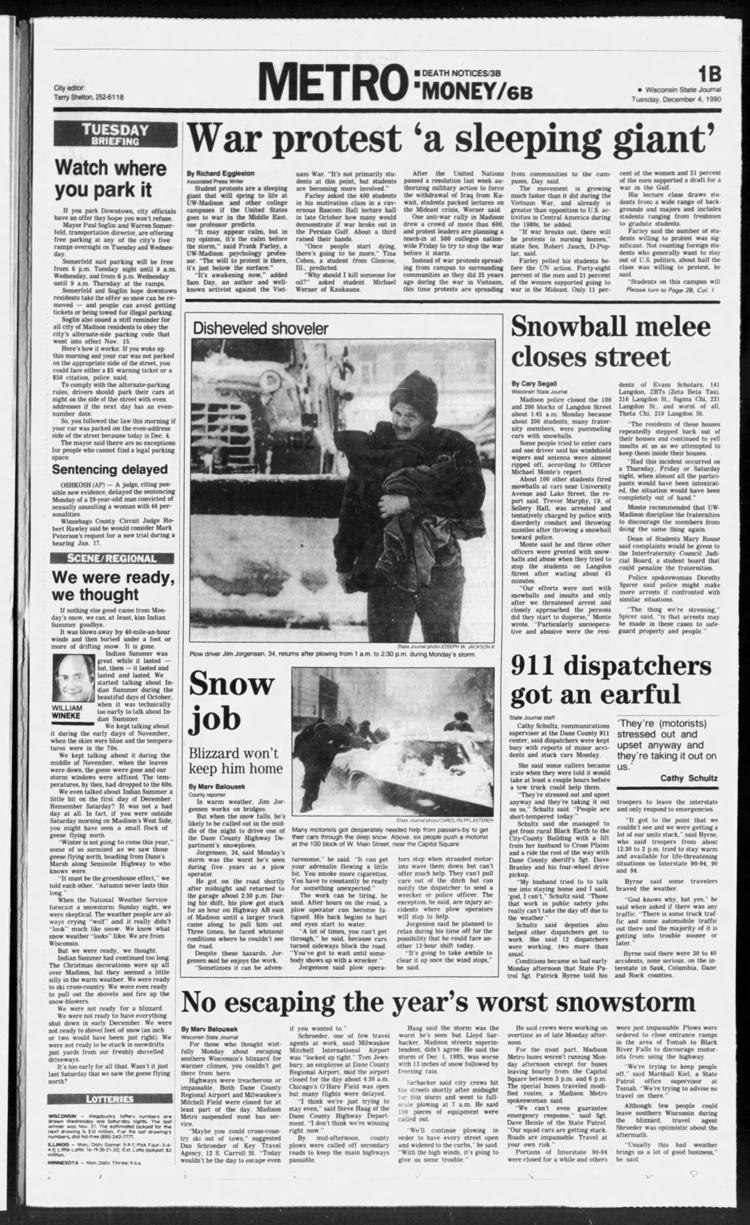 Snowstorm coverage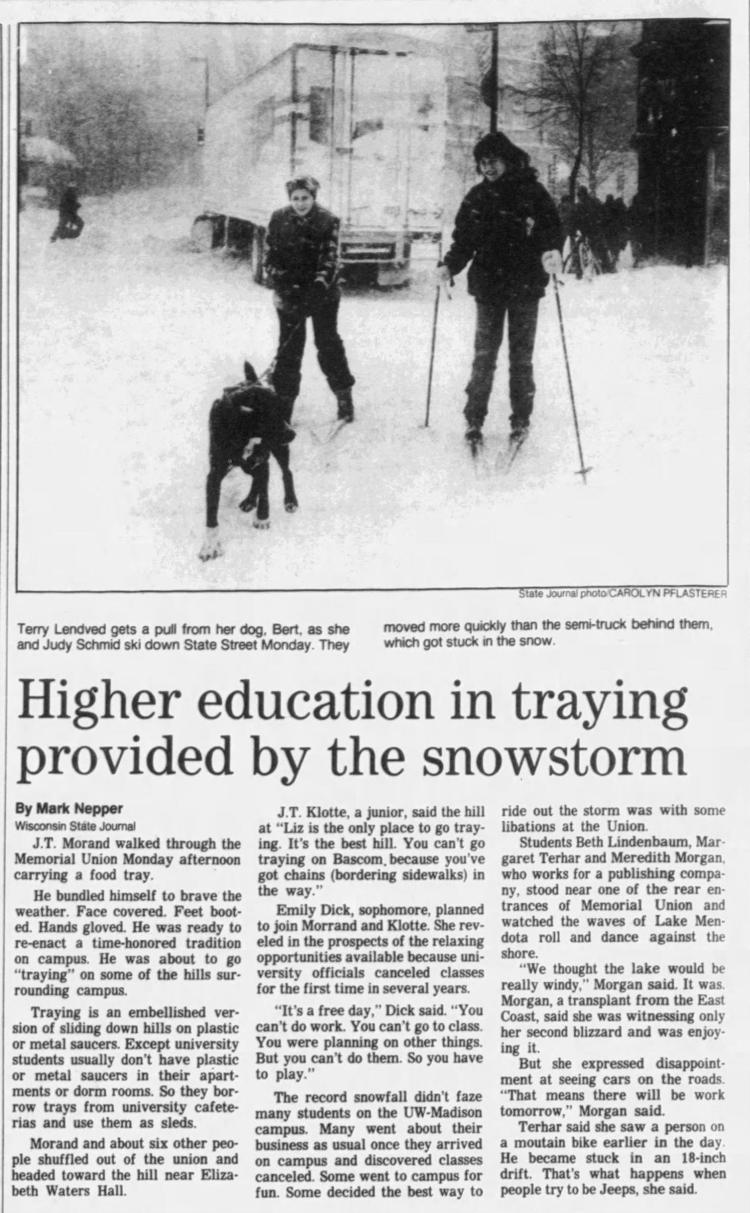 More stories from the greatest single-day snowstorm in Madison history