Now forecasters are talking several inches of snow for much of southern Wisconsin, with Madison seeing 5 to 7 inches, Racine 5 to 9 inches, and Green Bay heavy snow with no predicted totals, the National Weather Service said.
The storm will deliver little to no snow north and west of a line from far southwest Wisconsin to the Green Bay area, with La Crosse expected to see less than an inch and northern Wisconsin none, the Weather Service said.
The multi-faceted, spring-like storm will be more typical of March as it will feature record-challenging warmth, flooding rainfall and severe thunderstorms on its southeastern side, and an array of wintry precipitation to the north and west, AccuWeather said.
"The setup will result in a very tight weather contrast zone, where rainy conditions, snow and/or ice can all occur," AccuWeather Senior Meteorologist Alex Sosnowski said. "Temperatures over a 100-mile cross section can range from the balmy 50s and 60s to the 20s and 30s."
Enough snow to disrupt daily routines, create slippery roads, and require shovels and plows is possible from Oklahoma City to Wichita, Kansas; Kansas City, Missouri; Davenport, Iowa; Madison and Milwaukee; Sault Ste. Marie, Michigan; Caribou, Maine; and Quebec City.
The greatest risk of 6 to 12 inches of snowfall and a maximum of 18 inches will be from the western and upper Great Lakes to southern Ontario, Quebec and northern Maine, AccuWeather said.
A wintry mix of rain, freezing rain, sleet, and snow will be possible Friday evening and night, especially along and southeast of a line from Janesville to Milwaukee, the Weather Service said.
A second round of mainly snow is then expected to move into the area Saturday afternoon into Saturday night, with the potentially significant snow accumulations possible with this round. Gusty north winds will also lead to blowing and drifting of snow.
In Madison on Thursday, there's a 50% chance for snow and freezing rain before 9 a.m., freezing rain between 9 a.m. and 10 a.m., then rain after 10 a.m., with cloudy skies, a high near 45 and south winds at 15 to 20 miles per hour, gusting as high as 35 mph, the Weather Service said.
Overnight, there's a 30% chance for rain, mainly before 8 p.m. as the low falls to around 30.
Friday should be cloudy, with a high near 35 and north winds around 10 mph.
The storm starts hitting Friday night, with an 80% chance for show and accumulation of less a half-inch possible, as the low falls to around 21.
You have free articles remaining.
The Weather Service said there's a 70% chance for snow Saturday, with around an inch possible, and an 80% chance Saturday night, with 4 to 6 inches possible, a high near 27 with northeast winds at 20 to 25 mph and gusting to 35 mph, and a low around 14 with northeast winds at 20 to 25 mph and gusting to 35 mph, before decreasing to 10 to 15 mph after midnight.
Precipitation chances return at 20% for snow Sunday night, 30% for show after midnight Monday night, 40% for rain and snow Tuesday, and 30% for snow Wednesday.
Skies over Madison should be partly sunny Sunday, and mostly cloudy Monday through Wednesday, with highs near 27, 36, 40 and 29, and lows Sunday night through Tuesday night around 21, 28 and 20.
27 Storm Track meteorologist Max Tsaparis forecasts light freezing drizzle possible through mid-morning, then scattered rain in the afternoon ending at night on Thursday; snow Friday night; snow redeveloping Saturday and ending at night; light snow possible Sunday night; a morning flurries Monday; a light snow mix possible Tuesday, and again Wednesday.
Tsaparis said highs should range from 45 to 23 and lows from 12 to 29.
Wednesday's high in Madison was 21 at 12:18 a.m., 5 degrees below the normal high and 33 degrees below the record high of 54 for Jan. 8, set in 2003.
Wednesday's low in Madison was 6 at 8:11 a.m., 5 degrees below the normal low and 29 degrees above the record low of 23 below for Jan. 8, set in 1971.
No precipitation was recorded at the Dane County Regional Airport on Monday, leaving Madison's January and 2020 total at a trace, 0.33 inches below normal. The meteorological winter (December through February) precipitation total (rain plus snow converted to liquid) stayed at 1.52 inches, 0.55 inches below normal.
Madison's record precipitation for Jan. 8 is 1.04 inches, set in 1937.
With no snow on Wednesday, Madison's January and 2020 snow total stayed at a trace, 3.2 inches below normal. For meteorological winter, Madison has received 2.9 inches, 13.8 inches below normal. For the snow season (since July 1), Madison has received 18.6 inches, 2.2 inches below normal.
Madison's record snowfall for Jan. 8 is 5.3 inches, set in 1998.
---
Photos: Remembering greatest single-day snowstorm in Madison history
State Journal front page Dec. 4, 1990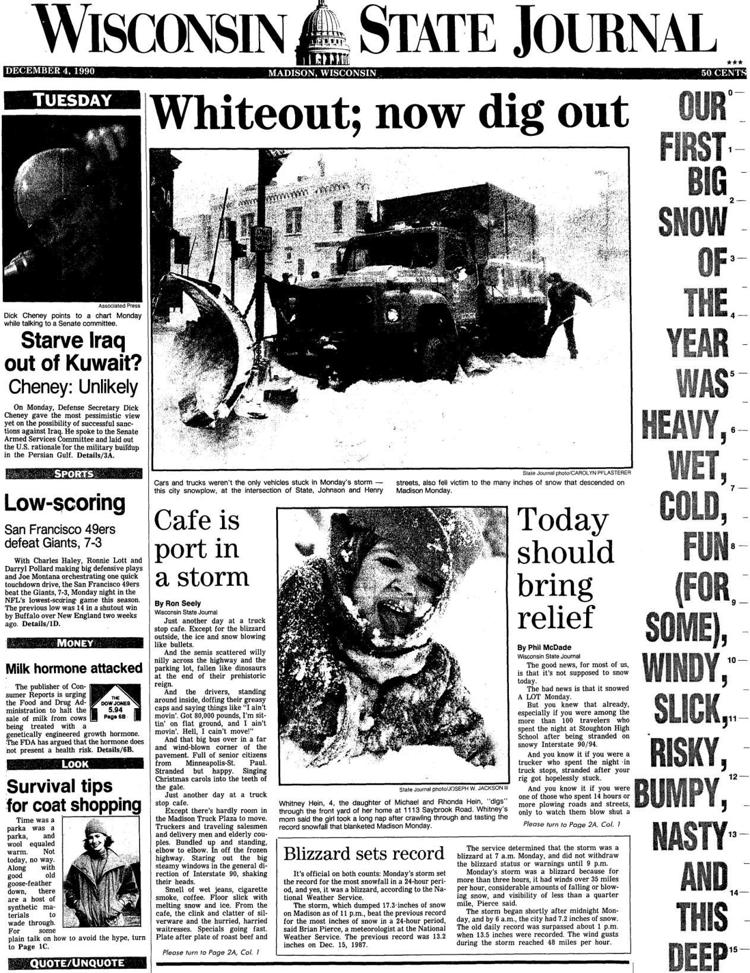 1990: Driver gets a push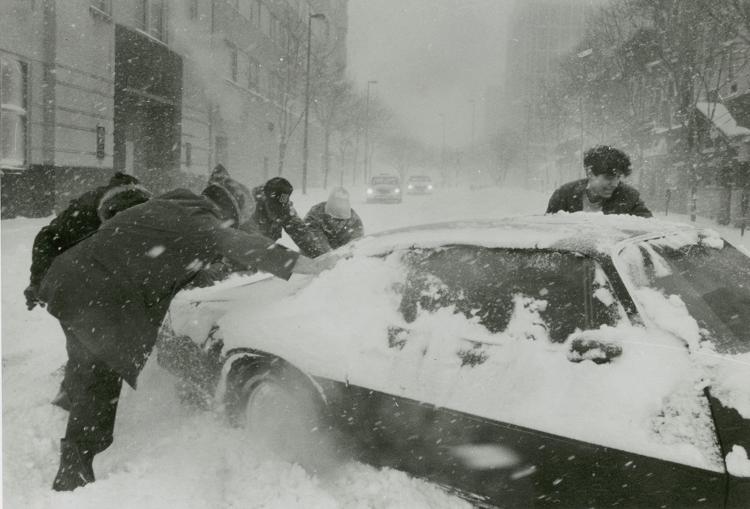 1990: Mountains of snow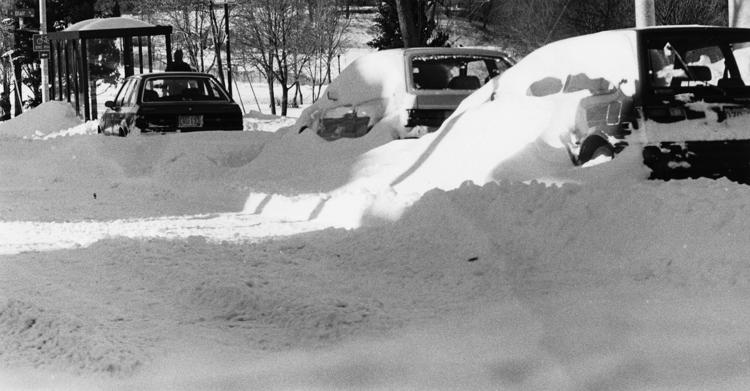 1990: Cars stuck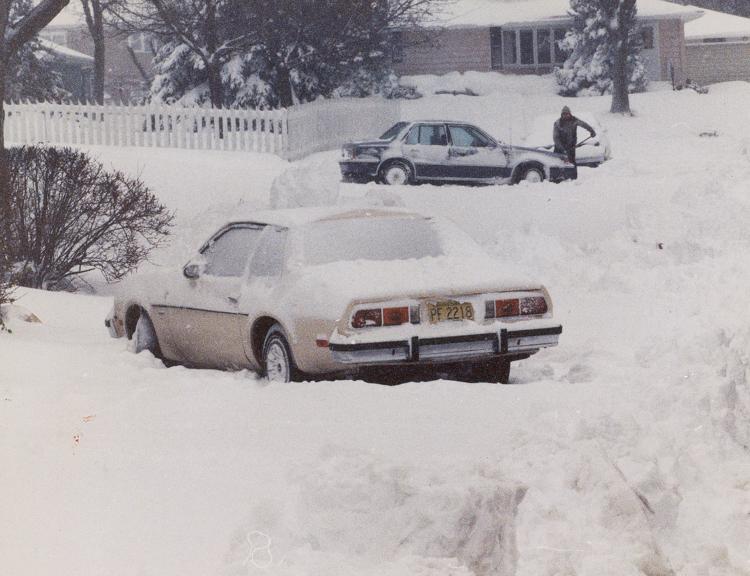 1990: Shoveling out car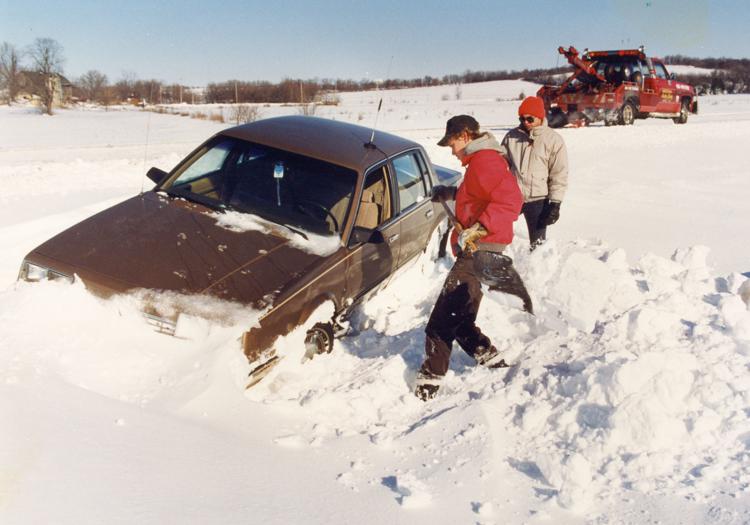 1990: Snowblower at work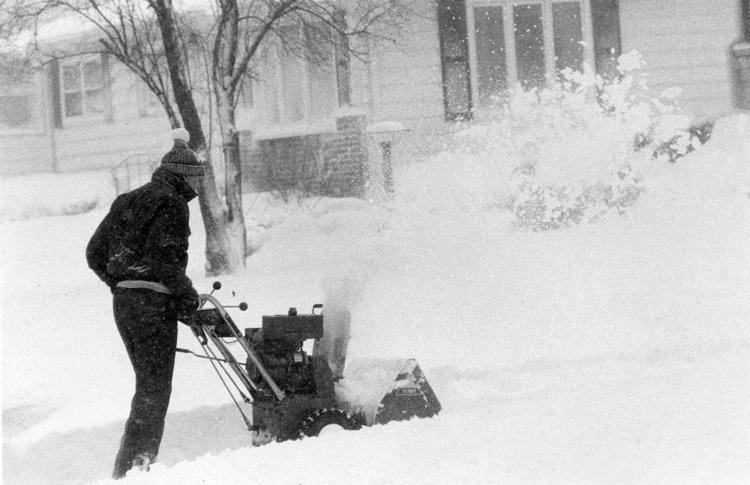 1990: Abandoned car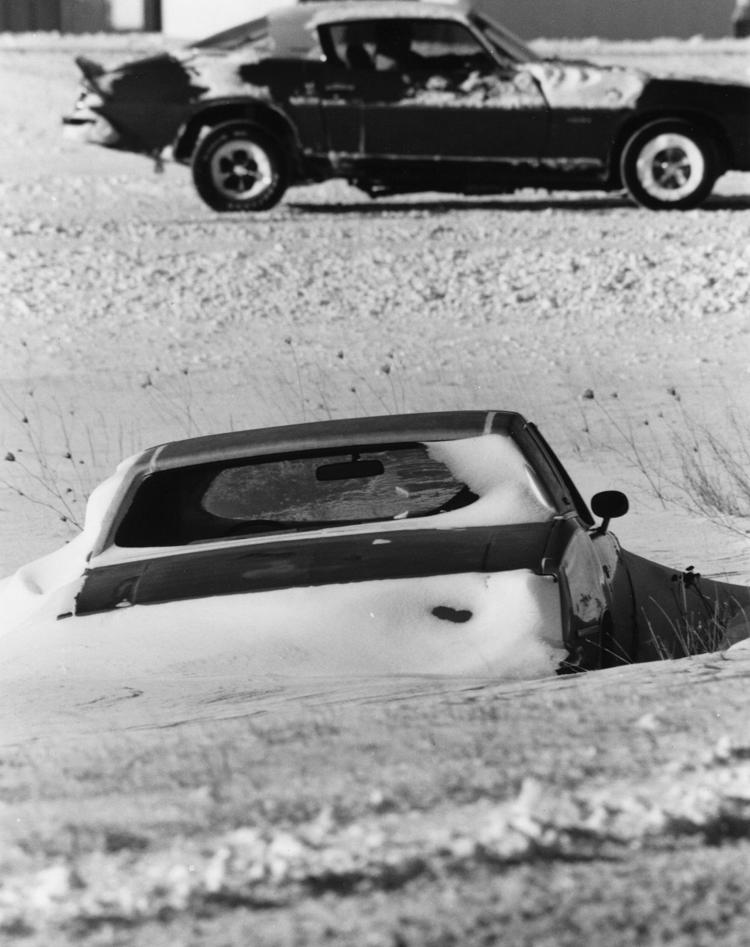 1990: Snowstorm aftermath
Snowstorm coverage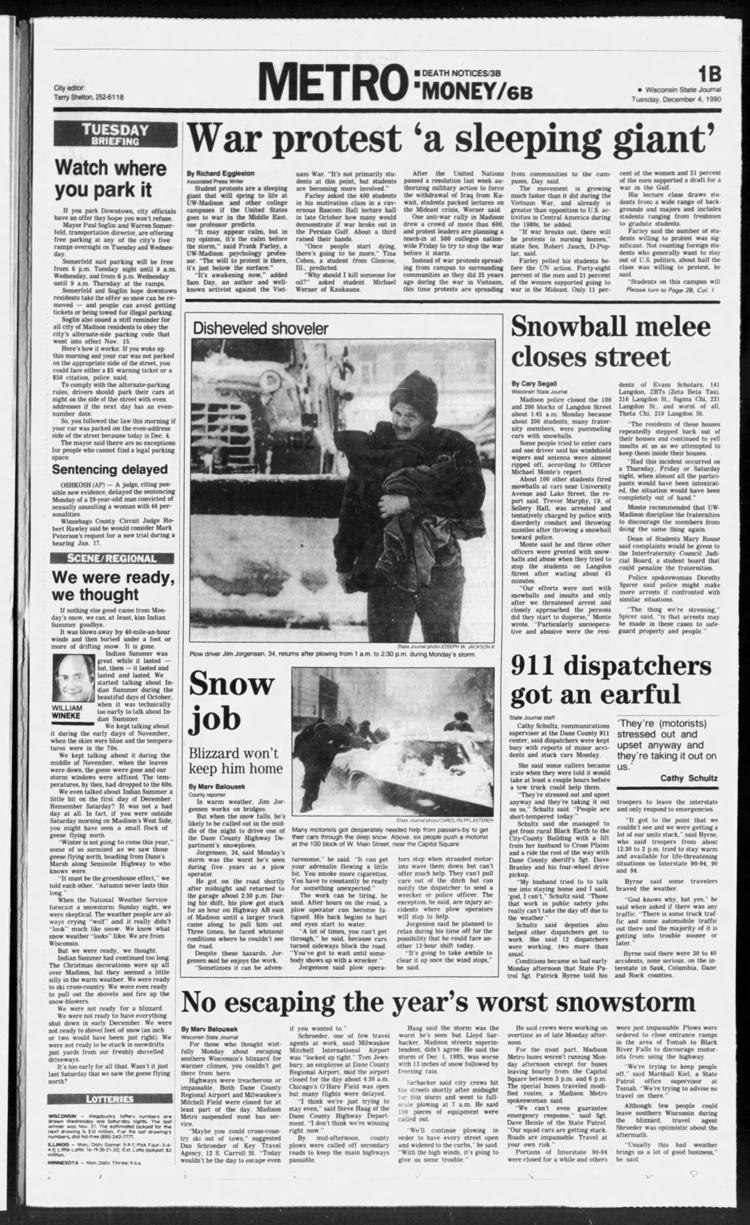 Snowstorm coverage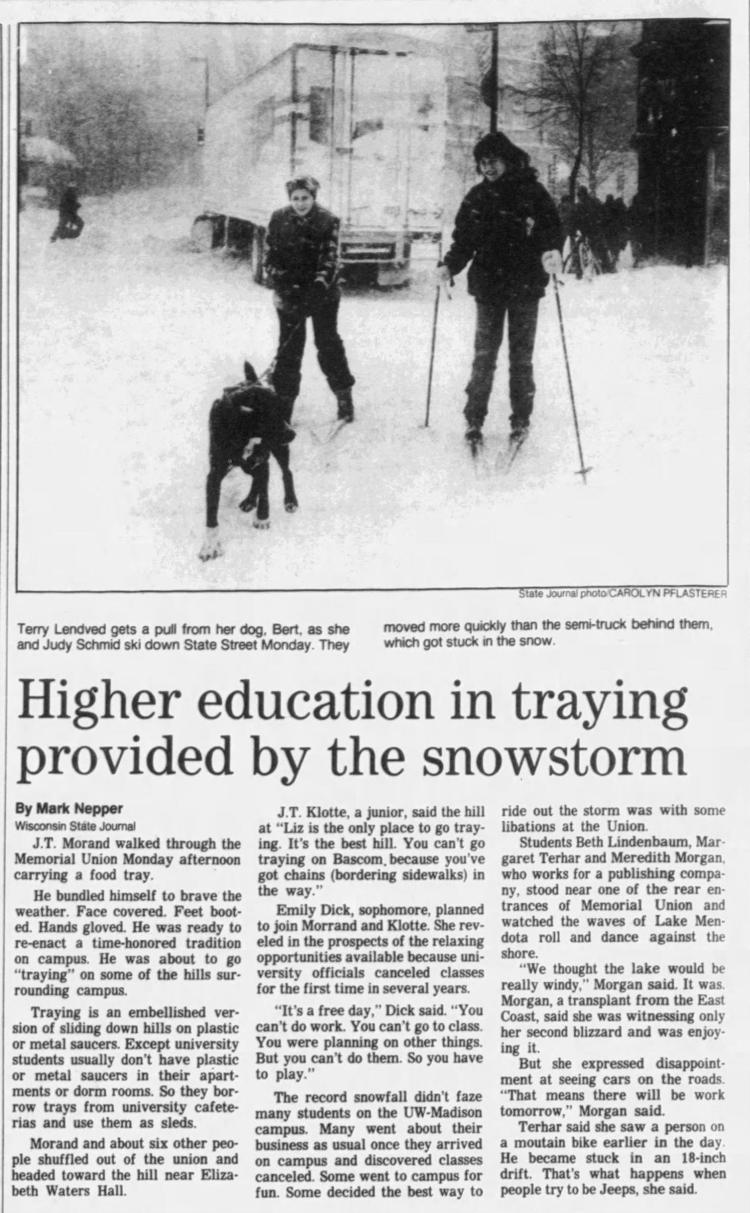 More stories from the greatest single-day snowstorm in Madison history