After a mild start to the month, Wisconsin is in line for a one-two punch of arctic air.
The National Weather Service has issued wind chill advisories for much of Wisconsin through Friday afternoon as winds out of the northwest could make the already sub-zero lows feel as cold as 35 below.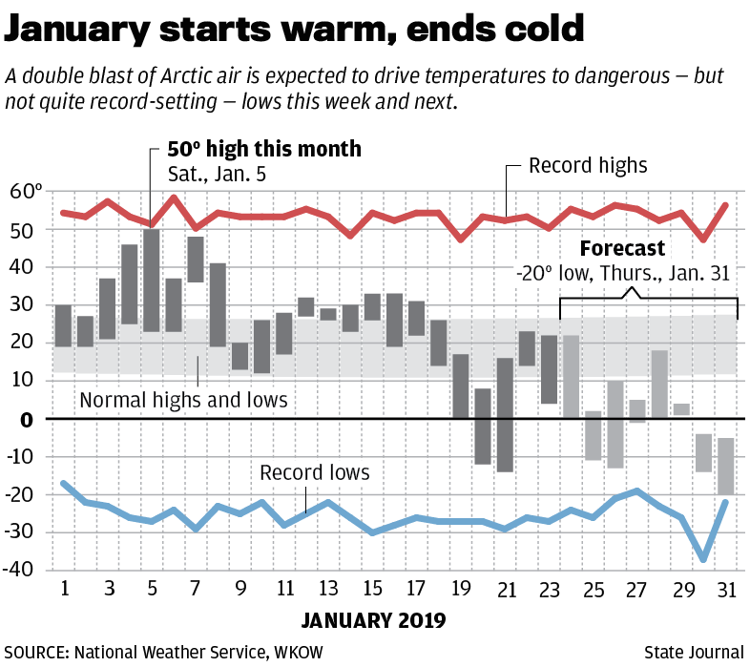 And those frigid temperatures are expected to return next week — after a brief respite that includes more snow — with nighttime temperatures well below zero and some daytime highs in the single digits or even below zero.
Wednesday's high is expected to be about minus 5 degrees, and the low could reach 20 below on Thursday, which would be Madison's coldest reading in more than 18 years.
"That may actually be conservative, unfortunately," said National Weather Service meteorologist Ben Miller.
Just how cold it gets will depend on the track of a storm that's likely to bring snow to most of the state Sunday night and Monday, according to the weather service. Southern Wisconsin could see as much as 4 to 7 inches of snow.
Then temperatures will fall below zero Tuesday night and stay there until Friday afternoon.
"For it to stay below zero for 72 hours, that would be rare," Miller said. "Not unprecedented, but rare."
In records dating back to 1869 there have been just 13 times that Madison went three straight days in which the high temperature was below zero, according to data from the Midwestern Regional Climate Center. The last time that happened was in 1996.
The degree of cold will vary based on the storm track, but no part of the state is likely to escape unchilled.
"Basically, the eastern half of the country will feel colder than usual," Borremans said.
While 20 below might seem unreasonable on the heels of the 50-degree temperatures of Jan. 5, a 70-degree swing isn't all that unusual in Wisconsin.
Since we're painfully aware of being stuck in the throes of winter, it's hard not to think wistfully of warmer times.
The average temperature swing during January is almost 57 degrees in Madison and has been as high as 80 degrees. The biggest-ever swing — 99 degrees — occurred in March 1962, which came in like a lion at 29 below and hit 70 degrees four weeks later.
Be the first to know
Get local news delivered to your inbox!