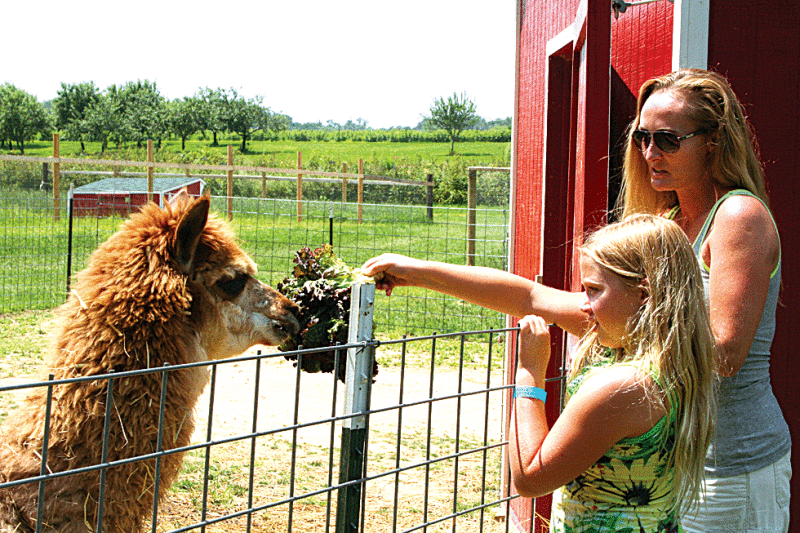 Country Bumpkin Farm Market has added new attractions in recent years, the latest being the Lil' Bumpkin Play Village and Petting Farm.
Several families from out of town came to the farm Wednesday afternoon to feed the animals by hand.
It's what owner Cindy Rhinehart likes to see, that customers can come and leave with good memories, she said.
Produce is grown on the farm, and customers can come to buy whatever they pick themselves.
She said their slogan is "Growing fruits and vegetables, growing fun and memories."
Since Cindy's children are grown and married, she and her husband, Charlie Rhinehart, wanted their business to grow to support an additional family. Cindy said her adult child and spouse more recently indicated that they want to take a part in running the farm, so she said they all decided to add Lil' Bumpkin Play Village and Petting Farm.
With more people involved they can handle running the additional attractions, Cindy said.
The miniature town buildings and animal petting offerings were actually opened last summer.
The Play Village includes a church, farm house, barn that houses a llama and alpaca, machine shed, school, miner's shack and outhouse.
The church has a 20-foot-tall steeple and a bell children can ring, Cindy said. The school house has the real desks that her children had when they were younger.
She said her husband built the structures to make them as authentic as possible.
In addition to playing in the smaller-scale buildings, visitors can pet and feed farm animals.
Of the attraction, Rhinehart agreed that she thought the idea was something unique to the area, as well as low-key and relaxing.
"And yet it goes with the farm market theme, what we have here already," she said. "We've had customers ask, you know, where can we pet animals." Cindy said the farm has two alpacas, a llama, nine goats, two donkeys, four sheep, a rooster and 10 hens.
They'd like to get ducks and a baby cow, she said.
They rent the animals from a farm in Reedsburg. She also said Lil' Play Village and Petting Farm has a regular veterinarian and is inspected by the U.S. Department of Agriculture and is licensed.
The animal petting is open daily from Memorial Day to Halloween.
Admission to the Play Village and Petting Farm is $2 per person and feed is sold in ice cream cones for $1 each or five for $4. Cindy plans to have machines to dispense the feed in the future, but now the farm is making use of extra ice cream cones. The cones themselves can be fed to the animals too, Cindy said.
The farm also has a low zip line for children, a train ride, pedal carts and tractors and a watermelon catapult. While it might be fun to launch the melons into the air, the catapult shoots the melons into a field where they are turned back to the soil. Rhinehart said it benefits the next season's crop to return some of the melons to the soil.
Cindy said she and her husband are always looking for new things to try with their business and they travel for inspiration.