WISCONSIN DELLS — The Wisconsin Dells volleyball team made quick work of rival Westfield last year, breezing to a pair of sweeps over the Pioneers.
The Chiefs continued that trend Thursday night, as Wisconsin Dells darted out to quick leads in all three sets of a 25-5, 25-16, 25-10 win over the Pioneers in a South Central Conference game at Wisconsin Dells High School. After going unbeaten in SCC play last year en route to a league title, the Chiefs suffered an early setback with loss to Adams-Friendship on Tuesday, but rebounded in a big way.
"The game on Tuesday against Adams was a good match," Wisconsin Dells coach Tami Janke said of the four-set loss. "I can't take anything away from that team, and it was actually good for us because it helped us realize that if we want to get to the goals we have planned this year, we have to work a little harder and they did."
That was on display in the opening set as the Chiefs (2-1 South Central, 7-8) opened on an 8-0 tear behind the serving of sophomore Brooke Hartley, as the right-side hitter delivered three of her four aces. The lead quickly grew to 12-2 and never dipped below nine as the Pioneers failed to string together multiple points the entire set.
After a kill off of a Chiefs block cut the lead to 15-4, Wisconsin Dells closed the opening set on a 10-1 run, punctuated by a Hartley tip, Chiefs block and a Pioneers ball handling violation.
"It's awesome. Coming back with confidence and playing our game, really set the tone," Hartley said of the 20-point opening set win.
Wisconsin Dells again jumped out to a big lead in the second set as it went ahead 8-2 before the Pioneers (1-1, 2-5) eventually put together a fight. After the lead grew to 11-3, three straight points brought Westfield within 11-6 but that was as close as the Chiefs let the Pioneers get.
Wisconsin Dells responded with an 8-2 run to build a 19-8 lead, and while Westfield pulled within 21-15, the Chiefs closed the set on a 4-1 burst to take the game 25-16 and build a 2-0 lead.
Needing a win to stay alive, Westfield started set three will a strong start, as the Pioneers stayed within 9-6 early on. That margin remained close as Westfield pulled within 13-9 near the midway point of the set, but it was the Chiefs that closed the set strong.
Wisconsin Dells squashed any kind of momentum for Westfield as it scored nine consecutive points en route to a 12-1 run to finish off the game, finished off by a kill from senior Lauren Myklebust, to take the third set 25-10 and the game.
Throughout the match, the Chiefs kept the throttle down, keeping the Pioneers from recording no more than five consecutive points throughout the night.
"The major component is keeping the momentum and having fun," Wisconsin Dells senior Caelan Tourdot said. "I felt like we did that throughout the game and that's why we were successful."
Another major part of the Chiefs success was their serving and depth offensively. Wisconsin Dells combined for 11 aces as a team, with Hartley contributing a team-high four, and had five girls with five or more kills.
Senior Jamie Pfeifer was the lone player in double-figures with 10, but both Tourdot and Harltey noted how difficult the team's depth is to prepare for.
"It gives us the option to run different plays and offenses," Tourdot said. "I think that's really hard to defend when we can go anywhere."
"When you get a pass up and you're setting, you know you can set it to any one of your hitters and get a kill," Hartley added.
The one area where the Chiefs struggled was defending against the Pioneers' tip kills as Westfield had six over the final two sets. Janke said the struggles are something the Chiefs will have to work on, but she was pleased with the team's response throughout the match.
"I think we handled it better as the match progressed, to the point where they really listened when we wanted to make an adjustment and followed through on it," she said.
Iris Slotten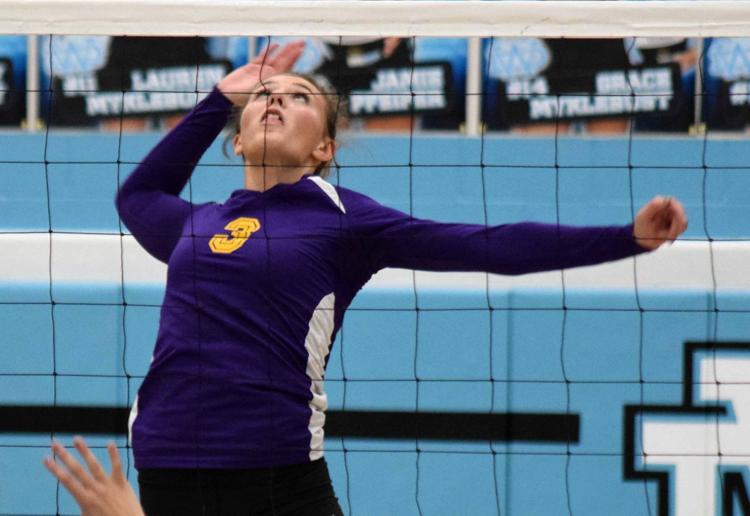 Grace Myklebust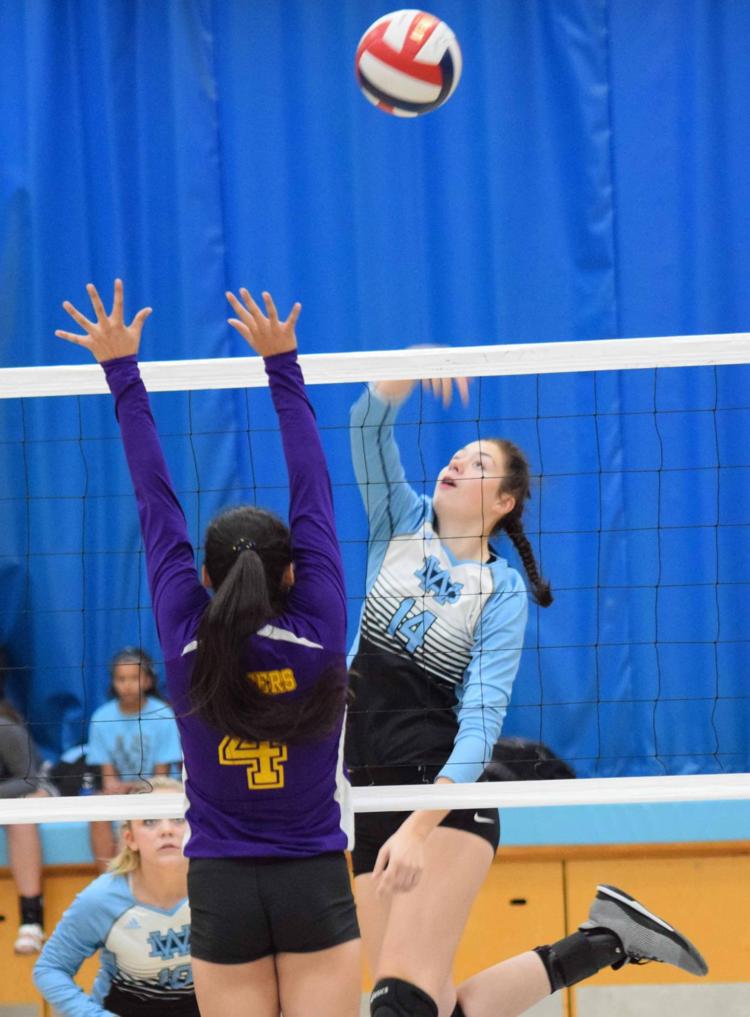 Anna Guenzel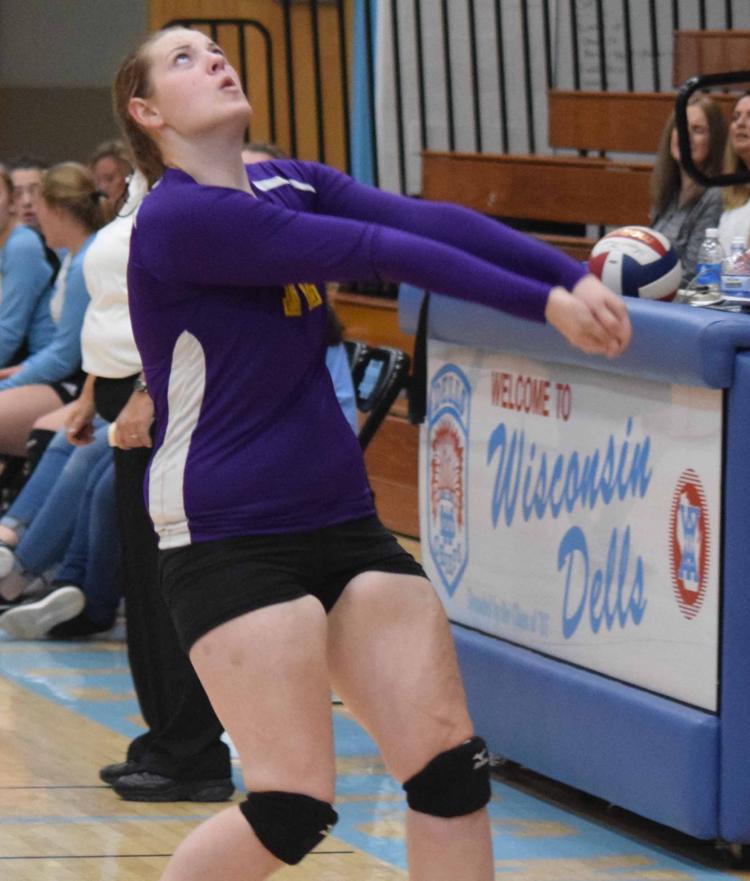 Kennedy Hickey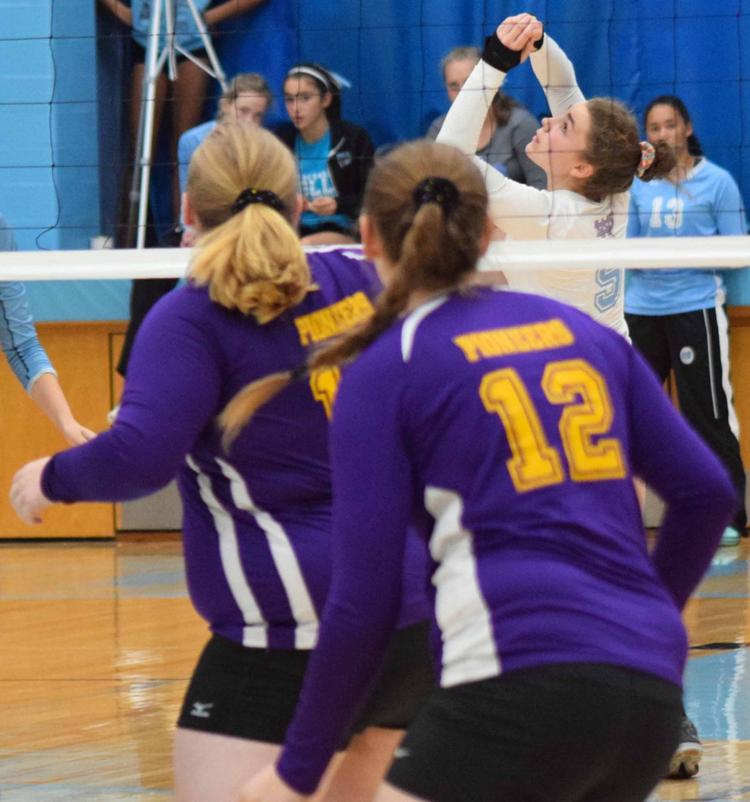 Hannah Hockerman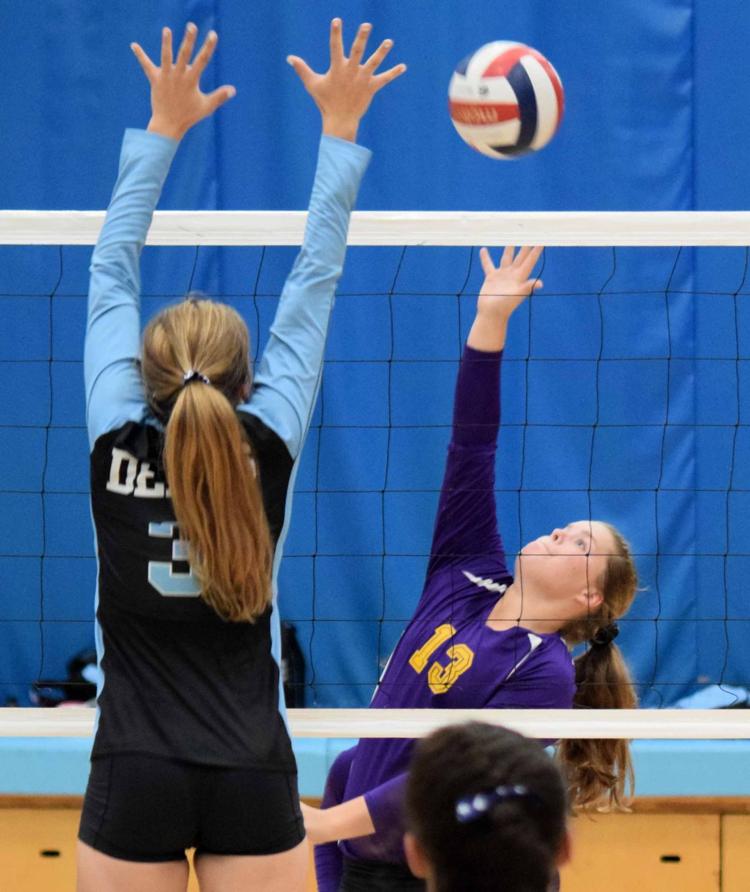 Haley Lukasavage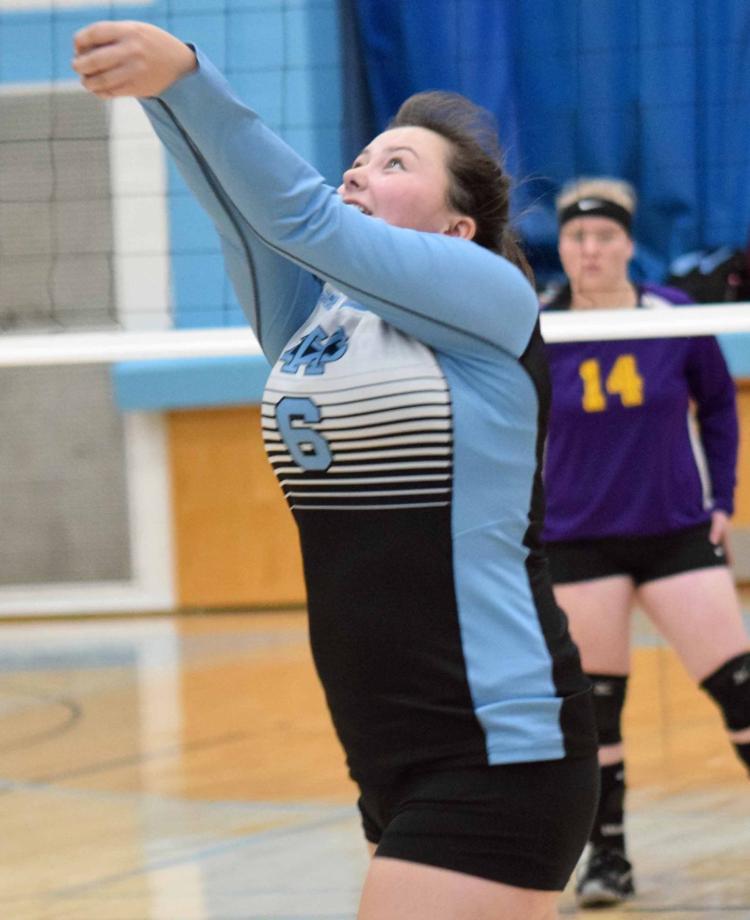 Faith Simonson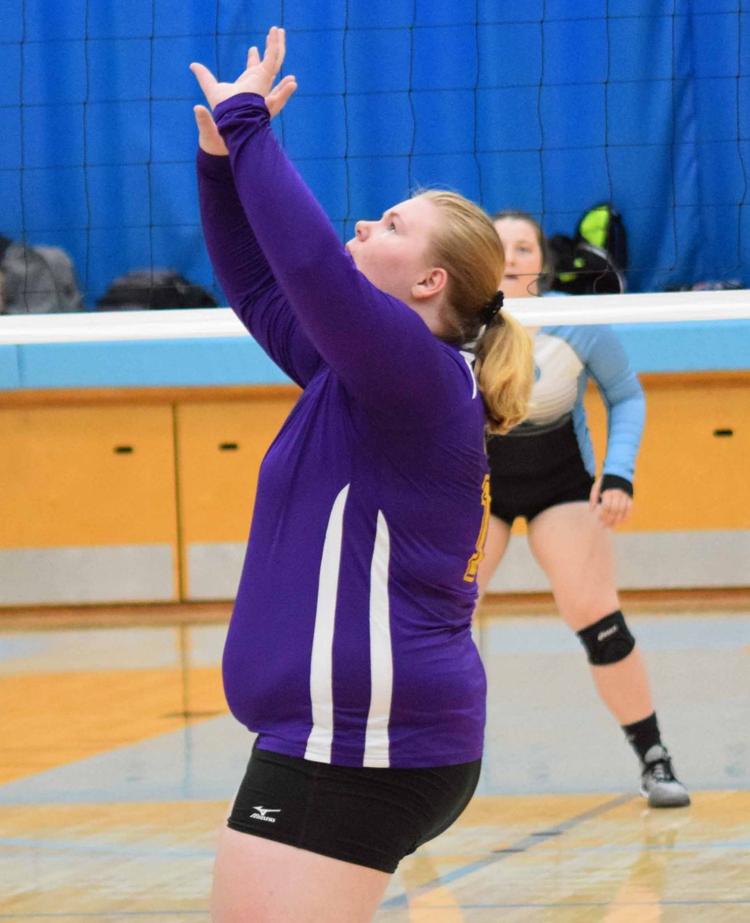 Molly Kolano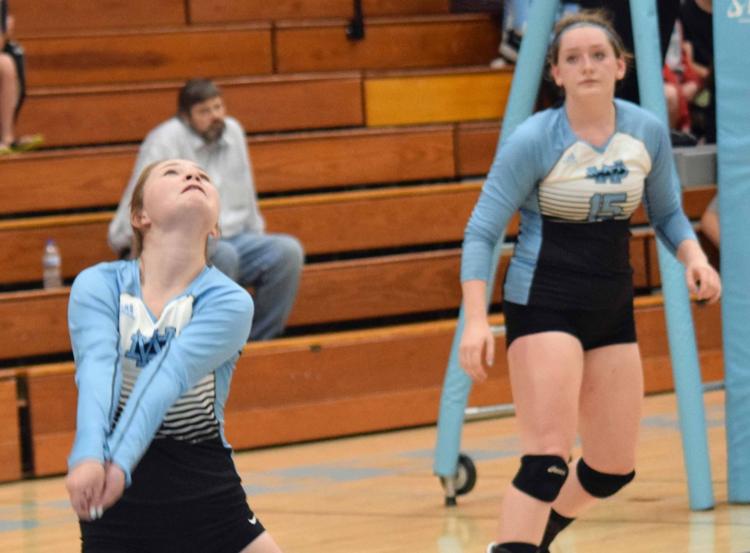 Jaylyn Rachel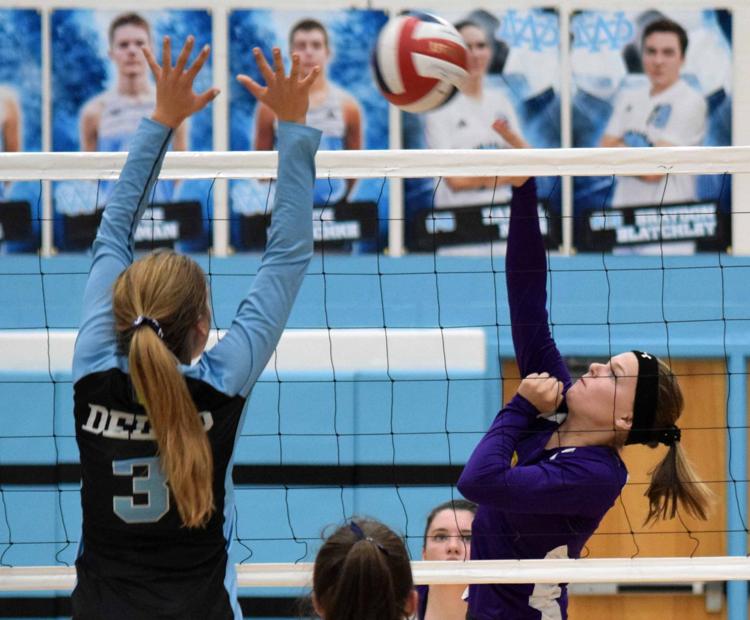 Caelan Tourdot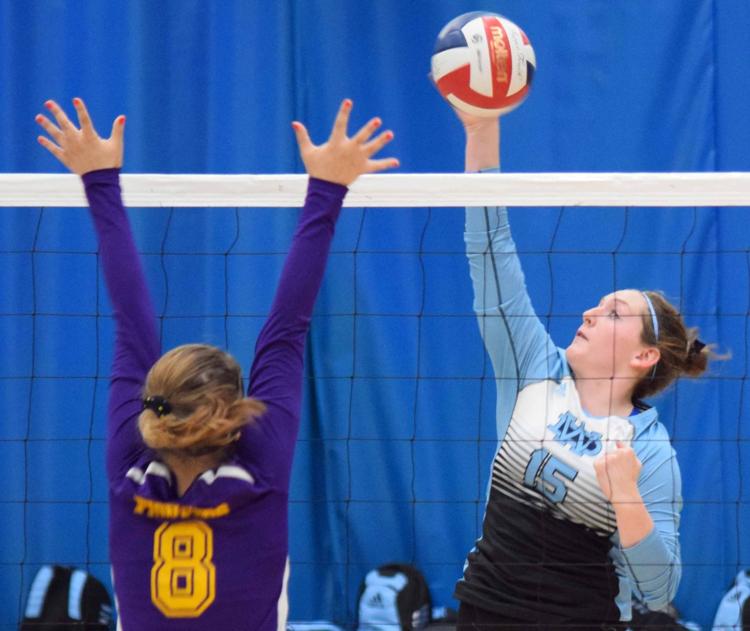 Jade Morris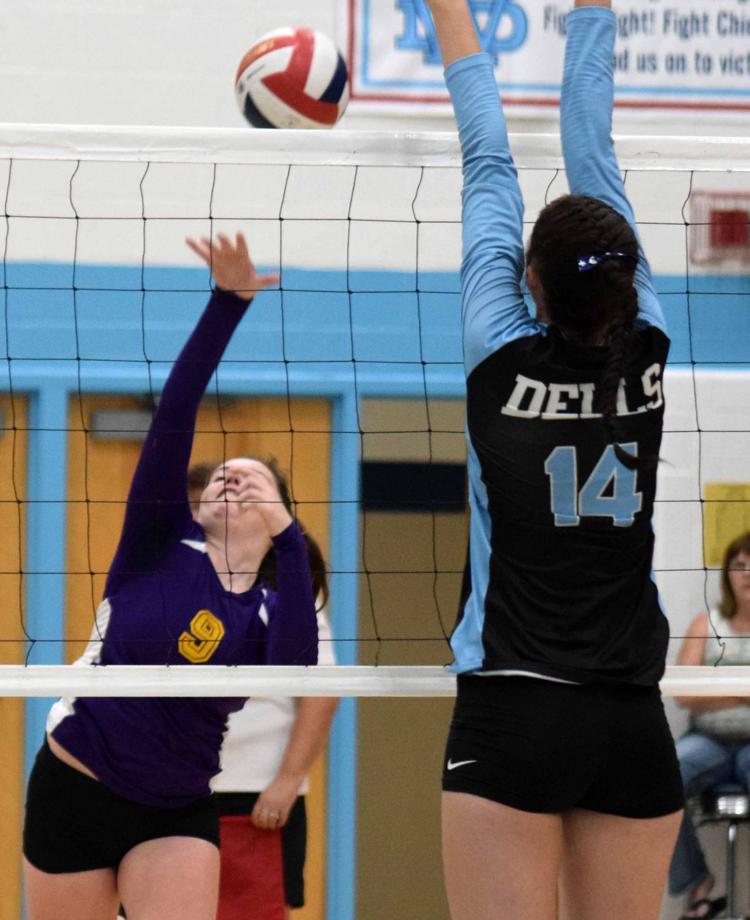 Wisconsin Dells point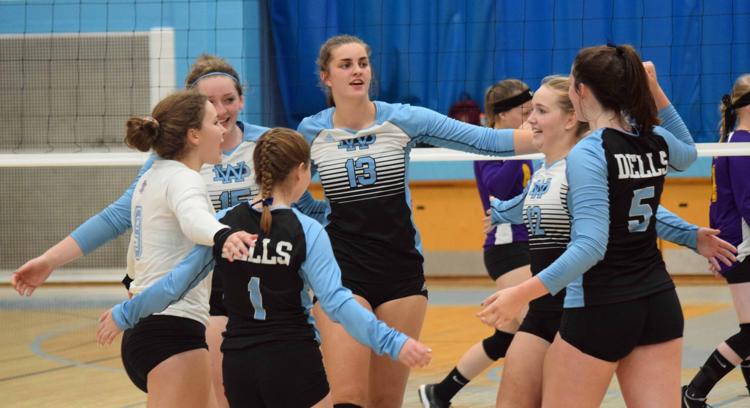 Braylee Wolff
Katelyn Meister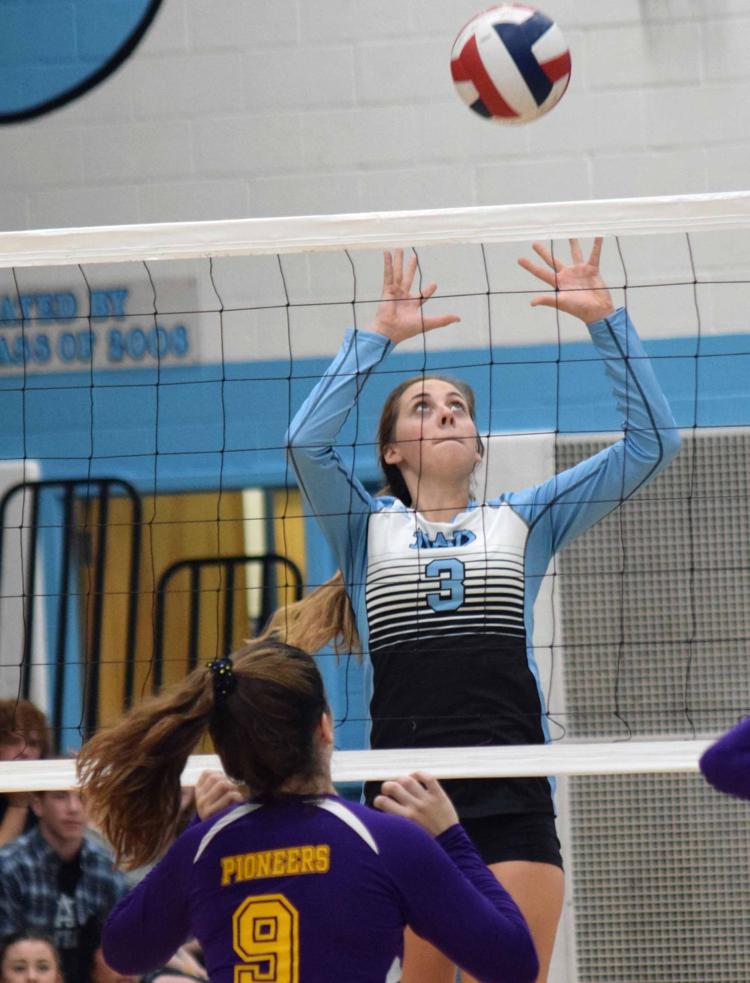 Westfield high fives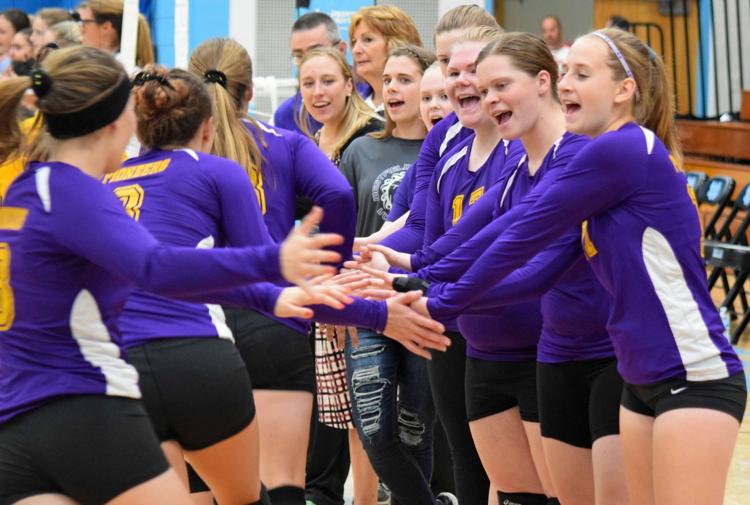 Lauren Myklebust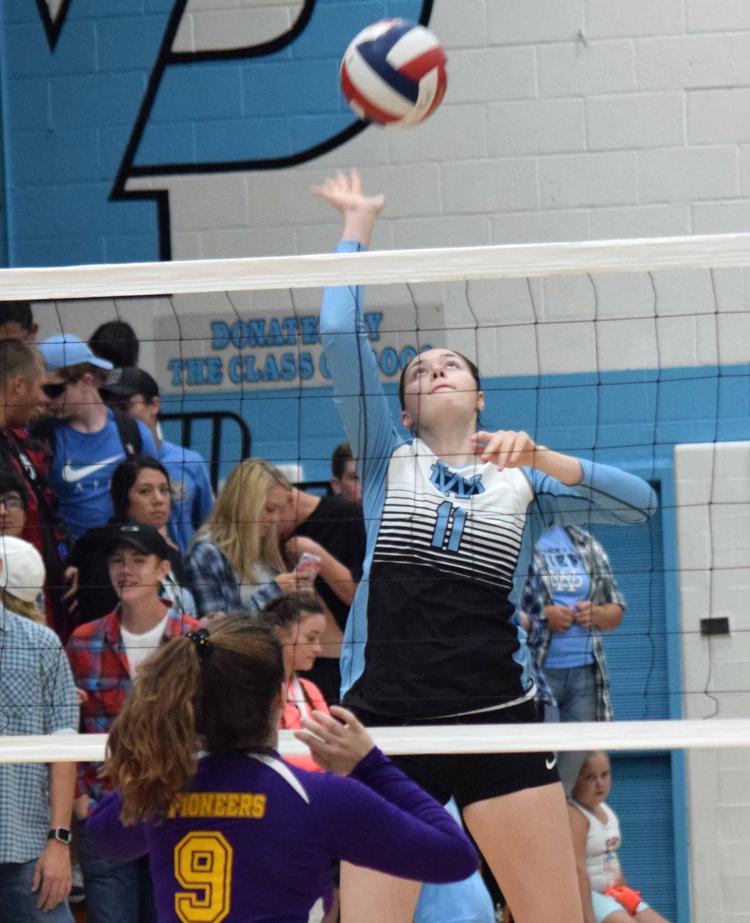 Salina Warren and Tahya Reetz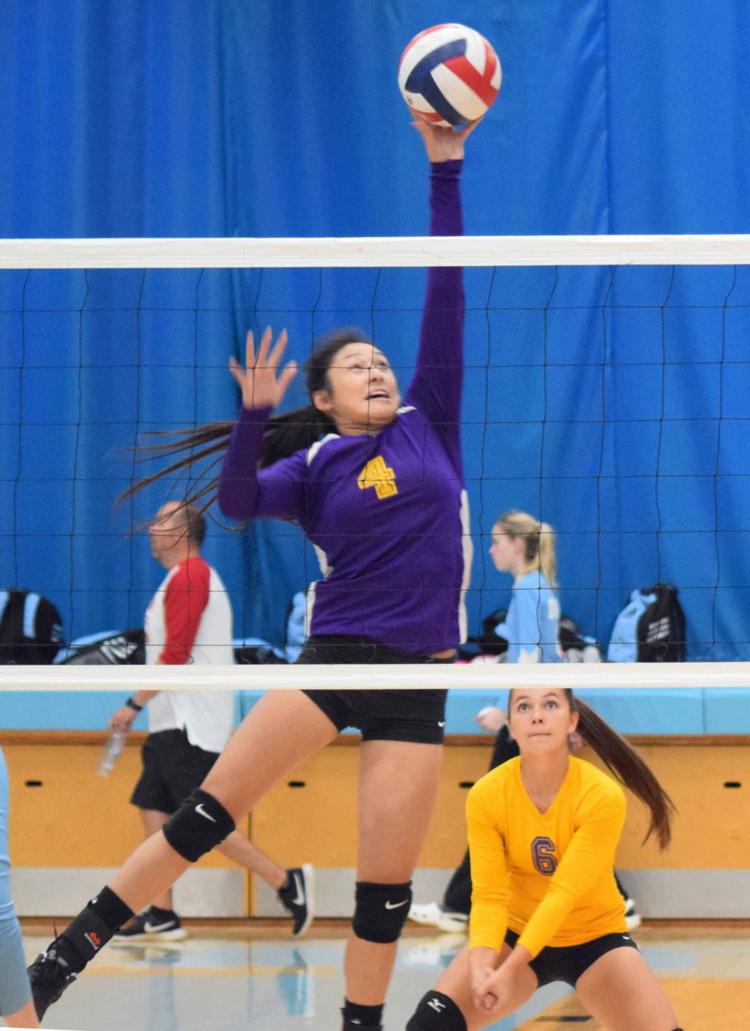 Brooke Hartley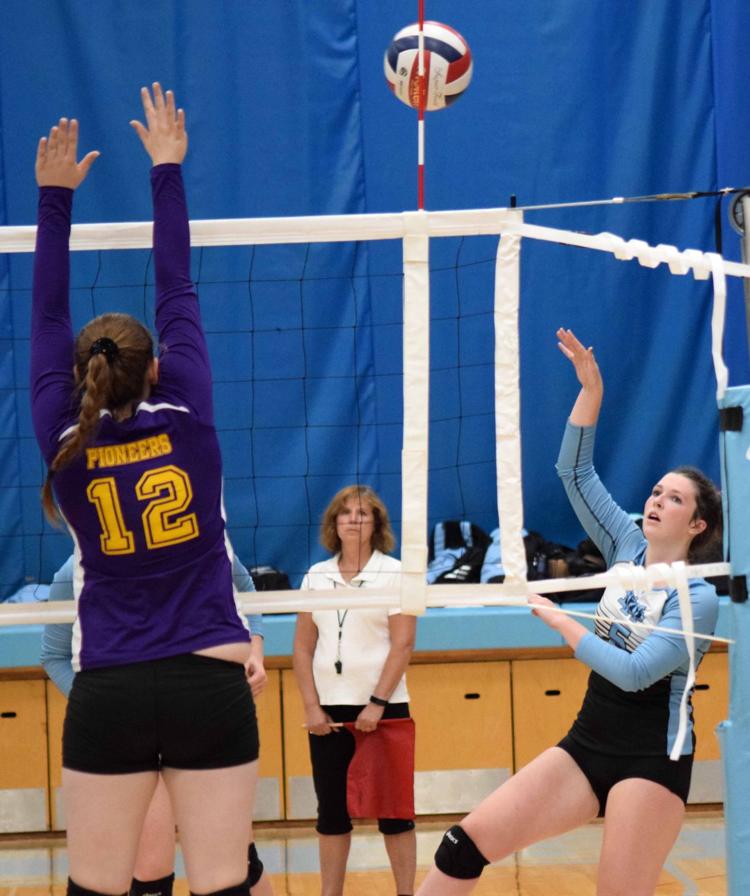 Iris Slotten and Braylee Wolff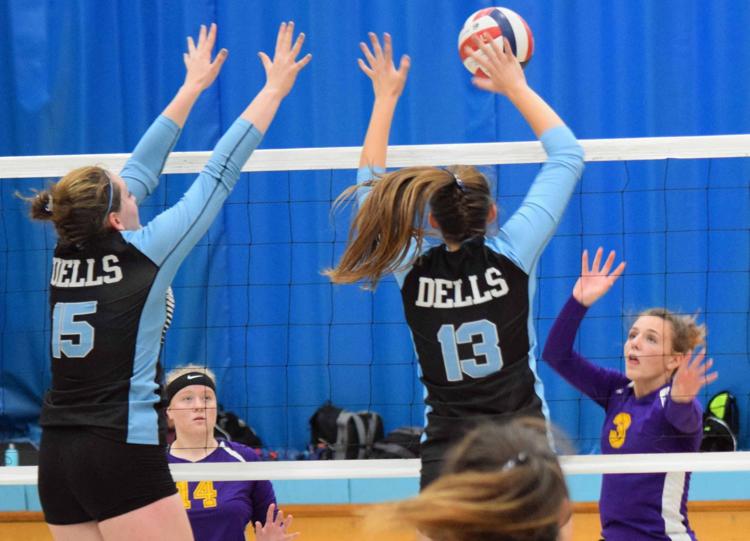 Jamie Pfeifer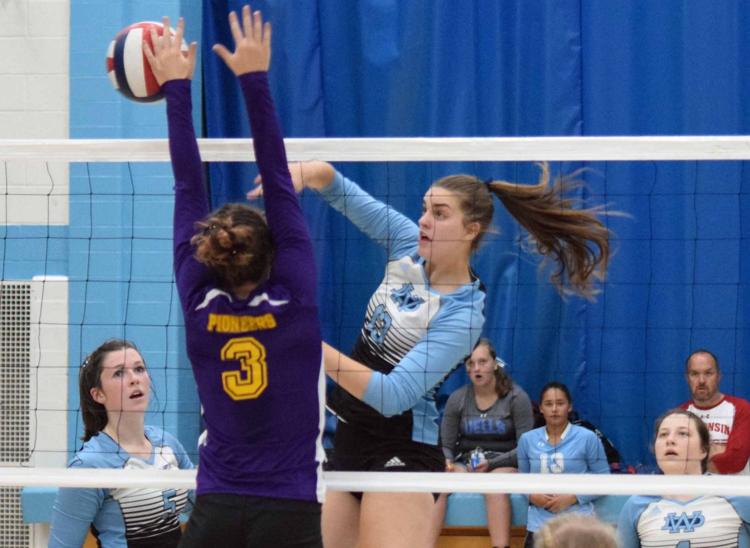 Middleton Invite
After sweeping the Pioneers, the Chiefs had an up-and-down day on Saturday at the Middleton Invite, going 0-3 in pool play before winning the Bronze pool to go 2-3 overall.
Wisconsin Dells opened with some stiff competition in pool play, as it dropped all three matches against Madison Edgewood, Middleton and Platteville. The Chiefs were swept by the Crusaders but took both the Cardinals and Hillmen to three sets, falling both times, however, losing to Middleton, 23-25, 25-23, 15-10, and Platteville, 21-25, 25-21, 15-9.
Following the pair of close losses, Wisconsin Dells was a perfect 2-0 in the bronze pool, earning a pair of two-set wins over Madison West and Evansville. The Chiefs staved off the Regents in their first game, 25-22, 25-17, before making quick work of the Blue Devils, 25-15, 25-9.
Wisconsin Dells had four girls over 10 kills, including three that broke 20, including seniors Caelan Tourdot (29), Jamie Pfeifer (24) and Katelyn Meister (20). Pfeifer also led with a team-high 15 blocks, while senior Kennedy Hickey had six aces and 56 digs, while sophomore Brooke Hartley had 50 assists.
Wisconsin Dells 3, Nekoosa 0
The Chiefs were able to keep their momentum from Middleton rolling as they rolled to an easy 25-11, 25-16, 25-17 sweep over Nekoosa in a South Central Conference game on Tuesday.
Wisconsin Dells, who improves to 3-1 in SCC play and 10-11 overall, got a team-high seven kills and three blocks from Pfeifer. Hartley added nine assists and four aces, while senior Maddy Voigt and Hickey each had seven digs.
WISCONSIN DELLS 3, WESTFIELD 0
WESTFIELD (leaders): Kills — Iris Slotten 5. Digs — Iris Slotten 9. Aces — Jade Morris, Iris Slotten 1. Assists — Faith Simonson, Braylee Wolff 6.
WISCONSIN DELLS: Kills — Jamie Pfeifer 10. Digs — Maddy Voigt 10. Blocks — Grace Myklebust, Katelyn Meister 1. Aces — Brooke Hartley 4. Assists — Brooke Hartley 10.
WISCONSIN DELLS (leaders): Kills — Jamie Pfeifer 7. Blocks — Pfeifer 2. Digs — Maddy Voigt, Kennedy Hickey 7. Aces — Brooke Hartley 4. Assists — Hartley 9.
NEKOOSA: Kills — Hendricks, Harnisch 3. Digs — Hendricks 2. Aces — Schafebauer 2. Assists — Dhaim 7.