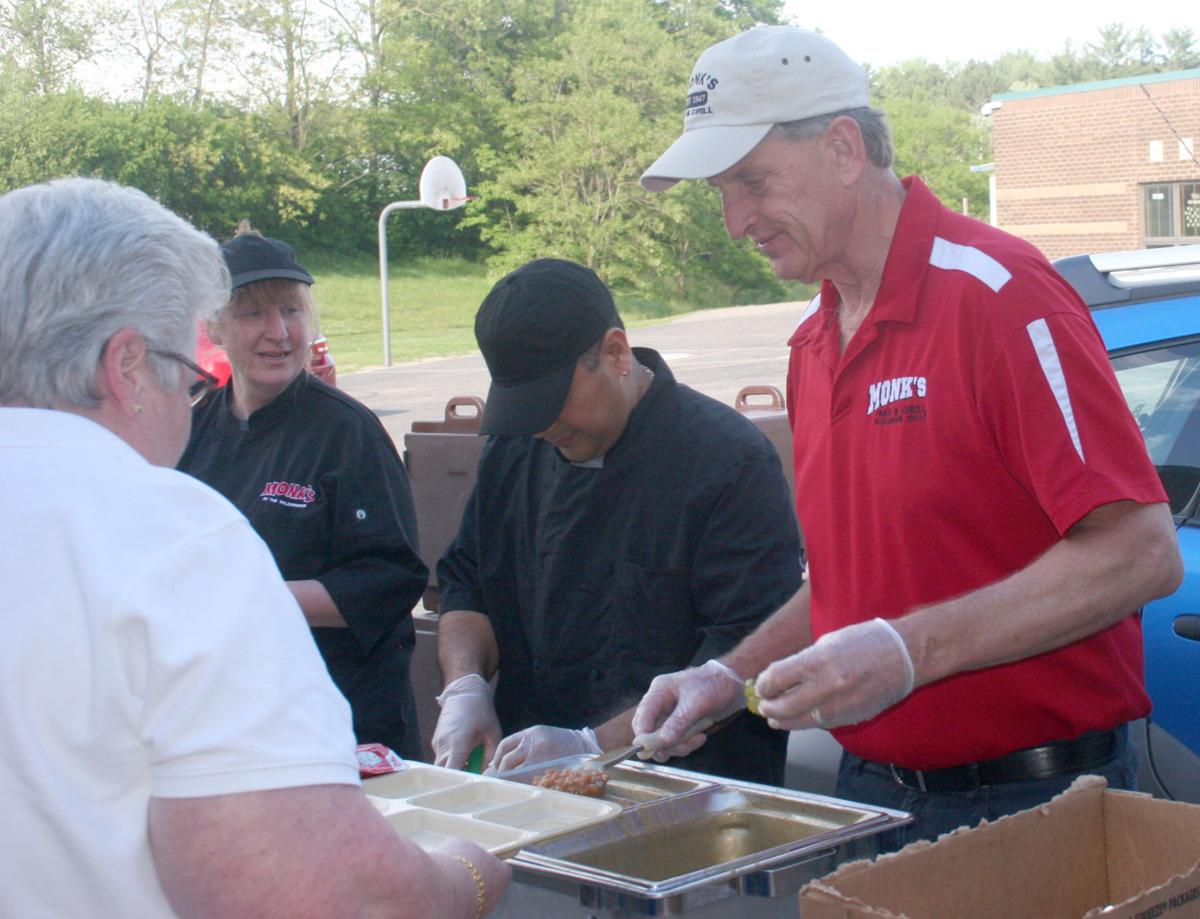 When people came to the Community Sharing Supper May 30 to enjoy some burgers, a man behind many a burger in the Dells didn't realize he'd be honored.
The Presentation of the Community Builder Award went to Tom Heller. Heller was given the award while he was catering for the event.
"We surprised Tom with the award. He had no idea he was going to be receiving the award." said Debbie Kinder, who helps organize the sharing suppers. "I think this is also fulfilling Tom Heller's dream and long time wish, to have a grill outside. He has been cooking and serving food outside all night. The supper is being catered by Monk's. He was really surprised."
Tom Heller has been a pillar in the community for decades. This year also marked the 70th anniversary of his beloved Monk's Restaurant. He has been a businessman in Wisconsin Dells and served the community through many. Fire Inspector Jerry Wolfram spoke of Heller's service to the Kilbourn Fire Department and his being an asset to the community.
"Tom is an honorary member of the Kilbourn Fire Department," Wolfram said. "He was an active member of the Fire Department for years. When he was active he was always going to all the calls, he was a wonderful member, just a great contributing member. He is retired from active membership but still remains an honorary member. Tom is very deserving of this award. He continues to be a big supporter of the Kilbourn Fire Department."
"This award is a great honor, I was so surprised," Heller said. "I have been in the community since 1980. I always feel like I am the one who wants to thank the community. They have always helped me build my business. It is so great, these community dinners. It brings the home town back into Wisconsin Dells."
Following the award, dinner was served while musician Kaylin Bransdema sang to the dining crowd.
The sponsors for the dinner were Saint Cecilia's Catholic Church, Steffe's Hardware, and BMO Harris Bank.
Wisconsin Dells and Lake Delton Community Dinner is held the last Tuesday of every month.
Be the first to know
Get local news delivered to your inbox!