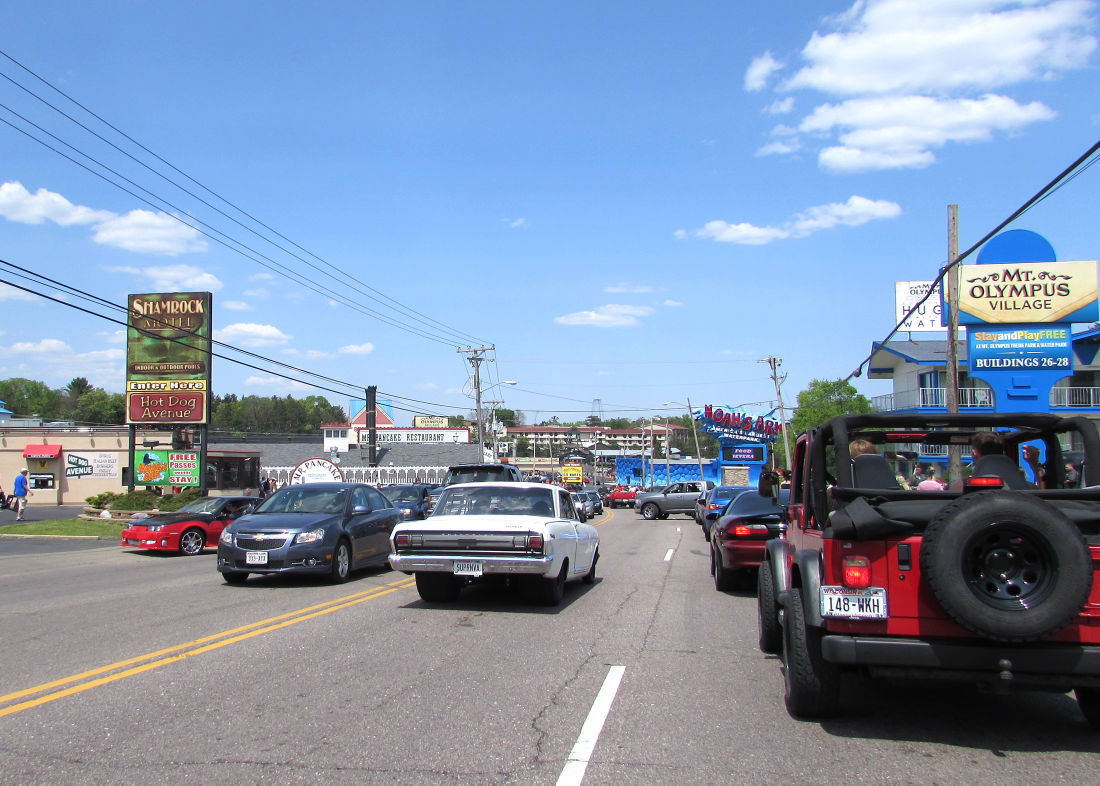 Don't blame it on Automotion, and don't let unruly behavior by an "idiotic" few upend a long-time, successful Wisconsin Dells weekend.
These were the two dominant themes voiced by local law enforcement, government and tourism officials Monday following an Automotion weekend that saw near-perfect weather and strong attendance at several local automobile-related events — accompanied by an increase in traffic jams, reckless driving and some untoward behavior by some attendees.
A dramatic increase in complaints and citations — with many infractions of the reckless-driving variety — were logged by local police forces between Friday evening and Sunday afternoon, as a throng well above an expected 100,000 streamed into the Dells-Delton area during the 30th annual Automation classic car rally at Noah's Ark Waterpark.
The stream of automobile enthusiasts flocked not only to the venerable classic car rally at Noah's Ark, but also to auto rallies of varying sorts on tap at Mt. Olympus Resort, Bobbers restaurant and the Edge-O-Dells camping resort.
Significant traffic jams and gridlock, accompanied by the occasional squealing tires — known as "burnouts" — and, in general, reckless driving, especially throughout the day Saturday — kept Lake Delton and Wisconsin Dells law enforcement officials on their toes throughout the weekend.
Complaints to the Dells Police Department were up by 50 percent, reported Police Chief Jody Ward, along with a marked increase in citations issued, ordinance violations and written warnings.
Wisconsin Dells police logged 130 complaints — up from 90 in 2015 — and issued 94 citations, with 50 ordinance violations and 35 written warnings issued.
Lake Delton police received 178 calls for service, issued 440 citations with a reported 42 crimes, and issued "a minimum" of 2,000 warnings, according to Lake Delton Police Chief Daniel Hardman.
But while the violations and police citations — along with the reckless driving and unruly behavior that generated them — were dramatically increased over 2015, local officials universally agreed that the weekend's events — especially Automotion — are here to stay and will not be sullied by a few so-called "idiots."
"This is not Automotion. Because we didn't have any problems with Automotion — it's the other freak show," said Lake Delton Police Chief Daniel Hardman. "It's not fair to Automotion that these idiots and other people do this stuff."
"The rednecks that are cruising around and acting like a bunch of idiots, those are the people that are detracting from this event," said Dells Mayor Brian Landers. "I don't think they're here spending money at all, they're only adding to the congestion and the problems the police are having."
Suggesting that the fines handed out for reckless driving — in the $600 range — "aren't discouraging people," Landers called for bringing in a fleet of tow trucks to remove offending vehicles when their drivers are out of control.
"With a bunch of tow trucks staged and ready to tow vehicles, we let the towing companies charge whatever they want," Landers said. "That could be a pretty hefty cost for squealing tires."
Both Lake Delton and Wisconsin Dells augmented their full-time staffs with help from other departments in the area, and Ward said that approach will be taken in even greater measure a year from now.
"I think this thing has grown to the point where we have to beef up our force even more next year and strategize about how to more effectively deal with the crowds," Ward said. "I think it's great for the community, however I think we will continue to increase enforcement efforts because there's too many reckless drivers and too many disturbances with the motor vehicles. We'll keep dealing with it — that's what we get paid to do."
Automobile-related crashes apparently were fewer than in recent years in the Dells, which had two, and most of the "dozens" of auto mishaps reported were not serious — thanks in large part, officials said, to the weekend-long gridlock on major thoroughfares that at times slowed traffic to a standstill.
"Maybe because the traffic volume was higher than normal, (Wisconsin Dells Parkway) was really like a big parking lot — there really wasn't a lot for people to do but inch along," said Lake Delton Fire Chief and Emergency Management Director Darren Jorgenson. "I don't recall ever seeing the Parkway get that much of a gridlock for that long a period of time," "
The exception to that trend was a hit-and-run, multi-collision set of accidents Saturday evening in Lake Delton, on the part of a single driver who was suspected of operating a vehicle under the influence of alcohol or drugs, according to a news release from the Lake Delton Police Department.
The driver allegedly fled the first accident scene, where the vehicle he was driving collided with a motorcycle, then struck two pedestrians at a second scene before crashing into a telephone pole and metal railing a short distance away.
The motorcyclist involved in the first accident refused treatment, and the two pedestrians involved in the second incident were transported to a local hospital for treatment — as was the driver of the vehicle who fled.
The driver was later released from the hospital and booked into the Sauk County jail on multiple criminal charges, according to the news release, with names of the individuals involved "being withheld until the investigation (by Lake Delton police) is complete."
Be the first to know
Get local news delivered to your inbox!