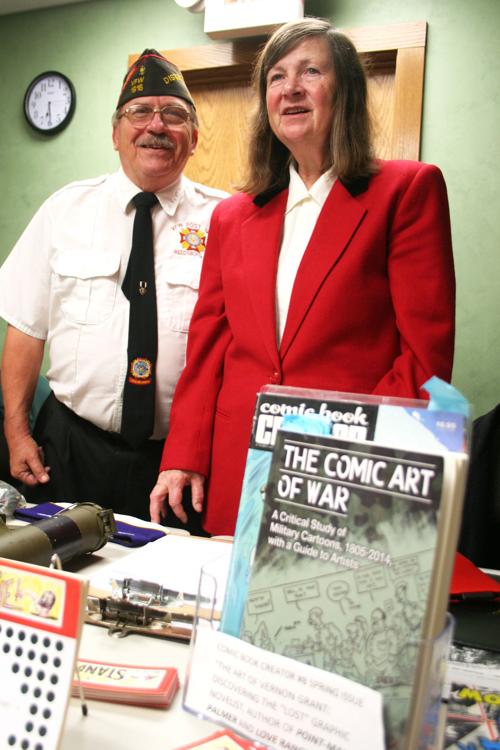 Were the late Vernon Grant's artistic legacy a building, Betsy Grant would have several stories built by now.
The milestones have continued to accumulate for Grant in her ongoing quest to widen the awareness of her late husband's prodigious artistic output, several books' worth of cartoons ranging from the adventures of a U.S. Army Private during the Vietnam War to a lovable monster's adventures in Tokyo.
Since publishing two of Vernon Grant's "Point-Man Palmer" cartoon books a year ago, Betsy Grant has traveled parts of the Eastern U.S. as well as all of Wisconsin, attending VFW conventions and garnering recognition for Vernon Grant's work.
The 2016 highlight were the dual proclamations the artist posthumously received in his hometown of Cambridge, Massachusetts, on July 28, decreeing that day as "Vernon E. Grant Day" for both the city of Cambridge and the Commonwealth.
Betsy Grant accepted the city's proclamation during a short ceremony July 28 in Cambridge, where Betsy and Vernon Grant once lived and were friends with the current mayor, E. Denise Simmons, who signed the city's proclamation and helped garner the state proclamation as well.
A productive visit to the Veterans of Foreign Wars (VFW) national convention in July in Charlotte, North Carolina also punctuated Betsy Grant's summer travels, and she attended two Wisconsin American Legion conventions and one Wisconsin VFW convention in 2016, selling copies of the two "Point-Man Palmer" books and spreading the word about her late husband's contributions to that era's chronicling.
"I'm doing what I'm supposed to do to make it a widening circle," Betsy Grant said of her continuing efforts within the realm of those who have served in the military, especially during times of war.
In the process of attending American Legion and VFW conventions and interacting with veterans, Grant has become something of a veterans advocate herself. She has become an auxiliary member of the Legion in Wisconsin Dells and the VFW in Reedsburg, and she routinely visits older, retired veterans wherever they live, including assisted living facilities and nursing homes.
Grant joined Vietnam War veteran Warren Frank last week at the Rock Springs Public Library for a discussion about that era and their respective relationships to it.
"Veterans are a major part of this country. I have great admiration for what all the women and men have sacrificed in all the wars we've had," she said. "It takes a lot of strength, I think, and character, to do the kind of work our service people do for our country."
Interest in Vernon Grant's work beyond its ever-growing military audience also expanded this year thanks in part to Betsy Grant's efforts. MONSTER! magazine published back-to-back, lengthy stories about Vernon Grant's cartoon book "A Monster Is Loose in Tokyo!"
That book, which follows the adventures of a "monster" as it traverses the streets of Tokyo much like any other city dweller, is out of print, but apparently has been well known for decades by MONSTER! magazine's editor and well-known monster-cartoon "legend" Stephen Bissette, whose Vietnam War veteran brother introduced him to the art of Vernon Grant when he encountered it in Southeast Asia while serving in the war.
Contact from "MONSTER!" magazine a year ago regarding Vernon Grant's "Monster" book confirmed to Betsy Grant that her husband's work in that particular genre had an audience four decades ago when it was published.
"These two men knew about Vernon in the '70s and it sort of started percolating, it's interesting, back in 2015," Grant noted.
After a busy year, Grant said she is not sure what she will do next to promote her husband's work. Interest in the "Point-man" books from veterans of all eras continues to grow thanks to her efforts, and the "MONSTER!" magazine stories have begun to re-establish Vernon Grant's contributions to that particular genre.
Follow Ed Legge on Twitter @DellsEd