Chances are, someone you know has dementia.
Chances are even better – in fact, almost certain – you will know someone with dementia sometime in the near future.
Thanks to the Baby Boom generation, dementia – the mental condition defined as "a set of symptoms causing a decline in cognitive function severe enough to affect daily living" – is about to enter the American consciousness in a way that it never has before, the way rock music did in the 1960s and computers did in the 1980s.
The Baby Boomers – that massive demographic group born between the years 1946 and 1964 – began turning 70 this year. Because age is the primary risk factor for dementia and because so many Americans will be entering their Golden Years in the next two decades, the number of people diagnosed with (and affected by) dementia is set to increase dramatically during that time.
"Change is coming," says the website for the Alzheimer's and Dementia Alliance of Wisconsin (ADAW). "Our state, our nation and many other countries around the world are beginning to recognize that we are faced with a great challenge in the upcoming years as more and more people are diagnosed with Alzheimer's and other forms of dementia."
Alzheimer's accounts for 50 percent of the dementia diagnoses in the U.S., and dozens of other, mostly age-related diseases and conditions (including Parkinson's and vascular issues including heart disease and stroke) are other significant causes.
The numbers of people diagnosed is sure to increase dramatically – perhaps even triple – in the coming decades as the Boomers age. One in 11 people 65 or older has dementia; one in two people 85 or older has dementia.
Ironically, advances in medical treatment for numerous age-related illnesses have increased the primary risk factor – age – because so many Americans are living so much longer.
"Now that people are living longer with these diseases, they're actually developing the cognitive issues that go with them," said Janet Wiegel, outreach specialist for the ADAW in Columbia, Marquette and Sauk counties.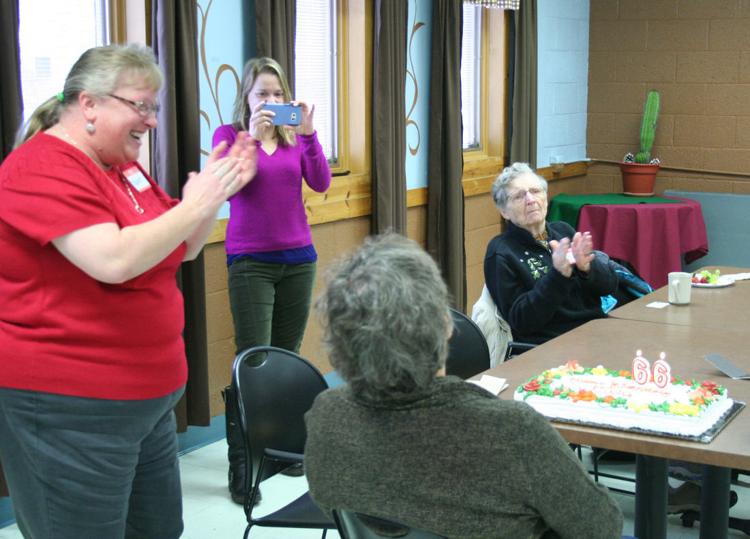 Potential for hope
The most common symptoms of dementia are short-term memory loss, difficulty performing familiar tasks, poor or decreased judgment, difficulty with verbal or written communications, disorientation to time and place, difficulty with coordination and motor functions, personality changes and difficulty with abstract thinking and problem solving.
But just as aging – and the potential for dementia that comes with it – is among the inevitable, sometimes challenging experiences of human existence, so too are the potential for hope, support and even love that can come from a difficult experience collectively shared.
That latter fact of life has begun to emerge in South-Central Wisconsin, as state and county agencies, assistance organizations, local governments, communities and individuals across the region have begun taking the crucial first steps in addressing the issue of dementia, both on individual and societal levels
From Portage to Mauston and Sauk City to the Dells, the programs, services and support for people with dementia – and, just as important, for the people who care for and love them – are on the increase.
From "dementia-friendly" training for employees at such ubiquitous businesses as Walgreens to "memory cafes" in Portage, Sauk City and elsewhere, the South-Central region is gearing up for the  monumental change that more and more people with dementia will bring.
"People have come to realize that this particular disease has 'epidemic' written all over it – the social and financial impact to everyone is a figure you almost can't wrap your head around," said Portage Mayor Bill Tierney, whose city last August announced its intention to become "dementia friendly" and since then has seen numerous local businesses as well as its police force and fire department undergo training that raises understanding of and sensitivity to people in the community with dementia.
As dementia's numbers rise, so too does the increased number of people with dementia still actively engaged in their communities – sometimes with the help of family, friends and care-givers, sometimes still on their own recognizance.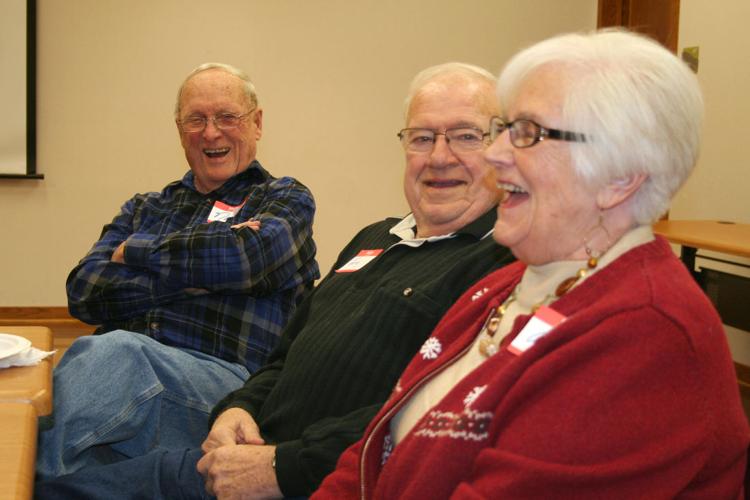 Many still at home
Of the 120,000 currently diagnosed with dementia in Wisconsin, 70 percent continue to live at home, according to Wiegel, and she estimates that at least "half again" that many people in Wisconsin have dementia but don't realize it or have the diagnosis.
Hence the value and the need for the kind of community support provided throughout the region by the ADAW, the Aging and Disability Resource Centers in various counties (including Adams, Columbia, Marquette, Juneau and Sauk), veterans groups and centers dedicated to serving senior citizens, like the brand new Frank Fischer Center in Lake Delton.
Such regional support efforts are not only helping those with dementia to more effectively operate in society, they also are helping everyone who may come in contact with them.
As awareness builds, said the experts, so too are opportunities for both receiving and providing help.
"The more we talk about it, the more people are aware of it, and the more, then, they are willing to reach out for help," said Wiegel, who in her role with the ADAW probably talks as much or more than anyone about dementia and its related causes to groups across the region. "It decreases the fear."
Fear is certainly one of the primary byproducts of coping with dementia, especially when trying to function in a public setting, such as a grocery store or pharmacy. That's why "dementia-friendly" training has proven so successful for such public-facing businesses as Walgreens and Pierce's Marketplaces, the latter of which also has begun training its employees to be "dementia friendly." 
"It's amazing how many people probably already have the start of (dementia) and you don't realize it," said Dana Weiland, manager of the Walgreens store in Wisconsin Dells, which earlier this year completed employee-wide "dementia-friendly" training. "I've noticed I've had to step back and think about the training and talk a little bit slower, and say the questions more than once so that they get what I'm trying to say, and make them feel comfortable in the situation – so they're comfortable talking to me."
The training resonated beyond the store for Dana Priest, assistant manager of Walgreens in Wisconsin Dells, who noticed a change in her grandfather's demeanor after he had brain surgery a year ago.
"I would say he's probably starting to lose his sharpness a little bit," she said. "The training has helped me recognize that, so now I can have better conversations with him."
Priest's experiences speak to the need "dementia-friendly" training and other programs offered by the ADAW fulfill for the loved ones, care givers and friends of those diagnosed with dementia.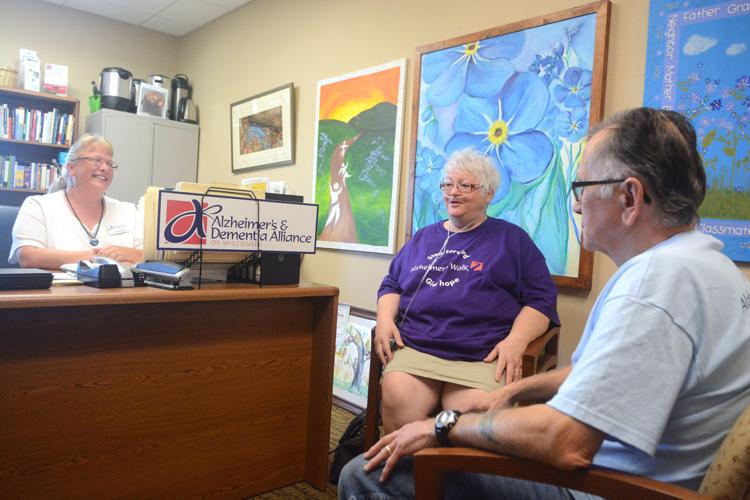 Taking care of care givers
"The caretaker as well as the person suffering from memory loss needs help, and they need it right in the place where they are," said Corrine Hill, a regular attendee at the Sauk City Memory Cafe, with her long-time partner John Connell. "It seems like sometimes when you are the caretaker you feel like you are in a tunnel and it's never, ever going to end." 
"Where caretakers are" oftentimes is overwhelmed with responsibility, especially if they are family members or companions of the person with dementia. Along with the help emerging in the region for people with dementia, help for their all-important caregivers also is beginning to emerge.
Assistance includes "day centers" – one just opened in Prairie du Sac, the other already in operation in the Adams-Friendship area – are fully equipped to provide day-long care for people with dementia that in turn gives caregivers a day-long break.
"I can have a place that John can have company and activities, and I can go away and have a day to myself and do what I need to do," Hill said. "For people who can afford it, this is a lifesaver."
"Dementia-specific" caregiver support groups also already exist in Baraboo, Montello, Portage, Reedsburg and Wisconsin Dells, with dozens more south of the region toward Madison.
"Family Education Programs" covering such topics as home safety, communications tips and strategies, "first steps" for families and "understanding and responding to behavior changes" also are available on an almost monthly basis from the ADAW throughout the region in various locales.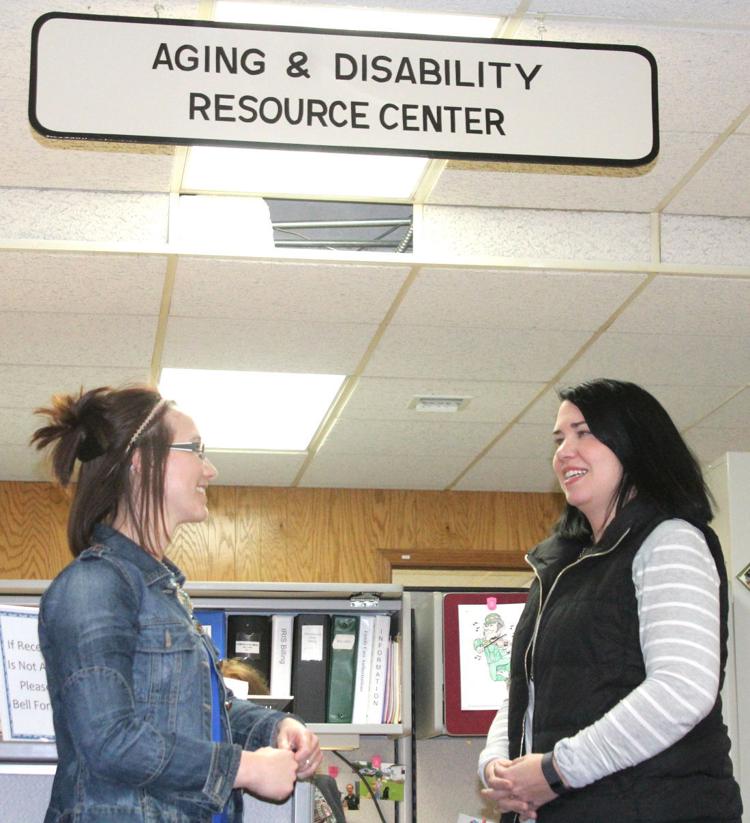 Legislation addresses issues
A suite of bills designed to help cope with Alzheimer's disease and dementia and supported by the ADAW recently passed in the state Assembly. Those 10 bills, now in the Senate for consideration, include proposals to create a dementia specialist certification and a pilot program for dementia crisis units and $1.37 million for dementia specialists in rural counties and grants supporting local dementia crisis team training.
"Dementia friendly" campaigns are beginning to emerge in the region's more rural areas as well. They include a multi-year plan underway in Juneau County under the leadership of its Aging and Disability Resource Center (ADRC).
The community-wide approach to dementia friendliness "is a need, and it is helping people to remain in their communities," said Juneau County ADRC Director Charlene Norberg. "Dementia-friendly communities are really starting to help as communities realize (a dementia diagnosis) doesn't have to be the end of somebody. It will make it better, and it will catch on."
Mauston's Mile Bluff Clinic already offers dementia screening, which is one of the most important early tools in addressing dementia, and the county also provides mini-bus transportation for those in need, Norberg said.
Region-wide, the community approach to addressing dementia apparently is catching on, and if there is a silver lining in what can be a dark cloud of dementia, that sense of communal effort and responsibility has to be at least one of them.
Thanks in large part to the help and love of friends, family and community support, dementia "really doesn't have to be a death sentence," Norberg said, echoing the sentiments of virtually everyone involved in the "dementia friendly" movement. "People can live with it for 20 years. You're just taking a trip into uncharted territory."