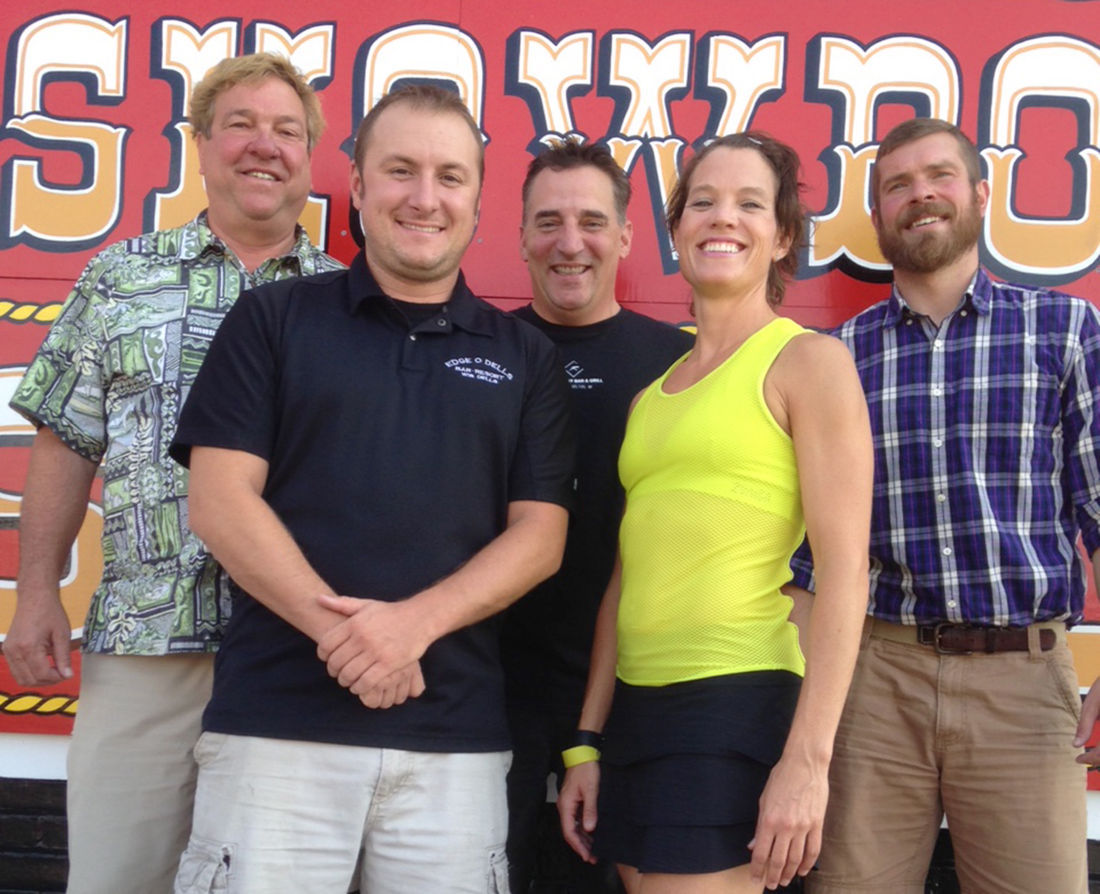 Men of the Dells, get ready to Zumba -- on Sunday, not Saturday as reported erroneously in the Dells Events a week ago.
The popular, Latin-flavored dance fitness program comes to town with a male-oriented twist -- for the benefit of several local causes.
The first-annual Men Zumba Marathon starts at 11 a.m. at Just A Game Fieldhouse downtown and ends, well, with the last men dancing. Whichever two-man team can Zumba the longest will win a $1,000 grand prize.
Considering that only a tiny fraction of heretofore traditional Zumba participants — like jazzercise and step aerobics participants before them — are male, the event may offer an unusual entertainment value, notes event organizer and Assist WI program director Will Meissner, whose organization is one of those the fundraiser will benefit.
"I have participated in a Zumba class 1.5 times, and I would imagine the vast majority of guys are beginner level or totally unfamiliar with Zumba," Meissner said. "So, we thought it would be fun to pit two-man teams to participate in one large Zumba class for the longest duration for the $1,000 cash prize."
"Longest duration" probably will mean "at least three to four hours" of Zumba dancing for whichever two-man team prevails, Meissner predicted, with "some fun twists" thrown in for good measure.
"This has not been done before," he said. "We like to do things that haven't been done before."
By "we," Meissner means Assist WI, the 18-month-old organization he founded and operates in the area. Assist WI helps individuals with disabilities and their families enjoy heretofore physically impossible activities — like enjoying an afternoon at a waterpark or hiking a nature trail. The organization's motto is "Waterpark to State Park, and everything in between, Wisconsin is simply amazing, and we won't rest until we share it with every family!"
In addition to the Man Zumba Marathon, the second-annual A Happy Kids Run/Walk, sponsored by St. Vincent De Paul and the Families and Transition Support Network, will kick off the morning's festivities at 10 a.m. A Healthy Community Fair, sponsored by state pride and apparel purveyor Badger Strong, will follow beginning at 11 a.m. and run concurrently with the marathon.
An array of prize and cash raffles will take place throughout the day, Meissner said, and the predicted 50 or more Man Zumba Teams will vie for the title with the support of various sponsors — including the Dells-Delton Tavern League, which is helping underwrite the cost of renting the Fieldhouse, and Showboat Saloon, which is providing the "free beer" promised on the event's posters. Contestants also are generating pledges from family, friends and associates.
Lest anyone doubt the physical legitimacy of the enterprise, local fitness expert and Zumba-licensed instructor Erika Gerhardt Obois will direct a team of at least eight other instructors who will in turn lead the contestants through their paces.
Zumba, Gerhardt Obois points out, "is considered a legitimate exercise movement and not a fitness fad," and she predicts "a showcase of fast-tempoed, crazy and fun international music."
"What makes it Zumba Fitness is the infusion of international sounds. Merengue, reggaeton, cumbia and salsa are cornerstone rhythms, along with others," Gerhardt Obois said. "They are done fitness style, not 'dancing with the stars' style."
A former ultra-long distance runner whose favorite event was the 50-miler, Gerhardt Obois is obviously psyched for the task before her and said her co-instructors are as well: "They are committed to leading songs in 15- to 30-minute blocks from 11 a.m. until those MZM guys ... drop."
Be the first to know
Get local news delivered to your inbox!