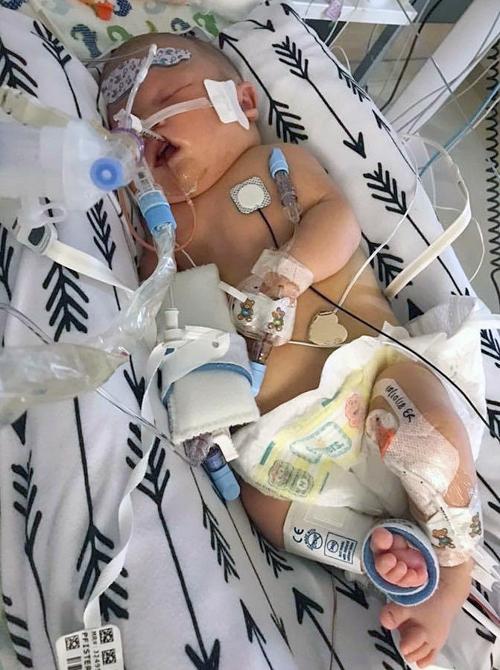 A Dells family looks to maintain normalcy as their young son undergoes treatment for his rare medical condition.
16-month-old Gus Pfister suffers from Eagle-Barrett Syndrome, also known as Prune Belly Syndrome, a disease characterized by a distended, wrinkled abdomen and kidney failure. According to Kimberly Pfister, Gus' mother, he was diagnosed with renal failure in-utero before doctors officially gave the Eagle-Barrett diagnosis.
"When we are 20 weeks, they found out there were some issues," Pfister said. "His bladder had ruptured, and they drained all of the fluid out of his abdomen because it was pushing on his heart and lungs. Everything was okay for a while, and then around 27 weeks everything kind of went bad."
According to Pfister, when Gus was born he was incapable of breathing on his own, so he was kept in the newborn intensive care unit, hooked up to a breathing tube. However, Gus was born at St. Mary's hospital in Madison, which is not equipped to provide him with the necessary treatment.
Eventually, after some time at St. Mary's, Gus was well enough to be relocated to American Family Children's Hospital, where he continues his treatment to this day. At the time, Pfister said that Gus was undergoing 24-hour perineal dialysis, administered manually by the hospital staff. It took weeks before his body could process enough fluid to move to a more traditional pump system in his dialysis treatment.
You have free articles remaining.
Treatment for Eagle-Barrett Syndrome is wide-ranging, consisting of anything from surgery to widen the urethra or catheterization that leads from the abdomen through a new incision in the navel. In Gus' case, however, he requires a full kidney transplant in order to achieve a high quality of life.
Thankfully, the Pfisters found out recently that Kimberly is a donor match for her youngest son, after waiting until he had grown enough to receive a live donor transplant. According to Pfister, a child has to be at least 30 inches tall and weigh 20 pounds before their bodies can accept a kidney transplant.
The family has not officially set a date for the procedure yet, but hopes for Kimberly and Gus to undergo the transplant before the end of May. However, issues remain even after the transplant.
Gus will be required to stay in Madison for at least a month after the procedure, which can get quite costly. Pfister said she hasn't been able to work since the family learned about Gus' health complications, and that other transplant patients have seen substantial financial problems from that condition.
"They do require us to stay in Madison with him for some time afterwards, because he has to have his levels checked so frequently," Pfister said. "We're hoping to stay at the Ronald McDonald House … we know transplant families have had to go to hotels, and they've spent thousands of dollars on their stay, not including food."
Even after the procedure, the Pfister will have to contend with the cost of anti-rejection medication, which does not come cheap. For the moment, Gus is on Medicare, which will cover the cost of medication.
However, he can only stay in Medicare for three years, after which point the Pfisters and their insurance will be responsible for paying the cost of medication. Pfister said that she does not expect the family to have too much difficulty paying for the medicine, but that it will be taxing on the family budget.