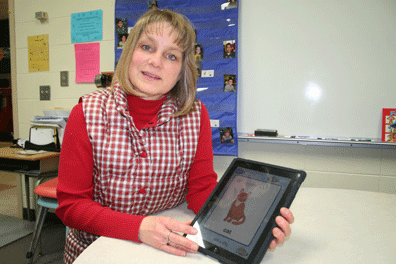 Apple's iPad will be the newest technology that helps students with autism or speech problems communicate in the Wisconsin Dells School District.
Since January, speech language pathologists in the district have been using iPads in a pilot project giving voice to students with autism or speech impediments. According to Director of Pupil Services Jerry Nicholson, by next month all four speech language pathologists in the district will have an iPad to use to help students.
It's possible through a special budget of more than $5,700 from American Recovery and Reinvestment Act funds, or the federal stimulus package that was approved in 2009, Nicholson said. It was money intended for the district's special education students and must be spent by Sept. 30.
The pilot project was started by supplying two speech language pathologists with iPads. The teachers in the study are to inform the school board at its April meeting about how the students worked with the iPads, according to Nicholson.
Apple is promoting the iPad as a very slender, portable device capable of connecting users to the Internet and e-mail, as well as showing movies and displaying book copy. It also has at least two apps for helping non-verbal students and students with speech impediments to communicate.
Sheri Benson, a speech and language clinician at Spring Hill School, uses the app Artik Pix to display images and words to students who practice articulation. The iPad is able to record a student's voice and Benson can play the recording so students can evaluate their own speech. The iPad also calculates the percentage of speech exercises that a student performs correctly.
So far, she's used the iPad with about 30 students.
"It gives them a mode of working that they're familiar with and they like, versus me flipping flash cards at them. And so I found them to be so much more engaged with it and so much more interested in working on them," Benson said.
After working she said she'll often reward students by playing a game of Memory on the iPad.
"Their interest level to work on some of these things has really gone up," she said. When asked if because it's new technology, she said, "In the way that I've used it, I'd say yes."
Betsy Schulz is another speech language pathologist who uses the iPad with students who don't speak because they have autism. Schulz uses an app called Proloquo2go, one of the more expensive apps that costs $300, she said. With it, some of her non-verbal students are taking more initiative to pull up a photograph or graphic on the iPad and use it to communicate with another person. Users of the iPad can also type in a sentence, and an automated voice will speak what was typed.
"For me it's efficient as well as very attractive and engaging, and the kids completely are with me the entire 30 minutes I am with them," Schulz said.
Kishah Walters, whose adopted son Anthony White, attends school in the district, likes the use of the iPad at the school. Anthony is autistic and has never spoken a word, according to Walters.
"For the first time ever I've been able to see and hear my son communicate," she said.
The pilot program with the iPad was a good idea, she said.
"It's a great advantage due to the fact that the equipment is so small and light compared to some of the other equipment that's been used for communication," she said. "He can have it and everybody doesn't have to know that he has this big old equipment lugged around with him. He looks like everyone else, and he's communicating like everyone else and that's what I want as a parent. I want my son to fit in. And this iPad helps him do that in many ways," Walters said.
The iPads also strike her as being more affordable, costing about $500, whereas a more traditional assistive technology device like a DynaVox, can cost thousands of dollars. She said she'd buy an iPad out of pocket for her son to have at home.
"Who isn't using it? And if he has some issues and he's out in the community because so many people have them, he would be able to get help if that was the case, versus this big old DynaVox. And who would know how to work that? ...Everybody's walking around with an iPad nowadays," Walters said.
Tamara Laskowski is a parent to Dells student Ebony, 13, who is also autistic and depends on the iPad to communicate. Before Ebony used the Picture Exchange Communication System, or pictures. It is what is used at school, too. And the DynaVox was too complicated.
"We had been trying to introduce a higher technology device for her, and it's been kind of difficult and with the funding too, they're really expensive. They're like upwards of $2,000. So that was a barrier as well..." Laskowski said.
With the iPad, Laskowski could use its other apps to play music which attracted her daughter to it.
"And it got her comfortable with it. And so now she's able to approach it, and not be intimidated by it..." Laskowski said.
She also said her daughter uses the iPad to write and read books.
More speech language pathologists, not just the ones in the Wisconsin Dells School District, are exploring how the iPad can be used as a piece of assistive technology. At a recent Cooperative Educational Service Agency 5 School-based Speech Language Pathology Institute conference in the Dells, about 80 participants enrolled in three sessions about the iPad led by Assistive Technology Consultant Judi Cumley. Cumley, who works at CESA 5, said they turned down about 40 people on the waiting list for the March sessions.
She isn't so quick to dismiss the more traditional DynaVox, she said in an interview at the CESA 5 office in Portage, even though she has loaned an iPod Touch for two years and the iPad for a year through the equipment library that CESA 5 has available to 14 out of the 35 school districts it contracts with.
The iPad is a popular loan item - she said it's reserved for the remainder of the school year - but the DynaVox and the iPad aren't the same thing in her opinion.
She said the DynaVox is a small computer surrounded in a titanium case, meant to be durable, and has a Windows operating system with a much larger vocabulary for students to learn than what's on the iPad now. She referred to the iPad not as a mini computer but as a "big iPhone."
"There are alternative forms of communication, but for some of our kids, they're the only form of communication they have. ...There are going to be some kids that this (the iPad) absolutely is the answer for. I don't want people to automatically think this is better because it's cheaper...," she said, comparing a $7,000 DynaVox to the iPad.
"I'm not necessarily an advocate that every kid needs a $7,000 device," she continued. "I don't think that's the case, at all. And I frequently have to fight that battle with schools and with families. So you know what it always comes down to: What does the kid need. We should never look at the device first, we should always look at the student first. The device should not be ruling our decisions, it should be what the student needs that rules our decision."
She did say an advantage of the iPad is that its becoming universally used by both people with and without disabilities. The iPad allows a non-verbal person or a person whose speech may be hard to understand to type a sentence and an automated voice will read it. Someone without a disability might be surprised to know an app for the iPad has that function, she said.
"In terms of that universal appeal, I think that it's going to maybe allow people with disabilities to maybe be more accepted just in general community because they've got a device that people recognize," she said.
Cumley said there are drawbacks to the iPad from a management perspective. An iTunes account with a password is needed to obtain the apps, whether or not the apps are free. Accounts have be managed either through a teacher's computer or a technology coordinator. She said some districts give teachers an iTunes gift card to purchase the apps needed. If there is a wireless Internet connection, apps can be purchased through the iPad. Otherwise a computer is needed.
The iPad2 is the latest version, and the Dells District will be obtaining them. Nicholson said the newer ones have a camera that allows users to create a collection of photos from their own world. If a non-verbal student wants to ask for help from a particular teacher in the district, that student will be able to pull up a photo of that teacher to communicate, he said.
Seven iPads should be in the district by April 6, Nicholson said.