It's no longer just a man's world. That's what Ashley Hartman, Shannon Kontaxis, Colleen Beier and Becky Peterson have proven. The firefighters, law enforcement officer and executive banking manager have chosen male-dominated career fields and are proving that this is also a woman's world.
Ashley Hartman, a volunteer firefighter with Delton Fire Department, knew her calling since kindergarten when firefighters visited her class and none were female.
"I knew right then that I wanted to be a firefighter," she said.
However, that dream was placed on a backburner when she married, gave birth to two daughters and became a stay-at-home mom.
"I got married and moved to California," Hartman said. "There were a lot of wildfires in California and I saw smoke jumpers."
Seeing the smoke jumpers re-ignited her desire to become a firefighter, but her then-husband wasn't so keen on the idea, so again, she shelved the idea.
When her marriage ended, and she moved back to Wisconsin, she decided to pursue her lifelong dream of becoming a firefighter, and the Delton Fire Department just happened to be hiring.
Hartman attended the Fire Academy at Madison Area Technical College and job-shadowed at Delton FD for two months. She then became a certified firefighter after passing the state's Firefighter 1 certification examination.
During her training, she had two little cheerleaders at home.
Her two daughters greeted her at the door each night when she returned home from classes, and asked, "Are you a firefighter now?"
Last December, she was finally able to tell them yes; and now, just like their mother, they both want to be firefighters.
Hartman hopes to inspire other little girls to become firefighters too. She visits elementary schools for fire prevention presentations and to show females that they can also be firefighters, she said.
"You can live your dream, even if you're a small girl," she said.
And that's exactly what Hartman is doing.
"This is my dream career," she said. "I would love to become a full-time firefighter."
She says living the dream wouldn't have been possible without the support of her parents.
They support her plans to continue schooling, classes and courses and to continue getting the state certifications.
"I don't see myself quitting," she said.
She tries to make every call, but it's challenging being a single mother and having another full-time job, she said.
"When the pager goes off, you just want to get there," she said. "Or, at least, I do."
And her male colleagues have been nothing but supportive, she said, and don't make her feel like she has to prove herself to them. However, she said she wants to prove herself to them.
"They have lifted me more than anything," she said.
So when it comes to dating, she won't waste her time on anyone who doesn't support and encourage her firefighting dreams, and she encourages other women and girls not to give up on their dreams.
"Don't give up," Hartman said. "If you have a dream; go for it. Never let anyone tell you 'No,' and if you have to prove them all wrong, do it. But females shouldn't have to be put in that position."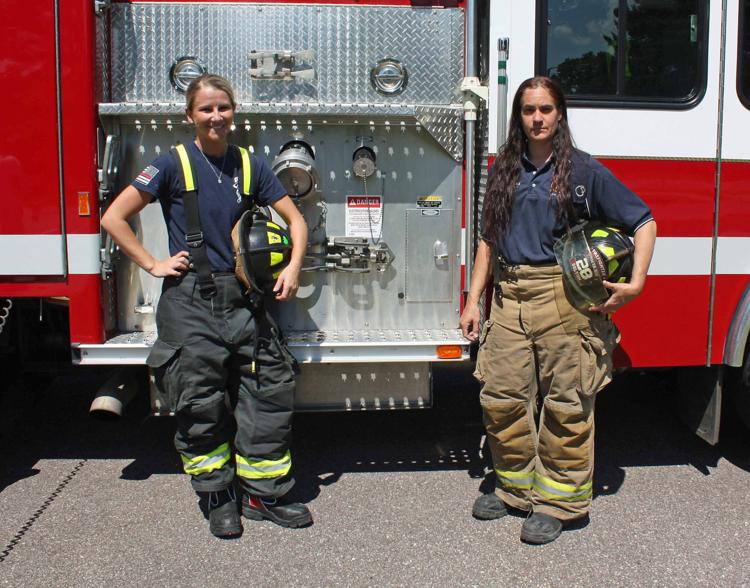 More fire dreams
Shannon Kontaxis, a recently-retired rescue lieutenant, helped strengthen Hartman's firefighting team at Delton Fire Department. With 12 years of service, she's the longest-serving female and first woman to retire from Delton Fire Department.
Unlike Hartman, Kontaxis' decision to become a firefighter was more spontaneous.
"I saw a billboard on the side of the old building while driving by," she said. "So I pulled over and applied."
The most challenging aspect of being a firefighter for Kontaxis wasn't the actual firefighting, but rather, being a mom and wife along with being a firefighter.
"The pager goes off at unpredictable times," she said. "I would tell my kids, 'Somebody needs mom more than I need to be here right now, so I need to go help.'"
That helpful spirit is exactly why she served with the department for 12 years.
"I enjoyed doing a service for my community," she said. "I wanted to give back in some way."
In the beginning, Kontaxis said she felt she had to prove herself to the guys and felt like everyone was looking to see if she had what it took be a firefighter. But, she soon found out she was mistaken.
"The guys did nothing but encourage me," she said. "They told me that they knew I could do it."
One of Kontaxis' fondest memories is when she responded to a house fire, and found the family dog lying in the charred house, and thought the dog was no longer alive.
"But she recovered after Fire and EMS worked on her and gave her oxygen. It was a good feeling," she said. "It was pretty neat to save a dog's life."
But not all calls are always so happy.
"Sometimes, you come out crying," she said. "There are times when you know you're going to recover a body… not everybody can do it. It's not what you see on TV."
"We have to remember that our best day as a firefighter is someone else's worst day," she said. "They may have just lost their home or a loved one."
Though it wasn't always easy, she says she wouldn't change a thing.
"It's been a blessing," she said.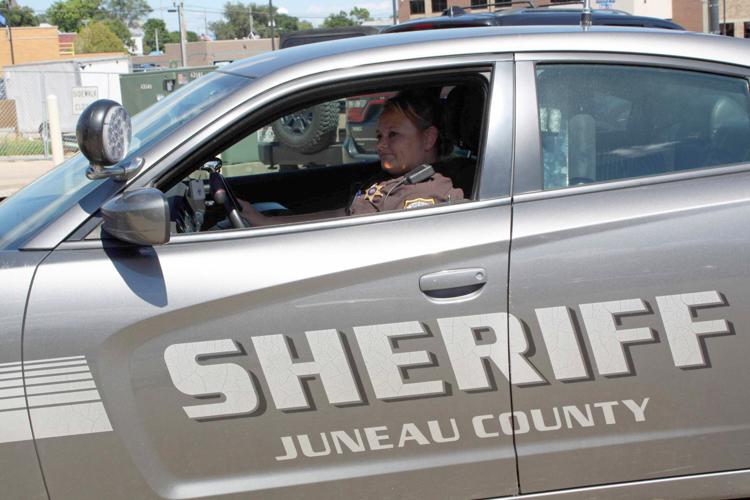 Woman in blue
Lt. Colleen Beier will celebrate 15 years of service with the Juneau County Sheriff's Department in October.
She was a deputy for 12 years before being promoted to lieutenant three years ago.
As a patrol lieutenant, she responds to 911 calls, and there are times when only two officers are on-call for all 764 square miles in the county.
And as an emergency responder, she says she has seen and heard it all and been called every name in the book.
"I've had people kick out my squad car windows," Beier said. "I have wrestled with people over the years. I always try to talk to them first, but sometimes they get physical."
Despite the challenges that come with the position, Beier says she has no doubts about her career choice.
"I definitely like my job," she said.
She completed a two-year program at MATC in criminal justice to make certain she had an edge over other applicants when she applied for a law enforcement job.
She vividly recalls attending a firearms training, when one of the guys told her afterward, "I feel better now after watching you shoot." Though Beier is certain he meant it as a compliment, she doesn't think he realized the slight.
Despite that one slight, Beier says she has never been made to feel like she didn't belong.
"I have never felt inferior," she said. "I have always felt a part of the group."
And similar to Hartman, Beier thinks that men and women complement each other by working together to form a whole.
"Women are better at seeing the details," she said. "Men are better at seeing the whole picture and it complements each other."
Her favorite part of the job is the people, both the people she works with and the people she encounters on her patrols.
But the most challenging part of the job, she said, is people's perception of what the law is versus what is actually the law.
For example, sometimes people think something is evidence, but it has to be more solid, Beier said.
"The law is what the law is," she said. "We can't solve crimes without people coming forward. We have to work as a group. We can't be a victim for you."
"If a person gets beat up, but won't give us access to medical records or photos, we can't be the victim for you," Beier said."
Running helps her to relieve some of the stress, and dealing with stress is an area where she thinks men and women differ.
"Women are better at recognizing when something is bothering us," Beier said. "Guys don't, they internalize it and don't want to talk about it. So, it bottles up more for them."
When it comes to dealing with the public, one difference in treatment that men and women officers receive is when they start raising their voices and giving commands.
As soon as women give commands, Beier said, they are called a word that rhymes with witch, by both men and women. However, when the male officers do the exact same thing, there's no name-calling and there's usually compliance.
Regardless of the challenging suspects or people she encounters, Beier says, they don't want people to fail.
"We want to see people succeed," she said. "We don't want to see them come through the jail again, but it makes me sad that some people are just criminally-minded and you can't change that."
One person who has supported Beier and watched her succeed in her career is her husband.
"My husband supports me," she said. "My job is who I am and it's what I love to do."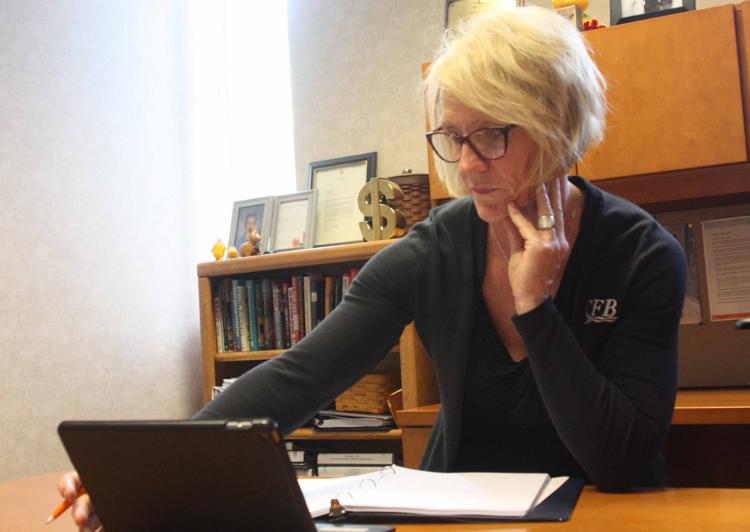 Financial contribution
Another person whose husband supports her career choice is Becky Peterson, vice president of retail and deposit operations for Community First Bank in Reedsburg.
She's been in her executive management role for six years, but started her career at the entry-level in banking 28 years ago.
"When you walk into a bank, usually all you see are women," Peterson said. "The tellers are usually women, but the executive management level is male-dominated."
She thinks the reason for the gender difference is because of history.
"That was the tradition," she said. "Women used to stay at home and take care of the kids. The hours are long, there's a lot of decision-making involved. You sometimes don't get home when you think you're going to get home. Sometimes, women hold back their careers because of family."
Given the opportunity, Peterson says she would have loved to stay home and raise her two kids, who are now out of the house.
"I'm a strong woman, but I'm not a feminist," Peterson said. "If I could have, I would have stayed home with the kids. Our priority is our family, but we can have a career and a family. I think having a career is easier than staying home with four kids."
And, Peterson asserts that modern times have helped create advantages for women and to make certain things easier on the job for women.
"Because of the times we live in now, women are forced to be listened to. We have to be recognized. We have to be included," she said. "I have never felt disadvantaged in my work. I just won't allow it. I don't know if I'm an anomaly."
Peterson insists she has been in charge of her own career.
"I have rarely given it thought that it's a male-dominated industry," she said. "I have directed my career in the way it needed to be directed and I have been very, very fortunate."
Peterson says that things don't have to be categorized.
"I hardly notice when I'm the only woman in the room," she said. "I just have a job to do. In this time, women feel left out. Don't think you're a minority. Don't think because you're a woman, you can't power through it. You are only responsible for your own choices and progress, male or female. If you think you'll never make it because you're a woman, then you won't. Your progress and success is on you."
And she certainly takes credit for her own progress and success in her career.
"Banking hasn't made me, I have made banking," she said. "Nobody puts baby in the corner."