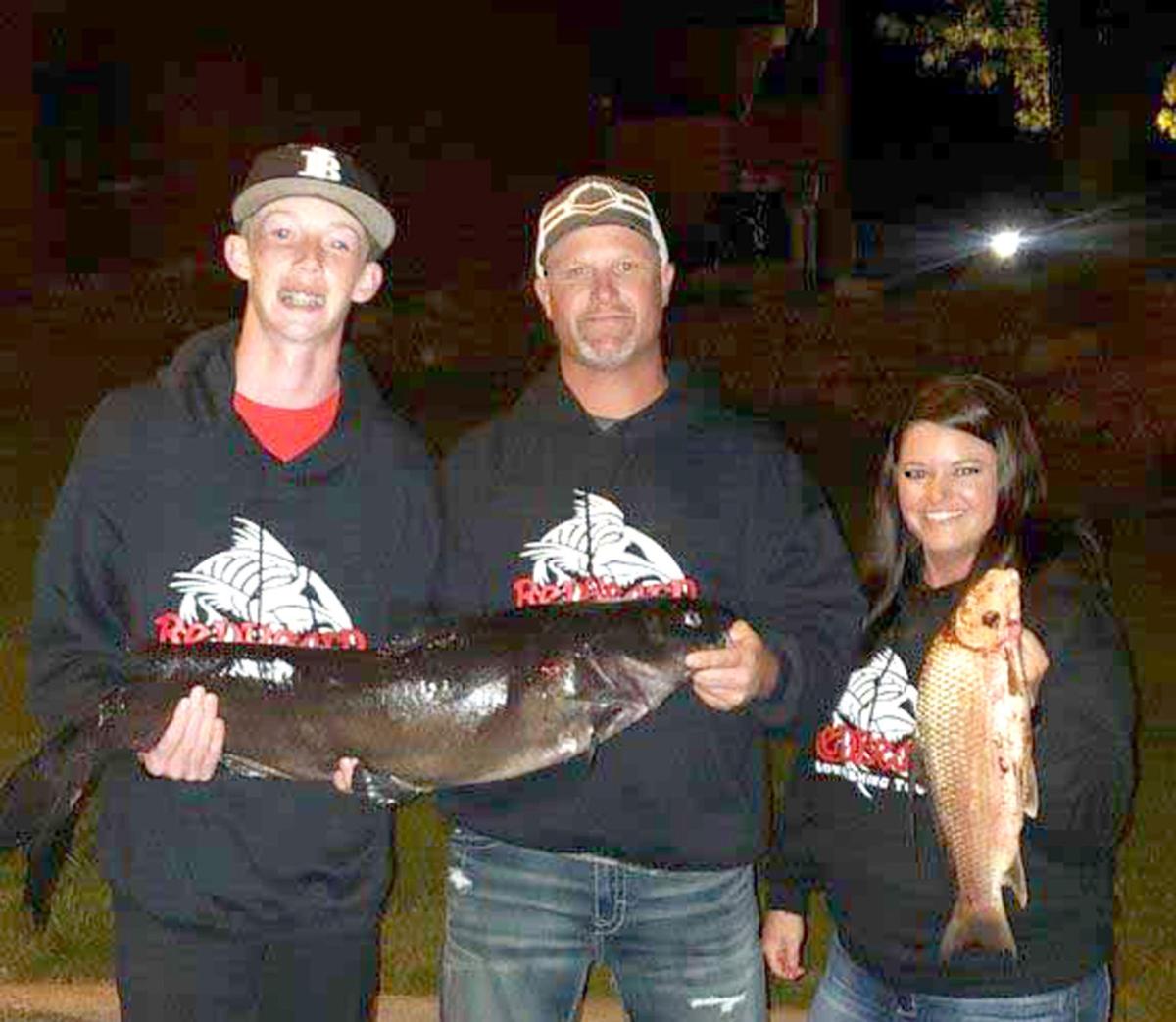 An Indiana man broke the Wisconsin state record for the biggest channel catfish caught with a bow and arrow while fishing the Wisconsin River in Wisconsin Dells.
Robert Way, a Bedford, Indiana resident, was bowfishing with Redbeard Bowfishing June 19 when he harvested the fish. It weeighed in at 23 pounds, 3 ounces and measured 38.5 inches, according to Dennis Mitchell, owner of Redbeard Bowfishing of Wisconsin Dells.
The Department of Natural Resources confirmed the new state record July 19. The new record beat another state record broken 22 hours prior when an 11 pound fish was shot at 12:30 a.m. June 19, according to Molly Meister, a public information officer with the DNR. The 23-pound catfish was shot at 10:30 p.m. June 19.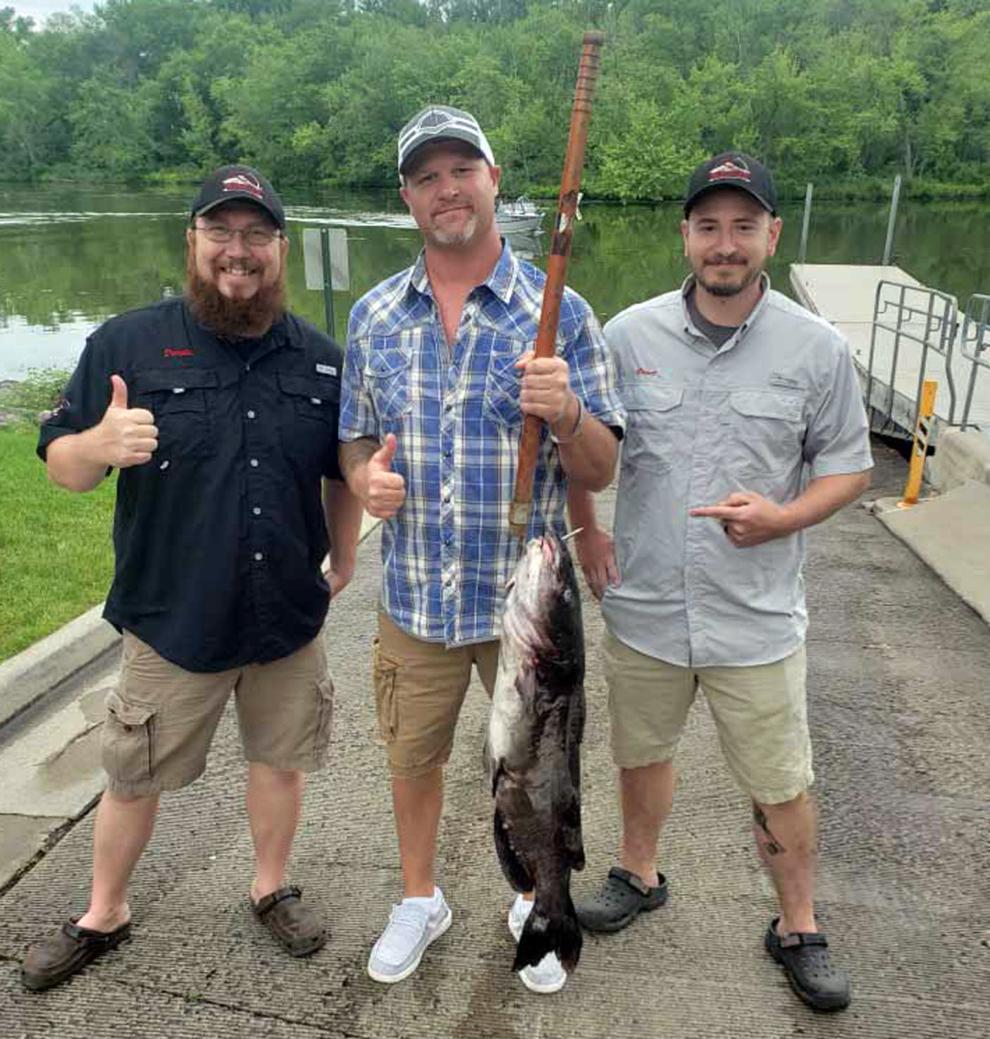 The previous record before those submission was a six pound, 2.6 ounce catch at Tichigan Lake in Racine County in August 2020, according to the DNR website. The DNR website also states channel catfish can grow to a maximum of about 30 inches and 15 pounds, although 20-25 inch channel catfish are more common.
Both Mitchell and Guide Brent Fermanich submitted the information with Way's help to the Department of Natural Resources to see if it was a record breaking catch, according to Mitchell. Way was not interested in commenting for the story.
Fermanich said the fish came out of a dark corner next to the boat and heard it bobbing in and out of the water. Way took aim, fired and reeled it in.
"Right away he got a nice good shot on it and reeled it in got it next to the boat," Fermanich said.
Fermanich said it took himself and Way's son, Gage, to lift it out of the water. Fermanich said the fish was heavy and he was surprised by its size.
"It was crazy," Fermanich said. "I've never seen a catfish that big."
"The pictures don't even do it justice, the fish is so big," Mitchell said. Both said they didn't know it was a state record at the time, but Mitchell had a feeling it could possibly be one for the record books.
"We we're so excited," Mitchell said. He added the excitement is still with him a month after the fish was caught.
According to the DNR website, bowfishing can only be conducted on certain species of fish, such as channel catfish and flathead catfish. The lower Wisconsin River from the Prairie du Sac dam to the US Highway 12 bridge has a bow/cross season from May 2 until Nov. 30.
Mitchell, who also owns Asgard Axe Throwing and Asgard Underworld Arcade Bar in Wisconsin Dells, said those who take a charter with the bowfishing company can see many different animals along the Wisconsin River like otters, soft shell and snapping turtles. However, an official state record fish is a first for the business.
The once empty basement of Asgard Axe Throwing in Wisconsin Dells has been morphed into an a…
"You don't typically see big catfish while you're bowfishing," Mitchell said. "They are out there but to see them that big is a very, very unique thing."
Mitchell said the first step in submitting the information to the DNR to confirm if the catch met record status and make it official was to find a grocery store or meat market to weigh and measure the fish. Secondly, a warden from the DNR had to verify the fish.
"It was quite the task but 100% worth it," Mitchell said. "We helped this guy get the state record."
Mitchell said being a part of the record breaking catch was "fantastic" but it also shows the unexpected can happen while on a bowfish tour.
"You never know what you are going to come across out there," Mitchell said. "There are very large fish and this is probably not going to be the last record that we get hopefully with the amount of river that we cover and the amount of time we are out there. We're very busy this season. It's been crazy. It's very exciting."
Depending on the height of the river, the tours normally launch in downtown Wisconsin Dells go north of the Kilbourn Dam all the way to Catfish Bay, Mitchell said. Redbeard Bowfishing will operate for the season until the end of October, weather permitting, he said.
Follow Erica Dynes on Twitter @EDynes_CapNews or contact her at 608-393-5346.