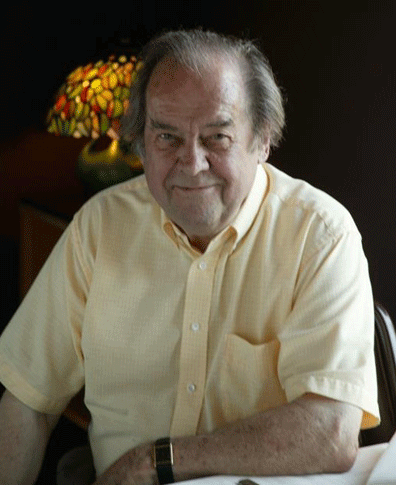 James Robert Dresser, 85, of Lake Delton, graduated to a new beginning on Sunday, Jan. 23, 2011.
James was born to Lydia Lucille and James Frederick Dresser on March 17, 1925 in LaFayette, Ind., but grew up in Portland, Ore.
During WWII he worked in the Corp of Engineers in the Aleutian Islands. During this time he was chosen to create a special historical presentation that was gifted to President Roosevelt, and is today in the Roosevelt Presidential Library.
After the war he joined Frank Lloyd Wright and the Taliesin Fellowship where he studied organic architecture, and met and married his beloved soul mate, Barbara Fritz Dresser. After leaving Taliesin, James spent his life designing elegant and unique buildings coast to coast like the Lake Geneva Public Library, Beloit Gonstead Clinic, Del-Bar Supper Club, New York World's Fair pavilion, the original Tri-Dairy PDQ's, the original Tommy Bartlett's Robot World, Field's at the Wilderness Supper Club and numerous other restaurants, residences, and commercial buildings. Creating, designing, attention to detail, beauty and family were his passions.
He is survived by Barbara, his devoted "love bug" wife of 64 years; children, Hansina (Mike) Bendell, Stephanie Scheer, Jamie (Chuck) Hegel; sister, Charlotte Graber; and grandchildren, Michele (Tom), Daniel (Dawn), Gabriel (Jill), Tianna (Scott), Eli, Stephanie, Olivia (Hakan), Tia (Travis); nine great-grandchildren and numerous nieces and nephews.
On Saturday, Feb. 5, there will be a tribute to his life and work through Picha Funeral Home, Lake Delton from 11 a.m. to 3 p.m.
In lieu of flowers, contributions to The Hyde Cemetery (c/o Anneta Jabs, 400 E. Orbison, Barneveld, WI 53507) would be greatly appreciated.