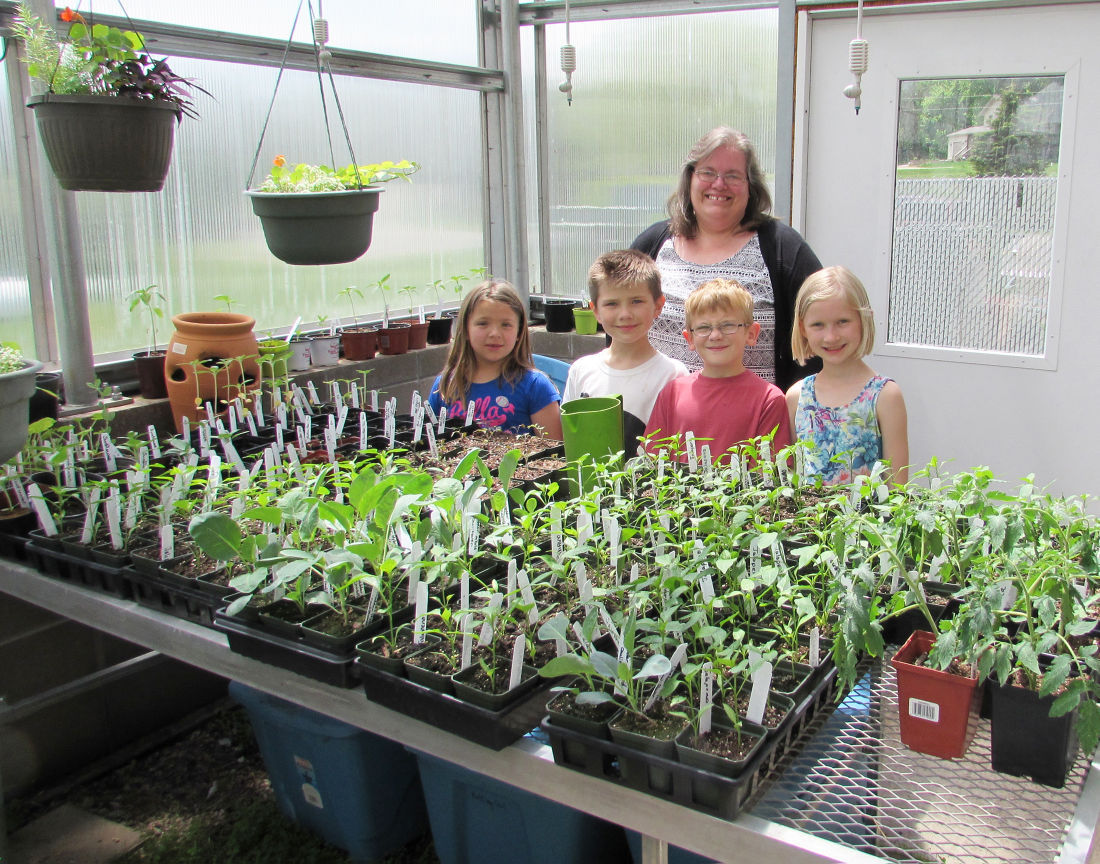 Despite challenging weather conditions this spring, the students at Neenah Creek Elementary School are pulling through with green thumbs as they gear up for their annual plant sale May 19.
All 105 students participate in a program that has kindergarten through fifth-grade children grow vegetables and flowers each spring in the school's greenhouse. The Briggsville school has been running the program since 2006 and is one of only a few elementary schools in the state that has its own greenhouse.
The program was run by teacher Craig Robinson, but with his departure from the school second-grade teacher Bernadette Shirley was called to step in. At first she wasn't keen to the idea, but has settled in with help from various community members and other teachers.
"I always talk about how I'm the black thumb," she said with a laugh. "They tease me about that. I guess the plants made it through."
At one point Shirley wasn't so sure the plants were going to make it as poor weather conditions this spring hampered seeds from growing. To complicate matters more, one venture didn't turn out as expected.
"Our lettuce experiment didn't quite turn out, but the way I figure it, if our green thumbs aren't quite as green as we would like them to be, we are still learning and having fun doing it," Shirley said.
The tradition not only provides students with a fun opportunity to watch something grow that they planted themselves, but is also educational, she said. Prior to planting in early spring, older students learn plant biology and observe plant structures real time through a "root-view" garden. A clear-sided planter allows students to view a plant's root structure several inches deep into the soil.
Second-grader Nathan Meller grew tomatoes and sunflowers with his class and is looking forward to taking some plants home to his family. "My favorite part was getting my hands dirty," he said.
Due to recent school testing, the students hadn't been in the greenhouse for several days. When Shirley brought four students in, they "oohed" and "aahed" upon seeing how much the plants had grown. Shirley said the 500-plus plants "may be a little shorter than usual" due to a lot of cloudy weather, but are healthy and ready to go for next week's sale.
In prior years the school sold out its supply with buyers lining up outside of the building's main entrance 20 minutes before the start of the sale.
The sale will offer flowers and a variety of vegetables including peppers, tomatoes, gourds and lima beans. This year the students also experimented with hand-made paper pots. The school also just planted six new apple trees that will produce Semi Dwarf Ruby Mac, Honey Crisp and Wolf River apples this fall.