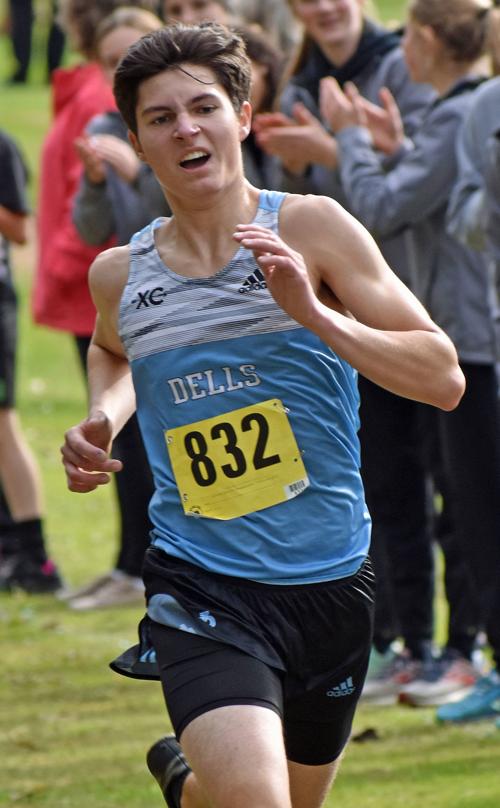 Nearing the finish of Saturday's Division 2 Colby Sectional, Wisconsin Dells senior Pablito Schulz knew he was in position to qualify for the WIAA State Cross Country Meet for the second year in a row, but he wanted to erase any doubt.
Schulz had been battling for position with Mauston freshman Eli Boppart for most of the way, and after Boppart had moved in front of him late in the race, Schulz used a late pass to beat Boppart by less than a second at the finish line. Schulz finished eighth overall in 17:35.3, while Boppart was ninth in 17:35.9.
Schulz and Boppart finished as the last two individual state qualifiers from the sectional.
"I was thinking (Boppart) was in fourth and I wanted that. I didn't want to be fifth," Schulz said. "So just going into the finish, I just wanted to push myself forward as many places as possible, just for that security. The whole last mile and a half, we were switching places. Then we came out of the woods, and I think I was ahead of him, and then he got ahead of me so it switched again. He was ahead of me for most of the finish, but I put a little extra burst on right at the very end."
Now Schulz is gearing up for one final race, which comes Saturday in Wisconsin Rapids. Schulz will be trying to improve on last year finish at the state meet, where he was 57th with a time of 17:26.
Schulz said last year's state meet experience will only help him this time around.
"I think last year was just something to get under my belt and see the course," Schulz said. "It's a completely different race, with all the competition. I think it's going to help me. I don't know if I'm more comfortable, but at least I know what I'm getting myself into. I think I definitely have good aspirations playing off of last year that I can go towards."
Wisconsin Dells coach Dean Knetter said the key to success for Schulz will be to have a fast opening mile. Last year Schulz was in 40th place at the 1-mile mark with a time of 5:10.
"I mentioned to Pablito, at the mile, you need to be around 25th, so you're going to get out fast. You might run under a 5-minute mile,'" Knetter said. "You got to let the dice roll. There's no 'I'm going to do this this year and use this as a spring board.' What you don't want to do is go out too slow and try to fight. We're going out."
Schulz and his coach are on the same page.
You have free articles remaining.
"I'm thinking my first mile is going to be crucial. That's always crucial there," Schulz said. "You got to get out. I'm just going to put myself within the top 15 in the first mile and just hold on and compete for the last two miles, just to hang until it comes to that finish."
Schulz's goal for his final cross country race is to finish 10th or better, which would earn him a medal. His top time on the season is a 16:43 at the Marshall Invite. At last year's state meet, the 10th place runner in the Division 2 boys race ran a 16:32.
"Ultimate (goal) is top 10. I figure it's my senior year, try to pull something out," Schulz said. "With it being my last race, I'm going to just give it everything I have."
Chiefs finish 10th
As a team, Wisconsin Dells finished in 10th place out 15 teams at the Colby Sectional with 259 points.
After Schulz, the Chiefs were led by senior Bryson Funmaker and sophomore Jon Hernandez-Ruiz. Funmaker finished in 54th in 19:40, while Hernandez-Ruiz was 61st in 20:10.
Other results for the Wisconsin Dells boys included freshman Damian Funmaker in 65th (20:13), freshman Austin Cunningham in 71st (20:27), senior Patrick Cooley in 74th (20:42) and sophomore Lawson Machovec in 81st (21:10).
DIVISION 2 COLBY SECTIONAL
Team scores (top 2 advance): La Crosse Logan 43, Elk Mound 68, West Salem 125, Gale-Ettrick-Trempealeau 149, Medford 152, Viroqua 203, Arcadia 213, Mauston 216, Altoona 248, Wisconsin Dells 259, Neillsville/Granton 280, Black River Falls 301, Colby/Abbotsford 338, Port Edwards 353, Adams-Friendship 395.
Top 5 individuals: 1, Zach Slevin, LL, 16:57; 2, Tracy Bye, LL, 17:15; 3, Charlie McKinney, WS, 17:19; 4, Joseph Sullivan, Med, 17:22; 5, Cade Hanson, EM, 17:24.
Individual state qualifiers: 3, Charlie McKinney, WS, 17:19; 4, Joseph Sullivan, Med, 17:22; 6, Brady Niemeier, WS, 17:24; 8, Pablito Schulz, WD, 17:35; 9, Eli Boppart, Mau, 17:35.
Wisconsin Dells: 8, Pablito Schulz 17:35; 54, Bryson Funmaker 19:40; 61, Jon Hernandez-Ruiz 20 10; 65, Damien Funmaker 20:13; 71, Austin Cunningham 20:27; 74, Patrick Cooley 20:41; 81, Lawson Machovec 21:10.